CREO
Guitarist William Anderson and Creo
&nbsp&nbsp&nbsp&nbsp&nbsp Contemporary guitar music was the theme for this excellent program by Creo, organized and conducted by Andrey Kasparov, the musical director of this chamber group that brings Tidewater a unique musical experience twice yearly. Leave your assumptions of how music should sound at the door as they tear your ticket and open yourself to the experience that you can have.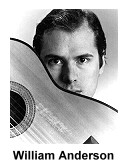 &nbsp&nbsp&nbsp&nbsp&nbsp The February 3, 2004 program at Chandler Recital Hall opened with a solo guitar piece Danci, written in 1966 by Milton Babbitt (b.1916). Mr. Anderson commented on how clear and practical Babbitt's music has become over the years, before he played with passion and precision this challenging work. At first you seem to be hearing unconnected fragments of sound produced by the guitarist but by adjusting you mind set and slowing down your sense of the flow of time the rhythm of this music can be discerned. The title of this work is Esperanto for "dance." Esperanto is a fabricated language, new, strange but also almost familiar and the same can be said of this music.
&nbsp&nbsp&nbsp&nbsp&nbsp George Crumb's 1984 ensemble piece, Quest, followed. Within the chosen sextet of players, the guitar remains the principal focus, while the three percussionists play a variety of standard and exotic instruments, including an Appalachian hammered dulcimer, bamboo chimes, African talking drums and a Mexican rain stick. Though the sections of the piece have titles, they are poetic and symbolic rather than descriptive, as in programmatic music. The piece became a Quest by the composer in finding music that expressed what he wished to say over several revisions.
&nbsp&nbsp&nbsp&nbsp&nbsp Dr. Kasparov, in his spoken introduction, suggested that we listen for one hymn tune used by the composer. Bamboo chimes and gentle bell tones with guitar open the piece. The intriguing soundscape created by the interplay of guitar and percussion was delicate and enriched by the rich sonorities of the dulcimer's deep notes. This is a most exciting and intriguing chamber piece by one of America's most inventive composers.
&nbsp&nbsp&nbsp&nbsp&nbsp In a brief intermission conversation with Old Dominion University president Dr. Roseanne Runte, she used the term "privilege" in describing the opportunity we have to hear such an incredible live musical experience locally.
&nbsp&nbsp&nbsp&nbsp&nbsp The Italian composer Luciano Berio's (1925-2003) piece, O, King commemorates Martin Luther King, Jr., the slain civil rights leader. In this arrangement for mezzo-soprano and five instruments, Lisa Relaford Coston sings/chants phonetic sounds from the name of Martin Luther King, first at random and then in order at the very end of the work. The voice is treated as another instrument in the sextet except for her soaring line at the end. Tanya Anisimova, on cello, F. Gerard Errante on clarinet, Natalia Kuznetsova on violin, Bonnie Kim on flute, and Oksana Lutsyshyn on piano completed the sextet.
&nbsp&nbsp&nbsp&nbsp&nbsp The next piece, Winterfold, by the English composer Peter Maxwell Davies (b.1934) features Lisa Relaford Coston, mezzo-soprano, singing the text of a poem, "The Keeper of the Midnight Gate," from poet George Mackay Brown's collection Winterfold. Her voice was rich, beautiful and intense as demanded by this complex setting of the gatekeeper's experience as the cast of characters who are in town for Jesus' birth night arrive in Bethlehem. This roughhewn text is exhilarating in its honesty and passion and Ms. Coston's precise coordination with the instrumentalists brought us a deep experience of it. Especially impressive was her baritone note on the word "fold" from the line "they've left a boy to keep the door of the fold, I hope," with gentle accompaniment by cello and bells.
&nbsp&nbsp&nbsp&nbsp&nbsp This may be this listener's first encounter with the music of Sir Peter Maxwell Davies ("Max" on his website) who will be 70 years old in September. In his formative years he was quite the iconoclast. He used medieval music and parodies of it to skewer musical convention. In 1962-1964 he came to Princeton University to study with Roger Sessions and Milton Babbitt. After 1967 Davies wrote music that was more attractive to an audience. In 1970 he moved to the Orkney Islands where "a new lyricism and reflectiveness enters his work." (Grove Dictionary of Music) "[He]... continues the religious preoccupations of earlier works, but the tone is now musical, the ritual frameworks discreet..."
&nbsp&nbsp&nbsp&nbsp&nbsp In Steve Reich's (b.1936) Electric Counterpoint the solo guitarist is accompanied by as many as ten guitar and two electric bass parts on tape. This music is very familiar. The Pat Metheny recording for whom the piece was written has been in our collection for many years. But hearing this music live in a perfectly tuned acoustic space is very different. Fuller, directional sound comes at me. As I concentrate on the complex sound, my attention is caught by the feet of the guitarist. I watched the gentle movement of his feet and the slow movement of his body as the sound is enriched by the prerecorded sounds. His movements seem freer, with more space between his slow steps. Now he actually lifts his foot with a subtle kick. His face so intent, glasses halfway down his nose, his fingers moving their small movements, and as the emotional intensity builds, I feel so naked as the sound stops. Mr. Anderson took three bows with bigger smiles with each one.
Visit Mr. Anderson's website at www.williamanderson.us

Printer Friendly Format

Creo, Bass Clarinet and Henri Bok
&nbsp&nbsp&nbsp&nbsp&nbsp To recapture the experience of Creo's music program presented at Chandler Hall on April 26, 2004, I put on a CD of solo bass clarinet pieces played by Henri Bok, Creo's guest artist from Rotterdam, Netherlands. The CD, titled Wicked, is a pleasant and sometimes jolly listen of fifteen pieces by ten contemporary Dutch composers. The last five pieces are by Henri Bok (b.1950), including the title track.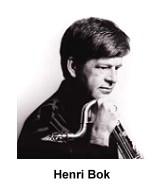 &nbsp&nbsp&nbsp&nbsp&nbsp This program of Dutch music was one of unprecedented scope for Old Dominion University's modern music group led by the laudable Dr. Andrey Kasparov, who explained to the audience that Dutch music has had as great an influence on contemporary music in the second half of the twentieth century as German music had on the first half. Two pieces by Theo Loevendie (b.1930), who is well-known in Europe as a jazz clarinetist, were played in the first half of the concert. He wrote his first concert piece at age 40. The opening piece Kazan Trilogy (1999) for percussion duo was played by Kevin Kelleher and David Walker. The first movement "Kama" had a spare quality which failed to engage my full concentration. The second movement was not performed. "Volga", the third movement, had many colors using diverse percussion instruments and with a continuing line that was unsettling. To get the overall shape of the piece I would need to hear the center movement as well to see how the three movements fit together .
&nbsp&nbsp&nbsp&nbsp&nbsp Ending the first part of the program was Dance by Loevendie, played by Natasha Kuznetsova on violin with the ringing effect created by open strings used by fiddle players in America and Black Sea countries. There were passages that recalled country fiddling that morphed into modern sounds as if the tones were a little sour, somber sections with sad, sweeter notes, a double bowed section, screams from the violin and a fast, furious ending as if the country fiddler has gone completely berserk. Ms. Kuznetsova communicated well this complicated, innovative piece. Her entry from the back of the hall, playing as she walked down the aisle to the stage added to the drama.
&nbsp&nbsp&nbsp&nbsp&nbsp The bass clarinet is over six-feet long but is curved so it extends to about knee level. The sound is deeper than a regular clarinet, resonant, warm and rich, sometimes breathy, sometimes even shrill. One usually sees Norfolk's world-renowned clarinetist Gerald Errante on the stage playing the clarinet, but that came later in the evening. For this first half of the program he was in the audience as a listener and so I invited him to share with us his enthusiasm for what he heard.
&nbsp&nbsp&nbsp&nbsp&nbsp "In devoting his life to specializing in new music for the bass clarinet, Henri Bok has carved out an unusual niche in the music world. Early on, Bok discovered that there was a very thin solo repertory for his instrument, so he went about creating his own and in the process has done the music world a great service. In 1989 he published a book titled New Techniques for Bass Clarinet. This groundbreaking work catalogued and explained a wide variety of extended techniques including playing more than one note at once (multiphonics), use of microtones, extended register, harmonics, various methods of articulation, and timbre changes."
&nbsp&nbsp&nbsp&nbsp&nbsp The book's publication has stimulated composers to write new pieces to explore these methods of expression. Gerry Errante continues, "For the publication of the book, Joep Straesser (b.1934) composed a work employing many of the techniques described therein. The result is much more than a collection of gimmicks; it is a virtuoso tour de force of extended techniques and a totally engaging, moving piece of music. The title of the work, Plain Language, describes the basic musical material - a rapid short motive based on the interval of a second, and an octave leap. Written in five sections, the two motives gradually intertwine and interact. In the process, many of the extended techniques including some lovely, delicate double stops are employed. Bok's performance was masterful and it is clear that he 'owns' this work."
&nbsp&nbsp&nbsp&nbsp&nbsp The fourth piece on the program was a composition for bass clarinet and piano, Mirabelle, by Burkhardt Söll. Bok was joined by Andrey Kasparov at the piano. "Composed in 2003 for a recording project that Bok initiated, this work is quite lyrical in nature [with a jazzy flavor]. The piece takes its title from a fruit grown in the Alsace region of France that is in season for only one month a year. Couched in a traditional ABA form, the middle section of the work is a luscious long-lined melody that contrasts with the fragmented outer sections. Söll makes use of the extreme registers of this bass instrument, and Bok negotiated these demands with great confidence. The masterful performance made it appear that the paring of Kasparov and Bok had been of many years rather than just several days. As an audience member it is wonderful to relax in the confidence that the music will unfold exactly as it should."
&nbsp&nbsp&nbsp&nbsp&nbsp Lisa Relaford Coston, mezzo-soprano and James Weaver, tenor, sang a song cycle, Four Tucholsky Chansons (1972), written by Jurriaan Andriessen (1925-1996), accompanied by Sam Dorsey on guitar, Bonnie Kim on flute and Oksana Lutsyshyn substituting on synthesizer for the ailing cellist, Leslie Frittelli. The first song, Lovers at the Window, opens with a duet describing the scene from the street below on a laid-back Sunday morning. The second verse is the man alone expressing world weariness about his mundane life. The woman in the third verse sings of her desire for children and pets: "I will enslave him one of these days." The piece ends with a duet expressing doubts of their future together. Will they take new lovers or stay together until habit replaces love and only a memory of their beautiful past remains? The music creates a cool, detached mood.
&nbsp&nbsp&nbsp&nbsp&nbsp In the style of a romantic popular song, She to Him, sung by Ms. Coston, has sophisticated, creamy vocal tones with a painful, subtle longing. She is deeply in love with a man who has many fine qualities "but…affectionate you are not." The text of Out! explores the day that will come when the relationship ends. Accompanied by cello, Feeling is an emotionally cool song that explores issues of boredom at work while earning a living, unfulfilled longing for travel, color, a desire to explore the world and end the dreary cycle of daily life. Kurt Tucholsky (1890-1935), the German poet of these verses, is not well known outside Germany. His sophisticated idiomatic poetry was translated for this program by Dr. Regula Meier of Old Dominion University.
&nbsp&nbsp&nbsp&nbsp&nbsp A single piece by Ton de Leeuw (1926-1996) was presented after the intermission - Invocations for chorus, mezzo-soprano and instrumental ensemble of some nineteen performers. Vocal soloist Lisa Coston was joined by a chorus including sopranos Agnes Mobley-Wynne and Karen Scott, alto Melissa Zielinsky, tenors Glenn Hersch and Steve Stewart and basses James Weaver and Michael Broadhurst. Errante and Bok were joined by Steve Clendenin on clarinet; Marlene Ford, horn; Rick Kalinauskas, trombone; Oksana Lutsyshyn, piano; David Walker, Kevin Kelleher and Nicholas Bartolotta on various percussion instruments; and Andrey Kasparov, conductor.
&nbsp&nbsp&nbsp&nbsp&nbsp The texts are from Psalms 4, 91, 129 and the Requiem Mass. The piece is monumental in scope and was awe-inspiring to hear. It freely blended Gregorian chant with a pallet of of modern Western sounds and with a large set of percussion instruments from East and Southeast Asia.
&nbsp&nbsp&nbsp&nbsp&nbsp This intense musical tapestry is woven from the sounds of gentle horn, drums, voices, or one clarinet with Lisa Coston's lovely mezzo tones, with only Henri Bok's bass clarinet pouring forth, then Gerard Errante's clarinet joining in, then a third clarinet played by Steve Clendenin. At times the music becomes agitated. At other times there is quiet percussion. At other times bells, then intense tones of timpani overwhelm me. A line of great clarity morphs into complex forward rushing music of muddy intensity, only to emerge crystal clear and precise. And the chorus, what colors he achieves by using voices in such variety of intensities, such startling sonorities with voices and instruments and voices alone.
&nbsp&nbsp&nbsp&nbsp&nbsp Frankly, my notes do not capture what I experienced as the piece was played. To write anything interfered with the rapt attention required to follow this spellbinding, awesomely complex musical landscape as it unfolded. I understand from several singers that their task required the same intense concentration as did following it as a listener. It was marvelous music-making on a higher level than one usually hears. Thank you Andrey Kasparov for choosing this piece.
Back to Top
More Creo
Printer Friendly Format
Back to Review Index