First Presbyterian's Organ Dedication Concert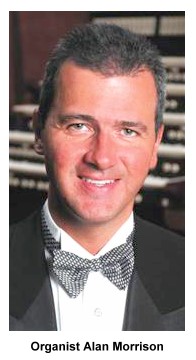 &nbsp&nbsp&nbsp&nbsp&nbsp First Presbyterian Church in theVirginia Beach oceanfront area had three very fine musical programs this spring. It all started with the Dedication Concert on April 23, 2006 of the Fain Family Organ. Replacing their 1957 organ which " was reaching the end of its natural life" as music director David S. Kunkel described it. The congregation chose to have the sanctuary designed as an acoustic space to best accommodate the new organ. This involved replacing carpeting with hardwood floors, removing and reconditioning the pews and re-painting the sanctuary before the Reuter Organ Company installed Opus 2225 organ. The sixty-eight ranks replace the old seventeen rank organ. The congregation stayed after services in August, 2005 to help unload the equipment. Picture folks in their Sunday best carrying pipes which filled the entire sanctuary.
&nbsp&nbsp&nbsp&nbsp&nbsp For this program Alan Morrison, concert organist, was brought in from the Curtis Institute of Music in Philadelphia, where he became head of the Organ Department at age thirty-three. He is a friendly, handsome man with a resonant, deep speaking voice. His style of performing is direct, clear and enticing. He has played in all the finest American venues or soon will.
&nbsp&nbsp&nbsp&nbsp&nbsp The pipe organ is far from my favorite instrument but I was won over by his unfussy playing and the organ sound in this superb new acoustic space. In the opening Bach Toccata in F, BWV 540 the depth of sound had an almost unbearable intensity. Watching Alan Morrison's feet dance over the pedals near the end of the piece was amazing. J.S. Bach's (after Vivaldi) Concerto in A Minor, BWV 593 followed. Even in a minor key Bach still sounds happy. The second movement accented the gentler aspects of the sound spectrum.
&nbsp&nbsp&nbsp&nbsp&nbsp Maurice Duruflé's (1902-1986) Scherzo, opus 2 is a bouncy piece based on plainchant. It quickly switches from profoundly deep chords to flippant, light, frothy ones over and over - a study in extreme contrasts.
&nbsp&nbsp&nbsp&nbsp&nbsp Mr. Morrison then played his mother's favorite piece, II Andante sostenuto from Symphony "Gothique", opus 70 by Charles Marie Widor (1844 -1937). The piece is orchestral, using the flute and full string components of the organ. He told us he had played this piece for Fred Rogers' memorial service; Mr. Rogers was a second father to him. In this meditative piece he invited us to remember someone who had greatly influenced our lives. It created an effective inward-turning mood for this listener.
&nbsp&nbsp&nbsp&nbsp&nbsp The Louis Verne piece, the Finale from Symphony VI, opus 59, showcases the most powerful roar of the instrument, contrasted with fleet, quiet passages. True, it is indulgent writing, a bit tiring but it does lumber ferociously to a conclusion. The room was filled with sound of great clarity and the playing was superb throughout. Mr. Morrison's conversational introduction and comments were friendly and informative. After intermission we heard music by current American composers Harold Stover (b.1946) and Dan Locklair (b.1949). Stover's Mountain Music: At Evening was a quiet nocturne with glorious glockenspiel and triangle sounds; Quick Dance contrasted heavy-footed dancing with delicate steps; and Pilgrimage, with its old church organ plodding along sound, then with disturbing sonorities, counterpoint with dissonance as if there is a struggle to keep focus on the chosen path in life.
&nbsp&nbsp&nbsp&nbsp&nbsp Mr. Morrison described Locklair's Ayre for the Dance as a crazy piece of music. Minimalist, octatonic displacing every other note, it had a bouncy, unpredictable quality. Based on a Shaker tune, we were reminded of the Shaker mantra "Hands to work / Music and heart to God." The program ended with Sonata eroica, Op. 94 by Joseph Jongen (1873-1953). By then I was on my way to another recital, this one vocal, and so I missed a reportedly fine reception and a chance to meet Alan Morrison.

Emily Stauch Solos in Glorious Schubert and Mozart Program
&nbsp&nbsp&nbsp&nbsp&nbsp The third program at Virginia Beach's First Presbyterian, simply titled "Spring Concert" was on May 21, 2006. The acoustic perfection would have been marred by the sound of the air conditioner and so it was turned off. It is delightful to have Music Director David Kunkel be so sensitive to the sound in an acoustic space.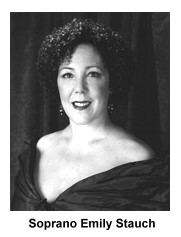 &nbsp&nbsp&nbsp&nbsp&nbsp At age seventeen, Franz Schubert wrote his first Mass. His second Mass in G for trio, mixed chorus, strings and chorus came the next year, written March 2 - 7, 1815 and performed in the spring at the Liechtentaler Kirche, Vienna. New depths of expression were sounded in the Agnus Dei. "It is a lento movement in E minor, and solo passages for soprano [Emily Stauch] and bass [Les Wasserman] alternate with the chorus quietly intoning 'miserere nobis' to gracious falling phrases. The viola is used expressively to link these solos and choruses." This from the Grove Dictionary of Music, 1980 edition. The Benedictus opens with a lovely tune for soprano repeated by tenor (Andri Gowens). Then the instrumentalists presented a sort of intermission for the choir, the charming little Mozart Sonata No. 4 in D (known as the key of celebration, KV 144) for strings.
&nbsp&nbsp&nbsp&nbsp&nbsp In Regina Coeli (KV 108) the soprano speaks as the Virgin Mary as the choir opens with the words "Queen of Heaven, be joyful. Alleluia." The soprano is the diamond in a choral setting that allows the facets of Ms. Stauch's voice to reflect the light in this music. The coloration was accomplished with such aplomb that it appeared to be effortless.
&nbsp&nbsp&nbsp&nbsp&nbsp The concert closed with Gloria from "Twelfth Mass" by Mozart. The forty-two voice choir sang with accuracy, enthusiasm and all their hearts and organist James Swiger lived up to the organ's potential. The violinists were Dora Mullins (concertmaster) and Pam Burke, Diana Kemp and Tom Lindsay. Alice Lindsay played the viola and James Barnes was on the double bass. These fine performers gave us a wonderful experience of glorious music.

David S. Kunkel's Christmas Gifts to our Community
&nbsp&nbsp&nbsp&nbsp&nbsp David S. Kunkel is Music Director and Conductor of the Virginia Beach Symphony Orchestra and Music Director of First Presbyterian Church on 36th Street in Virginia Beach. Once again he has sought out repertory that is new to his audience, and intriguing and entertaining, for the church's Christmas Concert - Franz Xaver Brixi's Missa Pastoralis.
&nbsp&nbsp&nbsp&nbsp&nbsp The Brixis were a Czech family of musicians. Frantisek (Franz) Xaver Brixi (1731-1791) was a leading musical figure in mid-eighteenth century Bohemia and played and wrote music in Prague most of his life. As I listened on December 10, 2006 at David Kunkel's church, I noted that the pastoral mass has a Mozartian energy. It is a choral piece with several solo parts sung with the sweet mellow tones of tenor Andri Gowens and the power and clarity of bass Les Wasserman. Brixi's music paved the way for Mozart's warm reception when he presented his music in Prague in the 1780s.
&nbsp&nbsp&nbsp&nbsp&nbsp If this lovely "new" piece were not enough, the program included other treasures. Soprano Emily Stauch read beautifully the Latin text of O Magnum Mysterium while David Kunkel gave us a translation. He quoted the late Chuck Oliver "Latin has pretty vowels." The musical setting was by Morton Lauridsen, a contemporary composer who lives in Los Angeles and set the text "as if the organ is breathing joy as a background for the gentle movement of voices."
&nbsp&nbsp&nbsp&nbsp&nbsp The Magnificat set by Ruth Watson Henderson in 2006 featured the voice of soprano Emily Stauch and guest organist Henry Faivre. The sound was impressive, especially in Mr. Faivre's encore, local and internationally known composer Adolphus Hailstork's Toccata for Organ: Veni Emmanuel, a real blockbuster of a piece which displayed the depth and beauty of the instrument and the skill of the organist with a bonus ending by Dr. Hailstork for this performance.
&nbsp&nbsp&nbsp&nbsp&nbsp On December 23 Mr. Kunkel conducted the 24th annual Messiah Sing-Along at Thalia Lynn Baptist Church where tenor Olindo Marseglia, fairly new to the area, having located here from South Carolina, gave a dramatic reading of Every Valley Shall Be Exalted. He has sung with Virginia Opera and is currently with the Virginia Chorale and the Virginia Symphony Chorus. Bass Tom Robinson gave a powerful and dramatic But Who May Abide the Day of his Coming. It was a big night for soprano Corbin Thomas, a music educator and local performer, with her teacher Emily Stauch in the audience. Adrian Shelton, mezzo-soprano was the other featured soloist. Mark Hudgins again directed the audience/choir with a firm hand and a smile.

Organist Cameron Carpenter Creates a Local Pop Sensation
My benchmark organ concert is Alan Morrison at First Presbyterian Church in Virginia Beach when he played the new organ dedication concert in April, 2006. The sanctuary had been acoustically tuned for the organ and the experience was incredible. A repeat of that experience was what I had hoped for with Cameron Carpenter. But that is not what happened. The screen beside the organ let us see the hands and legs and feet of the player. Mr. Carpenter's technical proficiency was certainly amazing. He was able to match the excitement of a NASCAR race in the first piece Symphonic Concertante Op.81, first and fourth movements, by Joseph Jongen. From pointillistic to blasting exuberance he displayed his skill to create musical incoherence.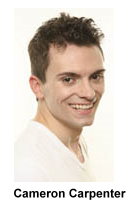 Because he could, and the organ could, he played the Bach Prelude and Fuge in A minor, opening very treble and very fast. The breakneck speed and extreme dynamics were exciting but Bach got lost on the way to the urgency that climaxed the piece. Love Song No. 1 (2008) by Mr. Carpenter was overwhelming noise - no beauty, no space to celebrate the beloved. Awesome, like thunder and lightning, it pointed out that love is potentially destructive. It was clear that the point of all the pieces was to show that he is an awesome keyboardist. There was a sameness to everything he played and this relentless feeling continued into Six Etudes, Op. 5 by Jeanne Demessieux. It was tiresome and I enjoyed greatly the quiet between the piece.
My favorite piece was the Leonard Cohen Hey, that's no way to say goodbye - he gave listeners time to feel something. His diddling on the keyboards was fun. Then without pause he launched into Liszt Mephisto Waltz No. 1 as if we had wandered into a Bugs Bunny cartoon - at last Elmer Fudd will catch that wabbit, or maybe a silent movie in Radio City Music Hall where the Wurlitzer is going full blast.
I asked my two companions "Can we leave at intermission" and they were happy to go. Conductor and critic Lee Tepley gave Alan Morrison a glowing review in the Virginian Pilot and I realized that we should have been at Christ and St. Luke's on Wednesday night even if it's not as acoustically perfect as First Presbyterian. Oh well, perfection is in the eye (or ear) of the beholder. Many people we know raved about Mr. Carpenter's performance.
A more thoughtful consideration of the whole experience came in an email exchange with a local organist friend who stayed for the whole performance. She urged us to "check out his YouTube...where he plays Chopin's Revolutionary Etude which he played as an encore as well as the Stars and Stripes Forever with the piccolo melody in the pedals! He was sensational in a strange way. I would have no desire to see him again. He chooses to ignore all the standard interpretations, registrations, tempi, etc. He made Virgil Fox sound and look timid by comparison. And Virgil was considered 'out there' 30 years ago. Were you still in the room when Cameron spoke? I can't imagine what a handful he must've been for John Weaver, his teacher, a conservative sort and for for the small western PA township he came from.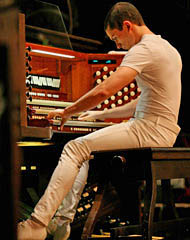 "Obviously, most of his playing is meant to shock or at least surprise, and if his playing brings more people to the organ, then great. But I have a feeling that his approach will backfire, making audiences (and church leadership) think that if the organ isn't played like Cameron Carpenter plays, the rest of us organists are somehow lacking. His choice for concert attire somehow doesn't help his cause for us 'older' folks. (Editor's note: he wore all white: skin-tight shirt and jeans and a scarf that created visual interference in the video). You can't help but admire what he can do with his self-designed organ shoes which have a higher, Cuban-style heel and lacks the center steel shaft. He seems to literally grip the pedals !
"I did like his Bach opening; the colors were very interesting and different and the cadenza, while a fun surprise, went on a bit too long. My friend said that he took too many ideas and didn't really develop any of them. Alan Morrison was just the most elegant wonderfully musical way to end the convention last week. He looked more like the younger 'elder statesman' by comparison and played dreamily!"
In conversation with other organists, it was suggested that in a few years Carpenter could become a better interpreter. Others agree that he is not musical, just a phenomenal technician. Or perhaps he will become the first pop-star organist.
Back to Top
Printer Friendly Format
More First Pres VB
Back to Review Index
Home &nbspCalendar &nbspAnnouncements &nbspIssues &nbspReviews &nbspArticles Contact Us