A Brief History of Messiah
In London, Handel's career as Italian opera composer and impresario was in shambles but he had an invitation from the Lord Lieutenant of Dublin to bring his music there. While still in London, between 22 August and 14 September, 1741 he composed the music for a text compiled by Charles Jennens (1700-1773) from the Bible and the Prayer Book Psalter. He titled the work Messiah. He traveled by ship to Dublin and was delayed in the city of Chester by contrary winds and took this chance to rehearse some of Messiah choruses with local singers.
He docked in Dublin on 19 November and was soon playing organ and conducting some of his anthems and began selling a subscription series of six "Musical Entertainments" at Neale's new Music Hall on Fishamble Street, opened just before he arrived. Subscriptions quickly sold out and a second series was offered. On December 23, 1741 the first series opened with Handel's earlier collaborative effort with Jennens, L'Allegro, il Penseroso ed il Moderato (1740). Later programs offered Acis and Galatea, Esther , Alexander's Feast, several organ and other instrumental concertos. The theater was crowded and audience members were encouraged to leave swords and hoop skirts at home so others could fit into the theater.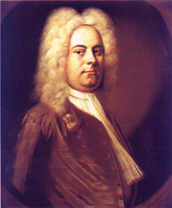 There was a rehearsal open to the public of Messiah on 9 April, 1742. Enthusiasm built and the 13 April performance raised 400 pounds to benefit three charities. In late May Handel conducted his oratorio Saul and on 3 June he repeated Messiah. The entire visit was a triumph and his music became a hot ticket in Dublin for years to come.
In August he returned to London, planning to return to Dublin the following year but his great success with his oratorio Samson at Covent Garden, where he agreed to perform oratorios, unlike operas, allowed during Lent, led him to stay in London. He played to a crowded house in eight performances. It was an important event and demonstrated that English singers in leading roles could hold the attention of an audience and established the pattern for all of Handel's future work. This split London music lovers into two camps, the middle class, with their Evangelicism who supported his music but were suspicious of the hedonistic element in art, and the aristocracy that supported opera.
The first London performance of Messiah, March 23, 1743, advertised it not by name but only as a "New Sacred Oratorio." There was a campaign in the London press to damn the enterprise as blasphemy because an "act of religion" was unsuited to the theater. This history is perfectly understandable (think Rupert Murdoch, today) when we remember that the subject of oratorios must be religious and the music must agreeably unite with the "most pleasing airs of the stage." The work fell flat until 1750 when sly old Handel performed it for charity at the Foundling Hospital Chapel. The rest is history.
Messiah reached the new world with extracts performed in New York City in 1770, in Charleston in 1796 and in Norfolk, Virginia in 1797. The difficulty in performing the entire work was in assembling an adequate chorus and well trained soloists. A full performance took place in Boston on December 25, 1818. (Handel's Messiah A Celebration, Richard Luckett, Magdalene College, Cambridge). There is no definitive version since Handel altered, rewrote or added numbers to suit various performances. In the 19th century enormous orchestral and choral forces became the fashion. Not until the mid-twentieth century did Messiah return to near original proportions with correct tempo and rhythm. With no organ available for figured bass, Mozart had composed accompaniments for other instruments to fill this gap and these are frequently used. Yes, Mozart! See "Mozart's Renovations of Handel's 'Messiah'" - New York Times, December 21, 2011.

Messiah
Governor's School for the Arts Vocal Music Department
December 18, 2011
Chandler Hall
Reviewed by John Campbell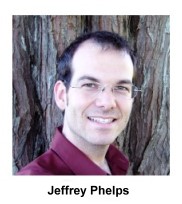 Professional singers were always used by Handel as soloists with the best choral singers he could assemble and that is what made the performance by the Governor's School for the Arts with the GSA Orchestra da Camera led by Jeffrey Phelps, so interesting. It was a challenge for the seventeen string players who had to play 90 minutes of continuous music. The vocalists had other challenges. A solo performance in a masterpiece that is so well known is a lot to live up to. Chandler Hall is perfect for a beginning experience. In this theater of 280 seats it is obvious that powerful singing is far less demanded. Here, excellent diction and accuracy were all that Handel's music required and the students delivered.
All the vocal students were part of the chorus. When it was time for a solo, only the soloist remained standing. Senior Jermaine Woodard was bass soloist in four sections on December 18 and provoked a wow! response, especially when he sang For Behold, Darkness Shall Cover the Earth. There was a golden fluidity in his sound that is often missing in deep voices. The short soprano recitatives allowed several sopranos to participate, with Emily King getting a chance to shine in Rejoice Greatly, a big soprano air. She successfully added some Baroque embellishments as did tenor Evan Guttierez in Every Valley. Other soloists were featured on the December 17th performance.
The chorus of thirty, prepared by Stephen Z. Cook, had a full sound with clear, crisp diction and great enthusiasm. All We Like Sheep is such glorious fun, never has going astray provoked so much glee. There is a twinkle in the old rascal Handel's setting. The Hallelujah Chorus, with the title repeated 70 times in 3˝ minutes, has flexible rhythms and stately harmonies creating a feeling of resounding joy. Legend has it that at its London premiere, King George II leapt to his feet in awe, starting a tradition that continues to this day.


GSA Orchestras: Side by Side with the Virginia Symphony
Sandler Center for the Arts
March 17, 2012
Review by John Campell
Jeffrey Phelps Leads Governor's School for the Arts Orchestra to Carnegie Hall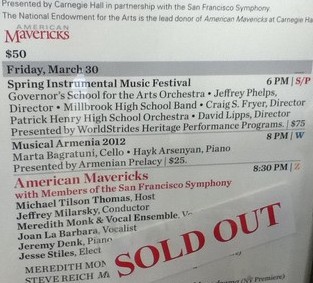 There was high enthusiasm building for the New York trip. While at Carnegie Hall on March 30, Jeffrey Phelps conducted the GSA Orchestra in three works: the Grieg Piano Concerto in A minor, Op. 16, first movement; Prokofiev Symphony No. 5 in B-flat Major, Op. 100, second movement and the second movement of Three Places in New England by Charles Ives. Two other high school orchestras will also appear. The opportunity to play in Carnegie Hall was secured by winning a national competition.
Local listeners did not have to travel to New York to hear our accomplished local instrumentalists. On March 17, 2012 we were treated to full performances of the first two Carnegie Hall selections. The Ives was on a January 6, 2012 program at the Roper Performing Arts Center when the GSA orchestra, GSA Big Band and GSA Jazz Combos took turns on stage for a lively evening of entertainment.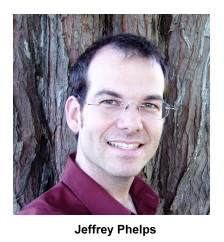 The March 17th program opened with Lisa Armistead, a third year GSA student and junior at Grassfield High School in Chesapeake, at the piano with Mr. Phelps conducting the orchestra. The dramatic opening of the Grieg (1843-1907) allowed this pretty, blond, prize-winning pianist to shine. The first bar tympani roll leads into a dramatic piano flourish that sets the tone for the entire first movement. The music in the second movement is gentle and lyrical. Grieg lets the piano play solo passages often. The third movement is busy in the grand manner. About six minutes into the sustained sound in a quiet section, flutes in the orchestral texture were especially lovely. The range of playing from gently lyrical to strong, intense and dramatic all seemed to come easily. Ms. Armistead played with a maturity of expression rare in one so young. Overall it was a commanding performance for her and the orchestra.
The other piece on the program was a great luxury for the audience. The eighty-plus GSA orchestra was joined by Virginia Symphony players to bring the forces in the Sergei Prokofiev (1891-1953) 5th Symphony to a one-hundred-thirty piece ensemble. The youthful Benjamin Rous, in his second season as Associate Conductor of the VSO, was on the podium. Jeffrey Phelps appeared in his other specialty as one of the cellists in the orchestra.
The Andante, first movement, blended two themes, one calm and the other soaring, with tremolo strings. This followed the exposition section creating some unusual orchestral colors. The second movement (Allegro marcato) is a scherzo with a central country dance in triple time and Conductor Rous danced through it all. Steve's comment was "the soundtrack of cartoon warfare." It was interesting to see how the VSO's percussionists mentored the GSA players as they played, only entering the sound when needed to fill out the score.
The third movement is dark and somber and builds to a tortured climax before receding to dreaminess. The fourth movement begins with a full-sounding cello choir playing a slow introduction containing elements from the beginning of the first movement. The playful main theme is contrasted with two calmer episodes, one played by flutes, the other a chorale on strings. As the movement looks for a jocular, sassy close to celebrate the strength of the Soviet people in World War II, instead there is a bitingly dissonant kind of machine music - a manic frenzy of sound. Eleven bars before the end the sudden diminuendo of grinding gears gives an icy close for what Stalin wanted to be a victory narrative. The premiere was January 13, 1945, four months before the war in Europe ended.
The Ives Three Places in New England (January 6, 2012 performance) was written between 1903 and 1914, one section at a time. In "St. Gaudens" in Boston Common, the the first place, you hear marching tunes and old songs woven into the orchestral music. In Putnam's Camp, Redding, Connecticut, Ives creates multi-layers of sound, a patriotic overture and a country band all at the same time. The Housatonic at Stockbridge gives sound impressions of a misty Sunday morning when Ives and his new wife walked in the meadows beside the Housatonic River, heard birds singing and church bells across the river. The orchestra was most impressive as they wove these sound fragments into a coherent experience.
That program ended with Ralph Vaughan Williams (1872-1958) A London Symphony (1914, revised 1936). It had begun with jazz pieces played by the Big Band conducted by Rob DeDominick and Jazz Combos led by Keith Philbrick. The Big Band students also travelled to New York and played a noontime concert at Le Poisson Rouge on Bleecker Street, Greenwich Village, after attending a concert of Wynton Marsalis' Jazz at Lincoln Center Orchestra playing big band hits at the Rose Theater, the new jazz venue at Lincoln Center.

Back to Top


More GSA
Printer Friendly Format
Back to Review Index


Home &nbspCalendar &nbspAnnouncements &nbspIssues &nbspReviews &nbspArticles Contact Us