Tenor James Barbato & Pianist Jason Paul Peterson
Give Robert Schumann 200th Anniversary Liederabend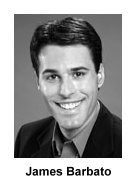 Tenor James Barbato selected twenty songs by Robert Schumann (1810-1856) for a recital at Ghent United Methodist Church with music director Jason Paul Peterson at the piano to commemorate the 200th birthday of the composer. The talented, attractive young performers met at the Eastman School of Music as undergraduates and have remained friends since. Dr. Peterson interrupted his honeymoon after only four days to meet for the recital with Mr. Barbato who was on his way the following day to begin a season as a young artist with Florida Grand Opera. We listeners were fortunate that they did.
Let me start by praising the program materials which gave extensive biographical information, complete texts and translations with opus numbers in an attractive format.
Schumann's father was a bookseller and he had poetry available to him, always. He seems to have had an intuitive understanding of poetry and in his over 300 settings he set a wide variety of poets. As a workaholic with only tenuous mental stability it has been left to others to judge the quality of his output. Only a limited selection of his songs are usually presented. The first half of the program was familiar to this listener – all are settings of poetry by Heinrich Heine (1797-1856). The opening selection, Der arme Peter (Poor Peter), in three parts tells the story of a man at his beloved's wedding to another man. In the second section Peter tells us of his pain, seeking solace alone in the mountains. Returning to the town everyone sees that only in the grave will he find solace. In this and a set of four lyrical songs that were once part of Schumann's Dichterliebe, Op. 48, Dein Angesicht (Your face, so lovely and beautiful), Lehn' deine Wang an mein Wang (Lay your cheek against my cheek), Es leuchtet meine Liebe (My love shines) and Mein Wagen rollet langsam (My carriage goes slowly), Schumann has selected passionate and sad poetry full of images of nature and personal pain. The elegant songs and polished performance win you over to this repertory. Our singer has a very subtle way of using his eyes and body to express feeling.
The next set, Romances and Ballads, allows a full range of voice and facial expression, using contrast in mood. There is arrogance and subsequent terror in Belsazar, a tale from the Bible of a king who blasphemes God and dies as a result. In Abends am Strand, watching a ship at sea, girls listen to stories of exotic places the seamen have traveled. The setting of the word "shrieking" brought forth an incredible vocal sound. Die feindlichen Brüder is the tale of two brothers who duel over the Countess Laura. In the end they kill each other. Centuries later in this valley the ghostly brothers can still be seen at midnight. Frightening! In Die beiden Grenadiere (The two soldiers), France has lost the war and these soldiers are returning home. One has a family to return to, the other is focused on the Emperor's capture. His request is to be buried in French soil. The Marseillaise in the piano accompanies the story that he will rise again to defend his Emperor, given the chance.
After intermission we heard settings of poems by Justinus Kerner, a physician and medical writer as well as poet. Published as Opus 35, it has been described as "a row of songs" because it is not organized by theme or key structures as is usual for Schumann. We heard six of the twelve songs. These, as all of tonight's selections, were written in 1840, the year the Schumanns were married on September 12th after a court battle with Clara's father who would not grant permission for their nuptials. In his book The Songs of Robert Schumann, Eric Sams focuses on the mood swings from elation to depression. The years 1840 and 1849 were crests of activity. For 1840 I count 145 titles in the Grove Dictionary of Music. In English the song titles are: Thrill of a stormy night, where lovers' ecstasy is covered by the roaring of a storm; Spring's first greenery seems a love song to spring with a surprise ending - "only green leaves laid against his chest gives him peace – the peace of the grave;" Longing for the forest is a somber poem and is followed by Roaming where the warmth of the assurance of his love is carried in his heart; Die, love and joy demands a wide range of emotional expression of singer and pianist. Here the beloved is suffused by a heavenly radiance as she prays "Consecrate me as a nun!" He is resigned and fulfilled.
These carefully crafted songs are so elegant, so otherworldly, like the contrast of a Disney movie to real life. The settings of five poems by Hans Christian Anderson (translated into German from Danish by Adelbert von Chamisso) make use of irony or incongruity. An example of two: Muttertraum (A mother's dream) seems a simple nursery scene but the somber expression on the singer's face alerts us. She kisses and hugs the baby and our singer's expression shows a sweet, relaxed mood. Meanwhile, the ravens croak that one day the grown-up child will be hanged for a thief. This is not Steven King frightening but the ending with harsh sounds in voice and piano make the point. Der Soldat (The Soldier), with a marching rhythm in the piano, tells a story of being part of a firing squad. The soldier says his heart is breaking because "in this world I have loved only him." The others miss but he shoots the prisoner through the heart. The reverse of an earlier setting is found in Der Spielmann (The musician). This time the bride is marrying the wrong man, longing to marry the musician who plays for her wedding. The encore was the well-known Die Lotusblume, one of Schumann's beautifully descriptive nature scenes of the lotus blossom which blooms at night, waiting for her lover, the moon.

Contralto Kelly Samarzea
and Pianist Jason Paul Peterson in Recital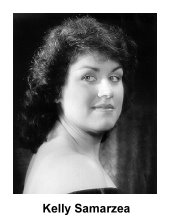 April 18, 2010 Chandler Recital Hall. Kelly Samarzea is a new faculty member at Old Dominion University and this was our first opportunity to hear her sing. Her sound is big and impressive with a deep rumble in lower notes and with surprisingly light top notes. Jason Paul Peterson, who is on the piano faculty at the university made a strong impression in the first selection, a stately accompaniment of Dvorák Andante Maestoso from Stabat Mater. This was followed by a set of four songs by Francis Poulenc, Le Travail du Peintre (The Work of the Painter) (1968) on poems by Paul Éluard, surrealist evocations of works by painters Pablo Picasso, Marc Chagall, Paul Klee and Jacques Villon. For example, the song Marc Chagall captures the lighthearted humor of his disembodied objects floating in a deep blue space.
Moving into German repertory they performed three of Schubert's best loved songs. A smooth, lovely rush of notes rolled over me during An die Musik (To music). The gentleness of Fruhlingsglaube (Faith in Spring) (D.686) was followed by the split personality in Der Tod das Mädchen (Death and the maiden), where the gentle maiden's words are followed by death's seductive ones, creating deep terror.
After intermission we heard three songs by Richard Moriarty (b.1946) from his setting of text from La Celestina, a play written by Rick Hite in 2009. The play is a loose adaptation of a Spanish literary work by Fernando de Rojas (1499). Celestina is a matchmaker who believes in witchcraft and is madam of the local brothel. Conjure song opens with bass chords that dramatically set the scene for the rich, deep contralto notes that tell the story. Tooth Song and Song of Love have lyrical vocalise-like phrases between sentences of text. These are accessible, straightforward settings that lead me to want to see the play to understand how it all fits together. Rich Moriarty is a graduate student studying composition with Dr. Adolphus Hailstork. Dr. Moriarity headed the lab at Eastern Virginia Medical School and is having a really good time in his retirement career.
The last set of songs included Civil War era American folk songs, He's Gone Away, and two Stephen Foster (1826-1864) selections: Camptown Races and There are plenty of fish in the sea. I was impressed by how Ms. Samarzea could lighten her voice in these once-popular songs. She proved that not only can a recital be enriching and intellectually fulfilling, it can also be fun. The final song was Shenandoah and her sound was natural: no strain as she spun out the familiar story. Dr. Peterson at the piano was a sensitive and polished accompanist throughout.
Printer friendly format

Back to Top
Back to Review Index
Home &nbspCalendar &nbspAnnouncements &nbspIssues &nbspReviews &nbspArticles Contact Us