Mezzo-Soprano Elena Gragera and the Amsterdam Cello Octet
Perform Spanish Art Songs and Much More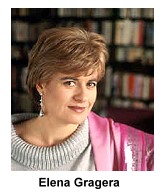 On March 12, 2009 at the American Theater, Hampton Arts Commission presented an excellent, entertaining evening of chamber music. Hearing Spanish language art songs accompanied by eight cellos rather than one piano opened up interesting sonorities in songs both familiar and new to me. From deep resonance to a treble violin-like tone, the cello proved a great accompaniment for mezzo-soprano Elena Gragera who is "one of the most serious and interesting talents on the Spanish musical scene today."
It was amazingly easy to communicate enthusiastically about art songs with Ms.Gragera. She and her pianist husband, Antón Cardó, have several CDs of Spanish art songs available of "repertory that needs to be heard" as she phrased it. She sings with an incredible flexibility of facial mask and open throat, The program opened with songs by Joaquin Nin (1879 -1949) - four selections from Cantos populates Españolas. In 1923 he set twenty popular Spanish songs. All were existing melodies. He added elaborate piano accompaniment and copious notes as to how they should be performed. Influenced by the clarity and delicate modulation of the Spanish Baroque and French impressionism, we heard Granadina, Murciana, Saeta and El Vito. All partake of the spontaneity of flamenco. By definition a vito is a dance full of fire, performed in the tavern by a woman standing on a tabletop with an audience of bullfighters. I especially enjoyed the pizzicato accents of the lyrical cellos.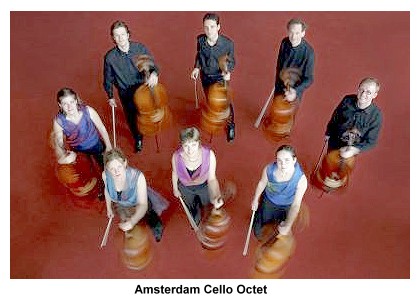 Amsterdam Cello Quartet, as the group is now known, was for many years Conjunto Ibérico, led by Spanish conductor Elias Arizcuren until he retired. The current artistic director, Robert Putowski, explained that the geographic focus shifted - all eight cellists live in and around Amsterdam and give concerts in Europe and the Americas. Always open to new challenges, the group is currently working on a Caribbean music project with musicians and composers from the Antilles.
Founded 20 years ago by Arizcuren, there were only a couple of pieces for an octet of cellos. Arrangements of chamber works were the starting point but contemporary composers have filled their demand for specially written music. An example of the first is Manuel de Falla (1876-1946) El sombrero de tres picos (The Three-Cornered Hat) which was originally written for orchestra but had a rich, full-bodied sound by eight cellos.
On March 9, 2009, less than a week before this performance, the Octet premiered a piece by Amsterdam composer Fant de Kanter (b.1969) Chasing Planes, Placing Chains, a demanding piece brilliantly played. After a brusque opening statement, a propulsive phrase is repeated for the first two minutes until it gives way to a motif that will be repeated. To my ear it may be a tribute to Villa Lobos' Bachiana Brasilieras, perhaps No. 5, the first piece ever written for 8 cellos. The sweet, melodic playing develops a certain urgency that evolves into a gentle, quiet passage. Expectation is created using bowed and plucked strings. As the piece's opening driving phrase develops we are kept agitated by unresolved energy. The resolution is a sad song with some dissonant notes. Perhaps a parting at the airport? The texture of the music thickens but remains sad. As the plane lands a brief return to the motif remains emotionally tense. This fades to a single, simple line with all playing together creating a strange dance-like music of great richness but the line never soars. The dancers are suggested by the thin treble notes played against the deep bass line.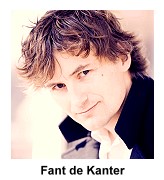 In an email conversation with the Fant de Kanter he wrote "The writing instructions from the ensemble were clear: they wanted a piece with great virtuosity and vivid lyricism that could display their enormous skill. Asked for a title, Chasing Planes was the first thing that came to mind, especially for the wider meanings of the word "plane." The "Placing Chains" I added later, for the word play, but more importantly it completed the description of the piece: 8 identical instruments chasing on different levels in often changing formations, feeling and imitating each other, while sticking to somewhat identical musical chains." He continued " Inspiration in my music always starts with pulse. My best ideas come while walking. In most cases harmony, melody and motives comes after this."
The octet followed with music by the minimalist American composer Phillip Glass which sounded tame after experiencing the previous piece. Six cellists played repetitive, propulsive music. The other two players added a dimension of lyricism as they played two movements from Glass String Quartet No. 2 Company. In Quartet No. 3 Mishima there is a popular music sound with a spare plucked-string rhythm against a bowed line.
Ms. Gragera returned and gave a spoken introduction to three songs from the Astor Piazzolla cycle El Tango. The first song, A Don Nicanor Paredes, is about a Mafia type and is composed on a ground of eight bars of Gregorian chant. Alguien le dice al Tango, a spirited, traditional tango, is followed by El Titere (The Puppet) filled with strutting musical runs, sudden stops and siren-like string effects. There is joy in Ms. Gragera's singing but the dark touches are there also.
The other set of songs, Canciones Argentinas by Alberto Ginastera (1916 - 1983) can be found on one of the group's many CDs. Born in Buenos Aires, Argentina, Ginastera taught at the city's conservatory and married a cellist who inspired his cello compositions. The songs can be found on the CD titled Cello Octet Conjunto Iberico: Pasión Argentina, on Challenge Classics cc72170. The moods in the five songs ranged from raucous to tentative and searching, powerfully communicated by Ms. Gragera.
I will close with the opening piece for the second half, Requiem by David Popper (1843-1913), a great master of the cello and the son of a cantor, born in Prague Czech Republic. Popper is second only to Pablo Casals in bringing cello technique to its current level of development. The piece is a favorite of Yo-yo Ma and was arranged from the original for three cellos and orchestra for the octet. This melodious music presents a wide spectrum of sound from the instruments. If the group comes to your city go experience a live performance.
Printable Version

Back to Top
Back to Issues
Home &nbspCalendar &nbspAnnouncements &nbspIssues &nbspReviews &nbspArticles Contact Us