Derek Lee Ragin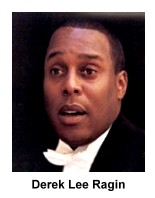 &nbsp&nbsp&nbsp&nbsp&nbsp Celebrated American countertenor Derek Lee Ragin was presented in recital by The DeiVision of Music of Friendship Missionary Baptist Church in Charlotte, NC. His accompanist for the evening was Dr. Gregory Thompson, who serves on the music faculty of Johnson C. Smith University. Mr. Ragin began his rapturous program with three songs by Henry Purcell, Music For A While, Sweeter Than Roses and Evening Hymn. Mr. Ragin sang these pieces with simple elegance. He is to be commended for his excellent execution of the florid runs in Sweeter than Roses. Evening Hymn was sung with a sense of devout reverence and he expressed apparent joy for his Creator as he executed the expressive melismas on the single word "Alleluja!"
&nbsp&nbsp&nbsp&nbsp&nbsp Next, Mr.Ragin introduced two selections by Felix Mendelssohn, Nachtlied, Op 71, No. 6 and Der Mond, Op 86, No. 5., giving an explanation of the German text. In contrast to the Purcell, these pieces allowed him to utilize more depth and color in the voice. Beautifully sung, these pieces revealed the richer mezzo quality of his voice, without his having to resort to heavy chest tones.
&nbsp&nbsp&nbsp&nbsp&nbsp Next was the recitative Frondi tenere and aria Ombra mai fu from Xerxes by George Frederick Handel. Mr.Ragin, who is considered by many critics to be one of the foremost performers of Handel, paid tribute to the composer by simply singing with sumptuous tone and radiant phrases of pure liquid. In the concluding aria from Tamerlano, Ah dispetto, Mr. Ragin further asserted his place as a champion of Handelian aria in this dazzling piece sung with fierce articulation and runs that were a true display of pyrotechnics.
&nbsp&nbsp&nbsp&nbsp&nbsp Following a brief intermission, Derek Lee Ragin rounded out his program with three spirituals. Edward Boatner's spirited Oh What a Beautiful City was followed by the a cappella There's A Man Goin' Roun', and the joyous Every Time I Feel the Spirit by Moses Hogan. Mr.Ragin expressed his deep concern for Mr. Hogan, his friend and Oberlin College Conservatory of Music schoolmate who is suffering from brain cancer. They have collaborated on numerous projects. As he sang this piece, it was as though he was an intercessor on Hogan's behalf. It was here that the power of music was truly felt as he used his voice as vessel of great assurance. At the conclusion of the program Mr. Ragin was greeted with thunderous applause and shouts of "bravo!" The encore, the traditional spiritual This Little Light of Mine exquisitely sung, was greeted with a standing ovation.
&nbsp&nbsp&nbsp&nbsp&nbsp A reception followed where Mr. Ragin greeted his fans and signed countless autographs. This remarkable concert was truly one that I will never forget. Many persons drove several hours to hear Mr. Ragin, and I am sure they left the concert with a sense of great satisfaction!
Patrick D. McCoy, B. Mus
Graduate, Virginia State University
Petersburg, Virginia

Baroque Ensemble Rebel with Countertenor Derek Lee Ragin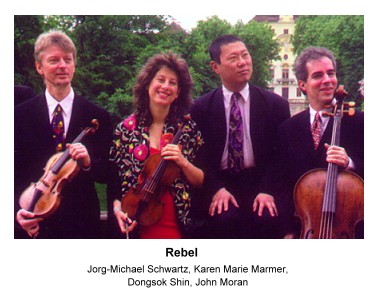 &nbsp&nbsp&nbsp&nbsp&nbsp There is a network of world-class Baroque performers that travel the world playing this marvelous music. Several of these experts were at The American Theatre in Hampton on April 23, 2005 and presented a rich selection of music written before 1735.
&nbsp&nbsp&nbsp&nbsp&nbsp Derek Lee Ragin is one of the foremost countertenors of our day and a master of Baroque style. This much-recorded singer is in great demand around the world and often appears in European performances of Handel operas. He is also an inspired interpreter of contemporary music and this year will sing in the world premiere of Peter Eötvös' opera Angels in America in Paris and Jonathan Dawe's Prometheus at the Guggenheim in New York.
&nbsp&nbsp&nbsp&nbsp&nbsp Rebel (pronounced re-BELL) is named for the French baroque composer Jean Féry Rebel (1666-1747). The ensemble is based in upstate New York and has earned an impressive international reputation for its unique style and highly expressive approach to baroque and classical repertoire. The group has recorded several CDs on various labels and has been heard on NPR. Visit their website at www.rebelbaroque.com
&nbsp&nbsp&nbsp&nbsp&nbsp The performance was as near perfection as live performance can be. This was the last performance of a month-long series of eight concerts presented across the United States. The camaraderie and flow of communication on the stage that facilitated such polished music making was a wonderful experience. In conversation we learned that Mr. Ragin and Rebel had four full days to prepare together before the first concert. In an age when the performers fly in, play a concert and fly out, this type of concentrated time devoted to rehearse and polish a performance is to be treasured.
An Angel's Voice: The Legend of Farinelli
&nbsp&nbsp&nbsp&nbsp&nbsp The program was structured around music composed when Farinelli (born Carlo Broschi, 1705-1783), an Italian castrato with a 3˝ octave range, was in was in his heyday as a singer (1720-1737). In the film Farinelli released in 1994, Mr. Ragin's voice was electronically blended with soprano Ewa Mallas Godlewska to achieve a sound similiar to the original voice. For readers unfamiliar with the concept of the castrato, briefly, the Catholic church prohibited women from singing in public, so boys with promising voices were castrated before puberty to preserve their pure soprano voices. Farinelli was highly intelligent and an accomplished musician who made a great deal of money while in London as a star of the Opera of the Nobility, a rival company to Handel's company and "contributed to Handel's withdrawal from the operatic scene," as the Grove Dictionary phrases it. He moved to Spain after several cancellations in London because of "indisposition." In Spain he sang to soothe the mentally unbalanced King Philip V and stayed on when Ferdinand VI (1746-59) came to the throne. While there he directed music at the royal chapel and redesigned the opera house where he presented a long series of sumptuously staged Italian operas. For his service to the crown he was knighted.
&nbsp&nbsp&nbsp&nbsp&nbsp During the nineteenth century there was much gossip about intrigues involving Farinelli but these, like the relationship with his brother depicted in the film and the notion that he had a psychologically troubled life, are unsubstantiated.
&nbsp&nbsp&nbsp&nbsp&nbsp We do know that money he earned as an opera star paid for his villa in Bologna. He retired there in 1759 with a pension from Spain when Charles III came to the throne. There he wrote music and poetry surrounded by a rich collection of paintings, keyboard instruments and manuscripts, some of which he inherited from the composer Domenico Scarlatti. His visitors included Gluck, Mozart, Casanova and royalty.
&nbsp&nbsp&nbsp&nbsp&nbsp Mr. Ragin sang Ombra fedele anch'io, an aria from the opera Idaspe, written by Farinelli's older brother Riccardo Broschi (1698-1756). First performed at Carnavale in Venice in 1730, the aria has frequent clef changes for the voice, using alto, baritone and mezzo-soprano clefs, each part with its own special color and effect. This florid writing was well served by Mr. Ragin with his precise diction and accurate intonation and the wonderful playing by the members of Rebel. Most of Broschi's operas have been lost but the laser disc of the film contains a second aria from Idaspe and his bravura concert aria Son qual nave, one of Farinelli's most famous showpieces which requires the blended voice created for the movie.
&nbsp&nbsp&nbsp&nbsp&nbsp Handel tried to entice Farinelli to London to sing for his company but instead he sang there for Nicola Porpora (1686-1768) who was his teacher at age fifteen in Italy, and his director in London fifteen years later. Mr. Ragin sang Alto giove from Porpora's opera Polifemo.
&nbsp&nbsp&nbsp&nbsp&nbsp Three pieces by Handel were included in the program and in the film because the music is contemporary and of such high quality. Two instrumental pieces, Ouverture & Suite in B-flat major from Alcina (1735), Passacaille from Sonata op. 5, no. 4 in G major HWV 399 and an aria from Rinaldo, Cara Sposa . . . The sweet sound of the instruments swirl around the hauntingly beautiful voice in this song
&nbsp&nbsp&nbsp&nbsp&nbsp The music of Johann Adolf Hasse (1699-1783) was our most exciting discovery on this program. Since we have had a laser disc of the Farinelli film for years and had listened to it several times, we had heard Generso risuegliati o core from his opera Cleofide (1731), but only as part of the soundtrack. Hearing it live heightened our awareness. Hasse's instrumental Fuga & Grave in G minor played by Rebel has a tempo that accelerates near the end that adds an intensity not usually found in Baroque music. In conversation with Jörg-Michael Schwarz, co-director with Marie Marmer (both violinists) we learned that Hasse's music looks forward to the classical period.
&nbsp&nbsp&nbsp&nbsp&nbsp Peter Bucknell was violist, John Moran the cellist, Donsok Shin was on harpsichord and Anne Trout played the double bass to round out this group of six. Mr. Moran is pictured with his cello in the May issue of Opera News on page 6 with Renée Fleming, though he is not named. Mr. Moran and his wife, violinist Risa Browder will be familiar to local audiences, having played with the baroque ensemble Capriole and other groups.
&nbsp&nbsp&nbsp&nbsp&nbsp Their playing of Giuseppe Torelli's (1658-1709) Concerto per archi op. 6, no. 9 in A-minor and Tomaso Albinoni's (1671-1751) Sinfonia in G minor displayed how tame and sweet this music can be. In their hands Antonio Vivaldi's Concerto alla Rustica in G major, RV151 was fiery and virtuosic in this extroverted music with its wild sonorities. Early in the program Mr. Ragin sang Vivaldi's Cantata Cessate, omai cessate in E flat major with refinement and intensity. I especially love the section where plucked strings accompany the soloist.
&nbsp&nbsp&nbsp&nbsp&nbsp Such a fine program of Baroque music whets the appetite for more. Gayle Johnson, a local expert in Baroque music, pointed out in conversation that this is the first time she has been in the audience to hear Derek Lee Ragin sing. Always before she has been conducting Capriole when he appeared twice as guest soloist. Even in college they were always performing together. We hope the experience will encourage Ms. Johnson to reactivate Capriole and go for Baroque.
Printer Friendly Format
Back to Top
Back to Review Index
Home &nbspCalendar &nbspAnnouncements &nbspIssues &nbspReviews &nbspArticles Contact Us