Hampton University Opera Theater Workshop
presents Arias and Ensembles
December 8, 2009. Turn out the lights in the theater, dress everyone in black, casual clothes and let the eight players march across the stage with spotlights following the parade as the piano plays the Entrance of the Mikado and Katisha from The Mikado by Arthur Sullivan (1842-1900 with text by Gilbert) and you have the opening to an evening of fun entertainment. Using a fan, a jacket, a scarf or a flower to trigger the audience's imagination, we watched other scenes unfold. Mikado continued with Three Little Maids from School are We and Braid the Raven Hair.
In a continuing 50 minute presentation we then heard Ebben?...Ne andrò lontana from La Wally by Alfredo Catalani (1854-1893) sung by Melanie Peters. The voice of this soprano senior form Baltimore has a lovely tone with a bell-like clarity in this lushly beautiful music. Là ci darem la mano, the dialogue between Don Giovanni (Thurman Diamond, baritone and senior from Hampton) and Zerlina (Brittany Louie, soprano, junior from Buffalo, NY) from Mozart's Don Giovanni was sung in English. They created the energy of the characters - the seducer and the demure innocent. The next scene had a new Don Giovanni (Valentino Lockhart, lyric baritone and junior from Miami, FL) still trying to persuade Zerlina to rendezvous with him, to no avail in Deh, vieni alla finestra.
Singing Chi il bel sogno di Doretta, Ms. Louie as the courtesan Magda from the opera La Rondine by Giacomo Puccini (1858-1924) created a golden stream of beautiful sound as she sang about a dream of great passion. From the refined world of a rich, kept woman we are dropped into the hardscrabble world of Carmen, a cigarette factory girl by Geroges Bizet (1836-1891). In the Habañera Tonya Hylton (mezzo-soprano, senior, Windsor, CT) sang well but in her acting did not relate to Don José. He might have taken the hint when the mutilated flower landed at his feet and gone on his way. In the card trio En vain pour éviter Ms Hylton was joined by Ms. Louie and Ms. Peters. The dialogue, while cutting the cards, created dramatic energy and fine singing.
Soprano Devin Tolbert, a senior from Chicago, Il, sang an authentic, accessible lament form Porgy and Bess by Gershwin (1898-1937), My Man's Gone Now. Her performance was deeply moving as Serena sings of the loneliness and sorrow for her murdered husband. In the last song, Bess, Oh where's my Bess, Porgy returns from jail only to be told by Serena and Maria (Ms. Peters) that Bess has gone with Sportin' Life and his "happy dust" to New York. Mr. Lockhart gave strong, convincing voice to Porgy's determination to have his life back with Bess.
Leslie Neal's piano work in this last song, and throughout the entire recital, was impressive. Ms. Neal is adjunct professor of piano at Hampton University and a frequent recital accompanist. Charlene Marchant conceived and directed this evening of fine, fun entertainment. She is adjunct professor of voice at HU and solo recitalist of note. Ms. Marchant also is part of the voice department at the Governor's School in Norfolk where her talents are much appreciated.

Lorraine Bell's Tribute to Dorothy Maynor
Neglected by the city of her birth, Norfolk, Virginia, Dorothy Maynor was a pioneer black, classical recitalist who received a long overdue introduction to current students of art song and aria at Hampton University by teacher and recitalist Lorraine Bell.
Before African-Americans were welcomed on the opera stage in the mid-twentieth century there were four renowned concert artists that led the way. In Eileen Southern's book, The Music of Black Americans: A History, she says Roland Hayes (1887-1976), Marian Anderson (1902-1983), Paul Robeson (1898-1976) and Dorothy Maynor (1910-1996) "were the first black Americans to win a secure place in the galaxy of concert stars; their accomplishments not only inspired others to emulate them but also lowered the barriers of race discrimination."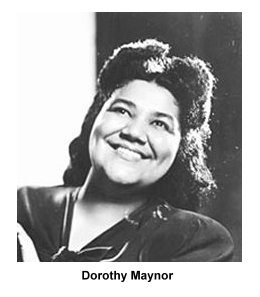 She was born Dorothy Leigh Mainor on September 3, 1910 in a very segregated Norfolk, Virginia, to a loving, musical family. Her father was the pastor of St. John's AME Church in Lambert's Point in West Ghent with a congregation that included a sizable number of Norfolk's substantial black professional class. Dorothy was a highly intelligent but shy child with a developing voice. To help her overcome her shyness, at age 14 she was enrolled at Hampton Academy, a preparatory part of Hampton Institute (now Hampton University). This provided a place where her innate ability could be nurtured. In 1928 Hampton introduced its four-year college program and the following year Dorothy became a college student.
From 1913 -1931 R. Nathaniel Dett was director of music and developed the Hampton Institute Choir. Dorothy sang in the choir and was mentored by him from 1924. The choir's soloist left the college just before a concert scheduled for Carnegie Hall. Dr. Dett interviewed a dozen young women; Dorothy nervously auditioned and at age sixteen made her Carnegie Hall debut as soloist with the choir. Recitals in Boston and Philadelphia followed and in 1930 the choir with Dorothy as soloist made an eleven-city tour of Europe, including London, Paris and Vienna. While in Europe, Maynor recalled in a 1977 interview, "Dr. Dett cabled my father and told him to change my plans from studying home economics and dress design to music. I wasn't consulted at all. But it didn't matter. I was happy."
In late 1931 under pressure from a new Hampton Institute president, Dett resigned as choir director and chairman of the school of music (1913-1931). Several reasons given make little sense; rumor had it that he was forced out because he was homosexual. He and Dorothy remained friends until his death in 1943. He composed ten songs for her to perform. On her 1933 senior recital she included Dett's arrangement of Sit Down, Servant, Sit Down.
After graduating from Hampton she won a scholarship to study at Westminster Choir College in Princeton, New Jersey. She graduated in 1935 and was helped financially by Harriet Curtis, dean of women at Westminster, to relocate to New York City where she studied voice and changed the spelling of her name. In 1939 patrons arranged an audition with conductor Serge Koussevitzky at Tanglewood Festival (then called Berkshire Symphonic Festival). He was impressed and asked her to sing for a private picnic the following day. She did and she got a glowing review in the New York Times. She told Noel Straus in the interview "...I would like to master all colors of tone and give each type of work what it demands. I am working hard for that." In November expectations ran high before her recital at Town Hall. Afterward the famous critic Olin Downs wrote in the Times "Miss Maynor's voice is phenomenal for its range, character and varied expressive resources." He went on to suggest that her exceptional musicianship, accuracy of intonation, emotional intensity and communicative power were those of a potentially great artist. Her career as a solo concert artist was launched and she toured the United States and later Europe and often sang on radio and studio recordings for RCA .
The program we attended on Sunday, March 2, 2010 presented by Lorraine McFadden Bell was titled "A Tribute to Dorothy Maynor: a Phenomenal Woman" and was in historic Ogden Hall where Maynor often performed. We heard student Leslie Wright read Maya Angelou's poem Phenomenal Woman and as part of this live-music-with-media production an ancient RCA recording by Ms. Maynor of Now Thank We All Our God followed by spoken biography and a DVD film about the Harlem School of the Arts. Maynor founded the school in 1963 after she retired from singing.
Milestones in her 25 year concert career included singing for the inauguration of Harry Truman in 1949, singing the National Anthem for President Dwight Eisenhower's inauguration (1953) and being the first black artist to perform at Constitution Hall (1952). The hall's owners, the Daughters of the American Revolution, had turned down Marian Anderson when she was scheduled to sing there in 1939. The National Symphony wanted Dorothy Maynor as a soloist and the DAR couldn't refuse since the symphony often rented their hall. Money trumped racism!
It becomes clear why Maynor is not well known here. In 1936 she settled in New York City and concertized extensively from her home base there. The segregated south offered nothing to a sophisticated, world-class singer. In 1942 she married Rev. Shelby Rooks, pastor of St. James Presbyterian Church in Harlem. In 1963 she retired as a concert artist to care for her husband after a heart attack. She became minister of music at his church and began planning for the Harlem School for the Arts. The next year she offered classes and the following year she used her network of friends to get together a board of directors including Adlai Stevenson, Halina Rodzinsky, Olga Koussevitzky, Langston Hughes, John Phillip Sousa III, Samuel Barber and Vladimir Horowitz, among others.
Ten years after Ms. Maynor founded the Harlem School for the Arts a feature article in Opera News (October, 1974) took readers on a tour of the school where Ms. Maynor was stitching away on a costume for a young dancer. Her domestic accomplishments were needed as well as her skill as a fundraiser and administrator. This short, "sparkling-eyed, gnome-like woman" had just raised $3,000,000 to build and equip a new building for the 800 member school population. Her persistence, vision and organizing skill brought together funds from foundations, individual and corporate gifts, a parents' bazaar, sales of a cookbook and benefit performances by Betty Allen, Leontyne Price, George Shirley, Shirley Verrett and William Warfield.
With 1500 students currently, her legacy is secure. (Opera News, June, 1996). Dorothy Maynor died on February 19, 1996 in West Chester, Pennsylvania after resigning as director and teacher at the Harlem School of the Arts (1979).
For readers who want to know more Google answers.com/topic/dorothy-maynor for a very accurate, detailed biography. Her only CD to date is on Bridge (9233) and is available online. I got my copy within five days and for $18, including shipping. The CD has four songs by R. Nathaniel Dett, one art song plus three spiritual arrangements. The first selection, her signature song, Handel's Oh Sleep, why dost thou leave me, makes clear what all the excitement was about. If you need more proof, Depuis le jour (aria from Louise by Charpentier) is here also. Her sound has warmth, soul-stirring richness, bell-like clarity in the upper range and a rare ability to float a weightless mezzo-voce. Beethoven, Schumann, Brahms, Strauss and Schubert represent German art song. Debussy's Beau soir and art songs by black Englishman Samuel Coleridge-Taylor and black American Cecil Cohen are also here. This recital from 1940 at the Library of Congress, where she was accompanied by pianist Arpad Sandor, has excellent sound and only three cuts with some surface noise. There is a book, Dorothy Maynor and the Harlem School of the Arts by William F. Rogers, Jr. who is retired form the faculty of Hampton University. I got a copy from my local library from the Inter Library Loan program. His book is basically an oral history of her life and an interesting read, but I found several dates to be inaccurate. Check other sources to confirm his dates.
In the recital that made up the second half of the program soprano Amber Garrett sang Pace, mio (Peace my God) from La Forza del Destino by Verdi, chosen because it was sung by Ms. Maynor on her senior recital at Hampton in 1933.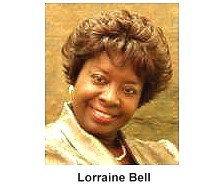 Choosing repertory that Maynor recorded, Ms. Bell sang Schubert's Gretchen am Spinnrade, the Alleluia from the Mozart Exsultate Jubilate motet K.165, Rusalka's Song to the Moon by Dvorák and Sit Down, Servant, Sit Down. Ms. Bell's interpretations were lyrical and heart-stirring. We owe Ms. Bell a debt of gratitude for bringing Dorothy Maynor to our attention. The program closed with Royzell Dillard leading the audience in the Hampton Univeristy Alma Mater.
Printable Version
Review Index
Home &nbspCalendar &nbspAnnouncements &nbspIssues &nbspReviews &nbspArticles Contact Us