Reviews
Florent Schmitt: Complete Original Works for Piano Duet & Duo, Vol. 3
Invencia Piano Duo
CD review by Adelaide Coles
This third volume is a continuation of the 4-CD recording project of all of Florent Schmitt's music for piano four-hands and piano duo by the Invencia Piano Duo. Each track on the CD shows another side of Schmitt's unique compositional style. On this album, the listener can recognize who Schmitt was influenced by, and whom he influenced with his music. Sometimes it is difficult to comprehend that Schmitt often "did it first" before many composers of his time, like Ravel, Stravinsky, and Poulenc, because we recognize their "style" in his music. The album's liner notes are very informative in placing Schmitt's compositions on the timeline of late 19th- and early 20th-century French music.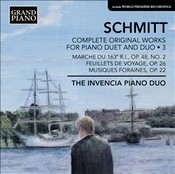 Volume 3 differs from the previous CD in the length and depth of the pieces, most being about twice as long as Volume 2's miniatures. Though the pieces are longer and the musical material more developed, Schmitt's light-hearted compositional spirit still leaves its impression on each piece, rather like some of Toulouse-Lautrec's paintings of the previous generation.
Volume 3 begins with the world-premiere recording of Marche du 163 R.I., Op. 48, No. 2, composed in 1916. The piece starts rather cheerfully like Schubert's Marche Militaire in D Major, but the middle section becomes darker and more ominous, understandably similar to Debussy's wartime composition En blanc et noir, which was composed the year prior. The offset rhythms bring to mind soldiers jumping to attention, one step behind the given order. Throughout the piece, the listener can hear the footsteps of the marching soldiers. Schmitt composed this piece originally for military band, but the manuscript has been lost. His arrangement for piano four-hands is performed on two pianos for this recording. The Invencia Piano Duo is able to elicit an ensemble's worth of sounds out of the pianos in this spectacular performance, and their very crisp articulations make this piece sparkle.
The next pieces comprise Books 1 and 2 of Feuillets de voyage [Travel pages] Op. 26, composed by Schmitt for piano four-hands as a sort of musical diary throughout his many travels from 1903 to 1913.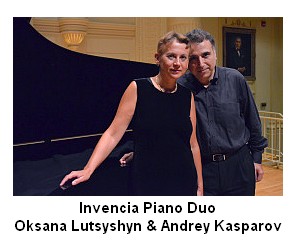 Book 1, No. 1 "Serenade" features much sensuous chromaticism in inner lines, intricate counterpoint interjected with exciting scalar passages, and a very coloristic treatment of the piano, using upper octaves to highlight the melody. It creates the image of perhaps sitting outside a coffee shop watching the passersby. The candid and endearing melody of No. 2 "Visite" is interwoven with its rhythmic accompaniment. The movement builds to a climax of a swaying figuration between a chorale of voices on the piano, which then permeates the rest of the movement in the accompaniment. It then melts away with a Chopin-esque sensibility. No. 3 "Compliments" is a short, sensuous dance in a ballroom. The pianists are completely in sync with each other in their rubato and character changes. No. 4 "Douceur du soir" [Balmy evening] is a sweet, tender piece with rising chromatic and whole tone motions, and ends in gentle flourishes of arpeggios. In contrast to the previous four movements, No. 5 "Danse britannique" is raucous and virtuosic, and features unexpected changes of harmony in addition to its rousing dance steps.
Book 2 begins with a longer, slow movement, No. 1 "Berceuse," performed delicately and thoughtfully by Invencia. No. 2 "Mazurka" has a playful character with just a tinge of the melancholy, which reminds one of the style of Johann Strauss Jr.'s dance music. No. 3 "Marche burlesque" sounds very orchestral, with its huge dynamic contrasts and virtuosic dialogue between upper and lower parts, punctuated by percussive chords. This is one of the most exciting tracks on the CD. No. 4 "Retour a l'endroit familier" [Return home] is more of the character of a lullaby. The tasteful ebb and flow of the phrases by Invencia compliments Schmitt's gentle melodic lines. No. 5 "Valse" is another electrifying performance. The beginning of the movement feels as if it can hardly restrain itself, and indeed the anticipated coda is a brilliant show-stopper and a thrilling end to the collection of Op. 26.
The final collection on Volume 3 is the world-premiere recording of Musiques foraines [Carnival music] Op. 22, composed between 1895 and 1902. Musiques foraines showcases Schmitt's masterful theatrics and storytelling at its best. In "Parade," one can imagine pointing out all the different attractions to be seen at the carnival: ballerinas, clowns, animals, bands, acrobats. All in all, the music has a feeling of great expectation, and the pianists create this feeling through dynamic spontaneity and thoughtful phrasing. "Boniment de clowns" presents a serious clown blanc in the French tradition of the "sad clown." "La belle Fathma" paints the picture of a beautiful and exotic belly dancer.
In the bizarre world of "Les elephants savants," [The learned elephants] Schmitt showcases the enormous animals performing extraordinary and precarious feats. The music is very dramatic with huge, monstrous chords, contrasting with quivering trills and canonic counterpoint in altered scales. A bold and striking performance by Invencia, every repeated listening of Les elephants brings you to the edge of your seat. "La pythonisse" shows a psychic medium demonstrating her supernatural gift. This movement is mysterious and haunting, particularly the ending, which might be spirits attempting to communicate from beyond.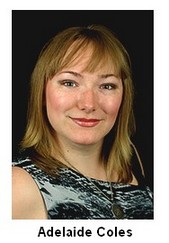 The final movement of the set, "Chevaux de bois," [Wooden horses] is a carousel in perpetual motion. In addition to the sheer virtuosity of the writing, the rhythmic intricacies of this movement are unbelievably difficult, with both pianists playing in different meters and, one by one, all the melodic ideas layering on top of each other by the end of the movement. (No wonder Musiques foraines hasn't been recorded before!) However challenging this movement is, Schmitt still manages to imbue it with his humour and playfulness, and in the capable hands of the Invencia Piano Duo, it sounds almost easy! A dazzling ending to the set, and to the album.
Pianists Andrey Kasparov and Oksana Lutsyshyn have obviously done their research on Schmitt, and their vast amount of experience in performing French music is a boon to this definitive recording project. The first two CDs in the set have already received international praise and publicity for their definitive interpretations and performances; CD 3 is equally as ground-breaking. I am very much looking forward to hearing the final installment of Schmitt's music for piano four-hands and piano duo.
For more information visit naxos.com. To buy this CD visit amazon.com.

Printer Friendly Format
Back to Top
Back to Review Index
Home &nbspCalendar &nbspAnnouncements &nbspIssues &nbspReviews &nbspArticles Contact Us