Reviews
CD Review:
Florent Schmitt: Complete Original Works for Piano Duet & Duo, Vol. 4
Review by Adelaide Coles
Theatricality meets pedagogy in spirited conclusion to Invencia Piano Duo's ambitious project.
The fourth and final installment of the Invencia Piano Duo's recordings of Florent Schmitt's music for piano duet and duo is rife with technical finesse, subtlety, and sensitivity. These characteristics firmly set their interpretations as the high benchmark for any future recordings of these pieces. All 4 CDs in the set have received international acclaim, and those who enjoyed the first three volumes of Schmitt's piano duets will no doubt find much to love in this album. Anyone else interested in the colorful musical painting of French composers in the late 19th century and early 20th century will also enjoy Schmitt's music for piano duet and duo, played here by husband-and-wife team Andrey Kasparov and Oksana Lutsyshyn.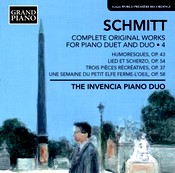 The first piece, Humoresques (1911), is similar to the set of miniatures Reflets d'Allemagne from Volume 2, with moments of wittiness akin to Eric Satie's Gnossiennes (1893) and Gymnopédies (1888). The first movement, "March Militaire," is all militaristic bluster and quickly fades away. "Rondeau" is an ebullient example of Schmitt's imaginative command of counterpoint. "Bucolique" paints a scene of rural tranquility, occasionally reminiscent of Book 1 of Debussy's Préludes, which was written around the same time as Humoresques. "Scherzetto" is a short romp with complex interlocking metric layers across the full range of the piano. That Invencia can make this sound so clean without washing out any of the melodic layers is a testament to their skills and their dedication to clarity.
"Valse Sentimentale" is a charming example of Schmitt's melodic picture-painting, similar to "Retour a l'endroit familier" from Volume 3's Feuillets de Voyage, Book 2 and "Nuremberg" from Volume 2's Reflets d'Allemagne. The final movement, "Danse Grotesque," elicits thoughts of the dramatic "Gnomus" from Mussorgsky's Pictures at an Exhibition (1874) as well as Stravinsky's Petrouchka (1911) and Rite of Spring (1913) and is an exciting finish to an otherwise restrained cycle.
Lied et Scherzo (1910) is one of Schmitt's more inventive compositions. It is in a virtuosic vein similar to the Trois Rapsodies from Volume 1. First scored for double wind quintet, the many scintillating textures and layers in this version for piano duet (played on two pianos in the recording) capture the excitement of a whole ensemble. The relationships between Schmitt's two main tempi in the Lied and Scherzo are apparent in this recording, metric intricacies that could have been easily lost by rhythmic indiscretions of lesser musicians. Invencia bridges the contrasting sections of this innovative piece expertly, and their polished technical performance wows this listener.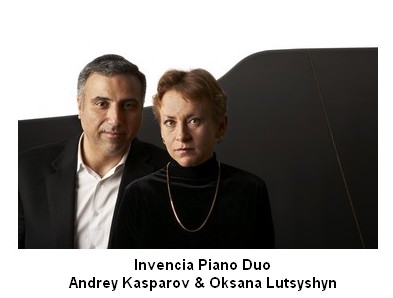 The Trois pièces récréatives (1907) are fun and carefree miniatures featuring one of Schmitt's favored techniques of using just a few select notes for the melodies in each movement.
The seven-part suite, Une semaine du petit elfe Ferme-l'oeil ou Les songes de Hialmar [A Week in the Life of the Little Elf Shut-Eye or The Dreams of Hialmar](1912) is a fascinating piece for piano four-hands. It inventively merges pedagogy with theatricality to create a 20-minute journey through a fantastical dream world. The primo piano part constitutes just five notes throughout the work; it was intended to be played by a student alongside his or her teacher. Consequently, the secondo part is where all the harmonic development and action happens. Though written with the constraint of student-teacher performers in mind, the work does not suffer musically because of this, and there is no lack of complex material. I doubt many students would be able to create and maintain interest like Andrey Kasparov does with his sophisticated variations in phrasing and voicing the same five notes. Oksana Lutsyshyn enhances and develops Kasparov's melodies with a masterful command of the difficult secondo part.
This piece showcases Schmitt's penchant for developing compact musical ideas in condensed forms, with each movement falling between one and a half minutes and five minutes long. Like the similar cycle, Musiques foraines, from Volume 3, each scene leaves the listener with a fleeting image (like the Impressionistic paintings of some 40 years earlier) rather than a literal rendition of the whimsical events. Schmitt later orchestrated Une semaine into a full-length ballet, which was premiered in 1924 and is now one of his most well-known works.
The delightful and rustic first movement, "La noce des souris" tells of a dream about a wedding of mice. "Le cigogne lasse" depicts a stork too exhausted to fly and features torpid, brooding harmonies. A spectacular contrast to "Le cigogne lasse," "Le cheval de Ferme-l'oeil" [The Horse of Shut-Eye] is a boisterous yet sinister romp punctuated by massive syncopated sforzando chords. The chromatically-tinged bass line in the final reprise leading to an unexpected major chord is a dramatic example of Schmitt's contrapuntal skill. "Le cheval de Ferme-l'oeil" and "Le parapluie chinois" are the most exciting tracks on this CD.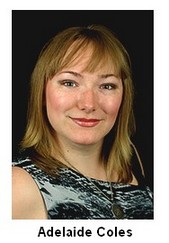 "Le mariage de la poupée Berthe" [The Wedding of the Doll Bertha] is a sentimental love song with unexpected dissonances and harmonies woven into the fluid texture. "La ronde des lettres boiteuses" [The Round of the Lame Letters] features a repetitive, undulating melody that continuously gets added onto and developed. It has a fantastical music-box quality like the puppets' "Danse Russe" in Petrouchka. "La promenade à travers le tableau" takes the listener on a journey through a painting. In this movement, some of Schmitt's dark harmonies and modal melodies are more kindred to the worlds of Shostakovich and Prokofiev than those of Debussy and Ravel. "Le parapluie chinois" [The Chinese umbrella] is an exhilarating finale to the cycle, alternately charming, pensive, unsettled, and rhapsodic. This movement is a great showcase for Invencia's virtuosic talents and a fitting end to the 4-CD journey through Schmitt's music for piano duet and duo.
As with the previous volumes, the recording quality is intimate and clear. There are no muddy notes, and the pianists sound like they could be sitting in one's parlor room (which would be quite appropriate for Schmitt's piano duets!) I sincerely hope that these CDs spark a resurgence of interest in the personal and innovative music of Florent Schmitt, and I eagerly await Invencia's next recording project.
Back to Top
Back to Review Index
Home &nbspCalendar &nbspAnnouncements &nbspIssues &nbspReviews &nbspArticles Contact Us