From Jewish Folk Poetry
Norfolk Chamber Consort Program 4
April 16, 2012
Chandler Recital Hall
Review by John Campbell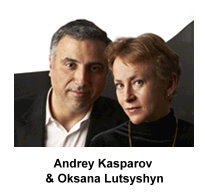 A broad selection of superbly well-played chamber pieces on the theme of Jewish folk poetry was presented as the final program of the 2011-2012 Norfolk Chamber Consort season. Andrey Kasparov and Oksana Lutsyshyn, Artistic Co-Directors, once again offered an evening of unique musical exploration with world-class performers.
The program opened with a rarely performed work by Copland followed by two Jewish folk songs for tenor and guitar. Clarinetist F. Gerard Errante was special guest performer in a duo by Béla Kovács with piano. Six Hebrew Folk Songs for mezzo-soprano and piano by Milhaud followed. Then there was a world-premiere of a new solo violin piece by Kasparov. The second half of the evening was a chamber piece for string quartet, clarinet and piano by Prokofiev and music for soprano, mezzo-soprano and tenor with piano by Shostakovich.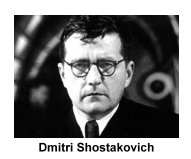 A simple quote by Shostakovich from Testimony, a memoir published after his death summarizes the theme of the evening "…Jewish folk music is close to my idea of what music should be. There should be two layers in music. Jews were tormented for so long that they learned to hide their despair. They express despair in dance music."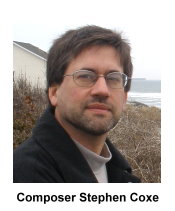 Composer and pianist Stephen Coxe debuted with NCC in Vitebsk: Study on a Jewish Theme (1928) by Aaron Copland (1900-1990) for piano, violin and cello. Violinist Pavel Ilyashov and cellist Peter Greydanus have given many outstanding performances in the past and this performance added to their reputation for quality. Vitebsk is a city in northeastern Belarus. Copland is making a statement of the relentlessly harsh conditions there for Jews. The harmony and text have a gruff, spiky quality. The dissonant opening is dramatic with quarter-tone passages. The violin's cry of pain, with the piano's unyielding percussive chords is an evocation of the shofar (the ceremonial ram's horn heard in Jewish services). Later a sad, soulful tune is played on the cello – a folk theme that originated in the village of Vitebsk. The music of i8violin and piano get into the flow of the tune before the tempo accelerates to a frenetically driven dance. As the work moves toward conclusion, the opening theme of strings and piano answer one another with passionate declamations. The opening shofar figure returns followed by the folk song theme. The sound gradually dies away leaving this listener with a deeply moving emotional impact by this rarely performed work.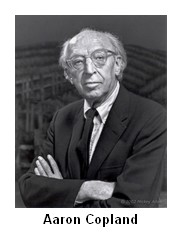 Today Copland is seen as a major shaper of the American sound of art music but before World War II this was different. Paul Bowles, writing for the magazine Modern Music in 1941, tells us that the critics for the three major New York dailies were divided on the value of Copland's Short Symphony (1932-33). Bowles questioned one of the critics about why he so heartily hated the piece. The answer: "Copland is a Jew and I never review Jewish music. Not even Ravel." In 1953 Copland was a victim of the McCarthy era's hysteria. His A Lincoln Portrait had been scheduled for a preliminary concert for Eisenhower's Inauguration as President. Two weeks before the event the work was denounced in the Senate as Communist propaganda. As a gay man Copland was doubly vulnerable. He defended himself in a public statement but his A Lincoln Portrait, now seen as the pinnacle of patriotic American music, was not played for the President-Elect. Later he was summoned before the House Un-American Activities Committee for questioning but was never called to testify publicly.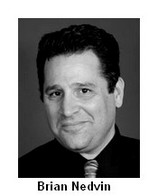 The concert continued with Brian Nedvin who accompanied himself on guitar while he sang two Polish songs from the Holocaust. The first was Undzer Shtetl brent (Our village is burning) by Mordechai Gebirtig (1877-1942). In 1938 a pogrom exploded in a town near Krakow, Gebirtig's home for his whole life. The people of the village watched their homes burn, but more importantly they saw their way of life go up in flames. In the fourth and final verse Gebirtig urges his neighbors to use whatever is necessary to put out the fire, even if it means using their own blood. On June 4, 1942 Krakow Jews were lined-up to be transported to a liquidation camp. Gebirtig and his friend broke line and began to dance and sing. They were shot and were left dead on the street.
His second song was Rivkele, die Shabbesdike (Rivkele, the Sabbath One) by an unknown composer and text by Peysakh Kaplan (c.1880-1943), a critic and writer. The widows of the 4-5,000 men from the Bialysok Ghetto shot in a nearby forest on a July Sabbath in 1942 were known as the "Shabbesdike." Rivkele is one of these widows. She sings of her hard life as a factory worker. She grieves her husband's loss but holds on to the hope that he is only working very hard at a concentration camp. Mr. Nedvin's rich, tenor voice captured all of the pathos in these true stories and yet it also soothed our hearts.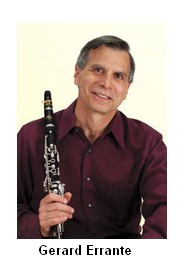 F. Gerard Errante, world class traveler, clarinetist and former artistic director of NCC, played Hungarian composer and clarinetist Béla Kavács (b.1937) Sholem-alekhem, rov Feidman (2004) accompanied by Ms. Lutsyshyn at the piano. There is a klezmer sound in the music as the piano provides a musical base allowing the clarinet to soar. Three stamps of the feet by Mr. Errante and the dance (hora) becomes fast and furious. Some stunning, high, treble clarinet notes bring us back to the rollicking dance. The audience gave wildly enthusiastic approval as the music ended. After the second bow Mr. Errante said "I'm Italian too."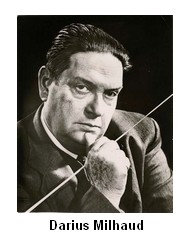 Mezzo-soprano Robynne Redmon looked glamorous in a fitted, black, floor-length gown and a sheer glittery jacket and necklace of a large, five-pointed gold star. She sang Six chants populaires hébraïques, Op. 96 (1925) by Darius Milhaud (1892-1974). Milhaud was a native of Aix-en-Provence and this set is from his own deep-rooted Jewish religious sentiment. The set uses melodies from Polish and Ukrainian Jewry reworked in his individual style. The songs were sung in French and supported by Mr. Kasparov at the piano. The songs are passionate in style, brief in length and varied in mood and sometimes attain a moving grandeur. La separation is an emotion-filled supplication to God, "There are plenty of children but no money." Le chant du veilleur is a lament for the lost comfort of sleep; the challenges of life leave her sleepless. There is a song of deliverance, a lullaby, and an especially intense song of turning her heart over to God as her strength. Ms. Redmon's rich, full mezzo sound completely realized the composer's emotional intensions. The last song, Chant hassidique brought the set to a conclusion. As the audience applauded the pianist gave the singer a grateful kiss on the cheek. When the Germans took over France in 1940 Milhaud left for the U.S., teaching at Mills College. He returned to France as professor of composition at the Paris Conservatory in 1947, retiring in 1971 from both positions. His final composition was for a festival in Israel in 1973.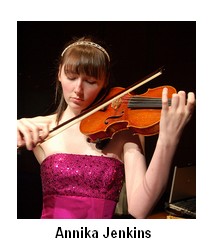 The first section ended with a piece by Andrey Kasparov, Rhapsody on Hassidic Tunes for solo violin, written especially for this concert and for violinist Annika Jenkins of Virginia Beach. Ms. Jenkins is a seventeen-year-old home-schooled student who has made a weekly trip for four years to the Juilliard School in New York City for her violin lesson each Thursday; Friday's are devoted to classes in ear training, conducting and chamber music.
In the pre-program introduction, composer Kasparov explained that he was most attracted to Hassidic Jewish music. As a boy he spent summers in Moldavia with his aunt who taught music and where he first heard this type of music. Of his new composition he has said: "Working together we found a new way of playing the violin: loud finger taps on the fingerboard with the left hand simultaneous with pizzicato (plucked) strings in the right. We decided to call this method an 'annikato'."
There was a pause in the program while the acoustic curtains were retracted to change the sound in the hall. The rich, full sound of the violin leaned strongly toward that of a cello. Her pure-toned, accurate playing created a second, high-pitched voice in contrasting fragments. The lyrical passages were rich and full with a glorious, sliding flow. The high, thin voice emerges from time to time as in a dialogue of two voices. Three stamps of her foot in time and she fiddles and plucks strings as in a folk dance. The excitement builds as the ever more challenging playing is executed with panache, including several "annikatos." Her performance was most impressive in what is a virtuoso showpiece by any standard.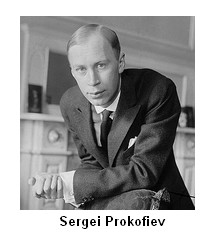 Overture on Hebrew Themes (1919) by Sergei Prokofiev (1891-1953) was written while he was living in the United States and giving many concerts of his own works emphasizing his image as a pianist. Early in 1919 he was commissioned by Zimro, an émigré Jewish ensemble from the USSR for the instrumentation of string quartet, clarinet and piano. Our performers included Mr. Ilyashov and Anna Dobrzyn, violins; Satoko Rickenbacker, viola; Mr. Greydanus, cello; Ms. Lutsyshyn, piano. Zimro gave Prokofiev a notebook of Jewish folksongs and he quickly completed the composition. It was premiered in New York in 1920 with the composer at the piano.
The form is of a fairly conventional overture in the key of C minor. The first theme in the clarinet is festive and fast-paced resembling a gypsy air. The second theme, in the upper range of the cello, is a soulful cantabile. There is a good balance for all the voices playing both themes, often in imitation. There are semi-tones throughout the tuneful piece with full, rich sounds that accelerate to a quick end. Looking at the evening in toto, this was the least demanding piece, emotionally speaking.
After his stay in the USA Prokofiev settled in Paris until 1933 when he returned to the USSR. It was unfortunate timing; the doctrine of "socialist realism" had just been established. This limited his unfettered creative expression for the rest of his life. He died the same day as Stalin, March 5, 1953. Because of Stalin's state funeral on the same day, only about thirty people came to his funeral, including Shostakovich.
To cope with living in the Soviet Union under Stalin, Shostakovich divided his creative persona into two parts. In his propaganda works he assumed a half-hearted, optimist mask. The other side of his persona can be found in his string quartets and song cycles like the set we heard, From Jewish Folk Poetry (1948) in its original eight-song piano version which was published and performed (1955) only after Stalin's death. The orchestral version was performed in 1964 and had three additional songs to texts of Soviet propaganda. In translation those songs are: The Good Life, A Girl's Story (tending the collective cattle) and Happiness.
Shostakovich said: "once after the war I was passing a bookstore and saw a volume with Jewish folk songs. I was always interested in Jewish folklore and I thought the book would give me melodies but it contained only the texts. It seemed to me that if I picked out several texts and set them to music, I would be able to tell about the fate of the Jewish people. It seemed an important thing to do because I could see anti-Semitism growing all around me."
Shostakovich's music was denounced in the February, 1948 Composers Congress and he promised to produce "democratic melodies and understandable music." The setting of these texts was his good faith attempt to live up to that promise, especially if you include all eleven settings. Unfortunately he chose the wrong ethnic group. In January, 1949, Stalin's campaign against "rootless cosmopolitans" escalated rapidly into a campaign against Jews and Zionism in the press. Shostakovich wisely shelved the work.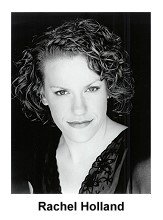 Soprano Rachel Holland, who teaches at Christopher Newport University, joined mezzo-soprano Redmon and tenor Nedvin, with Kasparov at the piano. In the brief, intense song Lament for a Dead Infant the soprano tells the story of a baby boy now in the grave. A Caring Mother and Aunt is a happy song, a sort of childhood game song about food treats. Ms. Holland and Ms. Redmon took turns until the last verse which is in unison.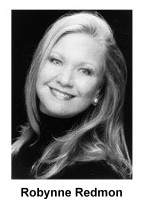 Ms. Redmon, with deep longing in her voice, sang Lullaby. Before a Long Separation is a dialogue between tenor and soprano. The husband must go away and the wife is full of grief and fear. He is reassuring, reminding her of their first love. Ms. Holland sang Warning about the consequences of being out at night running around. Tenor and contralto sang The Rejected Father. He powerfully pleads with his Jewish daughter that he will give her any material thing she wants if she will give up her beloved goyische policeman boyfriend. She will not! Winter is a father's passionate cry against his family's poverty and starvation and brings all three voices together. The tenor pleadingly narrates the poverty and pain of the season; the women's vocalise is the howling wind. The protest is in the intense piano chords.
It was an evening to remember. Even though Renée Fleming was also performing that evening it attracted an average size NCC audience, bringing many new faces to Chandler Hall from the Jewish community. It would be wonderful if these new listeners chose to fill the audience for next season's four concert series of Norfolk Chamber Consort.
Printable Version

Back to Top
Review Index
Home &nbspCalendar &nbspAnnouncements &nbspIssues &nbspReviews &nbspArticles Contact Us