The Season for Vivaldissimo, Norfolk Chamber Consort
Christ and St. Luke's Episcopal Church, September 24, 2012
Review by John Campbell
Antonio Vivaldi (1678-1741) was seven years old in 1685, the year Bach and Handel were born. He died nine years before Bach. All three composers' music was rediscovered long after they were gone. For Vivaldi, his rediscovery was in the 1930's in private circles in Italy. An early admirer was American poet Ezra Pound, who lived in Rapallo where he staged concerts of Vivaldi's music. In 1939 there was a small Vivaldi festival at the University of Siena. After World War II Italian publisher Ricordi began the huge undertaking of bringing out a complete edition of Vivaldi's works. In 1950 Op.8 Il cimento dell' armonia e dell' invention that includes The Four Seasons was published and soon released on long playing recordings, coinciding with Vivaldi's rapid rise to fame. Other landmark recordings were a 1989 video of the San Francisco Opera production of Vivaldi's Orlando Furioso starring Marilyn Horne and the 1999 CD of Cecilia Bartoli singing arias from nine Vivaldi operas titled The Vivaldi Album (Decca 289-466-569-2). Other outstanding recordings by Red Priest, Rebel, Rachel Podger and a host of others are also available.
The program opened with Organ Concerto in D Minor after Vivaldi, BWV 596 by J.S. Bach (1685-1750) played by Bradley Norris at Christ and St. Luke's Church. NCC artistic co-director Andrey Kasparov in his opening introduction raised the question: Did Bach wonder why Vivaldi was so popular? In the early 18th century, sunny, exuberant Italian concertos were the latest fad throughout Europe.
The dates given for Bach transcriptions of Vivadi's D minor Organ Concerto were 1708-1717. A little online research led to a date of 1713-14 and to this story: In 1708 Bach was 23 years old, recently married and his wife was expecting their first child. For more income he took a new job in Weimar as court organist. His new boss, Duke Wilhelm Ernst and his family were very musical. The Duke's nephew Johann Ernst made a trip in 1713 to hear an opera and stopped in Amsterdam where Vivaldi's L'estro armonico, Op. 3 had been published just two years before. He bought the sheet music, took it home and later asked his music teacher, Johann Gottfried Walther, and Bach to adapt the chamber ensemble pieces for organ or harpsichord because he wished to play them solo. This is why the Vivaldi Concerto in D Minor for two violins, cello and strings became the Bach organ piece we heard. The information is from "Bach the Transcriber: His Organ Concertos after Vivaldi" by MIT research scientist and chamber musician Vincent C.K. Cheung who explains that Bach did not change the basic structure of the movements, he filled "rhythmic holes" in the original, realized implied counterpoint, added newly composed lines using two organ manuals to simultaneously clarify the interactions between the two lines. Bach would have chosen his own tempi simply because he would not have known how an Italian orchestra would have played it.
Mr. Norris' playing was crisp and the sound in the nave was clear. After the first pause (and scattered applause) the music was somber in feeling. The third section was lively and seemed familiar with all those inventive colors. Technically well played, the performance lacked fire.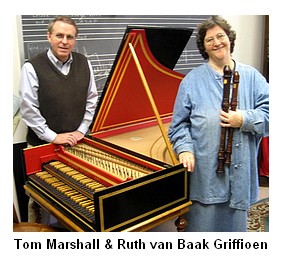 The first piece by Vivaldi, Trio Sonata in A Minor, RV 68 featured the superb Ruth van Baak Griffioen on recorder with David Savige, bassoon; Jeffrey Phelps, cello and Tom Marshall, harpsichord. The pacing had a grand flow, mellow and with an unusual blend of instrumental colors. The first movement, Largo, had an expansive energy. The Allegro was lively and engaging, even exciting. The third movement, Largo, had an open feeling and the cello added greatly to the mix. The deep churning sound of the bassoon enriched the continuo harpsichord line throughout.
Soprano Sarah Haigh, a college freshman and winner of the first Lisa Relaford Coston Voice Competition (2012) sang with a sweet, clear tone Perché son molli, RV 681) by Vivaldi. The story is of a lamenting person who decides to live in isolation rather than spoil nature and the life of shepherd, nymphs and flocks because of her copious tears. We are never told the why of all those tears. Ms. Haigh is studying at James Madison University and began singing with the Virginia Childrens Chorus led by Carol Thomas Downing. Her voice teacher for the previous two years has been Corbin Thomas Shoup. This lengthy piece for solo voice was lovely to hear with its variety of emotionally expressive texts. The excellent chamber orchestra led by Kasparov included violinists Allegra Havens and Anna Dobrzyn; Stacy Migliozzi, viola; Jeffrey Phelps, cello; Christopher White, double bass; Tom Marshall, harpsichord; and Oksana Lutsyshyn, organ.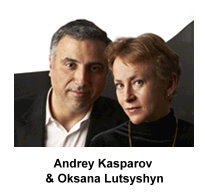 The piece before intermission was quite a change of pace: Otoño porteño (Buenos Aires Autumn) (1969) by Astor Piazzolli from his Cuatro estaciones porteñas (The Four Seasons of Buenos Aires) composed almost 300 years after the Four Seasons by Vivaldi. The trio, Pavel Ilyashov – violin, Peter Greydanus – cello, Andrey Kasparov – piano, has brought Norfolk Chamber Consort audiences superb performances in the last several seasons and this was equally well played. Piazzolla's quiet beginning opens out into a sizzling burn with a rather violent entrance by the violin. The flow of the music is unpredictable: one moment passionate, then a bit later introspective and distant. Emotionally these changes create an edgy quality that then gives way to raucous passages of wild piano playing. At other times the sound is like crying. Just before the ending Ms. Lutsyshyn gave us a little harpsichord passage, the opening notes from Vivaldi's Fall from the Four Seasons.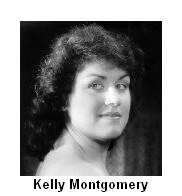 After a pause we returned to hear Stabat Mater (Standing Mother) RV 621 (1711) with contralto Kelly Montgomery with the same Baroque ensemble members except Mr. Marshall was organist here. A feeling of the kinship with Bach's Passions connected me emotionally to Ms. Montgomery's rich, deep tones, evoking my tears by the end of the Largo first section (one of nine). Enthralled, my heart opened by the emotionally available singing, I let the piece flow through every fiber of my being. The orchestra was a perfect setting for the total experience.
In the next piece Mr. Marshall was back at the harpsichord with Ms. Lutsyshyn at the organ for Concerto in C for Treble Recorder, Strings and Continuo RV 441. The ensemble was superb and once again Ms. Griffioen, playing a treble recorder, sparkled in the exuberant Baroque music.
After an enthusiastic ovation for the ensemble Ms. Griffioen returned for a solo bow and played The Nightingale by François Couperin accompanied by Mr. Marshall on harpsichord.

Nostalgie
Norfolk Chamber Consort
Chandler Hall, November 5, 2012
Review by John Campbell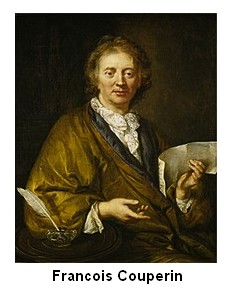 The French word nostalgie – nostalgia in English – is a bittersweet longing for things, persons or situations of the past. Keep this in mind as you read this review. The first three pieces were taken from the extensive catalog of François Couperin (1668-1733) and played by Les Duex Clavecins (harpsichordists Allen Shaffer and Tom Marshall). François Couperin was the most important member of the Couperin dynasty in the French court. Trained as an organist, he was born in Paris and spent his life there. At age 25 he became organist to king Louis XIV. He was soon performing in musical events at Versailles, Fontainebleau and Sceaux. This opened-up further opportunities for him and soon he was teaching harpsichord to a number of royals. His four published books of music, Pièces de clavecin (Pieces for Harpsichord), demonstrate that he was a supreme master of the keyboard. Most of his pieces have picturesque or descriptive titles and are like miniature love poems. We heard pieces from his second and third books. The Allemande (1716-1717) was rich and sweet; the Muséte de Choisi (1722) was demanding for the players and easy for the listener. The third piece, La Juliette, was the liveliest of the three.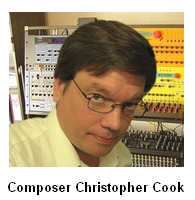 In great contrast following the frivolity of Baroque court music, the next piece played by Les Duex Clavecins was by contemporary composer Christopher Cook (b.1962) who is on the faculty of Christopher Newport University. Nostalgie for two harpsichords (2012) was commissioned to celebrate the twentieth year of Les Deux Clavecins by Messrs. Shaffer and Marshall. The music dances; there are common themes but never the same things twice. Microtones abound and create a pensive mood that soon turned lighthearted, even playful. The sound is a dialogue between the two instruments dancing together. One tune gives a fleeting shadow of Bach. There is a chord as massive as two harpsichords can make and all the colors the composer can invent. Solo voices, duos and little isolated sounds all make an appearance until it all fades away.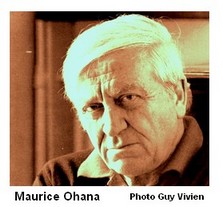 Staying with the harpsichord, an instrument that nearly disappeared from western music after the piano came into vogue, we heard Miroir de Célestine (1989-1990) by Maurice Ohana (1913-1992). Oksana Lutsyshyn was harpsichordist and David Walker was percussionist for this piece where Ohana used six of the eleven tableaux sections from his opera La Célestine to explore the relationship between percussion and harpsichord sonorities. Mr. Walker had an array of twenty-nine instruments including a variety of drums, a pedal marimba, a vibraphone, several sizes of cymbals, gongs, a large tam tam, a wood block and a bell tree. He was indeed a busy man interacting with the sound of the harpsichord. With great freedom Ohana has created an amazing range of colors and intriguing sonorities that give the sense of the titles. Rendered in English they are: The Garden of Delights, Mirror of Impossible Desire, Mirror of Fates, Night Garden, N'Gango and Mirror of Oblivion. Ohana, like several other important twentieth-century French composers, is mostly unknown in the US. His works shun serialism creating complexity by other means. After World War II he formed Groupe Zodiaque to defend freedom of expression against dictatorial aesthetic attitudes. A concert pianist himself, he wrote much music of importance for piano.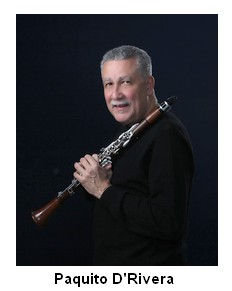 After intermission we heard Danzón (1998) by Paquito D'Rivera (b.1948). This trio for clarinet (Susan Wells), cello (Peter Greydanus) and piano (Andrey Kasparov) created an evocative mood, mellow and a little sad with a little bounce created by all three instruments sounding together. Then the mood shifted into a romantic, popular love song with an extra measure of feeling. This delicious trifle was by a Cuban composer who has recorded 30 albums of music that fuses Latin/Caribbean influences and moves effortlessly from jazz to Latin to Mozart.
Tango from España, Op.165 by Isaac Albéniz (1860-1909) was the first of three piano pieces played by Andrey Kasparov. Tango has a soft-edged European flavor in an arrangement by Leopold Godows. Oblivion by Astor Piazzolla (1921-1992), arranged by Dr. Kasparov, begins with a sweet, easy cabaret sound and develops an edge of nostalgia that intensifies. After a pause the moods flow together into a satisfying blend. The set concluded with Tango from Tangos and Milongas by Jacobo Ficher (1896-1978). A rowdy American ragtime beat underlies a European sensibility. This is not blue collar music but entertainment for sophisticated, alienated persons of culture.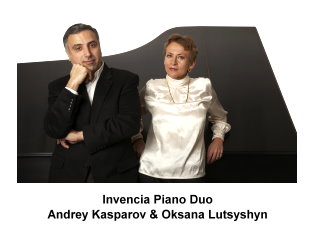 The Invencia Piano Duo (Lutsyshyn and Kasparov) concluded the program with a performance of Scaramouche, Op.165b (1937) by Darius Milhaud (1892-1974). Scaramouche is a suite for two pianos based on incidental music Milhaud wrote for a play by Molière, Le Médecin Volant (The Flying Doctor) for a production at the Théâtre Scaramouche, thus the title. The first movement, Vif, evokes light-footed dancing in perhaps a Punch and Judy puppet show with tons of notes followed by percussive treble notes dominating. In Moderé the mood becomes introspective. This river of notes was played with a sense of reticence perhaps accompanying an older couple dancing. Brazilera, the third movement, is syncopated and energetic, creating the image of young dancers letting it all out. Ms. Lutsyshyn smiled and swayed a bit as she played.
After two bows and with the audience still clapping Kasparov said "What the heck" and they repeated the Brazilera movement. Was it my imagination or was the beat even more pronounced this time?
Printable Version

Back to Top
Review Index
Home &nbspCalendar &nbspAnnouncements &nbspIssues &nbspReviews &nbspArticles Contact Us