György Ligeti's Six Bagatelles
By John Campbell
There is never a dull moment with Norfolk Chamber Consort and this concert offered an outstanding chamber production in collaboration with the Diehn concert series of Old Dominion University which contributed support to bring the Windscape ensemble to play with NCC co-directors Andrey Kasparov and Oksana Lutsyshyn in a challenging program that included music by Ligeti, Poulenc, Ginastera, Mozart and Ravel.
Tara Helen O'Connor, flute; Randall Ellis, oboe; Alan Kay, clarinet; Frank Morelli, bassoon and David Jolley, horn are the five eminent woodwind soloists of Windscape that has created a unique niche for itself as a vibrant, ever changing group of superb and dedicated musicians. They are artists-in-residence at Manhattan School of Music and concertize widely as well as teach. They have designed diverse, sometimes startling programs experimenting with new arrangements and repertoire combinations. They are often heard locally on WHRO's "Performance Today" program.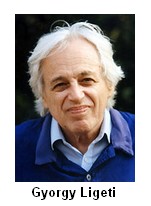 The group opened the program with Six Bagatelles by György Ligeti (1923-2006). Bagatelles are short, unpretentious instrumental pieces. Each movement expresses a single musical affect or mood. Ligeti's are intense and memorable, some playful, others express contentment or grief and others utter craziness. These works left the biggest impression from an evening of superbly played music. They can be heard on YouTube, although not by Windscape.
In 1953, when Ligeti wrote Bagatelles, he was a thirty year old lecturer at the Budapest Academy of Music. The Soviet Communists were in control and at the premiere of the piece in 1956 they banned part of the movements as "chromaticism dangerous to the public." Later that year he fled Hungary after the uprising there failed to get rid of the communists. In Vienna he free-lanced as a musician and worked in the electronic music studio there.
He began life in Transylvania, Romania as the son of Hungarian Jews. Like many composers of the early avant-garde period he witnessed horrific things in his youth. He studied at the conservatory in Cluj. In 1944, wearing a regulation yellow armband required by the Fascist government, he was part of a forced labor gang carrying heavy explosives on the Eastern front. After deportations to the death camps began he deserted and immediately fell into the hands of the Soviet troops. Once again he managed to slip away. Of his immediate family, only he and his mother survived the war.
His nightmare did not end there. He went to study at the Franz Liszt Academy in Budapest and watched as the former Nazi collaborators, now Soviet stooges, took control of Hungary. He buried himself in folk music research and dabbled in twelve-tone writing as he understood it by reading Thomas Mann's Doctor Faustus in 1952. In this period he wrote Musica Ricercata for piano in eleven movements. In 1953 he selected six of these movements and arranged them for wind quintet as Six Bagatelles. It was not until 1967, sixteen years after they were written, that the piece had a complete performance, by a Swedish quintet. Thanks to Alex Ross' book The Rest is Noise for this information.
Ligeti's Complete Piano Music can be found on a BIS recording with Fredrik Ullen at the piano on a 2 CD set. It is a fine introduction to his music and his development as a composer, covering pieces from as early as 1941 through 2001. In a 1993 lecture he said: "I am in a prison: one wall is the avant-garde, the other wall is the past and I want to escape." The detailed booklet gives extensive notes about each piece – a plan for escape for each composition, if you will.
See M.D. Ridge's review of Norfolk Chamber Consort's Piano Wind concert which follows.
Norfolk Chamber Consort with Windscape
Chandler Hall, Old Dominion University
February 25, 2013
Review by M.D. Ridge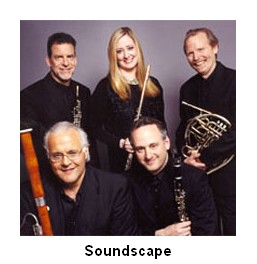 February 25th was a chilly night, but it wasn't cold enough to deter the overflow crowd at ODU's Chandler Recital Hall for the Norfolk Chamber Consort's program Piano Wind, with guest ensemble, Windscape. The ensemble members were: Randall Ellis on oboe; Alan Kay, clarinet; Frank Morelli, bassoon; David Jolley, French horn; and Tara Helen O'Connor, flute, in music of the eighteenth, nineteenth and twentieth centuries—not in that order. After a knowledgeable preview by Artistic Director Allen Shaffer and a brief introduction by oboist Ellis, Windscape launched into Six Bagatelles, by György Ligeti. They were short and pungent.
The first was light, fast and funny, with a pregnant pause after the instrument's final note and the bassoon's final honk. The second was dramatic, then melodic, a conversation in which dissonance eased into congruence. In the third, bassoon and clarinet played a repeated figure, over which flute and oboe sang. The next was a blast of tricky rhythmic energy. In the penultimate selection, the horn played a one-note ground over which the other instruments built up and backed down — nice!
The final bagatelle, molto vivace, was marked by a driving low melody, then high piccolo, then flute, in Gershwin-esque runs punctuated by the lower instruments. Ellis noted that the sixth bagatelle should be considered the "fight song" for Transylvania University.
Members of the ensemble took turns introducing each piece before they were played. La Flûte Enchantée—the Enchanted Flute—was a brief, lovely recitative by Ravel, with sinuous lines, ending almost in mid-phrase.
Andrey Kasparov, Artistic Co-Director of the Norfolk Chamber Consort, joined Windscape, minus flute, for Mozart's Quintet in E-flat Major for piano and winds, K. 452. After a solemn beginning, each instrument got its part in the conversation; then they came together in different pairs—bassoon and horn, oboe and clarinet, piano—all light and charm. We usually get to hear Kasparov playing fiendishly difficult, bravura contemporary works—but his navigation of this quintet was a delicately nuanced revelation.
The second movement was fairly grave, with lovely, limpid piano, and the winds' different sonorities: mellow horn, pungent oboe and clarinet, and deep bassoon. The final movement was very Mozartean— cheerful and playful, yet mature. It was wonderful to watch both the musical and personal interaction of the players —it's why listening to live music is such a completely different experience.
After the intermission, Windscape returned to play Alberto Ginastera's challenging—and quite odd—Danzas Argentinas. Originally written for piano, this was an arrangement by Alan Kay, Windscape's clarinetist. The "Dance of the Old Cowherd" suggested a Spanish melody with untraditional harmonies. "Dance of the Graceful Maiden" had lovely melodies and elegant, if unusual, sonorities in 6/8 time. "Dance of the Outlaw Cowboy" was fast and busy, with South American rhythms segueing into a march-like pace, then back to running rhythms again.
The final work on the program was Francis Poulenc's Sextet for piano and wind quintet, Opus 100, with Norfolk Chamber Consort Artistic Co-Director Oksana Lutsyshyn at the piano. The first movement was bright, with quick runs into a bassoon melody through which the piano danced brilliantly. One by one, the instruments came together, and the dance turned somber, with an intentionally raspy descending flute line.
The second movement, Divertissement, was just that—bright good cheer, with floating melodies. The final movement, Prestissimo, was fast, bright and percussive, with yet a languorous line here, a dramatic rise there, and an engaging ending that started with piano and bassoon, adding oboe, then horn, then flute and clarinet, to the end: elegant, very French and very Poulenc.
This review was originally broadcast on WHRO 90.3 FM's "From the other side of the Footlights."
Printable Version

Back to Top
Review Index
Home &nbspCalendar &nbspAnnouncements &nbspIssues &nbspReviews &nbspArticles Contact Us