Great Poles
Norfolk Chamber Consort
Chandler Recital Hall
April 15, 2013
Review by M.D. Ridge
Norfolk Chamber Consort finished its season with a high-powered look at three Polish composers: the early 19th-century master Fryderyk Chopin and the early and later 20th-century composers Karol Szymanowski and Witold Lutoslawski.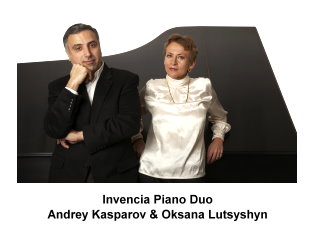 The first section was all Chopin, beginning with The Invencia Piano Duo of Andrey Kasparov and Oksana Lutsyshyn playing the composer's Rondo for two pianos, Opus 73. It was happy even when dramatic, with powerful bass, rippling arpeggios and intense romantic melodies. One piano's declarative statement would be answered with airy riffs by the other, and vice versa.
Six of Chopin's Polish Songs, Opus 74, were sung with a rich mezzo quality by soprano Rachel Holland, of the Christopher Newport University faculty. She negotiated treacherous consonant clusters with vocal power and agility—romantic in one, dramatic in another, and brilliant in all. Fortunately, the Polish texts and English translations were in the program.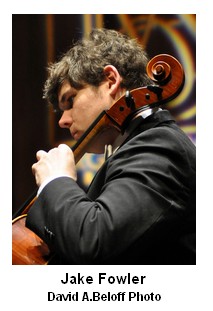 Kasparov teamed with intense young cellist Jacob Fowler for the Chopin Sonata for cello and piano in G minor, Opus 65. It's a challenging and unusual work whose first movement, Allegro moderato, is as long as the other three movements together. Throughout, one melody melted passionately into the next, connected, but as different as one breath is from another. The bright Scherzo was even more technically demanding, with the cello's gorgeous low notes at the end. The Largo movement was slow, sweet and pensive. Kasparov was particularly brilliant in the Allegro Finale.
Fowler, who grew up in Virginia Beach, studied at Eastman, then Rice, and has played with the Virginia Symphony since 2010.
Pianist Anna Kijanowska stunned the audience with five of Karol Szymanowski's (1882-1937) Twenty Mazurkas. (She has recorded all twenty.) Playing from memory, the William and Mary faculty member demonstrated assertive energy, dreamy reverie, and vigorous command of the wildly varying tempos. These were not simple folk dances, but fiery, mature compositions, beautifully played, with power to spare.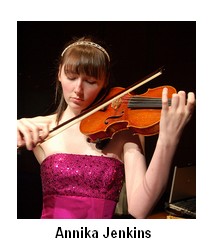 Szymanowski's Nocturne and Tarantella (from 1915) featured Kijanowska and 18-year-old Virginia Beach violinist Annika Jenkins, who studies at Juilliard. There was a nice tension between piano and violin, beginning with odd, low sounds, then high and sweet. Oddly Spanish rhythms had excellent phrasing and dynamics, brilliance and intensity, and at one point the piano was muttering ominously while the violin soared in weirdly wonderful harmonics.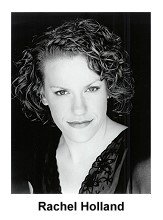 After the second intermission, with Kasparov at the piano, Rachel Holland appeared again, singing Witold Lutoslawski's (1913-1994) Five Songs For Female Voice and Piano, from 1957, settings of texts by the Lithuanian-born poet Kazimiera Illakówicz utilizing wonderful word-painting in impressionistic pictures of "The Sea," gusty power in "The Wind" (with a terrific piano outro), ethereal snowfall in "Winter," and brave Knights going boldly into battle and coming back wounded. The final song, "Church Bells," were not tinkly little bells but, rather, mighty voices pealing strongly—and in the piano, the peals got softer and softer, gradually dying away. You could have heard a pin drop.
A vocal trio —Holland, Agnes Mobley Wynne and contralto Kelly Montgomery joined Kasparov for the cheerful patter song, "About Mr. Tralalinsky." It was well sung and in English, but the lyrics were hard to catch. ( The text would have helped.)
The Invencia Duo finished the program with Lutoslawski's Variations on a Theme by Paganini, not to be confused at all with the more familiar Rachmaninoff composition. This had the same basic theme, but with a completely different realization and harmonization—bravura, thoughtful, rhythmic, murky, rhythmic, brilliant and definitive by turns.
For any other group, this would have been enough material for two concerts! Kasparov just doesn't do the easy, expected thing, and he certainly seems able to tap some terrific musicians you might not have heard of but really want to see again—it's all a huge treat for the audience!
This review was originally broadcast on WHRO 90.3 FM's "From the other side of the Footlights."

Great Poles
Norfolk Chamber Consort
Chandler Recital Hall
April 15, 2013
Review by John Campbell
In retrospect I see the final Norfolk Chamber Consort concert of the 2012-2013 season as a three-act drama of Polish music. In my experience it became a seduction into the garden of music Eden. A fellow audience member at the reception following the concert commented that Andrey Kasparov is a god and Oksana Lutsyshyn a goddess. How could I dispute the point? It was an evening of fire and imagination that titillated the deeper soul into a conscious presence.
Rondo for two pianos, Op.73 (1828) by Fryderyk Chopin (1810-1849) opened the program. The contrast of power with an ethereal flow of beautiful passages was brilliantly played by The Invencia Piano Duo (Kasparov & Lutsyshyn). At other times the music felt disjointed and unsettling, written as it was by an inspired eighteen year-old expressing his youthful, restless spirit.
Soprano Rachel Holland, in a deep lavender gown with a plunging neckline, with Kasparov at the piano sang six Polish Songs from Op. 74 by Chopin. Of the experience, voice teacher Karen Hoy said: "A big, warm, resonant voice that suited these Chopin songs to a 'T'. She sang with sensitivity and a beautiful legato. Details of the words were clearly reflected in her facial expressions. Excellently well-articulated Polish diction in a language seldom heard in recital. It was easy to follow the translation provided. Her posture reflected changes in mood of each song. I would love to hear Rachel sing these songs again." Ditto!
The Maiden's Wish is to turn herself into the sun, later a bird, and shine or sing only under the young man's window. Sad River has the mother of seven children, all dead, sitting by a stream adding her tears to the water. A Handsome Lad is a young woman's celebration of the love she shares with him. High notes in My Darling carried the passion of her romantic love. The clarion ring of the piano opens The Warrior, an exuberant young man about to leave his family to go to war; his sister begs his horse to stay at home. In A Lithuanian Song the young woman tries to convince her mother that the dew on her garment settled there when she went to fetch water. Confronted, she says she only spoke with her sweetheart for a moment. Believe it if you will.
Chopin's Sonata for cello and piano in G minor, Op. 65 (1845-46) with Jake Fowler, cello and Kasparov, piano was a wonderful, rich blend of sounds. The sensuous cello gave a singing tone, slow and sweet until the last, Allegro, movement where it gained a new intensity, carrying us to a climax of ecstasy. Percussive piano is mellowed and transformed by the deep string tones. Both performers gave an exceptionally beautiful reading.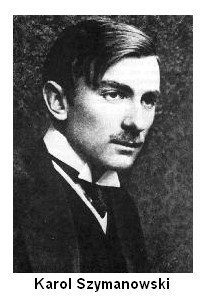 After the first intermission we heard music by Polish composer Karol Szymanowski (1882-1937), five of a set of Twenty Mazurkas, Op.50 (1924-25) played by pianist Anna Kijanowska. Blond and elegantly dressed in a bright-red floor-length gown, Ms. Kijanowska teaches at the College of William and Mary and has concertized widely. She is Polish and speaks with authority about the music: "Szymanowski's Mazurkas are very unique compositions and one must really know the Polish folk dances to fully understand and interpret them. Szymanowski incorporated a variety of Polish folk music within an established classical idiom. He adopted Chopin's stylized form of mazurkas, adding the undiscovered and very distinct style of Highland music, which was unknown to Chopin. This contradiction might explain the rough, driven and dramatically distinct character of Szymanowski's compositions."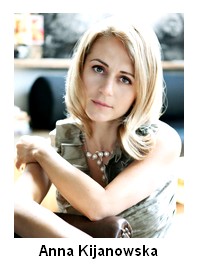 I could hear a French influence in the pianist's crisp touch. Moods from piece-to-piece shifted from lyrical to manic. Sometimes the playing was relaxed, at others driven and always challenging for the performer. She played from memory the Mazurkas and then Szymanowski's Nocturne & Tanantella, Op. 28 (1915) with eigteen year-old local violin prodigy Annika Jenkins. The Nocturne has a mysterious sound in the violin with a somber slow-paced piano. There are exotic quarter tone imitations inspired by Middle Eastern influences and Impressionism. "The parts are written independently of each other with so many notes that the players are challenged to bring about a complete musical experience," Ms. Kijanowska describes the experience. "The Tarantella is believed to have been composed during an evening of drinking with his friend, the violinist Kochánski at Zarudzie. It is extremely acrobatic in nature and a technically difficult piece for both players. The piano writing is very orchestral with chords and octaves in tremolo, and leaps exceeding 3-4 octaves in a very fast tempo. A very demanding piece."
Another elegantly dressed slim blond, this time Ukrainian pianist Oksana Lutsyshyn, played Szymanowski's Piano Variations, Op.3. Written in his youth (age 19-21) with some French influence, the lyrical and challenging piece was a continuation of the Polish piano tradition. Karol Szymanowski was born in Ukraine where many Poles owned estates. His boyhood was spent there where he developed his lifelong enthusiasm for Chopin. He traveled to Berlin and later made sexually liberating travels to the south of Italy and North Africa. "Szymanowski fashioned a fiercely sensuous style that recalled Debussy at his most turbulent and Scriabin in his high mystic phase." In 1911 he composed The Love Songs of Hafiz (14th century Persian poet) for low voice and piano. In these songs the allure of young men's bodies is a metaphor for religious ecstasy or vice versa.
If you wish to explore his music further, his Third Symphony (1914-16) is based on a similarly charged text by the Persian poet Rumi for voices, orchestra and organ. After this program I watched a DVD of his opera King Roger (first staged in 1926), who struggles to resist the Dionysian magnetism of a young shepherd who proclaims "My God is as beautiful as I am." (Alex Ross's The Rest is Noise was my reference). The opera had a shadowy existence until British conductor Sir Simon Rattle made us aware that it is one of the twentieth century's finest works. Unitel Classics 702808: Scott Hendricks, Olga Pasichnyk, John Graham-Hall and Will Hartmann with the Vienna Symphony conducted by Mark Elder and staged by David Pountney. It has stunning visuals and fine singing.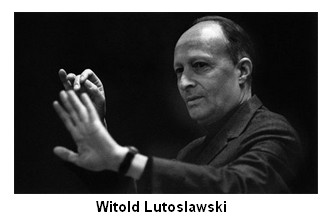 After the second intermission music by Witold Lutoslawski (1913-1994) became our focus. With Dr. Kasparov at the piano Rachel Holland sang Five Songs for Female Voice and Piano after Poems by Kazimiera Illakówicz (1957): The Sea, The Wind, Winter, Knights and Church Bells. The stunning energy in Ms. Holland's voice communicated completely. Though sung in Polish, we had the translations to follow. The humanity of the situations described along with the openness and naturalness in her voice gave us a complete experience. The duo was then joined by soprano Agnes Mobley-Wynne and contralto Kelly Montgomery in a vocal trio, a sort of Gilbert and Sullivan patter song for the 20th century, About Mr. Tralalinsky (1949).
The next morning we ordered a Lutoslawski CD sponsored by the Polish Ministry of Music. It includes Five Songs sung by alto Jadwiga Rappé and is titled Twenty Polish Christmas Carols (Naxos 8.555994). The Carols and Lacrimosa are sung by Olga Pasichnyk (King Roger) accompanied by the Polish National Radio Symphony Orchestra. It is not as stark as the piano only performance that we heard because the instruments add some fleshed-out colors.
The card announcing the "Great Poles" concert carries the words "Solidarity" in Polish in bold, red letters. Lutoslawski was a major figure in the Polish Renaissance concerned with freedom of expression who by 1980 was an established major composer in his country. Impressed by hearing John Cage's music in 1960 he was to say that he realized he could "start out from chaos and create order in it, gradually." In his music improvisatory episodes alternate with sections written in strict notation. All of the music we heard in the concert predated his experience of Cage's influence and thus there is much of this music left to explore!
To conclude our evening and to fire the imagination, the NCC Co-Directors Kasparov and Lutsyshyn played Lutoslawski's Variations on a Theme by Paganini (1941) with polish and passion.
Printable Version

Back to Top
Review Index
Home &nbspCalendar &nbspAnnouncements &nbspIssues &nbspReviews &nbspArticles Contact Us