Norfolk Chamber Consort Opens New Season
Jeffrey Brown, Yun Zhang, Lisa Coston,
Andrey Kasparov and Oksana Lutsyshyn Perform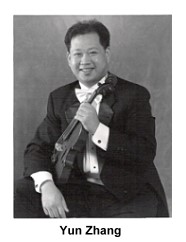 Belgian-born composer César Franck (1822-1890) composed Sonata in A Major in 1886 for violin and piano. Violinist Yun Zhang and pianist Dr.Jeffrey Brown brought this sensuous Romantic music to life in the opening concert of Norfolk Chamber Consort's season on September 24, 2007 at Chandler Recital Hall. The dreamy mood of the opening duet is gently continued as the piano plays solo. Tension develops in the piano line to welcome back the violin. This is resolved and we hear a Chopinesque solo piano to end the Allegretto ben moderato movement. The allegro movement is a virtuosic showpiece. With Liszt-like fire the piece takes on a glossy hard surface sound and grand ending that pushes away the intimacy of the opening movement.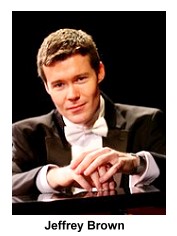 The third movement, allegretto poco mosso, opens with a firmly stated theme by the piano. The solo violin makes its own statement and then a dialogue ensues that flows into a duet with a romantic, bold piano voice. The moody ending is quiet. The sense of ensemble by Brown and Zhang was masterful and the playing was always excellent.
With Andrey Kasparov at the piano Lisa Relaford Coston sang six selections from Olivier Messiaen's (1908-1992) cycle of nine songs, Poéms pour Mi (1936). Messiaen wrote both words and music of these ecstatic songs. Though new to most of the audience, the intensity of the singing and playing won our hearts. As the last notes faded away we burst into intense applause. There were three curtain calls.
Messiaen's songs open the heart and voice to a range of expression hardly imaginable. The words are simple expressions of daily activities, of wishes and hopes, of deep religious faith, of the love of a married couple set to music for dramatic effect using a modern musical idiom to express a deep, overripe romanticism.
Viewed from a different angle these songs were written to celebrate the domestic happiness that Messiaen and his first wife shared. The "Mi" in the title was his wife, Claire Delbos (1906-1959) who was a composer and violinist who inspired him to write his Theme et variation pour violin et piano. They often played recitals in Paris in the early 1930's and were married in 1932. After the birth of their son in 1937 she developed a mental illness.
After intermission we heard three sections of a single work, Visions de l'Amen for two pianos, an expression of Messiaen's muscular, mystical Christianity. The section titled L'Amen de la création (Amen of Creation) has a pianissimo opening. With both pianists the volume climbs slowly upward to fortissimo. The randomized, quiet, bell-like tones passed back and forth between the two pianists and had an Eastern feeling. The treble keys played by Oksana Lutsyshyn created what sounded like sub-atomic particles flashing in and out of existence in the void of interstellar space. Overtones of loud chords die away slowly and fill the space richly. The end is sudden and the sound fades away.
The section L'Amen du Desire (Amen of Desire) opens with Kasparov's piano dominating the soundscape; his attack is intensity itself, a sort of cocktail piano sound against an intense desire for full expression. There is anger in the male's frustration to express his love. Now they play together a dreamy and only slightly discordant tune. Her tones are light, bell-like sounds; his are more robust. Now on the bass keys her playing is more spirited. He is doing cocktail piano with a hard edge. There is no romance here, only showy grand pianism. They settle into coordinated tinkling bell tones.
Section VII, L'Amen du Consummation, opens with fast rhythms not in sync. It reminded me of Carnival of the Animals with a mouse and an elephant side by side and marching along. They pause, only to redouble the power (loudness) of their strutting march. There follows a quiet, unmatched progressing of musical thrust. The audience is alert. It is as if a coiled spring of a watch is unwinding and we wonder when it will all fly apart. Lutsyshyn has so many quick notes. The music becomes more harmonious. Messaien takes himself so seriously as expressed in a colossal crescendo to bring the piece to a close.
When we consider that this is only three of the seven sections of the piece, we perhaps, like the pianist, need time and training to be ready to absorb the whole work. Hopefully that performance will come in 2008 as these superb artists continue to explore the two piano literature.
There is always some question of how the life of a composer influences his art, but here are some facts that may relate to the last two sections. Messiaen and Yvonne Loriod played the premiere of Visions de l'Amen in 1943 in Paris. Loriod did not become his wife until 1962. His first wife, who was mentally ill from 1937 onward, died in 1959 in an institution. The tragedy was the love expressed in Poémes pour Mi (1936) was frustrated in the period of the1940's when Visions was written.

Spectacular Evening Closes Norfolk Chamber Consort Season
Chandler Recital Hall, April 7, 2008
This was the last program of the season for the Norfolk Chamber Consort, but it looked forward to next year's fortieth season by featuring a new arrangement by Artistic Director Designate, composer and pianist Andrey Kasparov.
The program opened with Antonin Dvorák's (1841-1904) Trio No. 4 "Dumky" in E minor, Op.90 B166 (1890) played by Pavel Iliashov, violin, Oksana Lutsyshyn, piano and Peter Greydanus, cello. A spare, romantic dance-like bitter-sweet opening on cello began the piece. The spare, searching sound returns until a dancing, fiddle-like violin ends the first movement. In the second of six sections the violin tone was muted, reminiscent of a streamliner train whistle, a musical hook that catches my heart with its sweetness in a gypsy dance rhythm that becomes a romp by the end. In the third movement, though Dvorák joined voices from time-to-time, I became aware that each voice retains its individuality and creates great interest in what will come next. A ribbon of violin sound runs through the piece, disappearing only to return in a different place with a new color. In the fourth movement the piano sound was enhanced by both string players plucking strings, creating a winning subtle rhythm. The fifth movement began with a tumble of notes with great intensity from the trio. When the cello falls silent the violin pours out a lushly beautiful musical line punctuated by piano. Cellist Greydanus rejoins with a smooth sound. The end is another folk dance romp of great joy. The last movement is a summation of musical ideas drawn together to make a fine capstone for a piece that engages the listener every moment. The "Dumky" rightly deserves its pinnacle position in piano trio literature.
Bright Sheng was born in Shanghai, China on December 6, 1955. As a child he had the luxury of a piano in his home until the Cultural Revolution. After that only professional musicians were allowed to play classical Chinese repertory. As a young adult Sheng worked for seven years as a pianist and percussionist in a folk music and dance troupe in Qinghai Province near the Tibetan border (the site of recent pro-Tibet demonstrations), where he also studied and collected folk music. In 1978, when universities reopened, he was one of the first students accepted by the Shanghai Conservatory of Music, where he earned his undergraduate degree in music composition. He moved to New York in l982 and received graduate degrees at Queens College (M.A.), and Columbia University (D.M.A.). Among his important teachers were Leonard Bernstein (composition and conducting), George Perle, Hugo Weisgall, Chou Wen-Chung, and Jack Beeson.
In Sheng's Tibetan Dances for violin, clarinet and piano, violinist Pavel Iliashov and pianist Oksana Lutsyshyn were joined by Gerard Errante on clarinet. The first movement, Prelude, was rather somber, using western instruments to suggest sounds of folk instruments. In the second movement, Sing, Errante's clarinet was reminiscent of a bamboo flute and Susan Whitelock's violin sounded like an oriental lute. It was lovely, relaxed music. Dance, the third, brief section was quick paced and percussive. The violinist thumped the body of her instrument to create a rhythm repeated in a percussive piano figure with wild exclamation by the clarinet. From time to time bowed strings added variety until all culminated in a grand outburst.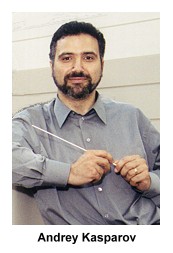 Andrey Kasparov arranged Las Valse by Maurice Ravel (1875-1937) for piano four hands in 2007. Ravel's piece is most often played by symphony orchestra. Dr. Kasparov explained he does not have favorite composers but he does have favorite pieces and this is one. Ravel insisted that he be allowed to serve in the French Army in World War I even though he wasn't fit. His duty as a truck driver left him traumatized, suffering memory loss and great mourning for dead friends. His piece is the apotheosis of the Viennese waltz. An expressionistic piece, it speaks of the death, decay and the destruction of the frothy self-confidence of pre-war Vienna and its waltzes. In the music a figure of death dances on the edge of a volcano with frenetic energy. Though written as a dance piece for Diaghilev it was never used.
Kasparov and Oksana Lutsyshyn, his partner at the piano and in life, have played Ravel's own two piano version but found it too boomey. That is why he decided to arrange it for one piano, four hands. "Oksana has met my inhuman demands" he commented. The stillness of the audience before the music began was eerie. We listened as the beautiful waltz was deconstructed with precision and fire and great clarity. We were allowed to experience the nuance of small gestures of Ravel's piece. There were accelerations and decelerations of the traditional waltz tempo, telling us that that age of smug innocence is gone. We are moving into an unknown world of a future that no longer has the safety of three-quarter time and stately flow.
The spectacular playing gave us the sense of the grand sweep of the orchestral parent of this piece. It was a breathtaking journey. If you missed it this time we hope it will appear on Kasparov and Lutsyshyn's Invencia Piano Duo program soon.
The Fortieth Anniversary Concert scheduled for Monday, September 22, 2008 will feature the former co-directors. F. Gerard Errante (now relocated to Las Vegas) will be the featured clarinetist in Olivier Messiaen's Quartet for the End of Time (1941) in his final appearance with the Consort. This work will be paired with Philippe Rameau's brilliant Baroque masterpiece Suite No. 2 of Piece de Claveçin en Concert (1741), featuring Allen Shaffer.
Printable Version
More NCC
Back to Top
Back to Review Index
Home &nbspCalendar &nbspAnnouncements &nbspIssues &nbspReviews &nbspArticles Contact Us