Norfolk Chamber Consort Opens Fortieth Season
with French Chamber Music from 1741 and 1941
In 1741 Jean Philipp Rameau wrote his chamber music Pièces de clavecin en Concert: Deuxième concert. Exactly 200 years later Olivier Messiaen wrote Quatuor pour la fin du Temps (Quartet for the End of Time). The contrast could not greater. Rameau (1683-1764) wrote books on harmony that have given him his place in the history of Western music. He is best known for his opera, ballets and pieces for harpsichord and organ. While he was building his career he worked for a financier, La Riche de la Pomplinière who brought him into a stimulating circle of writers, artists and musicians. From this private forum came a handful of chamber pieces (including tonight's) unique to his output. Later in the 1740's he became composer to the court of Louis XIV at Versailles. Rameau was a difficult and eccentric person raising the ire of Voltaire, Rousseau and Diderot, among many others.
With Allen Shaffer at the harpsichord joined by Susan Via on baroque violin and Sarah Glosson on viola da gamba, we were transported into a world where the pace is measured. The figured bass of the harpsichord skips along merrily while bows dance over strings. Any urgency created is soon resolved. The teamwork was especially impressive. The feeling tone in this remote, stylized beauty was intellectually satisfying but makes no serious demands on the emotions.
Contrast this world with the mechanized insanity of World War II and Olivier Messiaen's (1908-1992) response to it. In the Quartet he gave us the purest, simplest sounds he could find. The eight movements include one for each day of the week and an eighth for eternity. F. Gerard Errante on clarinet sounds the first notes - the sound of a remote bird call. It is as if from the deep darkness of empty space fragments of organized sound emerge. The piano played by Oksana Lutsyshyn gives definition to this otherwise ungrounded bird. The violin of Pavel Ilyashov and the cello of Peter Greydanus make brief comments enriching the soundscape in this first movement, Liturgy of crystal.
The furious, fragmented piano opens Vocalise, for the Angel who announces the end of Time. The violin and cello offer soft, sad phrases as the piano sets a steady pace in this announcement that music will no longer keep to an unvarying meter.
Abyss of the birds, the third movement was first written as a solo piece for clarinet. In 1940 the Germans invaded France and Messiaen, a medical orderly, was captured with two other musician-soldiers, Etienne Pasquier, a cellist and clarinetist Henri Akoka. While being held in an open field, Akoka played the recently completed Abyss of the Birds which New Yorker critic Alex Ross calls "a clarinet solo that took the form of precise yet disconnected gestures, slow, trancelike chanting lines intertwining with rapid runs and squawks and trills." One of the guards in the prisoner-of-war camp, Stalag VIII A, near Görlitz, Germany, Karl-Albert Brüll, provided Messiaen with pencils, erasers and music paper. He was relieved of his duties and given an empty barrack with a guard at the door to prevent interruptions while he worked. "By this point in his career, Messiaen had worked out an idiosyncratic musical language, with an especially compelling conception of rhythm" to quote Ross once again. The fourth movement, Interlude, has the three players without piano trying to create a merry dance tune. They almost make it except for the clarinet that interrupts with a nervous energy that gradually takes over, until the quirky, happy ending.
A bittersweet mood prevails in Praise to the Eternity of Jesus as the cello gently spins out a duet with a rhythmic, soft piano. Richness develops as they add layers of expression which builds, then retreats, only to continue with new intensity in the piano. The cello cries are sadder and sadder as the music goes on. It resolves as the instrumental sounds become quieter until it all fades away. The audience is restless as the players tune-up for the Dance of fury, for the seven trumpets movement. All play with brio. Outbursts are followed by easy interludes. They create motion but without direction; they travel but never arrive.
Movement seven, Tangle of Rainbows, for the Angel who announces the end of Time, has a palpable sense of longing as the basic structural cell unfolds. Messiaen, the French Catholic mystic, manipulates harmonic structures and rhythmic patterns based on Greek and Hindu rhythms creating a sense of enfoldment. Here and in the final movement, Praise to the Immortality of Jesus, there is a sense of repose in the restrained violin and piano duet. There is a sad feeling of waiting for resolution, a repeated phrase that is a circle passing the same point again and again. Eventually intensity builds and I felt as if we were being engulfed in light. Piano and violin become fainter and more treble until everything is absorbed in silence. The audience sits spellbound for a long moment. The applause is for the superb artistry of each player and the beautiful coordination of all four fine musicians who gave us such an experience.

Norfolk Chamber Consort Features Marimba Virtuoso Kevin Bobo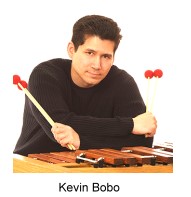 Currently Kevin Bobo is Associate Professor of Music (Percussion) at the Jacobs School of Music at Indiana University. He is also a world traveled virtuoso performer and composer. He has been recorded on several albums including two solo marimba CDs, Marimba Jambalaya (1998) and Chronicles (2006). As guest artist he was featured in all five compositions presented at Chandler Recital Hall on February 2, 2009 at the third Norfolk Chamber Consort program of this season.
In this, its 41st year, Norfolk Chamber Consort makes its debut in the Diehn Concert Series under the new artistic leadership of Andrey Kasparov. Music by contemporary composers will be featured in one Norfolk Chamber Consort program each season. In a program titled Marimba Jambalaya the earliest composed piece was by Luciano Berio (1925-2003) - Linea (1973) and the most recent was Andrey Kasparov (b.1966) Fragment from Iao (2005).
The opening piece, Rhythmic Jambalaya (1997), described by the composer and performer Kevin Bobo (b.1974) is "a 7/8 vamp (improvisation) that is continuously interrupted by short sporadic passges ...a compilation of the many sounds I heard during my undergraduate work at Wichita State University." The rich, soft bell-like tone has a hypnotic feeling to begin but it is interrupted by a harder mallet strike, creating a pensive mood. Intensity builds, backs off, builds again, the sound becoming a lyrical hum created by percussive notes. Pauses, rhythmic fragments, roars, quiet passages - all carry the listener forward into this rich soundscape. You notice his body movement as he stretches from extreme treble to deep bass - choppy base notes. A glissando and two taps bring the piece to an end.
In Astor Piazzolla (1921-1992) Tango Suite from 1984, Bryan Maurer on second marimba and vibraphone joined Mr. Bobo on stage. From Tango No. 2 they played the Andante movement, a sad, sweet, suppertime music of early evening. The sunset fire glow viewed through tears. This restrained, sad beauty is in contrast to the Allegro from Tango No. 3 's dense sound, many notes, faster tempo. There is excitement as the mallets slide down the keyboard, but soon this intensity gives way to a love song. Mr. Maurer's bass vibraphone notes create a firm foundation for Mr. Bobo's fleet playing on marimba. They join forces to bring the piece to an exciting close.
"The most challenging chamber piece we've ever played" was the consensus of the players in Linea (Lines) by Luciano Berio. They were not alone as the audience was equally challenged. Playing with the meaning of "line," Berio's work has the four instrumentalists - Invencia Piano Duo Kasparov and Oksana Lutsyshyn, Kevin Bobo on marimba and David Walker on vibraphone, playing softly in unison a sad little tune, all lines together. Think of each line as a dancer dashing on stage, crossing, then clearing off. Each player gingerly tries his own wings. I'm still following each line until each begins to compete for the dominant part of my attention - like small dream scenes with no connection to one another. Once again they are all together. Kasparov playing as if a spider is repeatedly crossing the keyboard. Fragments of sound, determined by chance, all improvised metrically within designated chords. Overloaded, my listening mind loses interest until unison playing brings me back.
The concert premiere of Kasparov's piece Fragment from Iao for marimba and mezzo-soprano was next. Iao means "initiated" in Yoruba and comes from a large-scale contemporary dance work created for Jelon Vieira, founder and artistic director of Dance Brasil. The initiation ceremony of an Afro-Brazilian religion is symbolized in the story told by the dance. Lisa Coston sang those low notes and high notes of the passionate travail in a ritual chant while the rhythm of the marimba offered her no assistance in finding the correct pitch. Emotionally powerful, the experience was somber and unsettling. As usual Ms. Coston met the composer's challenge.
The culmination of an evening exploring the potential of the marimba as expressed in the virtuoso performance led by Kevin Bobo was Japanese composer Minoru Miki's Marimba Spiritual from 1983-84. Minoru Miki (b.1930) wrote the piece in reaction to an acute famine in Africa in the mid-1980s. The first half is a meditative requiem, the second a boisterous resurrection after the rain has come again. Traditional Japanese percussion instruments gave texture to the intricate rhythms and melodies. The African instruments, purchased recently with funds from the Diehn endowment, completed the array of percussion instruments, including a rustic wooden marimba. It looked much like one hanging from the player's neck in a photograph in the New Grove Dictionary of Music (1980).
Before they played, Kevin Bobo commented that he had spent five wonderful days in Tidewater. He said the students were so well prepared and professional and the commitment of David Walker and Andrey Kasparov as teachers made it all possible. "I have always wanted to play Marimba Spiritual with traditional instruments and now I can." At the beginning the music is delicate, a quiet solo which picks up energy as the light mallet strokes become hard strikes. High pitched brass instruments and tiny bells contrast greatly with the huge gong. Mid-range marimba tones combine with blocks of sound from percussionists Shanon Allen, Dale Paul Lazar and Bryan Maurer who move from one to another of three groups of percussion instruments creating new textures of sound color. There are wild boogie-woogie rhythms, crescendos/decrescendos, a strike on a large Japanese drum, pauses between bursts of sound, a horse trot rhythm. On the left are the ancient African instruments: an iron wheel with a few spokes struck with a drumstick, a tiny drum, the primitive marimba. The pulsing music makes me want to get up and dance and in my heart I did.
The encore saw Kevin Bobo playing a snare drum in Bolero for Ed by Chip Webster. A student brought him the score which he described as "What the drummer would rather be playing instead of what Ravel wrote." The blockbuster display of talent was incredible to watch. By reversing how he held the drumsticks he changed the sound greatly. Hitting the body of the drum added a new color and on and on the virtuoso playing unfolded until, like Ravel's piece, it just stopped. Mr. Bobo wants to remove the wall between the artists on stage and the audience. He was successful this evening! We certainly hope ODU invites him again soon. Until then there are always his CDs.

Extravagant Concert Caps Norfolk Chamber Consort's 40th Season
Twenty-four musicians were part of the carefully designed and wonderfully executed concert at the acoustically superb Chandler Recital Hall on March 30, 2009 titled Bach and the Twentieth Century. The program opened with nine selections from the Notebook for Anna Magdalena Bach featuring soprano Billye Brown Youmans, alto Lisa Coston, tenor Kerry Jennings and bass Steve Kelley with redoubtable baroque master Allen Shaffer at the harpsichord.
A year-and-a-half had passed since the death of his first wife when J.S. Bach (1685-1750) took as his bride Anna Magdalena Wilcke. A singer, she was employed, as was Bach, at the prince's court in Cöthen. Bach had four children form his first marriage and soon they had children of their own. Six of their thirteen children survived. Add to this number Bach's students who lived with the family and musicians passing through who visited and we see a household that was a beehive of activity, much of it musical. Four years into their marriage Bach gave Anna Magdalena the Notebook with only two partitas written in. Over a period of more than 20 years she, Bach and others added pieces.
The harpsichord solo, Praeludium in C Major, was the first piece we heard and was entered in Magdalena's hand in the Notebook. It is from Bach's Well-Tempered Clavier. Anna also wrote in Bist du bei mir, a secular love song attributed to Heinrich Stölzel and sung with great pathos by Billye Brown Youmans. By an unknown composer, the tenor aria sung by Kerry Jennings tells of giving one's heart secretly. An elegantly played Allemande in D minor by Bach from his French Suite was followed by Steve Kelley singing a text that compares our life with that of a smoking pipe. After a brief time it falls and breaks into the clay from which it was made. A choral prelude for harpsichord preceded O Ewigkeit, du Donnerwort sung by Lisa Relaford Coston. The text tells us that hell lasts a long, long time. Aria in G Major for harpsichord "is certainly by Bach himself," say the program notes and was taken by Anna from the Goldberg Variations. A rousing vocal quartet by four of Tidewater's finest singers, Dir, dir, Jehovah. is a song of praise to God for his son Jesus Christ. Mostly dire texts are set to passionate, interesting music. Taken all together, quite an experience.
Listening to recordings is fine but it does not compare to seeing the music constructed note-by-note and phrase-by-phrase. Bach Concerto in D minor for harpsichord and strings BWV 1052 was played superbly on Baroque instruments. Shaffer on harpsichord played in dialogue with string quartet: Susan Via and Susannah Livingston on violins, Jenny Edenborn on viola and Jeffrey Phelps on cello. The little ornaments he played to enhance the harpsichord sound caught my attention and added to the delight of Bach's music. In conversation we learned that this was Mr. Phelps' first experience with a Baroque cello. The third movement dances. The pacing is fast but not rushed and I close my eyes and see dancers in a blue sky on a sunny, warm day. The tension in the music has me worrying that they might fall. The musiclal resolution has me seeing a soft landing. The peice finishes in a blaze of glory.
A capacity audience shared a building excitement, anticipating two modern works by composers who were inspired by Bach. Luigi Dallapiccola (1904-1975) wrote Quaderno musicale Annalibera in 1952. It was a challenging solo piece for pianist Oksana Lutsyshyn and for her listeners. The first of eleven short sections, titled Simbolo (Symbol) is spare and exploratory in feeling, as if the composer is searching for musical possibilities in the twelve-tone series. Overall it is a highly structured intellectual piece. The second movement, Accenti (Accents) has a lively atonal opening, only to turn moody and introspective. Contrapunctus Primus (First Canon) is a dark shadow of Bach's musical language. Impressions continue to flow in the music: Linee (Lines) is fragments of sound. Here loudness and intensity fluctuate, heavy moods, long pauses, all of this carefully constructed. Rhythms are flexible, lines are angular, textures intricately organized. And it all ends abruptly. Ms. Lutsyshyn's playing was convincing, powerful and decisive. I would like to hear the piece again. I found it difficult to digest such newness in one hearing.
Dallipiccola had a deep concern for personal liberty. He grew up seeing the political injustices of the fading Austrian Empire that ruled Pisano, where he was born. He and Istria, his Jewish wife fled Florence for a nearby village when she lost her job as Mussolini came to power. They hid out there until the war ended. The piece is named for their daughter, Annalibera who was born in 1944 when Florence was liberated by the Allies.
Paul Hindemith (1895-1963) was working class German born. He sailed for the U.S. in February, 1940 after his music was banned by the Nazis. He taught at Yale and at Tanglewood where Lucas Foss and Leonard Bernstein were his pupils. In 1949-1950 he was guest lecturer at Harvard University. His lectures were published as A Composer's World. During 1953 he moved back to Germany to teach. He died in Frankfurt ten years later.
We heard Concert Music for Piano, Brass and Two Harps, Opus 41 (1930). In the first two movements, Ruhig (Quiet) and Lebhaft (Lively), performed without pause, the brass opens, it is almost melodic, joined soon by treble piano notes enriched in tone color by the harps. Andrey Kasparov uses big, dramatic gestures as he plays. At one point, Hindemith had instructed "Look at the piano as an interesting kind of percussion instrument and act accordingly." A section sounds like a jazz band gone a little haywire. Now a madman plays a wild piano tune and the ten brass players by turn punctuate his endless notes. The brass becomes a military marching band but the piano goes on and on as if it is unaware of the band. When the pianist stops the brass band sounds exultant. The piano began again and the cacophony is reignited and suddenly it all stops. The second movement has ended.
The third movement, marked Sehr Ruhig (Very quiet), begins with harp accents creating a rich sound and then a sad, romantic meditation which opens to a spirited balance shared with piano and harp. The Mässig Schnell (Moderately fast) last movement opens. It is a raucous brass band on parade. It has become the grand gesture of a 4th of July celebration. Now piano and harp alone play together. An added trumpet fanfare gets wilder as it goes on. When the piano begins to match the brass' intensity the sound changes. It is as if the brass is setting a pulse - keeping time - for the pianist. A duet develops and then more and more brass instruments join in and enrich the sound. There is lovely piano with harp as the sound starts to wind down. A flourish of brass ends it.
I realized some time later that I was listening far too seriously. Lighten-up, music can be fun was the message. Steve says that Andrey's facial expressions as he played clued him in. I later read that Hindemith was practical, efficient and down-to-earth. He could write fast and to order and he promoted his colleagues' music as well as his own. I almost forgot, because the conductor Dennis Zeisler was out of sight behind the piano, that he was pivotal, holding all of this together to give us such a new musical experience.
With Andrey Kasparov as new artistic director this season, the Norfolk Chamber Consort has presented four rich, complex and diverse programs. All have been well rehearsed, which was not always the case in past seasons. Kasparov's ability to create variety with a framework like Bach and the Twentieth Century shows us what an international and intergenerational perspective he brings to the task. We look forward to next season, wondering what new musical paths we will explore together.
Printable Version
More NCC
Back to Top
Back to Review Index
Home &nbspCalendar &nbspAnnouncements &nbspIssues &nbspReviews &nbspArticles Contact Us