Bach/Busoni Program Launches
Norfolk Chamber Consort 2010-2011 Season
Johann Sebastian Bach (1685-1750) honestly believed that music was an expression of divinity; after this program we tend to agree with him. Over his lifetime of 65 years he wrote a huge amount of music. The program we heard began with Concerto in A minor after Vivaldi BWV 593, written as an organ practice piece for his son. Organist Allen Shaffer played in the beautiful sanctuary of Christ and St. Luke's Church where he is music director. The altar and lectern were decked with exuberant arrangements of fall flowers and foliage. The music matched the setting. The Vivaldi theme was a hit tune in the first two decades of the 18th century, before Bach took over Vivaldi's concerto form and made it his own. As the piece began it was like meeting an old friend; the dramatic and emotional force of Bach's music made me smile. The crisp, clear playing was enhanced by rich overtones in the sound space. The opening movement is a shout of joy contrasted with the quiet second movement with interesting voicing throughout its whispered inwardness. The open, declarative energy of the last movement, with its filigree of contrapuntal lines, carried us to the glorious conclusion.
Next on the program came a very special treat, Bach Cantata BWV 106, known as Actus Tragicus (Funeral Music) dedicated to the memory of Lisa Relaford Coston who often sang on NCC programs. Philip Spitta, in his three volume book on Bach (1873-1880) characterizes this cantata as entirely more individual and personal having a depth and intensity of expression which reached the extreme limits of the possibility of music. He concludes that Bach himself arranged the poetry and scriptures found in the cantata.
We met countertenor Chris Dudley last season when he sang in the NCC Britten/Purcell program. He returned to lead the Countertop Ensemble from the Washington, D.C. area as artistic director of the flexible group, ranging from four to sixteen singers. We heard eight precision vocalists. The opening sonatina of sweet, gentle organ music was played by Tom Marshall with strings: viola da gambas played by Sarah Glosson and Wayne Moss; and Baroque cello played by Jeffrey Phelps; accompanied by more pungent tones of the flauto dolce (large recorder) played by Ruth Griffioen and Herbert Watson; all conducted by Allen Shaffer. The rhythms seemed to be the heartbeat of Mother Earth. In the second section the chorus sings Gottes zeit ist die allerbeste zeit (God's time is best). "We live and move as long as He wills." The tenor aria, sung by Jason Rylander, reminds us that death is certain but Bach's setting makes death sound so very friendly. "Set ready thine house," the lively bass aria sung by Karl Hempel intones and was followed by the chorus singing "This is the ancient law, man thou must perish!" but the setting is an eight-voice lullaby and leads into the soprano (Elizabeth Hungerford) inviting "Lord Jesus, come!" The alto aria sung by Mr. Dudley is all about turning our mortal soul over to the redeemer as did the thief on the cross at the Cruxifixion. The bass intones This day thou shalt be with me in paradise. This leads into a chorale that ends with My death is changed into slumber. The final chorus is an exuberant bounce of sounds of joy and praise to God, Father and Son and Holy Ghost. Soprano Emily Noel, alto Anne-Marieke Evers, tenor Joseph Regan and bass Jonathan Woody rounded out the ensemble. This was glorious music making!
Critic Harold Schonberg says "Bach had a sheer lust to know and assimilate all of the music then available, ancient and contemporary." His towering intellectual masterpiece is the fulfillment of the Baroque. In Die Kunst der Fuge (The Art of Fugue) Bach composed collections of fugues and canons that display a wide variety of contrapuntal techniques using the same simple subject throughout. He did not specify the instrument(s) to be used but organist Shaffer made the case for the organ before he played the final section Contrapunctus XIV. It is thought that Bach left it unfinished. As the music abruptly stops it makes a startling impact on the listener. We had been asked not to applaud and it was immediately followed by a completion of sorts by Ferruccio Busoni (1866-1924) who greatly admired the music of Bach. Another of Busoni's passions was the piano music of Franz Liszt. Busoni had a world-wide career as a concert pianist and, like Liszt, made piano transcriptions to play at his concerts. His Piano Concerto (1903-04) was a large-scale, ambitious, post-Romantic work. But in the work we heard, Fantasia Contrappuntistica (1922), he had moved away from post-Romantic music. He used old forms and translated them into more modern terms – more intellectual and less sensual, though his harmonies and rhythms were never far removed from the nineteenth century.
Fantasia Contrappuntistica, in its twenty-five minute two piano version, takes Bach from the 1740's to the beginning of the 20th century. Busoni's ideas about Bach are stringent, powerful and intellectual. The many sections are a series of variations on Bach Ehre sei Gott in der Höhe and include four fugues interspersed with an intermezzo and variations. It ends with a chorale and dramatic stretto. The experience of the piece was challenging. The opening two minutes were a great, muddy roar of sound. The sound of two pianos with lots of pedal in the high ceiling-ed, reverberant nave was shocking. In the Allegro (second section) Andrey Kasparov plays alone quietly at a Bach-like pace. Oksana Lutsyshyn joins in, enhancing the lines as the speed accelerates. On edge, listening carefully, I am pulled into a sense of remoteness. Spellbound, I realize this space is very much like the head-space I enter listening to Bach's Art of Fugue but Busoni's lines thicken to a great density. The following section simplifies as if it is returning to Bach's model. After a while I shut my eyes, concentrating all of my energy in the excitement of discovery. The musical line passes from one piano to the other and becomes a gentle duet. I become conscious of being lost somewhere in the piece (17 sections are listed in the program) and fatigue is setting in. An accelerating tempo does not refresh my interest but a series of bass notes clears all that away. The music simplifies and refreshes as a bumpy intensity ensues. The tempo accelerates and the enormous complexity that two pianists can make impresses my brain with a pounding intensity. A rich, propulsive sound accented by the second piano soon grows to overwhelm, as if it is all about to crash. A dialogue between the two voices returns to a quiet urgency as if the piece is about to end; with rests between big, strong chords, it does.
In summary this opening program, the first of four, of Norfolk Chamber Consort's 42nd season, was a major success both in design and quality of performance. Season tickets are still available.

Norfolk Chamber Consort's Cabaret Classics Concert
November 22, 2010 at Chandler Recital Hall, Old Dominion University. Cabaret was born in the cafés of Paris. The term cabaret refers to both a nightclub and also to the musical entertainment provided there. In 1881 the Chat Noir (The Black Cat) opened in Paris. By 1901 the idea had spread to Germany where the leading cabaret was Überbrettl (loosely translated, Super little club). Between the world wars political satire became an important feature of the music scene in Berlin where Kurt Weill and Hanns Eisler were the leading figures. This period was captured by Christopher Isherwood in his book Goodby to Berlin which became the play I am a Camera and the musical and movie Cabaret.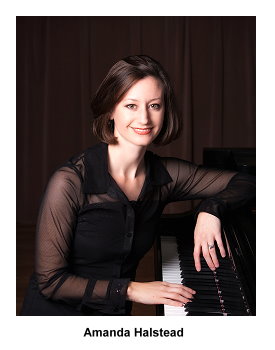 The first section was a showcase of light-hearted music by otherwise serious composers. Amanda Halstead opened the program with two piano pieces by American composer William Bolcom (b.1938). The first, The Grateful Ghost Rag, was written in memory of Bolcom's father and is a melodious, rather gentle concert-length piece with sophisticated syncopated rhythms. Dressed in a simple white sweater and black slacks, Miss Halstead's look was as sophisticated as the music she played. The Serpent's Kiss, which followed, created a sense of a snake slithering. The time unfolds fast and furiously with cluster chords interfering with the forward rhythm. Tongue clicks and hand slaps on the piano and whistling added color to this romp.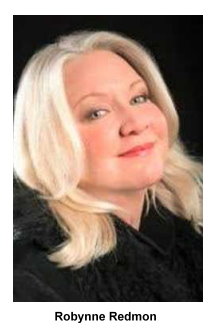 Mezzo-soprano Robynne Redmon in a lipstick-red fitted gown and wrapped in a black boa sang Cabaret Songs by Benjamin Britten (1913-1976) with the lovely, blond Oksana Lutsyshyn partnering her at the piano. Four years after Britten's death this set of four songs was published. They were written between 1937 and 1939 to poems sent from time-to-time by his friend Wystan Hugh (W.H.) Auden (1907-1973). Britten and Auden met in 1935 when they were working for the British government film unit on educational documentary films. In England cabaret was more genteel until Auden introduced the German spirit in his and Christopher Isherwood's play The Ascent of F6. Britten wrote the incidental music for the play while grieving over the loss of his own mother which may explain the somber, serious setting of Funeral Blues even though Tell Me the Truth About Love, the first song of the cycle, is reminiscent of Cole Porter's sophistication in both text and music. These two songs were cut from the play but became Britten's first two Cabaret Songs. Auden was an out gay man and he mentored a shy Britten who was struggling with his own nature. In the play mezzo-soprano Hedli Anderson created the role of Singer. Auden in his Selected Poems (published by Vintage), included a poem titled Two Songs for Hedli Anderson, which contains the text of Funeral Blues and Johnny. About the song Johnny, Britten's biographer Humphrey Carpenter wrote "The setting was written in a single morning, after lunch and before a game of tennis. He dashed off another song 'a light one' for Hedli Anderson' using words Auden had just written." Johnny is the singer's lover but each evening out ends the same way: "he frowns like thunder and went away." Each verse is a pastiche of a musical style: folk-song, polka, Viennese waltz and, musically best of all, bel canto opera verse which made full use of Ms. Redmon's glorious, sensual voice.
The fourth text, Calypso, came by mail from Auden, who was teaching for a few weeks in Massachusetts, with a note that said "I am mad with happiness … I am so anxious for you to meet Chester, though a little frightened as he is extremely musical and you do play so fast." The text of the song "Driver, drive faster, the one I love best of all is standing in the center of Grand Central Station" with fast-paced rhythms and intense vocals and a whistle urging us on until the song comes to a climax.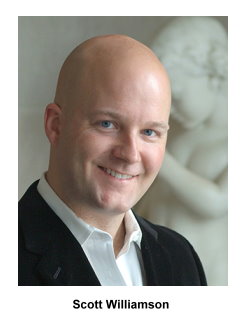 Kurt Weill (1900-1950) became prominent in Germany as a musical theater composer during the late 1920s, greatly influenced by jazz and the harsh, brilliant atmosphere of Germany at the time. In 1935 he and his musical actress wife Lotte Lenya, ended up in the U.S., after a stay in Paris and London. Scott Williamson brought his mellow tenor voice and acting chops to the stage in two songs from Street Scene,1946. As Ms. Lutsyshyn played the intro, Mr. Williamson strolled in looking at the sky and sang the emotionally evocative words of Lonely House by black poet Langston Hughes. He followed that with the novelty song Tchaikovsky and Other Russians (from Lady in the Dark, 1940) singing and dancing through a list of names of Russian composers delivered at hyper-speed.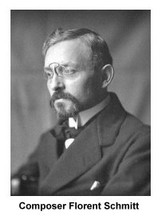 Ms. Lutsyshyn was joined by Andrey Kasparov, the other half of the Invencia Piano Duo, in movements II and III of Trois Rapsodies Polonaise (1903-1904) by Florent Schmitt (1870-1985). In the Rapsodies Polonaise the voices of two pianos compliment each other when they are not fusing into one, rich sound. The playing is dramatic with great power and substantial content and a quiet ending.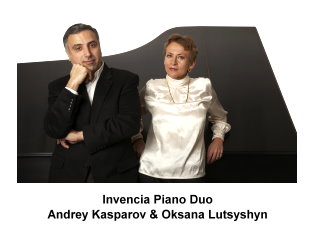 There is no empty show-off technique here. In Rapsodie Viennoise coordinating the playing makes large demands on the players creating an alternative take on waltzes and polkas. It seems a bit serious for cabaret until, it is as if, a carousel is winding down. In the complex of cocktail piano-like runs the pianists lost each other. Kasparov called a halt. The rest of the piece created tighter and tighter circles of sound until it all imploded. Was this an Olympic event? Invencia Piano Duo is in the process of making a three CD set of all of Schmitt's piano music. Trois Rapsodies is his only composition for two pianos.
After intermission Scott and Amy Williamson brought to the stage Barcelona, a song from Stephen Sondheim's (b.1930) musical Company about five, single, disaffected friends. A vocal ballet unfolds as two consenting adults hook-up, spend the night together and as she is about to fly off in the morning (she's a flight attendant), he asks her to stay. When she finally agrees after declining several times he is nonplussed. Mr.Kasparov remained at the piano and accompanied Ms. Williamson in two songs from Arnold Schoenberg (1874-1951) Brettl-Lieder. There are eight songs in the set. In late 1901 Schoenberg relocated to Berlin after marrying composer Alexander Zemlinsky's sister Matilde. He conducted a cabaret ensemble and wrote these songs.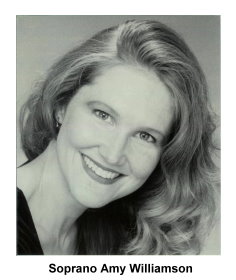 We heard Aus dem Spiegl von Arkadien (from The Mirror of Arcadia) one of the seven songs with piano. Ms. Williamson in her fetching little black dress with purple boa captured the naughty sensuality of the text. The other selection, Nachtwandler (Sleepwalker) was new to us. It is rarely performed. Because it is the story of a parade of night revelers, musicians and singers,it is set for snare drum (Nikolas White), trumpet (David Vonderheide), piccolo (Bonnie Kim), piano and soprano. Looking sneaky, Ms. Williamson, in a trouser role, sang the fourth stanza, urging all to silence as they pass his lovers' house "If our noise gets her out of bed, she'll scratch out our eyes!" Once they pass they continue their loud parade disturbing the neighborhood with our singer with washerwoman on one arm and ironing girl on the other bringing up the rear.
The grand finale was a chamber performance of a Schoenberg transcription of Kaiserwaltzer, Op. 437. Written by Johann Strauss II (1825-1899) in 1889 for orchestra – concert hall and dance hall, we heard it arranged for string quartet, piano, flute and clarinet. The added performers for this piece were violinists Anna Dobrzyn and Pavel Ilyashov, violist Satako Rickenbacker and cellist Peter Greydanus. (For his fans, yes, the Greydanuses have moved back to Hampton Roads.) All seven performers in black pants and tops were led by conductor Allen Shaffer. After WWI there were no funds for large scale concerts. Schoenberg founded a classical music society and he and other composers made reductions of popular classical works for piano or chamber ensemble. This arrangement is from 1925. The small number of players created a timbral palette that was rich in color. Schoenberg is able to convey the sense of imperial Vienna and the martial air of the original piece without brass instruments. In the quiet, restrained opening the piano set the plodding pulse of a march but within a few measures other instrumental voices took over, allowing the piano to add melodies and embellishments. The strings were used to keep the familiar sound of Strauss' piece but the flute and clarinet with piano added other melodies as the five waltzes were spun out. At the end I felt like I had indeed experienced New Year's in Vienna and I was intrigued by the different way it had been achieved.
A closing word about the text of the Britten songs. Because the Auden poems are under copyright we could not be furnished copies. Of the four songs, only Tell me the truth about love was familiar. Billye Brown Youmans sang it in recital in 2005 so I ordered a CD - Auden Songs by Benjamin Britten (sixteen) Lennox Berkley (1903-1989) (seven songs) Naxos 8.557204. Tenor Philip Langridge sings on all selections except Cabaret Songs sung by mezzo-soprano Della Jones with Steuart Bedford, piano. A fine CD and an exciting addition to my song collection but still without printed texts. Steve did find the text to Funeral Blues and Johnny online at www.npr.org/programs/death/readings/poetry/aude.html
Back to Top
Printable Version
More Norfolk Chamber Consort
Back to Review Index
Home &nbspCalendar &nbspAnnouncements &nbspIssues &nbspReviews &nbspArticles Contact Us