Norfolk Chamber Consort
Paul Bowles, Writer and Composer
October 3, 2011
Chandler Recital Hall
Old Dominion University
Reviewed by John Campbell
"Although he is not a quiet man he is the soul of discretion, and it is almost never possible to know any more about what goes on inside his head than he intends you to know." This quote from a short story by writer and composer Paul Bowles (1910-1999) could be a description of Bowles himself. I have long been intrigued by the creative works by Bowles and by his life. I was especially pleased when Norfolk Chamber Consort announced its first concert of the 2011-2012 season titled "The Music of Paul Bowles."
The Norfolk Chamber Consort program, in conjunction with the Diehn Concert Series and Old Dominion University's 34th annual literary festival, opened with a lecture by author Christopher Sawyer-Lauçanno, whose biography of Paul Bowles, An Invisible Spectator, was available in the atrium. The talk, beginning with Bowles' birth on December 30, 1910, focused on musical influences in his life, including his first encounters with Stravinsky Firebird and a few years later, Rite of Spring and his being swept away by the experience.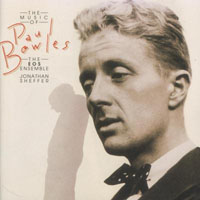 Bowles was a highly intelligent, sensitive child who was reading by age three and within a year was writing stories. My reading has led me to conclude that many of his life choices were in reaction to his early life. His mother was overly protective and regimented his experiences yet she read him Poe as bedtime stories. His father was cold and was psychologically and perhaps physically abusive and Bowles retreated into a rich, inner life, writing stories as a child to fill a gap where contact with other children might have been in a normal upbringing.
Because Poe had gone there, he attended the University of Virginia, where in his letter from November, 1928, just after he arrived, spoke of having painted and sold four pictures and having written a piece of music titled Monotonal. His friends found it to be dull. Making good grades gave him the option of not attending classes. His greatest joy was hiking in the mountains, exploring nature and letting his imagination soar. He found the area provincial and that his teachers and fellow students had little to offer him. He came up with the idea of disappearing from all the strictures on his time and way of living. He flipped a coin to decide suicide or Paris. Paris won. He raised the money and secretly slipped into his hometown to get a birth certificate for his passport. On March 30, 1929 he arrived in Paris. He was eighteen and had already published poetry and prose.
Being in Paris was his joy, making a living was his challenge but letters of introduction helped him make connections. Through this network he was offered an interview with Prokofiev about taking composition lessons. Instead, Paul took a train to Germany at the appointed time. Later in life he termed his behavior rude and still inexplicable.
Enough biography for now. Let us turn to the musical portion of the program. It opened with Bowles Music for a Farce (1938) for trumpet (Lawrence Clemens), clarinet (Alexandra Borza), piano (Elizabeth Ann Jacob) and percussion (Nik White). The piece has a rollicking, exuberant energy. It expresses the charm and wit of a young man who believed that music was for enjoyment. The title is a description of the farce its history had become. The music was written for a play John Houseman and Orson Wells planned to present in New York. Jane and Paul had married on February 2, 1938 and honeymooned in Central America and France. Summoned home by telegram, Paul wrote the music only to be told that the play had been cancelled. The passage home had used the rest of Jane's money so they were nearly broke. When he complained he was paid $100.
Soprano Polly Butler Cornelius sang Mes de Mayo (Month of May) by Bowles, accompanied by guitarist Aníbal Acosta. Ms. Cornelius is known for her premieres of American songs by living composers as part of an her singing career. Mr. Acosta gave a concert in Chandler Hall this summer in conjunction with the release of his new CD, ¡Thrum!. This Latin folk influenced love song is about spring birds singing. Very lovely, very gently we learn that the singer is trapped in sadness, her only friend, the little bird who sings.
Ms. Cornelius with Oksana Lutsyshyn at the piano then sang Cuatro Canciones de Garcia Lorca (Four Songs of Garcia Lorca – 1944). The first charming text, Cancionilla, is about the honey bee in an orange grove. It ends with a quizzical turn: "Where could the honey be?" Media Luna is a gentle song told from a twig's point of view of the moon reflected in the river. The intimate singing in Balada amarilla captured a moment in time. Will the little shepherd man and the brown grape-picking woman find each other with no star nor moonlight? Murió al Amanecer continues the gentle, seductive energy of this set of songs. Here the singer says "On my flesh I seek the imprint of your lips." Yet he refuses her.
Back to Bowles' biography. Nadia Boulanger is always listed as one of his teachers. This is incorrect. Bowles sat in on a couple of classes but when asked in a 1986 interview if he'd studied with her, his answer was "No, not really. I found her rather worrying. She was very severe, rather like a crotchety maiden aunt. Everyone says she was a magnificent teacher. I'm sure she was. For me, she was a bit formidable." In the autumn of 1929 Bowles returned to New York City. In late February, 1930 he showed his music to composer Henry Cowell (1897-1965) , who did not like it but gave him a letter of introduction to rising star Aaron Copland. Shortly after they met, Bowles came around every day for a composition lesson. "Copland's method of instruction was to examine in depth the Mozart piano sonatas ...the idea was that if Bowles understood what Mozart was doing, he would have a better sense of what composition was all about." (Sawyer-Lauçanno book).
Once again living at home, Bowles' parents pressured him to return to UVA, about which he said "I had no desire to return to the university; only to the Blue Ridge." Back there he spent his time wandering the hills or with a male friend in Richmond. On April 11, 1930 he and his friend hitchhiked to Philadelphia to see Martha Graham dance Stravinsky Rite of Spring with Leopold Stokowski leading the orchestra. Bowles, who had heard a couple of pieces by Stravinsky before was once again overwhelmed by the music.
Copland came to visit Bowles at UVA who introduced him to members of the faculty and arranged a brief concert where Copland played a movement from his Jazz Concerto. The reaction was not positive and once again Bowles felt that Charlottesville was hopelessly provincial. He finished the term and left, going to his aunt's house in Saratoga Springs, New York, where he studied music by Paul Hindemith (1895-1963) and Stravinsky L'Histoire du Soldat. At the NCC concert, to honor Bowles' enthusiasm for Stravinsky, Oksana Lutsyshyn played movements II and III of his Serenade in A (1925). Her performance was vividly articulated, underscoring for me that this is music that grew out of the European tradition.
A portrait of Bowles would be incomplete without some music by Copland. Baritone Christopher Mooney of Christopher Newport University gave us The Boatman's Dance from his Old American Songs, I (1950), partnered at the piano by Andrey Kasparov. The performers were in synch, giving us a first verse with full power of voice and piano and a second one with a depth of quiet feeling. Very effective! Bowles had set The Boatman's Dance in 1939. It would be interesting to hear the two settings side-by-side.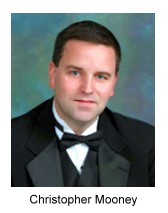 Next we heard Blue Mountain Ballads, a set of songs that to my ear are some of the best by any American composer. Of these songs Bowles has said "I remember in '46 Tennessee [Williams] gave me some lyrics and asked me if I would like to use them to write songs … they made a suite which Schirmer published separately. They have gone into the repertory now." They are sparkling gems of American art song repertory. Mr. Mooney captured the excitement and charm of these mountain characters, presenting them with all their inhibitions, lusts and cussedness. While at Juilliard Mr. Mooney was introduced to this cycle by Paul Sperry whose major focus is American art song. Mr. Mooney's singing was terrific, the best performance I have ever heard of these Ballads and Kasparov at the piano was a perfect partner.
Bowles spoke to the notion that his art songs, Blue Mountain Ballads, are folk inspired. When Bowles was a critic for the New York Herald-Tribune he wrote in a review on January 21, 1946 of a performance by singer Janet Fairbanks and pianist Carl Krits: "Paul Bowles had two frankly popular, Broadway-inspired songs to words by Tennessee Williams: Heavenly Grass and Lonesome Man. As some songs go to folk material and civilize it for the concert hall, so these [songs] go to the juke-box and do the same." (Paul Bowles on Music edited by Mangan and Herrmann).
Mses. Cornelius and Lutsyshyn returned to the stage and performed three songs that concluded the first half. As Carol Kimball writes in her book Song, "Bowles' songs are striking for their lyricism, economy of means, and natural fusion of text and music." We heard In the Woods, Baby, Baby (now known as Sleeping Song) and April Fool Baby. The first two have texts by Bowles and the last is by Gertrude Stein whom Paul met on his second trip to Paris (April 10, 1931). As soon as he arrived he called unannounced at Stein's door and was warmly taken in by her and her partner Alice B. Toklas. Ms. Cornelius' voice had a bird-like purity as she sang of shadows In the Woods. Baby, Baby was a lovingly sung lullaby and the Stein song has a raucous first verse contrasted with a slow waltz in the second.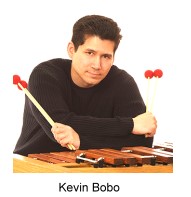 Bowles' happy, cosmopolitan music inspired music we heard in the second half of the program. It opened with Flurries (2009) with composer Kevin Bobo (b.1974) playing marimba accompanied by the Old Dominion University Percussion Ensemble (Dennis Northerner, Nikolas White, Sarah Williams) led by David Walker. Flurries was composed as a gift for Kevin Bobo's wife Emily for their 10th anniversary and "as luck would have it was premiered on July 4, 2009, the actual anniversary date" said Mr. Bobo. The piece musically explores characteristics of snow in eight sections over some twelve minutes. At first you have to listen closely for the delicate sound of light snow. The next movement has a sweet, fast tempo that branches into a probing complexity. Later we hear birds, perhaps shaking off snow. Clear bell tones recede after a blizzard of thunderous music. There are marimba strokes so close together that they create a continuous lyrical line and then a perky tune that creates images of dancing snow fairies and, at the end, the sound just fades away. Charming, engrossing music and we were sad to have it end. Fortunately the piece is on Mr. Bobo's latest CD Boboland. See review below.
Night Waltz (1948) was completed after Bowles arrived in Tangier, Morocco in 1947 where he made his permanent home for the next fifty-two years until he died in the local hospital there on November 18, 1999, six weeks short of his 89th birthday. Night Waltz, played by Invencia Piano Duo (Kasparov and Lutsyshyn), requires a devilishly difficult coordinated sound of two pianos at the beginning. We heard French influenced music with Arabic scales oozing through the intense, energetic, Bowlesian idiom with its polymeters and folk and jazz touches. Author Sawyer-Lauçanno praised the performance for following all the complex rhythmic changes in the music and found it far more accurate than any recording he had heard.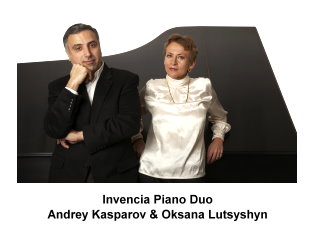 Of the final piece on the program, Concerto for Two Pianos, Winds and Percussion (1946-47), Bowles speaking to the question of taking ideas from sounds he has heard, says "That's true. Once in my hotel room in Taza, I had nothing to do, couldn't sleep, and had taken something against the fever and felt really crazy. So I just started dripping water in the sink at different speeds. It was a very good tap. I got my idea for my two piano concertos in 1946 from the same idea, in the bathtub. The water was dripping in, and suddenly, it kept dripping the same way and it made a melody. I got the whole first part of the first movement from the water that morning. The water dripping seemed to have overtones, echoes, pitch echoes, inside the room." (Conversations with Paul Bowles, edited by Dagel Caponi).
This was the big piece of the evening and from the opening Allegro it was apparent that the percussion played by Bobo and Walker extended the sound pallet of Kasparov and Lutsyshyn's pianos. The Scherzo was a short, fluid movement. The Andante had a remote, mellow opening followed by a huge drum sound. Oboist George Corbett, clarinetist Nick Hecker and trumpeter Lawrence Clemens join in to create a nightclub energy carrying us into a somber, sad mood. The tempo speeds up, intensity builds slowly and backs off to a sweet quiet climax. The last movement, Galop, had percussionist Bobo literally galloping across the back of the stage from one instrument to the other. One piano played brilliant quirky Moroccan belly dance tunes woven into a galloping horse rhythm on the other. The blend of the two rhythms was fascinating. It gleefully drops over a cliff and it is over.
Once again we are deeply impressed by Andrey Kasparov's ability to organize a super musical evening, drawing together resources and focusing them into a complete experience, this time on the life and music of Paul Bowles, an American composer who left us some delightful, happy music and a body of art songs (over 100) that I want to explore further.
A Final Word on Bowles
Paul Bowles was most famous, not for his music but for his short stories and his novels, especially The Sheltering Sky (1949), which was made into a movie in 1990. After he settled in Tangier he continued writing incidental music for plays at the American School of Tangier. He wrote incidental music for several classical plays in the 1960's. The last was for Oreste in 1978.
In Morocco there was a raw, uncivilized energy that appealed to Bowles and young Arab men that fascinated him. He in turn fascinated the younger generation of writers and composers in America. His shabby apartment in Tangier became a point of pilgrimage for as long as he lived.
Bowles returned to New York City in 1995 for the Eos Ensemble festival of his music. The CD, The Music of Paul Bowles (Catalyst (09026-68409-2 ) with the Eos Ensemble, led by Jonathan Sheffer, featured tenor Carl Halvorson and mezzo-soprano Lucy Schaufer in The Wind Remains: A Zarzuela based on Federico Garcia Lorca and baritone Kurt Ollmann in Secret Words: A Suite of Six Songs. The ensemble also plays Concerto for Two Pianos and Orchestra, Suite for Small Orchestra and Pastorela: First Suite.
Of all the gay composers and writers of the twentieth century, Bowles is the most secretive; he did not kiss and tell. His marriage to Jane Auer, an open lesbian, was one of devotion though each pursued their own interests and maintained separate households, even in Tangier.
Bowles says of his writing, both music and fiction, "I write unconsciously, without knowing what I am writing." Interviewer Millicent Dillon, who wrote You Are Not I: A Portrait of Paul Bowles, presented him with insights and observations by several writers and critics on his creative works. He allowed that they may be correct but reiterated that he was not conscious of these considerations in his creative process. Dillon's book as well as a volume of his letters (In Touch: Letters of Paul Bowles edited by Jeffrey Miller) and especially his collected short stories (The Stories of Paul Bowles, introduced by Robert Stone), are well worth a read.
Paul Bowles on CD
There are no CD's exclusively devoted to the songs of Paul Bowles though there are several that include his songs. Paul Sperry Sings Romantic American Songs (Albany TROY043) has five by Bowles, including April Fool Baby and Letter to Freddy with text by Gertrude Stein as well as Once a Lady was Here, Three and Baby, Baby.
There are several CD's that include Blue Mountain Ballads (4): Vox Box CDX5129 Love's Secret and Other Songs by American Composers. Donald Gramm, bass-baritone sings and Richard Cumming is pianist; Bass Sam Ramey with Warren Jones, piano, sings Blue Mountain Ballads and They Cannot Stop Death on Every Time We Say Goodbye (Sony SK68339); William Sharp, Baritone (New World Records, NW 369-2) with pianist Steven Blier sings Blue Mountain Ballads, Sleeping Song (Baby, Baby), April Fool Baby, A Little Closer Please, Three, Letter to Freddy, Secret Words and My Sister's Hand in Mine.
There are three CD's available devoted exclusively to Paul Bowles' music: The Music of Paul Bowles (Catalyst, 09026-68409-2) includes Pastorela: First Suite, Suite for Small Orchestra, Concerto for Two Pianos and Orchestra, one of his short operas, The Wind Remains with Carl Halvorson, tenor and mezzo-soprano Lucy Schaufer and Secret Words, a suite of six songs arranged for orchestra by Jonathan Sheffer who also conducts the EOS Ensemble. Baritone Kurt Ollman sings.
The second is Paul Bowles: A Musical Portrait (Koch International Classics, 3-7343-2), Irene Herrmann, piano; Mark Brandenburg, clarinet; Michael McGushin, piano; Brian Staufenbiel, tenor; Susan Waller, flute; Roger Wiesmeyer, oboe. It includes Nocturne for two pianos; Sonata for Oboe and Clarinet; Flute Sonata; Four Miniatures for Piano. Twelve songs: Three, Mes de Mayo, Once a Lady was Here; Cuatro Canciones de Garcia Lorca (four songs)and Scènes d'Anabase (five songs).
The third, Bowles: Songs; Piano Pieces; Concerto "An American in Paris" (Koch Schwann SCH 315742) includes soprano Jo Ann Pickens/Haridas Greif, piano performing: Song of an old woman, Sleeping song (Baby, baby), Letter to Freddy, David, Sugar in the Cane, My love was light, Lonesome man, The frozen horse, My sister's hand in mine, An American hero. Tenor Howard Haskin/Haridas Greif, piano perform: Faint as leaf shadow, Night without sleep, Three, Her head on the pillow, The piper, Once a lady was here, A little closer, please, In the woods, April fool, Down in yonder meadow. The CD also includes: 6 Preludes for Piano and Huapango No. 2 for Piano performed by Gustavo Romero; La Cuelag for Piano, El Bejuco for Piano and Huapango No. 1 for Piano performed by Haridas Greif; Night Waltz for 2 Pianos - Haridas Greif/Jean-Francois Zygel; Concerto for 2 Pianos, Wind Instruments & Percussion - Kun Woo Paik/Huseyin Sermet/Jean-Christophe Gayot/Bernard Yannotta/Clement Garrec/Guy-Joel.

Kevin Bobo in Boboland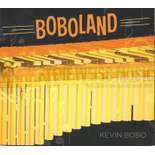 On his latest CD, titled Boboland, internationally acclaimed marimbist, percussionist and composer Kevin Bobo (b.1974) wrote all of the ten pieces he plays. The rich diversity in his music sustains a listener's interest throughout the sixty-five minutes of the 2010 CD. Flurries, reviewed in the Paul Bowles program where he was guest performer, is an easy twelve minutes of listening. The charming musical language, inventive rhythms and wide array of colors infuse all his pieces with life and energy. Hemispheres uses other instruments and hand clapping to create a gamelan-like sound in this travelogue that draws on influences from Indonesia, India, Cuba, Spain, Japan and parts of West Africa.
I love the title French Flies for a piece that he composed while pursuing a master's degree at Ithaca College. The piece is in a simple ABA form with highly virtuosic passages and a bouncy swing section in the middle. There is fun in the impressive playing that produces legato passages on a marimba. No small feat! Musée grew out of a vacation with his wife in Paris visiting many museums. It is suggestive of standing in line, wandering from room to room viewing various works of art and having one's attention caught by a special painting as a group of school children come trooping through.
The closing piece on the CD is Boboland and is dedicated to his three-year-old nephew, who, like most children at that age, lives in his own world. The music creates a sound world with constant changes of emotion and fun. Images suggested are colorful and filled with mischief - four homemade instruments and many whistles and calls are used in this light-hearted and humorous musical romp.
Classical music has not been this much fun since the "Toy" Symphony attributed to Haydn but now thought to be by Leopold Mozart or Michael Haydn and Leopold Angerer. Fortunately there is no doubt that Boboland was written by a happy musician who wants to spread the fun around. The other pieces are no less worthy: Insomnia, Three Etudes, Tor's Waltz, Lament and Pendulum and Echoes. But I will let our listeners discover these on their own. The CD can be ordered from steveweissmusic.com.
A List of Song Cycles Plus an Alphabetical List of All Song Titles
Printable Version

Back to Top
Review Index
Home &nbspCalendar &nbspAnnouncements &nbspIssues &nbspReviews &nbspArticles Contact Us