Percussion Group Cincinnati
&nbsp&nbsp&nbsp&nbsp&nbsp Concert percussion -what a delightful way to spend an evening. Bringing home a CD has extended the pleasure. The Percussion Group Cincinnati (PGC) was presented by the Diehn Concert Series at Old Dominion University in Chandler Hall on October 24, 2006.
&nbsp&nbsp&nbsp&nbsp&nbsp The performance was a smooth flow by polished performers. This is the twenty-seventh year of Allen Otte, James Cully and Russell Burge performing together. They teach and make up this ensemble-in-residence at College-Conservatory of Music at the University of Cincinnati. They play cutting edge music all over the world. Young composers have created a large body of new and often experimental music for them.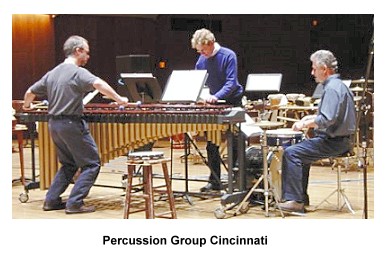 &nbsp&nbsp&nbsp&nbsp&nbsp On this program they featured an ingenious piece of their own making called I Read the News Today, Oh Boy (1986). The sound was produced by folding, fluttering, rolling, crushing and striking newspapers they were reading. They did this in a variety of movements: folded paper used to strike the floor or their thighs and hands; catching crushed paper balls; making rhythm by folding/unfolding paper; shaking out crumpled paper; moving paper through the air like wings; tearing paper. This created in me an enormous awe at their creativity of sound and motion! The cleanup of all the paper they had used concluded the piece, in rhythm, of course. In the program notes they thank "all those who worked with us 'collectively' on the newspaper piece [who] are former students in Cincinnati."
&nbsp&nbsp&nbsp&nbsp&nbsp Drums of Winter (1993) by John Luther Adams, who lives in Alaska, opened the program. The piece begins with very gentle playing on a bass drum as if the sound were opening like a sunrise into the full intensity of the heat of the day. The music is based upon traditional Inupiac Shamanic drumming and is arranged by PGC from Adams' evening-length piece Earth and the Great Weather, a sonic geography of the Arctic.
&nbsp&nbsp&nbsp&nbsp&nbsp Pieces written for the group on this program included Mbira Music, book 1 (1986) by Alonzo Alexander, Breathing Drum (1991/03) by Michael Barnhart and Drama (1995) by Guo Wen-jing from Beijing, China. His piece is very sophisticated and inspired by his memory of folk music in the South-central Chinese province where he grew up. Both large and small cymbals that looked like a hat with a broad, flat brim and a dome-shaped crown were approached in various ways creating complex patterns of music.
&nbsp&nbsp&nbsp&nbsp&nbsp The group is respected for its knowledge of the range of music by John Cage (1912-1992). They toured and made festival appearances in Europe and America with Cage who wrote pieces for them as did Lou Harrison (1917-2003). The Harrison piece they played, In Praise of Johnny Appleseed, is an early ballet from 1942 for flute, drums, rattles, marimbas, Indian drums, wood pipes and other devices used to produce unusual sonorities.
&nbsp&nbsp&nbsp&nbsp&nbsp Though the live program contained no pieces by Cage, there are several on the CD titled Percussion Group Cincinnati on the ARS label. It also includes music composed for them by the contemporary composers John Beukes, Qu Xiao-song and Randolph Coleman. Even without the choreography of a live performance the CD is an excellent introduction to concert percussion and the work of PGC.
&nbsp&nbsp&nbsp&nbsp&nbsp The final piece on the program is a charmer. Four Chilean Songs arranged by the group: Come along wife (Advis), Flight of the flamingo (Araya), Re-building Managua (Seves) and Festival of Tirana (Yupanqui/Seves) has a traditional musical language. At times six ball mallets, two per hand, strike a marimba to create a rich sound. There is a dance tune, the sound of a delicate music box that goes faster and faster. The sound of a hammer and saw are accompanied by a tuneful marimba line in Rebuilding Managua, the capital of Nicaragua, after a hurricane struck.
&nbsp&nbsp&nbsp&nbsp&nbsp These guys love what they do and they do it so well. Kudos to ODU's Fred Bayersdorfer for bringing these talented, innovative and entertaining artists to our area.

Kitka Creates Awe In Chandler Hall Audience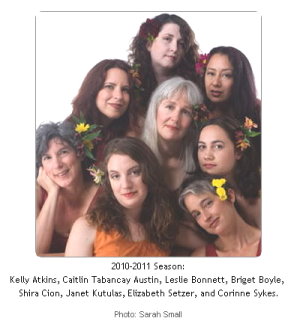 Kitka, the eight member Eastern European folk music ensemble sounded exotic in the Diehn Concert Series brochure but did I really want to go hear them? "You never know, so why not?" I thought. The San Francisco area woman's a cappella group (Oakland is home-base ) came to Chandler Recital Hall on October 25, 2010 and left an audience overwhelmed with the beauty of their artistry and charmed by their warm and friendly conversations in the Atrium afterwards.
The songs are drawn from many regions, states or countries of Eastern Europe: Bulgaria, Croatia, Georgia, Albania, Greece, Lithuania, Macedonia, Armenia and traditional Russian Jewish music. The singers' goal is to communicate meaning through amazing harmonies, vocal blends and techniques developed and distilled over centuries, combined with a modern sophistication that allows each song its folk roots while performed to a perfection of clear communication.
The spoken introductions grounded us in reality as we listened to solos, duets and trios that transported us to a realm of refined vocal sound. The text of the opening song by the whole group set the tone: "Sing sisters, our voices are willing! Long live this circle of friends around us."
Founded in 1979, Kitka began as a grass-roots group of amateur singers from diverse backgrounds who met regularly to share their passion for the stunning dissonances, asymmetric rhythms, intricate ornamentation and lush harmonies and resonant strength of Eastern European women's vocal music. "Kitka" is a Bulgarian and Macedonian word meaning "bouquet."
The song Shen Khar Venaki had a sad feeling for me. A Georgian song of praise for the Virgin Mary dating back at least a thousand years, it is often sung at weddings to honor the bride: "You are a vineyard just blossoming, whose blessed roots sprang up in Eden..." This is the most requested song at Kitka's concerts.
The group is part of the Bay area music scene with vocal classes and many performances, both alone and with with other performers. Kitka also strives to expand the boundaries of folk song as a living and evolving expressive art form. Internationally, they have traveled many times to Eastern Europe to perform and collect repertoire. I found it interesting that in 2002 they joined the choir "Le Mystere des Voix Bulgares" for their 50th anniversary in Sofia, Bulgaria. Le Mystere des voix Bulgares was my introduction to this unique Eastern European voice production on two Nonesuch CDs (Explorer series, Vol I). I actually bought it used while visiting San Francisco in 1989. Volume II, "Village Music of Bulgaria" came soon after. Feel free to skip my early discovery and go for a few of Kitka's eleven CDs, many on their label Diaphonica. Their CD Cradle Songs was was one of NPR's Top Ten CDs for 2009. If you want to see them perform check out their DVD of old and new world Jewish music, Kitka and Davka in Concert.
Now that I have shared our enthusiasm for this stunning vocal experience, please visit their website at www.kitka.org and learn far more about their music than I can speak of here.
Printable Version

Back to Top
Review Index
Home &nbspCalendar &nbspAnnouncements &nbspIssues &nbspReviews &nbspArticles Contact Us