What is Carmina Burana?
Latin Songs of Beuren (c.1280)
By John Campbell
After some 550 years of rest in a Benedictine abbey—Benedictbeuren—near Munich, Germany, Johann Andreas Schmeller in 1847 brought out his complete editions of the 200-plus poems taken from the thirteenth century German manuscript found there. It is believed that the manuscript was assembled in Seckau, a town near Beuren, in the thirteenth century. The original can now be found in the Bavarian State Library, Munich. Most of the secular poems are in Latin but some are in old German and old French and several have music in neumatic notation in the text. The overarching theme is the fate of mankind in a secular world with the temptations of bountiful Venus, Bacchus and Orpheus. There are also satires on the mass and the pope. The Roman Cato is quoted but not the scriptures, though this performance does include pieces by Philippe le Chancelier (b. mid 1160s). Roughly, the message is to sin while you are young and repent when old.
Fast forward in time ninety years to 1937. That is the year Carl Orff, who was a Munich native, brought out his scenic cantata titled Carmina Burana. Orff did not use any of the original music but created his own settings of twenty-five original ancient texts.
The Boston Camerata's performance was originally created by Joel Cohen with the help of others and revised by Anne Azéma, the current director of the ensemble, fusing the Carmina Burana manuscript and other medieval sources.
For this program translations were not edited to remove the earthy descriptions of sex and sin which often happens with Orff's work. The performers also used gestures to get points across as they sang in the original languages. The texts in English were accurately descriptive of the original poems, some obscene and others humorous. For the most part the melodies had to be reconstructed from the concordances in Notre Dame and St. Martial.
After nearly sixty years of constant and critically acclaimed activity, the Boston Camerata is among the world's oldest and pre-eminent early music ensembles. Founded at the Museum of Fine Arts in Boston in 1954, it was led by Joel Cohen for forty years. The present artistic director, mezzo-soprano Anne Azéma, with her voice of striking purity, led the performance we heard at Chandler Hall. M.D. Ridge's review that follows will give you the details.

Diehn Series: Boston Camerata
Chandler Recital Hall
October 29, 2013
Review by M.D. Ridge
The Boston Camerata — six superb singers and two adept period instrumentalists— were ably assisted by the ODU Madrigal Singers on October 29th at ODU's Chandler Recital Hall. The orchestral and symphonic choral version of Carmina Burana, by Carl Orff is more familiar to most, with bits showing up in movies and even television commercials. But this Carmina Burana was a chance to hear these frequently quite irreverent 13th-century medieval poems sung in a more intimate setting, by pure, clear, sweetly-tuned voices.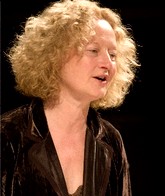 Anne Azéma, the director and lead singer of the Boston Camerata, gave the standing-room-only audience a quick introduction. The collection of songs known as Carmina Burana lay hidden for quite a while in the Benediktbeuern Abbey in southern Germany. No one knows who collected them, but the songs bridge the worlds of church and university and the students' (or clerks') world. There are songs of right and wrong, songs of greed and misfortune, drinking and gambling songs, and, of course, love songs. Some of the poems are attributed to authors; some were derived from classical Latin authors; and many are anonymous.
It's astonishing how much beautiful music can be made with two sopranos (Anne Azéma and Camila Parias), three skilled tenors (Timothy Leigh Evans, Daniel Hershey and Ryan Turner) and one remarkable baritone (Donald Wilkinson). Shira Kammen played medieval violin and harp; Tom Zajac provided winds, brass, psaltery and percussions—even bagpipe.
They began with songs about right and wrong walking together and the inconstancy of fortune. In "O slippery inconstancy of Fortune!" the women sang a drone tone over which Azéma's voice floated before joining Parias in a duet of unusual intervals and delicious dissonances, accompanied by violin and box hurdy-gurdy. In "O fortuna"—more fickle fortune—the men had a full, rich sound. Evans sang with a sure sense of humor, and Wilkinson's flexible baritone shone in the last wry line.
Billed as "the crooked path," the second section explored themes of repentant—and unrepentant—sinners. In "Vita perdite," an aging sinner decides, rather practically, to mend his ways. The dancing "Curritur ad vocem," was a satire on money and greed.
The group had great fun with selections from a "Gambler's Mass," whose Sequence was on the Victimae Paschali melody. (I'll never be able to think of it with quite the same reverence—which is what good parodies do!) For a song that asked, "Where is truth?"Azéma and Parias produced a wildly appropriate sneering sound. The chorus in full harmony responded with the repeated "This wine, this good wine" to Parias's solo, Turner's solo and the quartet, in the jig-like rhythms of "Bacchus, be welcome."
Azéma introduced the love songs of the second half with the observation, "Without the church, we wouldn't have this poetry—even though it's not what Rome wanted kept in its bosom."
The women's lovely rhythm changes in "Here are the maidens dancing in the springtime" and the bright open fifths of the men's "At the break of day" were followed by "Phoebus on his golden chariot," with Azéma and Parias alternating laments—just gorgeous.
Turner made the swan's death song one of tantalizing sexiness—wow, especially considering that the swan was a medieval metaphor for Christ. "O my most delightful one" was equally sexy; the chorus lamented, "Mandaliet, my beloved, comes not!" Bagpipes and violin were perfect for Hershey's impassioned love song in mixed German and Latin—Tammen's bow had little bells on it, which produced a wonderfully cheerful accent.
Evans was hilarious in "Once I was the purest of all virgins," singing with sly innuendo the role of the girl being seduced, while the chorus responded, "Cursed be that linden tree" where it all happened. "Behold, the pleasant spring," in which the singer claims that women are equal to men, Azéma characterized as basically early feminist music. One of the spring songs, on the tune we know as "Good King Wenceslas," was "Tempus adest floridum," with a surprise accompaniment of handbells from the rear of the hall, played by ODU's Dr. Lee Teply with three students.
The Boston Camerata, founded nearly 60 years ago, tours all over the world. Their meticulously researched programs bring early music to effervescent life. Their flexible, supple, lively voices were one joy after another: clear mezzo and soaring soprano; tenors with passion and humor; and authoritative but flexible baritone. Not least, their diction was flawless!
The instrumentalists were no less superb: Shira Kammen's harp and medieval fiddle (I'm still entranced by those bells on her bow) and Tom Zajac's awesome array of, well, everything.
The Old Dominion University Madrigal Singers were in excellent company, and acquitted themselves most honorably. Catch them at the university's annual Madrigal Banquets in early December.
This review was originally broadcast on WHRO 90.3 FM's "From the other side of the Footlights."
Printable Version

Back to Top
Review Index
Home &nbspCalendar &nbspAnnouncements &nbspIssues &nbspReviews &nbspArticles Contact Us