Eighth Blackbird Performs
F. Ludwig Diehn Concert Series
Chandler Hall, January 23, 2017
Review by John Campbell
Eighth Blackbird is a cutting-edge, contemporary classical chamber group. In 1996, six Oberlin Conservatory undergraduates (Nathalie Joachim, flutes; Michael Maccaferri, clarinets; Yvonne Lam, violin; Nick Photinos, cello; Matthew Duvall, percussion; Lisa Kaplan, piano) formed the group and over the last twenty years have commissioned and premiered hundreds of works. All the music played on the January 23rd program was written between 2012 and the present. Their strong sense of ensemble with the unique sounds of the six, very different instrumental voices was engaging and often enthralling.

In the 2015-2016 season they were featured in a pioneering residency at Chicago's Museum of Contemporary Art, serving as a living installation with open rehearsals, public talks and performances with guest artists. In the summer of 2017 they will launch their boldest initiative yet, the Blackbird Creative Laboratory, a tuition-free, two week summer workshop and performance festival for musicians in Ojai, California.
They opened with American composer Nico Muhly (b. 1981) Doublespeak (2012), written to honor Philip Glass's 75th birthday. If you think of Glass's music as woven of whole cloth then it is fair to describe Muhly's tribute as a patchwork quilt of swatches of Glass sounds. All six instrumentalists in various combinations contributed to the emotional shifts and turns, some spare and quiet, others overwhelmingly immersive. Pianist Lisa Kaplan gave us a direct Glass quote at the end.
Then followed two pieces from a 2015 special commission "Hand Eye," a suite of six pieces from a composers' collective whose six members are all in their thirties and who met while at Yale University. Each piece was inspired by an art work. Ted Hearne chose By-By Huey, a painting by Robert Arneson. It is a portrait of Tyrone Robinson, who murdered Huey Newton, co-founder of the Black Panthers. A giant preying mantis is superimposed over the murderer's face, memorializing the (self) destructiveness of that social movement—the mantis consumes its own. The music is a hard-edged, modern piece built around percussive piano with hands both on the keys and inside the piano. There were ear-shattering bursts, low wooden-sounding piano notes, a bowed marimba and muted string sounds that were both muzzled and growling. The ending turned maudlin in mood, both soft and whispery.
Inspired by another painting, Timo Andres' piece Checkered Shade is described as a gradual zoom outward of tiny fragments of repeated musical material that resolves into larger patterns. At the urging of the violin it eventually coalesces into an expressive chorale. As with each composition the "choreography" on stage was fascinating, especially in this 14 minute piece.
Bryce Dessner's Murder Ballads (2013) was inspired by several old folk ballads: Omie Wise, Young Emily and Pretty Polly. Set in a claw-hammer banjo style, these tales of romantically-charged killing are based on real events. The piano and cello were prominent in the highly repetitive opening with a harpsichord-like sound from the prepared piano*. From random phrases to foot stomping hoedowns, brilliantly quick percussion and hand clapping led to a motionlessness only to begin again with soulful marimba and screaming strings. Soft taps on a huge drum gave depth to pastel scene painting with long flute and clarinet lines and staccato strings. These violent stories were told through seductive music.
The program notes tell us that New Yorker critic Alex Ross has said "If you are having a slow day, his samples will wake you up." Though I cannot find Ned McGowan listed in the book cited (The Rest is Noise), McGowan's The Garden of Iniquitous Creatures (2016) built on samples of other music, did indeed wake us up. Heavy drumming opens, then strings played percussively in a Poulenc-inspired section were followed by sections of ferocity inspired by Swedish metal band Meshuggah. Carnatic rhythms from South India, harmonic movements of Steve Reich, tempo manipulations of Colin Nancarrow and the virtuosity of Frank Zappa are all suggested by the tapestry of sound, according to those same notes. This was a thrilling experience to conclude this intriguing evening.

*A piano with objects placed on or between the strings, or some strings re-tuned, to produce an unusual tonal effect.

Diehn Series: Ciaramella
with the ODU Madrigal Singers
Chandler Hall, January 22, 2018
Review by John Campbell
Ciaramella is an instrumental ensemble but the program's added pleasure was the Old Dominion University Madrigal Singers. Stepping back in time 500 years to Germany, the music received a hearing in an academic setting with a very receptive audience. The program, titled "1517: German Music Before and after the Reformation," gave us a visceral experience of great vitality. Think of a wedding with dancing on the town green resounding with song. The big open sounding drum and raucous, improvised piercing shawms offered repetitive phrases in crisp rhythms.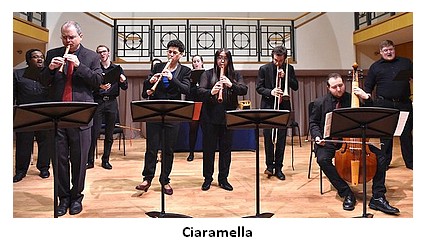 Dr. Bianca Hall, of the ODU music faculty since 2015, introduced the early music group Ciaramella. All six performers are teachers or advanced student researchers in early music at the University of Southern California Thornton School of Music where Dr. Hall received her doctorate.
Any concern that the concert might be a dry, academic experience was put to rest with the opening music by Michael Pretorius (1571-1621). Adam Gilbert and wife Rotem Gilbert played bagpipes with Malachai Komanoff Bandy on hurdy-gurdy. As the program continued we heard shawms (forerunner of oboes), sometimes known in England as bombards, with their piercing brilliance of tone, a sackbut (early trombone) and vihuela (early guitar). Also added to the mix were percussion and recorders of varying sizes: tenor, treble or descant. The viol added strings to the sound and although as large as a modern cello, Mr. Bandy's instrument had little of the rich resonance of a cello.
An added feature was three songs (all with texts and translations) performed by the ODU Madrigal Singers directed by Christina Bartholomew. Delivered with panache and accompanied by recorders, the first song, Mater sancta dulcis Anna (Holy Mother, sweet Anna), by an anonymous German composer (c. 1500), asked for help in life and forgiveness of sin thereafter.
Late in the program the singers returned with music by Ludwig Senfl (1486-1542), Wil nieman singen, with the message: "If no one wants to sing, I will." Some lines were given to the women alone, others to the men. After quick rhythms things became slower and more deliberate as we heard a lover nostalgic after being separated from her lover. The chorus departed at the end, only to reappear on the balcony, a unique feature of the Chandler Hall stage. They began a cappella Mit lust tret ich an diesen Tanz (With pleasure I trip this dance). With a melody after Senfl, the voices were soon joined by shawm, sackbut and vihuela for a rollicking finale.
Earlier we were introduced by Dr. Gilbert to music by Senfl and others, telling us that Ciaramella's goal is to unlock this ancient music through historical research and speculative performance. They did just that, spectacularly. The program notes were well worth reading since they outlined historic events of 1517 and talked about the music. Important music manuscripts were introduced, stressing the importance of dance tunes during the Renaissance.
Once again the F. Ludwig Diehn Concert Series at ODU has offered us a full, rich experience of very old music that was new to the listener.
Printer Friendly

Back to Top
ODU Index
Home &nbspCalendar &nbspAnnouncements &nbspIssues &nbspReviews &nbspArticles Contact Us