&nbsp&nbsp&nbsp&nbsp&nbsp Craig Rutenberg, an exceptionally gifted pianist, last seen here with Thomas Hampson at Ogden Hall in 1995, joined Ms. Blackwell on stage to hear the ODU students who sang for them. He is a friendly person and a very verbal communicator with a fine sense of humor. Ms. Blackwell was very hands-on in her communication. When singer after singer came before them and collapsed their body slightly forward to sing, they were of a single mind, suggesting that the students buy a cheap girdle to use while performing. "Most big guns use one in performance." At another time he suggested "Think of yourself as a peacock strutting across the stage."
&nbsp&nbsp&nbsp&nbsp&nbsp Ms. Blackwell had the singer bend forward at the waist and breathe-in, expanding and widening the body as she placed her hands so that the student would become aware of what was happening in the mid-torso. Mr. Rutenberg suggested "You knew how to breathe when you were born. Dig it [this knowledge] up again." The navel and the point directly behind it on the spine were also held by Ms. Blackwell to give singers a sense of space in the body. "Breathe to both spots. Stand firmly on your two feet side by side, shoulder width apart, so that if a truck came along, it would suffer" instructed Mr. Rutenberg. "You wouldn't budge. Use your entire body to sing but stand firm."
&nbsp&nbsp&nbsp&nbsp&nbsp Speech declamation classes were recommended for all to develop the resonance in the face. "Create a buzzing in the eye area . Your goal is to create two resonance tones, one in the chest and the other in the head."
&nbsp&nbsp&nbsp&nbsp&nbsp Students were instructed to use a mirror and see how they use their mouth when singing. The mouth is to be opened twice as far when singing as when talking. Singers who over-use the mouth and face were told to place the tip of the finger between the lips and sing. "It's a lot less stressful to open the mouth only as wide as necessary."
&nbsp&nbsp&nbsp&nbsp&nbsp During the question session, they were asked about working-out for muscle development for singers. A moderate workout only was recommended. A heavy rigid musculature will interfere with breath needed by the singer. Don't let your body collapse downward. Use the muscles to remain upright but relaxed.
&nbsp&nbsp&nbsp&nbsp&nbsp On the question of nervousness: "All singers deal with with this. Use your energy in a constructive way. Take deep breaths, meditate and get mind, body and soul in the same space."
&nbsp&nbsp&nbsp&nbsp&nbsp On memorization, the students were told that repetition is the key. Listen and repeat 15 or 20 minutes at a time. Take 2 bars and repeat 5 times. Rest. Do this 5 times.
&nbsp&nbsp&nbsp&nbsp&nbsp In Issue #9 we talked about Maury Yeston's song cycle December Songs. This is available on a CD titled Strange Hurt (RCA Victor 61944) sung by Harolyn Blackwell. She has also recorded songs by Leonard Bernstein on a CD titled Simple Story.
&nbsp&nbsp&nbsp&nbsp&nbsp Margaret Gupta bought the CD for sale at Ms. Blackwell's recital, and encouraged me to get one at the master class. I'm so glad I did. Here is her evaluation.
&nbsp&nbsp&nbsp&nbsp&nbsp Harolyn Blackwell's latest CD All Through the Night is a delight. The variety of lullabies is wonderful, and most were new to me. Her diction is excellent as is the lovely quality of her voice. I was surprised that she didn't sing the usual words to "All Through the Night", which I always thought was Welsh. Instead she identified it as "The Live Long Night" adapted by Joseph Haydn. I was disappointed that there were no translations for the non-English songs. Don't miss the chance to listen to this marvelous recording.
&nbsp&nbsp&nbsp&nbsp&nbsp One of the other two CD's mentioned in the pre-concert Artsong Update, Strange Hurt is titled after a Ricky Ian Gordon song cycle of &nbsp ten songs on texts by Langston Hughes. It is well worth having. As we said before, it includes Maury Yeston's December Songs.
&nbsp&nbsp&nbsp&nbsp&nbsp The second CD, A Simple Song, Harolyn Blackwell sings Leonard Bernstein (RCA 09026-68321-2) contains 19 songs from various stage works and his cycle of six songs I Hate Music, recorded in 1994. We are happy to have all 3 CD's in our collection.

Harolyn Blackwell's Remarkable Recital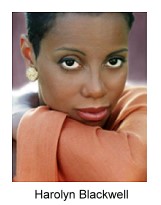 &nbsp&nbsp&nbsp&nbsp&nbsp April 16, 2007. Working on a review yesterday I was emotionally open. Writing always opens me up emotionally. This vulnerable space from which I write was shattered by a fellow human being with a gun on the Virginia Tech campus in Blacksburg, Virginia. Day after day we lived through gusting winds and now this. The openness of my heart was the receptiveness I carried last night to the art song recital by Harolyn Blackwell. President Runte came and led us into a profoundly still silence in Chandler Hall and the space created inside me in this setting was filled by the remarkable presence and voice and love of Ms. Blackwell.
&nbsp&nbsp&nbsp&nbsp&nbsp There had been talk of canceling the performance. Pianist Craig Rutenburg, Ms. Blackwell's usual collaborator, had injured his thumb. But we human's are a resilient bunch. Ms. Blackwell asked William Hicks, an accomplished conductor, voice coach and pianist to accompany her. The audience came and together we shared a time of profound grief, soothed somewhat by the joy of music.
&nbsp&nbsp&nbsp&nbsp&nbsp I felt pulled open and left that way. Riding home the emotion kept filling up the space created inside of me by the experience. I do not comprehend the communication I felt with the singer. My usual way is to tidy-up with words - put the feeling experience in its proper verbal category - distance myself from the intensity but for now I choose to live with the raw feelings. The profound "I Do Not Understand." To just be human among my own tribe.
&nbsp&nbsp&nbsp&nbsp&nbsp The lovely opening music, sung with such polish was by English composer Henry Purcell (1659-1695) and included Ah! how pleasant 'tis to love and Man is for woman made, both new to this listener. All four songs began life as incidental music in plays. Music for a while and Hark! the ech'ing air are often performed but seldom with such beauty of tone.
&nbsp&nbsp&nbsp&nbsp&nbsp The first song, Du bist wie eine Blume (You are like a flower) in the set by Clara (1819-1896) and Robert (1810-1856) Schumann is by Robert with text by Heine. It is a lush love song with a second verse that is a blessing. "I feel as if I should lay my hands upon your head, praying that God may preserve you so pure and fair and sweet." Der Nussbaum (The nut tree) is all about the wind in a nut tree whispering of a love that is to be. The gentle ending, so understated by our singer, was most soothing.
&nbsp&nbsp&nbsp&nbsp&nbsp Clara's songs, Das Veilchen (The Violet) and Die stille Lotosblume (The quiet lotus flower) were filled with vocally expressed romantic passion. The last three songs were by Robert. In the last, Mein sch÷ner Stern! (My lovely star), our singer pleads that she be caught away to the star. With her face turned upward how could any star refuse that look? All of this was part of Ms. Blackwell's full palette of expression in voice, face and movement.
&nbsp&nbsp&nbsp&nbsp&nbsp We were not the best of audiences. We were cautious, polite and even missed applauding at the end of the Schumann set. The order of the songs had been changed and by the time I checked, all the songs had been sung, the moment had passed and Ms. Blackwell had gone on to sing Donizetti's aria Quel guardo, il cavaliere...so anch'io la virt¨ magica (Don Pasquale). Here our singer, a supurb stage actress, becomes a young woman displaying a kaleidoscope of the emotions of love.
&nbsp&nbsp&nbsp&nbsp&nbsp After intermission we heard American songs. Ned Rorem (b.1923) will be 84 on October 23rd and has finally come into his own. He kept composing his lyrical songs all through the era of hard-edged, atonal American music. Now his songs are being heard and he is being celebrated for remaining true to his music. The gentle sound of Little Elegy, a love song (text - Elinor Wylie) was the first of six selections. Added for this program, Early in the Morning, text by the composer, celebrates the happiness of being young and in love in a Paris cafe. Ms. Blackwell created the energy of each miniature drama, the seriousness of a text by Walt Whitman, O you whom I often and silently come and the perky, bratty child in I am Rose (text Gertrude Stein) who storms off stage but chooses to return and sing.
&nbsp&nbsp&nbsp&nbsp&nbsp There followed songs from a cycle, Genius Child, by Ricky Ian Gordon (b.1956). I suspect that Gordon chose these poems because they express his personal pain, though the author is the great African-American poet Langston Hughes. As a child Mr. Gordon was a self-described geek and hyperactive. In a Jewish household his mother sang and joked, a counter pose to his father who had a dark, abusive streak. Gordon, quoted in the Opera News article "The Lonely Hunter" (January, 2007) says: "I think if my father had not met my mother, he could have been a murderer.") The opening songs, Genius Child, Kid in the Park and To Be Somebody reflect his torturous childhood. In My People you see the universal, deep truth of the words "Beautiful, also, are the souls of my people" which ends as a lovely vocalise ending in a piano coda. The final song, Joy, could be a summary of Gordon's quest in life. After ending the disconnectedness of his addiction to alcohol in 1989, he has worked hard to transform his deeply personal pain into something beautiful and uplifting - his music. The performance was vivid and moving - moving us toward healing. Ms. Blackwell's recording of these songs is on an RCA Victor CD (09026-619442) titled Strange Hurt. The CD also includes Maury Yeston's December Songs.
&nbsp&nbsp&nbsp&nbsp&nbsp The last set included Out of My Dreams by Richard Rogers, Irving Berlin's Mr. Monotony and the always encouraging Something's Coming from Leonard Bernstein's West Side Story.
&nbsp&nbsp&nbsp&nbsp&nbsp She was generous in her encores. We stood as she returned to the stage for another bow. With a simple grace she sang again what I will call "The Meow song," a charming, humorous song by Villa-Lobos about trying to find a cat. Much applause was followed by Sondheim's I Remember from the TV production Evening Primrose. She left us with He's Got the Whole World in His Hands. Such a comforting thought and I do wish it were true but this great, sprawling experiment we call humanity goes here and goes there and doesn't lend itself to such easy answers.
&nbsp&nbsp&nbsp&nbsp&nbsp We had met Ms. Blackwell when she was at ODU in March, 2002, also presented by the Diehn Concert Series. The person you see on stage is the same person you see in the atrium greeting the audience afterwards. We exchanged some words but it was what we didn't say that speaks most now.
Printer Friendly Format
Back to Top
Back to Review Index
Home &nbspCalendar &nbspAnnouncements &nbspIssues &nbspReviews &nbspArticles Contact Us