Jason Paul Peterson's Piano Recital
On March 4, 2009 at Old Dominion University's Chandler Recital Hall, Jason Paul Peterson presented a faculty recital. The program opened and closed with pieces by Isaac Albeniz (1860-1909). He played Evocación sitting at the piano ramrod straight with a very positive, firm approach and played this dreamy, popular sounding song - charming, unsubstantial - as with all the pieces he played, from memory. Sonatine by Maurice Ravel began with a moody first movement followed by a brilliant sounding, crisp minuet and moved into ringing bell tones in the Animé final movement.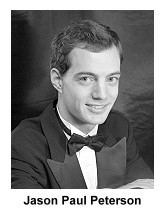 In his youthful bass voice, Dr. Peterson told us how Robert Schumann (1810-1856) was influenced by the poet E.T.A. Hoffmann's story for Kreisleriana Op.16. In his extroverted, unfussy way he played three of the eight movements of this rather over-the-top Romantic music. The second movement (IV) is more laidback and stately but with a passionate intensity. The third section (V) was an off-kilter dance, challenging in its complexity. Beethoven Piano Sonata No. 18 in E-flat takes a classical, Mozartian sound and adds explosive, fast-paced pianism that shouts "Look at me, I'm the great Beethoven." A short Baroque Sonata in C Major, K.159 by Domenico Scarlatti fit nicely in a program that showcased the brilliant pyrotechnics of the pianists. The frenetic energy of Alexander Scriabin (1872-1915) Etude in G# minor continued the brilliant, emotionally uncomplicated evening of note accurate performance.
For a change of pace we were offered a just completed work by Johanna S. Groot Bluemink Vision of Tundale written for the pianist. Ms. Groot Bluemink, who studies composition with Dr. Andrey Kasparov, is a graduate student at ODU. When composer and pianist met recently, he asked her what kind of books she had been reading. Her answer was medieval folklore and visions of hell. He commented that he does a full recital of pieces inspired by the devil. Peterson was very enthusiastic about her offer to write a piece for him. Inspired by town festivals where villagers acted out passages from the Bible and lives of saints, she focused on a most popular one, the Fall of Lucifer. She has written "The culmination of the play was the damnation of Lucifer and his followers and the creation of hell. This was a noisy affair and because the baker with his upside-down cauldron and the blacksmith with his anvil could produce the loudest sound they were assigned the climax. Men in demon costumes would jump out of a 'hell mouth' and chase people around, scaring the children."
Haste was essential and she finished the piece in a week. When Dr. Peterson passed a first round of auditions at Ithaca University and was invited to return to give a full recital, he was looking for music to give him an edge in the competition. Playing Tundale might say to the judges, "Here is a pianist who takes chances and is willing to try something new." Ms.Groot Bluemink adjusted her piece to make it easier to prepare in the brief time so he could include it in an extremely challenging recital. "In future performances the piece will actually sound a little different" she said. From the first note tapped inside the piano she has created an eerie feeling capturing the spirit of a remote time, very foreign to our own. Reminiscent of George Crumb, a simple little tune plucked inside the piano, harplike, concludes this otherworldly romp. It's well worth hearing and I hope to hear it again.
The encore, a slow Mazurka by Chopin, capped the evening. At times I missed poetic expression that could have pulled me deeper into the possible mood of the music. The chosen pieces of technical difficulty dazzled but seemed to call forth little response from the pianist's own being.
Back to Top
Review Index
Printer Friendly Format
Home &nbspCalendar &nbspAnnouncements &nbspIssues &nbspReviews &nbspArticles Contact Us