Ken Shifrin Featured in ODU Trombone Concert
Between 1750 and 1760 European musicians took a natural horn (valves had not been invented yet) and by manipulating the hand placed in the bell of the instrument, learned to create a full musical scale. This technique is known as hand stopping. A plethora of exquisite solo works for the horn was created by Leopold Mozart (1719-1787), Michael Haydn (1737-1806), Wolfgang Amadeus Mozart (1756-1791), Franz Joseph Haydn (1732-1809) and others.
During this same Baroque period the trombone, with its capability to produce florid, contrapuntal music was reserved for the church. In this concert the secular music composed for horn was played on the trombone. Since few masters of the hand-stopped horn technique are around today this choice of trombone allows this music to be brought to life, though our friend who plays the French horn suggested that they get their own repertory.
Guest performer alto trombonist Ken Shifrin, a native of Washington, D.C., was featured in a special program at Old Dominion University on February 18, 2008 at Chandler Recital Hall. He is a much traveled, eminently qualified performer, teacher, managing director for a music publishing house and a clinician for brass instruments. Mike Hall, who also played trombone, teaches trombone/euphonium and brass chamber music at ODU and was instrumental in having this concert happen.
A movement from concerto in E-flat for two horns La Caccia (The Chase) by Leopold Mozart came first. Lee Teply played the harpsichord and the ODU String Quintet joined trombonists Shifrin and Hall. This short, lively piece creates a hunting horn sort of sound: "This fox better watch out."
Next we were entertained by the ODU String Quintet coached by Leslie Fritelli. This student group played two movements from Dvorák's (1841-1904) String Quintet No. 2 in G Major, Op. 77. First violinist Anna Dobrzyn's bow bit firmly into her violin strings to begin the Allegro con fuoco. The second, Schzero Allegro vivace, had lots of folk-like fiddling. The other players were second violinist Mary Dart, violist Shirley Luu, cellist Kevin Jones and Thomas O'Byrne on double-bass. The pauses in this music were very important in shaping the sound which was rich and sensuous with a clear forward thrust. The hoedown returned to end the piece.
Alto trombonists Shifrin and Hall returned with string players and harpsichord in Michael Haydn's "Concertino" from Serenata (1767), Perger 87. A comic dialogue with the cello, giving the second answer, develops. It goes faster and faster and things get a little raucous. Before they finished competing we enter the P.D.Q. Bach world of dueling banjo music played on trombone. The audience found this highly amusing and gave their strongest ovation of the evening.
Baroque composer Daniel Speer's (1636-1709) Sonata (1687) featured three trombonists. Dr. Ross Walters from Virginia Commonwealth University on tenor trombone joined Mike Hall also on tenor trombone and Ken Shifrin on alto to bring us a spectacular showpiece to end the program. This concert traveled to VCU the following evening.

Mike Hall's Three Baroque CD's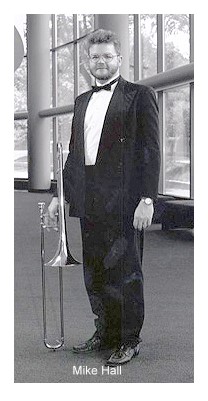 As a trombone performer Mike Hall has a wide set of experiences, everything from television commercials to rap music, backing popular entertainers to playing with symphony orchestras and chamber groups. He has been a solo performer at festivals, universities and public schools. His wide experience is brought together with his extensive study of Baroque performance practice as applied to low brass instruments in three recordings available on compact disc. From 2004 there is J.S. Bach: The Gamba Sonatas and Arcangelo Corelli, Solo Chamber Sonatas Opus 5, both with Hall on alto trombone and Rebecca Bell on harpsichord. Larry Rice on double bass rounds out the trio on the Corelli disc. The new CD from 2007, copyrighted by Old Dominion University, features Solo Sonatas, Opus 1 by Benedetto Marcello (1686-1739) embellished in the Italian style.
These three composers were contemporaries and as was the practice in that time, they wrote no secular music for trombone as it was used for religious music only. Dr. Hall has challenged us to rethink the use of his instrument in these fine recordings.
An example of how Mike Hall expands the range of the instrument is based on Corelli's expanded Baroque embellishments. In Corelli's Sonata 12 in D minor there are 23 variations on a "Follia" theme, perhaps Portuguese in origin since these were popular subjects for seventeenth century composers. Within these variations Dr. Hall creates a sound similar to that of a Tibetan throat singer. Hall's liner notes explain "We employ orchestration that suits the wind soloists and we rely upon trombone multiphonics to take the place of many passages that call for double-stopped notes on violin. Trombone multiphonics is the practice of singing a note with the voice while at the same time playing a lower note with the lips. While this is certainly not a Baroque technique it is an accepted part of twenty-first century trombone technique." Corelli's original demonstrated the technical capabilities of the violin and here Hall does the same for the trombone, thus partaking of an unbroken 300 year performance lineage.
We are all familiar with Baroque harpsichord and clavichord pieces played on piano. Less familiar are violin sonatas played on cello or viola. But the leap form violin to trombone is one that is a bit more challenging. I have listened to these CD's several times with great interest and growing enjoyment. My Artsong Update partner Steve found the new Marcello CD deeply relaxing to listen to. "The more I listen the more I have come to enjoy the trombone in music I associate with stringed instruments. It's as if you have to educate your brain to the new sound."

To obtain the CD's and performing editions of the music contact Mike Hall through his website www.odu.edu/~jhall You can also check with your favorite distributors including cdbaby.com and amazon.com

Trombonist Mike Hall Brings the Art of Fugue to CD
Mike Hall's CD The Art of Fugue arrived in our mailbox mid-April and now the time has come for a review. Art of Fugue is such an important part of the enlightening Norfolk Chamber Consort's Bach/Busoni program reviewed here. This is the fourth CD of Baroque music arranged for trombone played by Mike Hall who teaches trombone/euphonium at Old Dominion University. In the Baroque era the profound and noble sound of the trombone was confined to church music. The transcription played here is by Ralph Sauer. As a graduate student of Mr. Sauer Mike Hall was inspired by his "fantastic recording" to perform early music on modern trombones. Dr. Hall uses four instruments to achieve the desired variety of sounds to bring out the complexity in Bach's intellectual masterpiece.
This is the third CD I have of Art of Fugue and though Bach does not indicate instruments, the polyphonic structure seems to have been conceived for a keyboard instrument. Alessio Corti plays a modern organ on his 1991 CD Johann Sebastian Bach (Antes Concert label, MB-CD 911014/5). The program notes describe the work thus: "Bach used his sublime sense of poetry to present posterity with a complete synthesis of all the basic compositional techniques, not only of his own time, but of the entirety of music hitherto. He did not cling slavishly to old established forms and rules in the process, but gave expression – without making any 'sensual' compromises – to the structure that had formed the basis of nearly all the instrumental music written since the beginning of the 16th century."
The trombone sound is often brash but then again, I found lovely, soothing passages as well. At some 80 minutes for trombone or 90 minutes for modern organ, no matter how well-played or great the composer, it's very demanding to listen to the entire piece at one sitting. The favorite CD in my collection is J.S. Bach Musikalisches Opfer die Kunst der Fugue, three CD set with Musical Offering and Canons (Archiv Produktion 413 642-2) by Musica Antiqua Köln, conducted by Reinhard Goebel. It features solo harpsichord interspersed by sections played by strings, usually a violin, two viols, cello or viola da gamba and sometimes with harpsichord as ground bass. This variety helps sustain my attention.
The CD is J.S. Bach Art of Fugue Mike Hall Trombone (ODU 0875) and can be found online at CD Baby or Amazon. The two CD set has extensive notes printed on the tri-fold cardboard case with details of the instruments used, along with pictures. He also tackles the myth of an aged, blind Bach struggling to finish the work. I would suspect that it ends just as Bach wished it to – maybe that life has unexpected endings.
Printable Version


Back to Top
Review Index
Home &nbspCalendar &nbspAnnouncements &nbspIssues &nbspReviews &nbspArticles Contact Us