Natalia Pschenitschnikova
Presents Extended Vocal Technique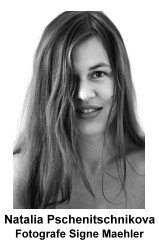 A masterclass at Old Dominion University on Saturday afternoon, November 27, 2004 was a fine introduction to extended vocal technique as used by contemporary composers. So, what is extended vocal technique? How is it related to singing? Why would a composer demand something new from vocal performers and audiences?
Perhaps the last question is the place to begin. Creativity by definition is marked by originality and expressiveness, an ability to imagine beyond what is, as well as what has been. Ms. Pshenitschnikova trained as a bel canto singer until age 13 when her voice changed, at which time she took up the flute. She explained that the human voice in the classical tradition is a treasure protected by a glass box. There is much beauty and communication in this tradition but this display case limits what the voice is allowed to do. For the listener there is an endless set of pleasurable experiences but the composer is limited to repeating old patterns, recombining, refining and structuring what has come before. Thus, a certain stagnation sets in.
In response to this has come a movement where voice is examined as phenomenon first and out of this examination has come new ways of using the voice. What is also new is regarding the voice as an instrument. Sound, whether it is music, speech, mechanically produced repetition or random noise is a fact of daily experience. Over time our definition of music changes. The sound spectrum and techniques available to composers that allow communication and expression of human feeling have multiplied. For example, emotional communication in music made a great leap with the development of art song. These musical settings of romantic, lyric poetry allowed new human expression not available in the music of Bach and Handel.
In Ingmar Bergman's film Fanny and Alexander we see the mother grieving for her husband and the father of the two children of the title. Through a slightly opened sliding double-door we see her endlessly pacing and hear her repeated shrieks. This sound cuts to my heart with a communication more direct and powerful than anything I find in art song or even the terrifying intensity of Berlioz' Requiem. I use this example to illustrate a point: human expression offers composers more possibilities.
At birth, every newborn human has the potential of producing speech sounds of all human languages. As we learn our local language and dialect, certain sounds are reinforced and others remain as unrealized potential. Techniques of sound production vary from culture to culture and music reflects a group's limited set of techniques. "World music" has offered western composers an expanded palette of sound and vocal technique.
Cathy Berberian, Yoko Ono and Michiko Hirayama (who collaborated with composer Giacinto Scelsi) , are known for using extended vocal technique in performance. Ms. Pshenitschnikova is a specialist in Scelsi's works, having studied with Ms. Hirayama who is now age 80.
Ms. Pshenitschnikova's second point, one often appearing in reviews of contemporary music in this newsletter, is how the human voice is used as another instrument, for example in chamber pieces. Certainly it is not such a bad idea if you think of pieces by Mahler, Wagner and Strauss in which the orchestra overwhelms the sound of the voice as it becomes part of the total instrumental sound.
The introductory talk complete, she demonstrated using the mouth as an acoustical space - a room of variable dimensions where sound can be varied as in a resonance chamber. "Be aware of the chin and the cheeks and the lips that can mute a tone or open wide." We admire the high sounds of the opera singer and the deeper low tones but the potential range is even greater.
She asked us to think of our tongues as percussion instruments. I recalled a '60s concert album by the South African singer Miriam Makeba in which she made a comment in her native language of Xhosa which is filled with clicks and pops that she assured us her white countrymen could not produce.
The challenge of notating what the composer is asking the singer to perform was discussed. We were given two handouts that demonstrated notation systems by Sergej Newski (b.1972, Moscow), Pesyna (Song) and a theatre piece by Helmut Oehring (b.1961) titled To Rot and Wait. In the latter the vocalist produces some ten vocal notes that encompass a very wide vocal range to evoke an intensely emotional experience. Ms. Pschenitschnikova demonstrated the vocal part which in performance is combined with a miked sound from the throat of a deaf mute and instruments. The piece by Newsky, explored first as notation on the page and then as sung sound, was refreshing in its variety of vocal expression, provoking laughter and amusement and leaving a sense of well-being.
The only student to perform at the extended vocal technique masterclass was Johanna S. Groot-Bluemink, a composition student of Dr. Andrey Kasparov at ODU. She has written a piece, My Favorite Creepy Crawlies, which combines her interest in entomology and music. The charming piece is full of fun and extended vocal technique. The manuscript begins with program notes giving the scenario of how each bug behaves and any interaction between the composer and the jumping spider, mantid, katydid, etc. Next, there are notes to the performer using symbols to direct the vocal production. All pitches, rhythms and dynamics are relative. Listening to this piece, I found myself easily creating a cartoon in my mind's eye of the bugs' behavior. Until I heard this piece I had never thought of the "mmm" of "mmm-mmm-good" as applying to one bug eating another.
In the discussion that followed, Ms. Pschenitschnikova encouraged Johanna to find her own tone and exericse with it. "You need to feel the earth beneath your feet - only a free body can resonate. As you repeat your personal tone again and again, become conscious of how it feels in your face and head. Let this feeling grow to include your whole body, vibrating. I experience my skin as sounding like paper. Now start to move your tone up or down. The voice will grow; then you can sing anything. By connecting to one's body you develop many interesting possibilities."
Natalia Pschenitschnikova was born in a little town near Moscow. Her musical gifts were discovered early. At three she started studying piano. At seven she entered Central Music School for gifted children in Moscow. She took ballet classes, and later was an actress in an experimental theater. After graduating from the Moscow Tchaikovsky Conservatory as a flautist, she concertized extensively specializing in baroque music on historic instruments, contemporary music and improvisation. She participated in multimedia performances with playwright Alexei Sagerer, visual artists and several composers. Together with her sister, pianist and harpsichordist Elena Pschenitchnikova, she formed a duo, active since their childhood.
In the later years she came to specialize in extended vocal techniques. Vocal works of Giacinto Scelsi and Iannis Xenakis are the focal point of her repertoire at present. She performs at prestigious international festivals in many major European venues as a vocalist and flautist. As a composer she writes conceptual works and music for theatre and films.
Ms. Pschenitschnikova has premiered many compositions written specifically for her by more than a dozen contemporary European composers. She has collaborated with many instrumentalists and groups on recordings, including ECM Records. Her solo CD with works by Johannes Fritsch was recently released by Feedback Studio in Cologne, Germany. Ms. Pschenitschnikova lives in Berlin and Moscow.

Printable Format
Back to Top
Review Index
Home &nbspCalendar &nbspAnnouncements &nbspIssues &nbspReviews &nbspArticles Contact Us