ODU New Music Ensemble
November 11, 2011
Chandler Recital Hall
Old Dominion University
Reviewed by John Campbell
Chamber Music by Berg, Cage, Golijov, Lazar, Reich and Ravel @ ODU
On November 11, Old Dominion University presented the New Music Ensemble in an evening of chamber music in Chandler Hall, organized by season 2011-12 Interim Conductor Stephen Coxe.
The evening opened with Music for Pieces of Wood (1973) by Steve Reich (b.1936) played on claves by Meagan Armstrong, Mr. Coxe, Beth Anne Jacob, Sarah Williams and Nik White. Of this music Reich has written "I intended to compose music employing the simplest instruments possible. My choice fell on claves (pipes made of hard wood) because of their different and exact pitches … and timbre. This happens to be one of the loudest pieces of music I have ever written though it uses no amplification." It was a new sound phenomenon for listeners in Chandler Hall as the interplay of overtones created a dense web of sound. It felt like the sound waves were bouncing around inside my ear canals and my ears were still ringing when the applause ended. In conversation Mr. Coxe said that they had experimented with where to stand; placing the musicians near the back of the stage created the least volume.
Now that we were fully awake, we were treated to two movements from a seldom performed work by Maurice Ravel, Sonata for Violin and Cello (1920). The first, Allegro, movement began its life as part of Tombeau de Claude Debussy: Duo pour violon and violoncelle. Josephine Cariño, violin and Michael Frohnapfel, cello played the notes accurately but there was a raggedness in their coordinated sound. By the end of the movement a languid sensuality came into focus. The second movement, Très vif, with its drama of plucked violin strings and bowed cello had a winning kinetic energy.
A world premiere of Haiku for Marimba (2011) by Stephan Lazar (b.1987,) a 2001 ODU graduate, was played by Nik White. Mr. Lazar studied with Mark Chambers and Dr. Coxe and has an undergraduate degree in composition. Currently he performs in a jazz band and a rock group. Mr. White read three haiku by Matsuo Basho (1644-1694) and after each played music that captured the mood of the words. The somber texts were gently illuminated by Mr. White's skillful, expressive playing.
Alban Berg (1885-1935) Four Pieces for Clarinet and Piano, Op.5 (1913) had Mr. Coxe at the piano and Ms. Armstrong playing clarinet. Berg is best known for his operas Lulu and Wozzeck. His Four Pieces is an instrumental work with the same lyrical, dramatic feeling as the operas. They are not solutions to formal problems but rather brief poetic gestures, extravagant in expression. The work lasted about seven minutes.
Continuing the somber, introspective energy, Sarah Williams on vibraphone and Mr. Coxe at the piano gave us Dream (1948) by John Cage (1912-1992). For all his reputation as an avant-garde rebel, Cage wrote many listenable chamber pieces exploring sonorities of unusual instrumental combinations, especially using percussion instruments. This one was warm-hearted and very listenable.
Grief was explored by eclectic Brazilian composer Osvaldo Golijov (b.1960) in Mariel, in Memory of Mariel Stubrin (1999) performed by cellist Michael Frohnapfel and marimbist Nik White. The slow, sad, sustained music drew the listener into a deeper and deeper sense of loss as Golijov musically explores the loss of his beloved friend. At the end the playing winds down into silence. I did not hear the Brazilian musical influence that was suggested in the spoken introduction to the piece but the sadness was palpable.
Concluding the evening on an up-tempo note with Josephine Cariño on violin and Beth Anne Jacob at the piano, we heard the second movement, Blues. Moderato, from Maurice Ravel Violin Sonata (1927).
Drawing on compositions from the last one-hundred years we were presented an evening of intriguing chamber music. Live performance makes all the difference. Thank you Steve Coxe and students for a fine evening.

Are You Ready to Roch?
Old Dominion University New Music Ensemble, Andrey Kasparov, Director
Chandler Hall, November 16, 2012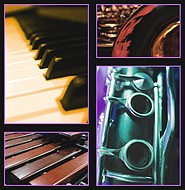 Wow! What an amazing experience this concert was. Given that the canon of Western classical music is made up of pieces by dead white males, played mostly by men, this concert was very different. Two living women composers were featured – one of them a senior composition major at ODU. Three of the six performers were young women of the university.
The opening piece, Fanfare for Horn and Timpani (1994), is by American composer Susan Salminen (b.1957). Ms. Salminen is a French horn player who teaches at Raritan Valley Community College in Branchburg, New Jersey. The main drama of the peace was in Sarah Williams'playing of the array of four timpani but the hook that pulled the listener in is the search for musical resolution found in the French horn played by Kathryn Rincker. The unique juxtaposition of instruments was fascinating.
Ms. Williams then played Sonata for Timpani, movements II. Jazz-like and III. Fast, by John H. Beck (b.1933) who is a former percussionist with the Marine Band and Rochester Philharmonic Orchestra. He took his degrees at the Eastman School of Music and became a professor there in 1959. Though retired in 2008 he taught a course this fall at Eastman. Movement II. Jazz-like had a dance-like rhythm with mallet choreography of crossed arms, played sticks, handclaps and hand strikes on drumheads. They added visual interest until Ms. Williams again picked-up the sticks for a quiet passage that led to a dramatically loud end. In the "Fast" movement the opening was vigorous with the use of pedals to give a deep "woum" sound. Fast, soft strokes created a supportive bass line with fireworks above.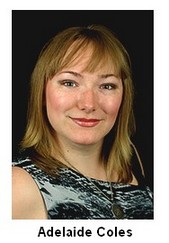 Composer Adelaide Coles (b.1991) graduated on December 5, 2012 from ODU and is considering graduate study in Australia (she has dual citizenship). She studied composition with Stephen Coxe and Andrey Kasparov who was pianist for her Sonata for Alto Saxophone and Piano (2010). In her opening remarks she explained that alto-saxophonist Tim Owens was the eleventh she had asked. Mr. Owens teaches at the Army School of Music at Little Creek and was up to the challenge in this grand collaborative effort. For those interested in the science of learning such a difficult piece, the reader can find details on Mr. Owens blog at timothyowenssaxophonist@blogspot.com. It is a fascinating read, even for a non-musician.
In her introductory notes Ms. Coles told us: " My work features extended altissimo range and modern techniques for the saxophone: flutter-tonguing, extreme vibrato, growling, key clicks, and whooshy wind sounds. The piano adds to the piece through use of its full range, dramatic expressivity, pedaling, and dynamic variety. The two instruments work both together and against each other throughout the three movements, resulting in a piece that requires great concentration and collaboration between saxophonist and pianist.

"The first movement is in sonata-allegro form and emphasizes more of the jazzy side of the saxophone. In contrast, the second movement is a somber manifestation of a bad dream... at the end, you will hear in the piano clanging bell tolls of death. The third movement is a twisted rondo-scherzo in 11/8. This movement is extremely challenging, and the ending is particularly brutal, which could be the reason why other saxophonists declined performing this piece."
Next came Capriccio for Tuba and Marimba (1992) by William Penn (b.1943). ODU student Bruce Lord played tuba. This challenging ten-minute piece offered unusually interesting colors. Sarah Williams was the marimbist. The tuneful tuba played with great skill and sweet tones was accompanied by a steady pulse from the marimba. The forward thrust of the rhythm brought the listener along, offering always a new color or an untried combination of sounds.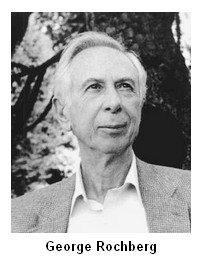 Clarinetist Megan Armstrong joined Ms. Rincker and Dr. Kasparov in the Trio for Clarinet, Horn and Piano by a rarely heard American composer, George Rochberg (1918-2005). Rochberg was born in New Jersey and studied at Mannes School of Music, part of the New School in New York City. After spending time in the Army in WWII he studied at Curtis Institute in Philadelphia (1945) and took a degree at the University of Pennsylvania before returning to Curtis to teach. In 1950 he went to Rome to study where he was greatly impressed by the power of serial technique developed by Schoenberg and Webern.
This piece from 1948 has a tough, sinewy style and is sometimes harmonically abrasive with strong rhythms. To my ear it has a kinship with Hindemith's musical palette. He revised the piece in 1980. After years of writing atonal music using serial technique he abandoned this dry, academic language when his teenage son died in 1964 of a brain tumor. He said serialism was empty of expressive emotion and was inadequate to express his grief and rage. His neotonal sound is conventional for chamber music in the 50s and 60s. The second movement, Adagio, has horn and clarinet playing together; later they trade phrases as in an argument. There is a sense of longing in the short, somber piano solo. Pianist Kasparov's countenance looked stormy.
In the third movement, Adagio-Allegro, all three players were engaged, working together beautifully. The tune is passed around among them. It was a bit of a wild ride but they made it!
Printable Version

Back to Top
Review Index
Home &nbspCalendar &nbspAnnouncements &nbspIssues &nbspReviews &nbspArticles Contact Us