Saying Goodbye to Lee Teply
His Last Concert: ODU Department of Music Spring Concert
Chandler Recital Hall, April 8, 2014
Review by John Campbell
When Lee Teply (1953-2014) died suddenly of a heart attack on Sunday morning, July 13th, it was a shock to the music community in Tidewater. In our own way, this review is an attempt to honor his many contributions to the area's musical life.
Lee Teply came to Norfolk in 1986 to teach music history and theory at ODU. He started the school's early music instrumental ensemble, Collegium Musicum, in 1988 and took over direction of the ODU Madrigal Singers and began producing the annual December holiday season Madrigal Banquet. For several years at the Governor's School for the Arts he directed a small choral ensemble that emphasized early music. He was music critic for the Virginian-Pilot as well a writer of program notes for the Feldman Chamber Music Society.
Dr. Teply was educated at Oberlin Conservatory and the Eastman School of Music, taking degrees in organ performance, music theory and literature and studied conducting. He was often heard as a harpsichordist for various groups over the years. At ODU he taught music history and theory, music appreciation and analysis, ear training and organ performance. We knew him best as a presenter of a number of excellent concerts, many featuring early music. He was associated with several Norfolk church music programs over the years, most recently First Lutheran on Colley Ave.
Lee Teply was our musical friend. He and his friend Cynthia Wright Swain, who died in late spring of melanoma, often attended the same programs we did, sometimes recommending the best seats in the hall for excellent sound and invited us to sit with them. We first became aware of Lee when he conducted Schola Cantorum (he lead the ensemble from 2000-2006). It was a thrill when he quoted my review of an Ives piece sung by Schola Cantorum in their 2002 autumn concert on the cover of their subsequent mailing.
Now for a review the ODU Music Department Spring Concert on April 8, 2014. This, his last concert, can be seen as a summary of his impact on the local music scene. It was quite usual for Lee to put together a musical program that spanned several centuries of choral music. For this program the time span was 1550-1950—some 400 years. He brought together faculty and students to present a rich, varied musical evening.
Two Dances (anonymous), published in 1555, included a slow Pavana Passamezzo and a very quick Gagliarda played by the 10-member ODU Collegium Musicum (5 recorders, guitar, violins, etc.). They were followed by In Nomine by Christopher Tye (c.1505-1573). Around a long held note the counterpoint is built and has a certain vitality, a raw edge often found in ancient music.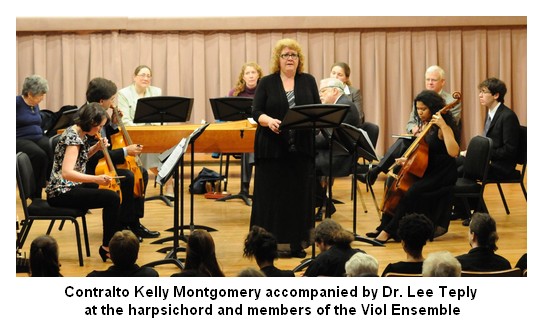 Dr. Teply was at the harpsichord as contralto Kelly Montgomery sang Loving above himself by John Blow (1649-1708), also accompanied by viola. Ms. Montgomery beautifully delivered the low notes in a song that sets out the plight of a shepherd who loves a woman of wealth and class.
The ODU Viola da Gamba Consort played Four Dances published by the Phalèse family publishing house. Pierre Phalèse (1510-1575) is listed as composer. The work demonstrated the musical strides made by this new group formed in late 2013. (Reviewed in Artsong Update Issue #117 or see the AU website Review Index, ODU, Kelly Montgomery). The group has improved greatly since that premiere concert.
The next segment featured ODU Collegium Musicum in the complex counterpoint of J.S. Bach (1685-1750) Contrapunctus Xa (The Art of Fugue) and Concerto di Flauti, lighter fare—a trip to the musical aviary by Allesandro Marcello (1669-1747). Continuing the theme of a musical aviary, we heard Sonata "Cucu" by Johann Heinrich Schmelzer (c.1620-23 – to 1680) played by Natalia Kuznetsova on solo baroque violin. The fourth section was fast and precise and a fine conclusion to the set.
The 11 voices of the ODU Madrigal Singers offered a lively setting of Laudate in a setting by Knut Nystedt (b. 1915) followed by The Linden Tree in a melodious setting by Ludwig Norman (1821-1885) accompanied by the Collegium Musicum. Bass Monty Gammon gave us those amazing low notes. The Scottish folk tune Ye Banks and Ye Braes (arr. Brent Pierce) gave the singers a chance to display their vocal artistry at its finest.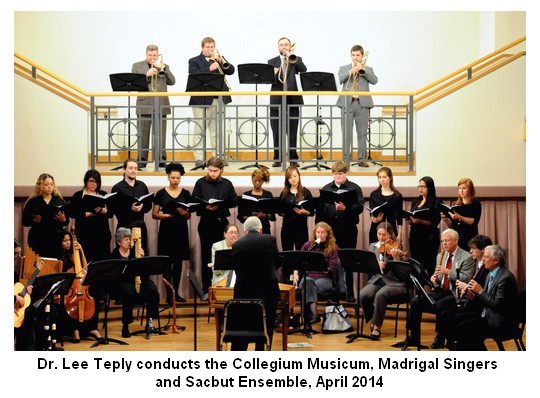 In La Battaglia à 8 by Francesco Usper (c.1560/61 – 1641) the 4-member ODU Sackbut Ensemble, begun last fall and led by Dr. Mike Hall, played the opening. They were soon joined by the Madrigal Singers and Collegium Musicum in Psalm 150. The rollicking setting was a total immersion in glorious sound.
The loss of this soft spoken, quiet man of intelligence and musical knowledge has created a void, both at ODU and in the larger musical community.

Musical Arts Blossom at ODU
Mozart Requiem, Così fan tutte
Review by John Campbell
The Music Department of Old Dominion University has set a new standard of cooperation with two recent major performances. On November 16, 2014 we attended the Mozart Requiem with the ODU Concert Choir directed by Dr. Nancy Klein, the ODU Symphony Orchestra conducted by Dr. Paul Kim and four soloists: soprano Agnes Fuller Wynne, contralto Dr. Kelly Montgomery and tenor Dr. Brian Nedvin of the ODU music faculty. The roster was completed by bass Gregory Gardner, coordinator of voice studies in the music department of Norfolk State University.
In remembrance of longtime ODU faculty member Dr. Lee Teply (1953-2014) who died suddenly in July, the Requiem by Mozart was beautifully performed by an orchestra of 34 instrumentalists and a choir of 53 voices that filled Blessed Sacrament Catholic Church with glorious, moving music. An intently focused audience filled the sanctuary to standing room only.
Equally well attended were four performances of the Mozart opera Così fan tutte at the University Theater on 24, 26, 30 of October and November 1. The production brought together ODU Opera, Music Director Dr. Brian Nedvin, Director Kristi Caras, a graduating senior from the ODU theater department, ODU Symphony Orchestra, conductor Dr. Paul Kim with Bobbie Kesler-Corleto at the harpsichord and Dr. Nancy Klein leading the 16-member ODU Diehn Chorale as the opera chorus. Baritone Bret Thom was outstanding in the role of Guglielmo. Tenor Allan Gervacio was a winning Ferrando. The charming sisters, soprano Laura Doyon as Fiordiligi and mezzo-soprano India Dale as Dorabella were most convincing in the roles of the young women. The comedic acting and demanding vocal role of Despina was well done by Monique Melchor. The cynical, mature friend of the lovers, Don Alfonso, was given a fine characterization by Logan Kenison in this fully-staged production.
Under the inspired leadership of these instructors the talented students have risen to the challenges of Mozart's compositions.
We sensed a change in the air in February 9, 2014 when Dr. Kim led the 53-member symphony in an innovative concert in the atrium of the Diehn Center for the Performing Arts on the ODU campus. Part of the change we speak of was the repertory performed. That program opened with Excelsior by Lance Shade (b. 1990) a composition graduate of ODU and a student of Dr. Adolphus Hailstork. The music was an experiment in orchestral color painted with a boldly broad palette. This was followed by Rainbow Body by Christopher Theofanidis (b.1967) with its connection striving for the divine even beyond death using steady shimmering strings punctuated by individual statements by cello, cymbals and dissonant, loud and intense bongos and tambourines. Over time the drone-like field of sound returns, punctuated by cello, horns and percussion in a frightening crescendo that pulses, testing the limits.
The concert concluded with American composer Howard Hanson's (1896-1981) Symphony No. 2 "Romantic". Hanson's writing is very direct. It opens with a sad but consoling feeling: a simple stepwise ascent of a minor third is reiterated by cello, then flute and then in other instrumental guises, amassing volume and strength. A crash of cymbals ended the movement. By contrast, a lyrical, pastoral sweetness characterized the second movement with long arching lines floating above a developing intensity of deep brass restlessness, only to return to the lyricism of the beginning.
The third movement opens with a carnival-like fanfare that builds then breaks into subdued and pensive strings with prominent cello. Plucked strings and the steady pulse of the deep bass of a prominent tuba swells and explodes with dissonance woven into the spectacular crescendo—that seems to open into clear air and sunlight. An even sweeter harmony follows, then a flitter of snare drums and tympani. It all ends suddenly in this accessible and emotionally engaging work.

Back to Top
Review Index
Home &nbspCalendar &nbspAnnouncements &nbspIssues &nbspReviews &nbspArticles Contact Us