Many Performances Planned for Old Dominion University's
New Opera Theatre Program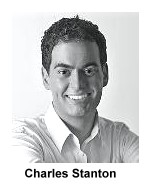 Director Charles Stanton has announced an ambitious program of opera performances for ODU's new Opera Theatre. Mr. Stanton is delighted with the voice students in the department. "There are so many fine singers that only two students will sing more than one role" he told AU. He and professor and busy tenor performer Kerry Jennings are working hard to bring the productions to the stage. Opera Theatre is an exciting new program at the university. Their goal is to give students real-life stage experience and offer a diverse audience in Tidewater some well-sung opera performances.
In addition to actual performance, students will have a wide set of experiences nurturing their professional development: masterclasses, vocal and dramatic coaching, resume writing, headshots, professional development seminars and group trips to other operatic productions.
The 2008-2009 season's productions include:
Amahl & the Night Visitors, Sunday November 23rd and Tuesday November 25th. Christmas-themed family production.
Staged Aria Concert, Dates TBA Fall Semester during opera workshop class time. (Tuesday/Thursday 3:00-5:00) ODU students perform well known operatic arias.
Hansel and Gretel, February 19, 20, 21 and 26, 27, 28, 2009. This production especially for community families and children is acollaboration with the University Theatre Department Director Katherine Hammond.
Letter to Warsaw, Sunday April 26, 2009 and other community concerts TBA In honor of Yom Hashoah, the Holocaust Day of Remembrance, and as a tribute to the thriving Jewish community in the region.
Cosi fan tutte, Thursday April 30, 2009 and Saturday May 2, 2009. Standard repertoire for the region's opera goer, this production will offer a new alternative for opera lovers.
The ODU opera web site is: http://al.odu.edu/music/ensembles/opera.shtml
Mr. Stanton has a beautiful and powerful baritone voice and an impressive performing resume. He taught at Plymouth State University in New Hampshire before coming to ODU. See review above of the Schola Cantorum Summer Sing in which he soloed. For more information about Charles Stanton, visit www.stantonsings.com

Amahl Staged at ODU Opera Theatre
The excitement was building as Chandler Hall was filling up with children, parents and college students on Tuesday evening, November 25, 2008. They had come to see Amahl and the Night Visitors by Gian Carlo Menotti (b.1911) in a simple and effective staging of this magical one-act opera.
Charles Stanton, head of Opera Theatre at Old Dominion University, led a dozen performers in bringing to life an opera that was composed for NBC TV and premiered December 24, 1951 on Hallmark Hall of Fame. Menotti wrote the libretto and music for what has become a Christmas classic.
With Stanton conducting from the right aisle and Bobbie Kesler-Corletto accompanying on piano on stage in front of him but mostly hidden by the set, the student cast created a first-century world on stage with soprano Laura Sowers as the crippled boy Amahl and Suzanne Oberdorfer as his mother. A tension between the two develops as Amahl refuses to come in for the night because he is watching a bright, new star. His mother thinks it is one of his usual tall tales and will not believe him. Once in bed in their humble hut the three kings arrive at the door and his mother still will not believe him.
They are seeking a place to rest a little while on their journey following the star to find the child king. Meredith Bookman as leader King Melchior, Travis Thon as somber King Balthazaar and Joshua Tarwater as the deaf and eccentric King Kaspar quickly establish the king's diverse personalities. Wesley Evans as their page has the busy role of arranging everything for the kings. The mother is so poor she has no food in the hut so Amahl goes to invite the other shepherds to come to see the kings and bring what they can. Monica Sobers, Andréa Gomez, Sarah Butler, Adam Piper and Dr. Kerry Jennings arrive with food and fuel and act as the chorus. Once they leave, everyone settles in for a rest until the page discovers the Mother stealing some of the Kings' gold. Amahl tries to defend his mother. As it is sorted out King Melchior lets her keep the gold and she says if she had anything she would like to send a gift to the child. When Amahl asks to send his crutch as a gift he is suddenly healed. He leaves with the Kings to see the baby.
The singing was fine throughout in this first production by ODU's new Opera Theatre program designed by Dr. Stanton to give vocal music students stage experience. The acting showed off the hard work of a very committed group of students. We look forward to the rest of the season, but even more important, the children in the audience had stars in their eyes and for many the joy of a first opera experience in an intimate live production.
The original cast recording can be found on CD RCA 6485-2-RG and the finest video performance is with Teresa Stratas as the Mother on Kultur VHS 1323 with some of the scenes shot on location in the Holy Land.

Hansel and Gretel at ODU Opera Theatre
Over one-hundred years ago composer Engelbert Humperdinck and his sister Adelheid, who wrote the libretto based on a Grimm fairy tale, created a Christmas entertainment for her children. Their modest home entertainment worked well and so they decided to turn it into a full-scale opera. The first performance was December 23, 1893 in Weimar, Germany.
In the production we saw on February 27, 2009, the opening scene is of a large storybook on center stage. Two dancers on toe with brooms and hair of silver tinsel and shimmering pastel costumes open the book titled Hansel and Gretel. This opens the first fully staged opera of Old Dominion University Opera Theater. Vocal teacher and Musical Director Charles Stanton is seeing his dream of creating a live stage experience for vocal students come to fruition. In an immense collaboration with ODU theater director Katherine Hammond, Conductor Lucy Manning, Classical Choreographer Amanda Kinzer, Choreography and Movement Director Cami Walton, set designer Konrad Winters, lighting designer Elwood Robinson, costume designer Angela Winters, property master Lee Smith and stage manager Samanth Zaccagnino, they create a memorable experience for young and old alike. This English version was by Constance Bache. As director Hammond said: "We have all been taught and learned in this process." The University Theatre was full at this third of four performances, which means that is was a hit with students and the larger community.
Erin Hannon as Gretel is a polished actor and singer and Andréa Gomez as Hansel met the challenge of playing a boy with great success. The two children are left at home to make brooms while the parents have gone to market. They are happy as they dance and sing and do little work. Mother, Elizabeth Mitchell Wallace, is in despair as she comes home, scolding them and accidentally breaking a pitcher of milk, their only food. She sends them into the forest to pick wild strawberries. They go and she sings effectively a plaintive lament.
Wesley Evans as Father returns after a successful day at the market, having sold several of their homemade brooms and buying lovely food. They set out to find the children when he learns that she sent them out unchaperoned into the dangerous forest.
The children pick berries but eat most of them. Night is coming on and they have lost their way. Hansel comforts his sister who panics but his bravado hides his fear. The Sandman, Monica Sobers, flies in on the quarter moon, a vision of tinsel and silver splendor and spreads peace to their hearts. They are guarded as they sleep by a circle of angel dancers, two of which also flew in.
When morning comes the children are awakened by the song of the Dew Fairy (Cara Isadora McKinney) as the toe dancers with brooms cause the previously flat witch's gingerbread house to rise in the forest , much like opening a child's pop-up book. Hansel and Gretel are fearful but hungry and break off and eat pieces of the house. The witch, Carissa Robertson, enchants them and pushes Hansel into a cage and gives Gretel a basket of goodies to feed him to fatten him up. Gretel fakes going along with the witch's plan and helps her brother get free and together they push the witch into the oven she has used to bake children into the gingerbread hedge that surrounds her house. The spell is broken and the enchanted children come to life again - all 32 of them from Blair Middle School, Ghent, Granby and Taylor Elementary schools' choirs. Hansel and Gretel's parents arrive and all is explained. The witch's house explodes and the witch is resurrected as a giant gingerbread cookie.
Several scenes were accompanied by instrumental music played by ODU musicians. Oksana Lusyshyn was drafted at the last minute to play electronic piano throughout all four performances. Dr. Amanda Halstead was rehearsal pianist.
A host of talented teachers and students came together to create a charming and glittering fully staged opera. Ticket prices were reasonable and the theatre is small and comfortable and the level of singing and staging was excellent. The next staged production, Letter to Warsaw will be April 26 at 3 pm in Chandler Hall. A concert version is April 28 at 8 pm at Chevre T'helim, Jewish Museum and Cultural Center, 607 Effingham Street, Portsmouth. See the Artsong Update calendar for details. Hopefully this is an endeavor that will continue and grow. We will all be the richer for the experience.

Charles Stanton Leads Cosi fan tutte
at Old Dominion University's Opera Workshop
Continuing a busy season of vocal performances, we experienced a most charming concert version of Mozart's Cosi fan tutte at Old Dominion University's Chandler Hall April 30 (repeated May 2nd), sung by six students who stood at music stands and acted and sang the roles in place but exited the stage and returned as the story demanded.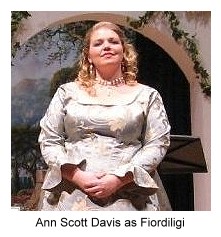 A white structure of three arches stood before a scrim decorated with what appeared to be a patio with potted flowers over looking Lago Maggiore in Italy. Hidden in the right corner was Bobbi Kesler-Corletto at the piano. In the aisle in front of her a few rows back was Charles Stanton conducting. All of this in the acoustically responsive Chandler Hall. Charles continually encouraged quieter singing delivery from voices trained to fill an opera house. Six characters, two young men in love with two sisters, the sisters' maid and the boys' cynical, handsome friend make up the cast. Having the recitatives delivered in English with the arias in the original Italian worked well and made the plot clear. The short, concise program notes filled in any gaps. The friend, Don Alphonso, was sung by baritone Travis Thon. He bets his friends that he can prove that their lovers are fickle in 24 hours if they do everything he asks. Ferrando, created by tenor Orson Van Gay II and Guglielmo, created by baritone Adam Piper, take the bet - they are absolutely sure of the sisters' committed love. All six singers are voice students of Kerry Jennings.
The sisters, Fiordiligi, sung by Ann Scott Davis and Dorabella, sung by mezzo-soprano Brittany Cannon, are greatly overwrought when the boys are called away to fight in the war - a ruse created so they can return as Albanians in folk costumes, romantically pursuing each other's girlfriend. Despina, sung by Jennifer Serafino, has a "love the one your're with" philosophy and encourages the sisters to go for the new guys! The younger, more impressionable sister wavers, the other is steadfastly waiting for her lover's return. Their pity for the Albanians, who fake suicide, leads to their eventually giving in to marriage performed by a notary (Despina in disguise). A military march signals the soldiers' return. Confessions and forgiveness follow. Recently, some productions have emphasized the darker side of the story but this exuberant young cast gave us the playful joy inherent in this madcap melodrama of young lovers.
Ms. Davis gave us Fiordiligi's two arias with a polished vocal sheen. The second aria is usually not sung because the tessitura is lower than the rest of the role. In duets with Ms. Cannon there was vocal contrast that highlighted the difference of personality of the two sisters. Ms. Cannon has a powerful voice with spinto or possibly dramatic potential while Ms. Davis' voice is lighter with more warmth. Mr. Van Gay's beautiful, ringing tenor voice has that rare vocal quality known as squillo which creates urgency in his delivery. Mr. Piper, only nineteen years old, sang with a sure clarity. Ms. Serafino, a masters degree student, captured the mischief making, comedic Despina in a most accessible performance. Mr. Thon switched from Engineering to Vocal Music two years ago. He created his character with naturalness and fine singing. The duets, trios, quartets and especially the sextets that carry the story kept the energy high throughout.
Printable Version


Back to Top
Review Index
Home &nbspCalendar &nbspAnnouncements &nbspIssues &nbspReviews &nbspArticles Contact Us