Guys and Dolls by Frank Loesser
Old Dominion University Opera Theater
Chandler Hall
April 12, 13 14, 2012
Review by John Campbell
The house was packed on April 13th and on opening night, April 12th, people were actually turned away who came to see the Broadway musical Guys and Dolls, staged by Dr. Brian Nedvin, director of ODU Opera Theater. In 1950 Frank Loesser (1910-1969) was still writing delightful, entertaining traditional musicals when he wrote Guys and Dolls. He paints his characters in broad strokes; the men avoid commitment while the women long for marriage. Gambling and drinking vs. the Save-a-Soul Mission creates what tension there is. There is the Hotbox Club where some neatly choreographed dancing takes place but there is no suggestion of sex outside of marriage. How different from today! This play was a good-time romp from beginning to end. The sense of community and enthusiasm from the students in the audience was a wonder to see at ODU.
The tiny stage at Chandler Hall was cleverly used by set designer Christian Harward. A red-brick wall was at the back of the stage and the balcony was used for placards (changed by hand) that told us the settings: The Roxy Theater, Save-a-Soul Mission, The Hotbox Club, the sewers, all with appropriate graphics. The emcee was on the left of the balcony illuminated by a newly acquired spotlight when he was verbally setting the scenes of the unfolding story. The three musicians were on the front row: Assistant Musical Director Bobbie Kesler-Corleto on electronic piano; electric bass guitarist Rick Kalinauskas and percussionist Dennis Northerner on drum and chimes.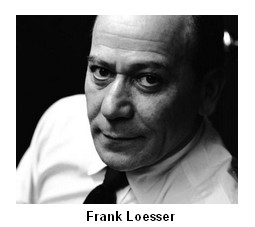 Loesser wrote both the music and words. All of the songs add to the structure of the story. He portrayed his characters (based on those of Damon Runyon) without glamorizing them but with honesty and relish. There are no true lowlifes but rather innocents who drink and gamble and do suggestive dances and avoid relationship commitment. I suspect they are a lot like many of the college students who played them. Everyone in the production, all of the actors, musicians, dancers and technical staff were from ODU.
After a fourteen-year engagement, the dancer Miss Adelaide, played by the fabulous Angela Beck, sings of her frustration of never having a wedding with her craps-shooting boyfriend Nathan Detroit, played by slim, handsome and talented Russell Teagle (played by Christian Harward on the 12th & 14th). His big quest was for a venue for the next craps game. The song Adelaide's Lament catalogues with great humor all the ailments that develop from her frustration: cold, flu, la grippe, etc.
The other leading lady, talented Rachel Mackey, who played stiff, straight-laced Sarah Brown, head of the Save-a-Soul Mission, was paired with Bret Thom, a first year vocal student who was an excellent Sky Masterson, both vocally and at creating the character. On a bet with Nathan Detroit, handsome, debonair Masterson comes on to the pretty but rather starchy Ms. Brown. On a bet with Ms. Brown he wins her company for a dinner in Havana, Cuba (back in 1950 Cuba was a night-spot for the jet set). He gets her drunk on coconut milk and rum served in coconut shells and falls in love with her. His love is reciprocated and they kiss. That's it! They retreat to their usual roles. The story, with a lot of singing and dancing, is all about how the two couples get past their commitment impasse with hilarity and clean fun for all.
Chandler Klein was terrific in his role as the craps shooter Nicely-Nicely Johnson and lead-off voice in Fugue for Tinhorns. At our performance Madeline Samarzea was General Cartwright of the Mission (Liz Stanworth on the other nights) and also choreographed all the dancing – there was lots of it, all on that small stage – and it worked extremely well. She was also a dancer in the Hotbox revue. The big male dance number, Luck Be a Lady Tonight for the craps shooters had a seductive, pretty Lady Luck danced by Devé Rashidi. The spirited gospel-influenced song Sit Down, You're Rockin' the Boat had us all ready to dance.
It seems unfair not to mention all the students who worked so diligently to bring the community such a sparkling production but I've said enough for now except to say a big thanks to all of you.
Printable Version

Back to Top
Review Index
Home &nbspCalendar &nbspAnnouncements &nbspIssues &nbspReviews &nbspArticles Contact Us