Soprano Ann Scott Davis Gives Senior Recital at ODU
with Pianist Charles Woodward
It was a sparkling evening of art song at Old Dominion University's Chandler Recital Hall on May 13, 2009. All of the elements were in place: Ms. Davis' voice has matured, her technique has grown and with the support of superb art song collaborator Charles Woodward, she was able to give us a seldom heard group of art songs.
A full flowering of the voice is necessary to express all the beauty and emotion that Richard Strauss (1864-1949) songs offer. In Ruhe, meine Seele! (Rest, my soul) there is calm with an edge of sadness as Ann sings of a shaft of light penetrating a dark cover of leaves. The glint of sunshine is in her golden voice. The caressing beauty as she sings "rest, rest my soul" comes to full richness as the song ends in the comfort of the silence of death closing a well-lived life. This, one of Strauss' finest songs, pushes many singers to the limit of the voice. Not so, Ms. Davis. It always seems that there is a reserve to spin out the musical line a little longer. There is a consistency in her singing, while the mood created in the story in each song was well defined: warm, affectionate feeling in Zuiegnung (Dedication), mystery, excitement, even fear in Schleches Wetter (Terrible Weather) and the epic dimension of love in Cäcilie (Cecily).
Not shying away from vocally difficult music, her opening number was Ah, Perfido! by Lugwig von Beethoven (1770-1827). A tour-de-force diva role patterned after Mozart by a young Beethoven to a text by Metastasio. Though the online All Music Guide says it has been one of his more popular vocal pieces, I wonder why I have never heard it before. This story, of a young woman betrayed by her lover, goes from blinding wrath of a murderous rage praying for lightning to strike him dead, then that she will die to save him to pleading that he stay - for without him she will die of grief, back to scolding anger and settling for self-pity. All of this in fifteen minutes of singing. This scena and aria is lyrically beautiful and a major showpiece for pianist and singer. It is not performed often because it requires so much from both.
The first half ended with Pleurez mes yeux (Weep, my eyes) from Le Cid by Jules Massenet (1842-1912). The story of a young woman who has escaped from a lovers' struggle gives vent to her sadness in great quantities of glorious, lyrical voice while pianist Woodward creates the intriguing setting as if it were played by a god.
Dr. Kerry Jennings, Ms. Davis' vocal teacher at Old Dominion University, introduced her to the next selection, Canti della lontananza, a cycle of seven songs by opera composer Gian Carlo Menotti (1911-2007). The Italian text is by the composer who wrote this cycle for a commission from Elizabeth Schwarzkopf. The songs reflect Menotti's sense of loss when his life-partner, Samuel Barber, went into seclusion. Dr. Jennings gave Ann the songs because she is the first student he has had who could meet the challenge they offer.
From the deep sense of longing in Gli Amanti impossibili (Impossible lovers), these lyrical songs with a modern musical edge read like the phantasmagoria of an LSD trip. The emotional depth of his sense of loss is expressed in music that is reminiscent of Schubert in his most gloomy dramas. Other songs are like Debussy in his great poignancy as in Chansons de Bilitis with the piano partaking of the same frozen landscape. Emotionally devastating, the event concludes with Rassegnazione (Resignation). Resolved to tuck away the pain, we are soothed by the powerful beauty and dramatic delivery.
Four songs by Ricky Ian Gordon (b.1956) were in contrast to the Menotti. Gordon, who experienced a chaotic and terrible childhood, put that world behind him and creates music with a child's simplicity of pretty uncomplicated stories that partake of pop music. Joy is the overall feeling in Once I Was with the vocalise ending of many lines. A Horse With Wings is about a desire to fly and live a completely fulfilling life. The Red Dress and Poem completed this happy set and the recital.
The informal reception hosted by Karen (Ann's mother) and Gil Hoy at Algonquin house allowed time for Ann's family, friends, teacher and fellow students to celebrate her triumph.

Soprano Erin Hannon Gives Outstanding Senior Recital
Chandler Recital Hall on the Old Dominion University campus was the venue for Erin Hannon's senior recital on Valentine's Eve, February 13, 2010. Wearing a stunning black diva gown with a red lining and red-sequined bodice that formed a heart shape, she sang with poise, elegance and insight. Never intrusive, Bobbie Kesler-Corleto's piano playing offered fine support to the vocalist.
The first selection, Alleluia by W.A. Mozart (1756-1791), is a piece written to keep the listener on edge, afraid that the singer will run out of breath at any moment and the sound will die away, but it never did. This was paired with G.F. Handel (1685-1759) Rejoice Greatly Oh Daughter of Zion from Messiah with sweet youthful tone and flirty eye movements and coy "rejoices." This expressiveness was more appropriate for the set of three Sergei Rachmaninov (1873 -1943) songs that followed. Sung in Russian, though listed in the program as How Fair this Spot, with a piano postlude written by a virtuoso pianist, this one, like all his songs, has a spacious, lyrical sound. In the beautiful melody in one of Rachmaninov's masterpieces, O Never Sing to Me Again (Do not sing, my beauty, to me), we hear tormented hope and a longing for lost beauty. Vocalise, Op.34, No.14 is a most familiar, wordless song with opulent lyricism that displays a variety of moods. Constructed from vocal tones and small counter-melodies in the piano accompaniment, the song has a feeling of variety and forward motion. It was beautifully performed.
Ms. Hannon capped the opening half with Mein Herr Marquis from Die Fledermaus (1825-1899), a role she was inhabiting as she returned to the stage to sing and flirt and wind this older gentleman, her employer in her other life, around her finger with incredible charm as she sparkles and glows in this musical champagne.
When she returned to the stage after intermission her black, red-lined shawl had become a wide, red ribbon at her throat and with a quiet subtlety she sang songs by Henri Duparc (1848-1933). In Extase we enter the world of French music full of melodic and harmonic subtleties and rich harmonic structures with complex accompaniments. The voice unfolds unhurriedly with just a six line poem set with piano prelude, interlude and postlude building to a stunning intensity by the last phrase "A sleep as sweet as death." Chanson Triste is music with such a lushly romantic flow of notes that it is like being bathed in a stream of caresses by Ms. Hannon's voice.
In the Jewel Song (Ah! Je dis me voit si belle) the young woman gives herself over to trying on jewels, viewing her image in a mirror, asking "How could I not be coquettish and admire myself?" She accomplished this with only with her voice and face, no props or stage set. It was a perfect match for this beautiful, smiling young singer – even as we know that grief will follow in Charles Gounod's Faust.
In working with Robynne Redmon, her vocal teacher this year at ODU, Erin has found the depth in the texts she sings. She had mastered technique studying with Kerry Jennings and other instructors before this, her senior year.
I am still astonished by the stunning performance she gave to conclude her senior recital, Samuel Barber (1910 -1981) Knoxville: Summer of 1915 with prose text by James Agee, whose reminiscence of his childhood is full of nostalgia for his past but also is an adult's contemplative monologue on life and death. Agee's prose is "long-limbed for vocal setting" and rather casual in structure but Barber meets the challenge by creating a spellbinding suspension of time as he draws us into a way of life, long gone. He sets the text with absolute sincerity. In this fifteen minute monologue, usually performed with orchestra, the pianist has a huge challenge also. With the black side of the shawl visible Ms. Hannon leans on the piano, setting the stage for the intimate text. She sings with a gentle deliciousness that is dramatic but in an easy way. She finds the exact weight for each word and each phrase to bring us the meaning inherent in Agee's text and Barber's setting. It all seems as natural as speech and the fine piano work supports her and dances on its own in the interludes.
May her career blossom and her repertory grow as she moves into the next phase of her life, perhaps in New York City or a graduate vocal program, as she told us later.

Percussionist Dale Lazar's Senior Recital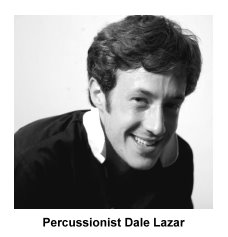 Like a modern dancer dressed in black slacks and tee shirt with bare feet, a very trim Dale Paul Lazar appeared on stage with four mallets in his two hands, squatted like a martial arts devotee for a spirited attack and played Wind in the Bamboo Grove by Keiko Abe (b.1937) for solo marimba. He displayed a polished technique, an excellent sense of rhythm and a fine feeling for this colorist Japanese music.
His energy when he speaks is warm, relaxed and intimate and matter-of-fact as if he is speaking to you one-on-one. His program is music by living composers in an area of classical music – concert percussion – that has a very brief history and a rapidly expanding repertory. Composer Keiko Abe has been a key player in the development of technique and repertory for the marimba. Her collaboration with the Yamaha musical instrument company led to the development of the five-octave concert marimba. Abe's compositions, her commissioning works by other composers as well as being one of the first players to use six mallet technique (three mallets in each hand) makes her one of the world's most important marimbists.
We had first heard Dale when he performed solo for master marimbist Kevin Bobo at a master class in February, 2009. We have watched Dale Lazar's growth as a percussionist for several years now and looked forward to his senior recital at Old Dominion University on February 3, 2011 in Chandler Recital Hall. Dale is a student of David Walker.
Demonstrating another skill, Dale then introduced us to the tabla, an Indian small hand-drum with a single head but a double body of two truncated cones played by fingertips. After putting baby powder on this hands – moisture is the enemy of crisp sound – he wedged the drum In the crook of his right knee and seated on the floor he first sang a tune and then played it on the tabla. This came after he had given a very complex verbal introduction to the language and meaning of the sounds he was about to play. It was a well-structured communication that carried the listener into the import of what we were about to hear. With a deep sense of appreciation he honored his tabla instructor Kumar Das, explaining that instruction for tabla is passed from person to person. Tin Taal as the piece is titled, has four sections and anonymous composers. The drum patterned syllables are mixed into this little piece, a cycle of three patterns repeated three times, sometimes played very fast, sometimes with light sound and at other times with enormously deep sound.
Next came Bushido: The Way of the Warrior (2006) written for soloist using four bass drums of graduated sizes. The one finger taps fleet skittering touches like insect wings, hard strikes with the heal of the hand, all were used. Imagine the sound of fingertips on large concert instruments in the first movement Jin (Benevolence). The second, Meiyo (Honor and Glory), was played using drumsticks. Graphically demonstrated, we experienced that the larger the drum, the deeper the sound. It was played on the rim as well as the skin and sometimes stick against stick. In the third movement, Yu (Bravery and Heroism), the intensity of sound triples, more strikes, harder strikes and we are into Bravery with its pronounced, steady rhythm. Many rapid strikes created a wave of connected sounds. The composer, John Willmarth (b.1974) lives in Lexington, Kentucky with his wife Sharon, son Jonah and two dogs. His percussion group at a local high school has been state champions for thirteen years and he has a jazz group and leads a marching band at the University of Kentucky.
I Remember is a seven-minute drumset solo written by David Schmalenberger (b. 19??) and demonstrated a whole different set of percussion skills. During the piece Dale Lazar travels from one drum to the next. He used the foot pedal for the base drums or cymbals, huge rattles, several drums arrayed for quick changes in music of varying intensities. Some sections were quiet, others wildly rocking-out with head movement, all actually quite physical. Mr. Lazar had trance-like behavior throughout with a breathtaking focus. Schmalenberger is on the faculty at McNally Smith College of Music in St. Paul, Minnesota.
Octabones, a ten-minute duo for two marimbas, followed. Nikolas White, also an ODU percussion student, joined Dale for the transparent, dream-like music that became super intense as it unfolded. There are some lovely tunes that develop out of silence, growing into a wide heart space. Four hands, eight mallets and a semi-squat stance allowed Dale to reach places where his mallets needed to strike.
Before the last piece began the marimbas were removed and the acoustic side wall curtains were closed to manage the quantity of sound to come. Gyro is a duet for percussionists with two matched sets of instruments except for one woodblock. Dale thanks Nik for sharing his senior recital before they launch into a loud, intense piece with dancers/co-choreographers Amanda Kinzer and Megan Thompson, both ODU dance professors. We noticed two decorative panels missing form the balcony where the dancers appeared. Drums wailed while the dancers moved slowly about, sensually touching the railing. One at a time they slithered to the stage through the openings in the balcony railing. They moved so slowly that time seemed suspended. The dance movements were in contrast: one is very dramatic with wide open movement; the other self-contained. Once they engage with each other they face each other and repel off each other. Bodies collide and they fall and roll to end. It was beautifully coordinated with the music as an extension of the sound space filled by athletic movement. The composers, Adi Morag - Octabones and Tomer Yariv - Gyro were both born in 1976, are Israeli and have been friends since age eleven.
More Student Recitals
Back to Top
Review Index
Printer Friendly Format
Home &nbspCalendar &nbspAnnouncements &nbspIssues &nbspReviews &nbspArticles Contact Us