Portsmouth Community Concerts presents Odetta and Robert Sims
In a concert at Willett Hall on March 1, 2008, Odetta and Robert Sims sang in memory of Ruth Brown, a nationally known jazz singer born in Portsmouth. In a program billed as spirituals, folk songs and freedom songs we were carried into a world of traditional American music, authentically sung and played.
The concert opened with Odetta asking us to leave whatever we brought with us and sing together and affirm ourselves as she led us in This Little Light of Mine. It had been a surprise when her pianist Seth Farber brought her on stage in a wheelchair and positioned her near a stool with tissues and water. The sound of that familiar voice cut through my emotional reaction. Looking back, it has been 34 years since I last saw her in a live concert (Marshall University, Huntington, West Virginia, c.1974).
After Odetta led us in This Little Light of Mine she introduced Robert Sims who has built an exciting career embracing the traditional spirituals that came down from Roland Hayes, Harry T. Burleigh and Paul Robeson and other recitalists. These pioneers of the African-American art song created the arrangements that Mr. Sims sang. His opening song Anybody Here Who Loves My Jesus warmed his audience to receive the message in song that followed. Pity a Po' Boy,a field holler and Lord, I Want Two Wings with its falsetto ending and a winning rhythm, were moving.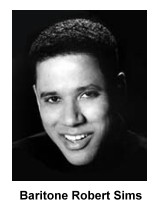 When Robert Sims sang Going Home on the Morning Train he tapped into a deep vein of history. Escaping from slavery by running away to the North was metaphorically described as riding the Underground Railroad. As he sang a cappella he snapped his fingers with his left hand and tapped his upper chest with his right. This percussive accompaniment is related to Jubilee Beating, described by Frederick Douglas in his Life and Times. He says the Jubliee beater "sings his merry songs, so ordering the words as to have them fall pat with the movement of his hand... Among a mass of nonsense and wild frolic, once in a while a sharp hit is given to the meanness of slaveholders." This body percussion was also called pat juba or jubas and could be as simple as patting the foot for rhythm to very complex patterns involving many body parts.
Roland Hayes had to go to Europe to build a career as a recitalist. He caused such a sensation there that when word got back to the United States it created a demand that he sing here. Before him, black men just did not sing classical art song repertory. As composer, Hayes' arrangements were featured in a set titled "Life Cycle of Christ" by Mr. Syms: Sister Mary Had-a but One Child, Lit'l Boy and Children Did You Hear (when Jesus Rose). In the middle song, Lit'l Boy, Syms very effectively tells the story of a twelve year old Jesus who created a great sensation by the wisdom of his answers when questioned by the temple elders.
A rollicking joyous rhythm infuses Low Down the Chariot Let Me Ride (published by Lomax in 1941), now called I'm a Soldier, Let Me Ride. The song opens with "Swing Low Sweet Chariot" in a traditional setting but morphs into a protest song of recently returned Black servicemen asking for their right to the freedoms they fought for in two World Wars.
The last spiritual My Good Lord's Done Been Here was followed by Old Man River from Kern's Showboat made famous by William Warfield. Syms says of Warfield "He was a wonderful teacher, colleague and more than that he was my friend." Odetta then returned to the stage for the duet When I Lay My Burden Down.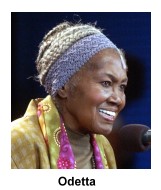 Many of the songs listed on the program I first heard on LP recordings by Odetta in the mid-sixties. But this night she chose to sing the blues, starting with Something Inside so Strong, a song so deeply moving, which was written in 1987 and became an anti-Apartheid anthem, a song of defiance in the face of oppression and bigotry. The text is by Avril LaVigne. There was Huddie Ledbetter's ("Leadbelly" 1885-1949) Bourgeois Blues. By way of an introduction she explained that Leadbelly, who was recorded by John Lomax, "gives a sense of our people." Offering the next song as a tribute to Bessie Smith, she sang her Rich Man Blues (music by Thelma Lowe). Bessie Smith (1894-1937) was a major influence on Odetta's style and career. The Grove Dictionary of Music sums up Bessie Smith's contribution "Smith was unquestionably the greatest of the vaudeville blues singers and brought the emotional intensity, personal involvement and expression of blues singing into the jazz repertory with unexcelled artistry." The same can be said for Odetta's performances.
She opened the last set with a modern woman's work song, as Odetta termed it, You Don't Know My Mind with a fine bluesy piano throughout. Next came Roberta, Let Your Hair Hang Low. Sippie Wallace's You Gotta Know How showed the spirit of a woman who knows her own powers. The pathos in House of the Rising Sun (Ledbetter) and her frail physical state worked well to underscore the message of the song.
With his pianist Paul Hampson accompanying, Robert Sims and Odetta dialogued There's a Hole in the Bucket. They ended the program with Down by the River Side/Goin' to Study War No More. We were left with the message "I'm Going to Walk with the Prince of Peace Down by the River Side."
For listeners who came to hear spirituals, work songs and folk songs sung with authenticity and power, often accompanied by her guitar, seek out Vanguard recording BCD 43/44, The Essential Odetta. It offers 21 selections including the powerful Another Man Done Gone, No More Auction Block for Me, and Sometimes I Feel Like a Motherless Child. Odetta, Blues Everywhere I Go (15 songs) M.C. Records (MC0038) can be ordered at www.mc-records.com or phone-516-754-4725.
Robert Sims has recorded 4 CD's and a DVD. To purchase visit www.RobertSims.com or canticlassics.com
Printer Friendly Format
Thomas Hampson
Back to Top
Review Index

Home &nbspCalendar &nbspAnnouncements &nbspIssues &nbspReviews &nbspArticles Contact Us