Glenn Hersch and Oksana Lutsyshyn in Recital
On the Tuesday before the Sunday recital, Glenn Hersch had a cold and could hardly speak. He considered canceling his recital but knew his teacher's wife was coming from Illinois with friends from England to hear him. Fortunately the cold improved and by Sunday, September 16 only a hint of it remained. The pressure he felt provoked a conscious, carefully nuanced performance - the best I have heard him give. With Oksana Lutsyshyn at the piano in what has become their annual recital they offered the audience (fifty-plus) a satisfying experience of American song at Prince of Peace Lutheran Church in Virginia Beach.
Over sixty years (he started at age four) of singing has given Glenn's tenor voice a burnished, darker hue so he now eschews voice categories and bills himself as a "vocalist." There are high notes but much of the sound now is in the baritone range. Three songs by Samuel Barber (1910-1981), I Hear an Army, Sleep Now and A Nun Takes the Veil were sung with a muscular and powerful approach and opened the program.
Ned Rorem's (1923) Cycle of Holy Songs setting of four Psalms from the Holy Bible are challenging in the demands made on the voice and emotional range with often tricky timing to clearly articulate the text. With support from Ms. Lutsyshyn's piano they made a joyful noise as commanded by scripture.
Continuing to emphasize text, they presented three selections from Aaron Copland's (1900-1990) Old American Songs. The Boatman's Dance has a brisk vocal opening which contrasts with the delicate music that follows. The soft-voiced liquid tone that Glenn achieved was very beautiful. I would like to hear him explore this further in future recitals. Long Time Ago and Simple Gifts rounded out this set.
Chanticleer's Aria by Seymour Barab (b.1921) from his opera Chanticleer is a coloratura showpiece in the style of Rossini. Here Glenn became the cocky rooster with arms as wings waking the sun to get the morning started, disparaging his neighbor rooster and making quite a racket that charmed and amused us all.
The second part of the program featured Broadway music by Rogers and Hammerstein. Four songs from Oklahoma, with Glenn returning to the chancel in cowboy hat and boots, featured the unfamiliar song Kansas City with its naughty text and the emotionally poignant Lonely Room. There was more exuberance and he seems freer in his singing of favorites from South Pacific and Carousel. His voice bloomed in the big endings and was quite intimate in quieter passages. I realized that there is always joy in Oksana's playing. Climb Every Mountain (Sound of Music) was the encore piece expressing the exuberance of overcoming the practical obstacles and the triumph of a fine performance for these committed artists.

Marcolivia Duo Joined by Oksana Lutsyshyn
presents Two Recitals in One Afternoon
The Marcolivia Duo is an award-winning violin and viola ensemble, Oliva Hajioff and Marc Ramirez, who have twice been heard on NPR's Performance Today chamber music program. They have been pursuing an international career as duo and solo performers.
First they gave a full recital at Green Acres Presbyterian Church in Portsmouth, Virginia where they performed selected parts of 44 Duos by Bela Bartok (1881-1945) and 12 Duets for violin and viola by Viennese composer Robert Fuchs (1847-1927). Halfway through the piece they traded instruments to complete all twelve sections.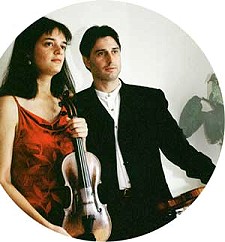 Olivia Hajioff, a Fulbright Scholar, speaks with an English accent. She studied in Manchester at the Royal Northern College of Music. Her father was Persian and her mother was a Polish Jew. Marc Ramirez is the son of a Peruvian immigrant. They met while working on doctorates at the University of Maryland. They taught at Shenandoah University and now as freelance performers make their home in Vienna, Virginia where they have a private studio.
At Green Acres and later in the day at Prince of Peace in a shortened concert the duo was joined by pianist Oksana Lutsyshyn in Ludwig van Beethoven's (1770-1827) Trio No. 3 in C minor, Op.1. The passionate playing gave us Beethoven's trio bursting with good spirits and high energy. The piano is much influenced by the exuberance of Mozart. The second movement has a more mellow, singing theme with many variations. There is a section of pizzicato strings which extended the sound spectrum of the piano. The exploration and expansion of the sound spectrum continues into the third movement. The contrast of strings from very treble to a much deeper, rich tone in the violin was enhanced by the viola. Though the trio was written for cello, the viola is closer in tone to the violin and thus extends rather than contrasts the violin's light, happy tune. The darker shades in all three instruments create the contrast. They tore into the last, Prestissimo, movement with a fury and brought this four movement piece to a stunning conclusion.
The audience at Prince of Peace continued to applaud, demanding an encore. Because the trio had only had three rehearsals to accomplish this quality performance of a difficult piece, all they could offer was a reprise of the sparkling Menuetto third movement.
In conversation with Ms. Lutsyshyn we learned that they had to keep the piano closed and place the instruments in front of it in the aisle, closing the first several rows so the audience would experience an ideal, balanced sound. It all worked.
The friendly congregation at Prince of Peace prepared a dessert reception for the artists and audience. The applause after every movement at Prince of Peace was a distraction. The rule: if the performers do not take a bow you should restrain from applauding until all sections are played. There was no such problem at Green Acres.

Warren Mailley Smith's Mostly Romantic Piano Recital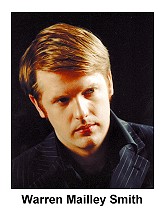 This was our second piano recital within the week and the contrast in the two pianists' approach to their instrument was widely different. In the opening Fantasy by Chopin, Warren Mailley Smith curled his body forward and caressed the keys of the piano, totally engaged in communicating the feeling in the music. At age 32, he is one of England's outstanding pianists of his generation. He made his solo Carnegie Hall debut in April, 2008. His Wigmore Hall recital, for a capacity audience, was critically acclaimed. He has performed at United Kingdom festivals, music societies, universities and as a soloist in concert with several symphony orchestras. During this, his first visit to Tidewater, he gave several performances during his brief visit. We heard him at Prince of Peace Lutheran Church in Virginia Beach on Sunday, March 8, 2009.
His specialty is the Romantic period piano masterworks. The opening Chopin piece was followed by Sonata in F, K 332 by Mozart. The dramatic lilt and excitement of the piece reminds us of Mozart operas yet to be written. I especially enjoyed the Grieg Wedding Day at Troldhaugen. It opens with a happy dance in the lower keys that ring out joy. This is followed by a dirge-like slow section and then returns to the happy dance. The dynamics are of great contrast.
Playing the Beethoven Moonlight Sonata with its slow, sensuous opening, Mr. Smith created soft beauty in the first movement. The richness of sound builds. In the short, second movement, Mozartian in feeling, the pianist's body bounces as he delivers the rich, full chords. We are reminded that the piano is a percussion instrument as he launches in the mad drive of powerful, fast playing that glitters with an exciting hard edge. The playing is expressive and accurate.
Mr. Smith's playing was brilliant in Un suspiro by Franz Liszt. He spoke with us about including Rondo No. 2, one of four early works by a sixteen year old composer who planned to use this showy, difficult piece in his concert career. As it turned out, Chopin found the salon much more to his liking than the concert stage. Ballade No. 1 in G minor with its beautiful melody presents a challenge to the performer. It is lengthy and had a warm glow as unfolded by Mr. Smith. The Waltz in E minor, also by a young Chopin, was played. For an encore we heard more Chopin - Souvenir de Paganinni, a sweet, little tune embellished by runs. It was a consummate performance by a friendly, relaxed, emotionally expressive pianist. I look forward to hearing him again.
Please note: if you were there, your program is only a loose guide to what was played and the order in which it was played.

Back to Top
Review Index
Printer Friendly Format
More Prince of Peace
Home &nbspCalendar &nbspAnnouncements &nbspIssues &nbspReviews &nbspArticles Contact Us