Marlene Ford and Jeanette Winsor
Present Women Composer's Horn and Piano Music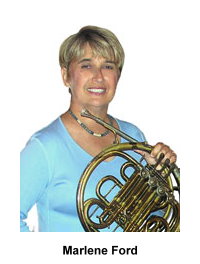 When Marlene Ford (horn) told Australian composer Maria Grenfell (b.1969) about a program to showcase women composers, she was told "you are ghettoizing our music, this is inappropriate." The reality is that works of women composers are more and more integrated into recitals but equality is still an unrealized dream.
The fifty or so people that gathered at Prince of Peace Lutheran Church on Sunday, March 28, 2010 were treated to eight horn and piano (Jeanette Winsor) works, all by women composers, all written in the last 100 years. Linear Lines by Liz Lane (b.1964) was commissioned for this four performance series titled Lady Composers performed at various venues. Ms. Ford advertized on-line for a composer to write a piece that related to music by Hildegard of Bingen, a 12th century composer and mystic who is regarded as the first woman composer of the Western musical canon and has become the touchstone for contemporary women composers. Based on Hildegard's Play of Virtue, brief texts before each solo musical segment invited us into a worldview that is faraway, challenging us to move beyond today into a place of trust in the ebb and flow and fulness of the universe.
The program listed ten pieces with the proviso that the music would be selected from the list. Sonata in A by Marianne von Martinez (1774-1812) and Hexentanz by Clara Schumann (1819-1896) were not played at this performance. Ms. Winsor had strained her hand and was not sure she could do justice to the Schumann solo piano piece but both pieces were included in later performances.
The lively opening duet, the Rondo movement of Sonate by Jane Vignery (1913-1974) had the sound of a trio with the higher pitched muted sound of the horn serving as the third instrument. There was a lilting swing in this light-hearted music. Placing her hand in the bell of the horn produces a variety of colors. Composer Edith Borroff (b.1925, currently of Durham, NC) took a doctorate in musicology in the mid-nineteen-fifties because she was not permitted to get a doctorate in composition, because "women were not up to that sort of work." She went right on composing and we heard her Sonata for Horn and Piano. The third movement, Sarabande, was inspired by Baroque music with its stately pacing in the piano and long-held horn notes. In Estampie there is a rowdy, hopping tempo and a mutated horn color – a shrill voice answered by the more bass, unmodified horn. The duet gallops to an end.
Summer by Becky Archibald was indeed a lazy summer duet. Each instrument seemed to extend the range of the other's sound, weaving a lovely, romantic interlude. The composer mused that if she had had a female role model perhaps she would have started writing earlier. Zenobia Powell Perry (1908-2004) studied with Darius Milhaud and was befriended by Eleanor Roosevelt. Her brief Episode 1 had a lyrical horn sound with pointillistic piano accents and was easy to enjoy.
Of her Songs of the Wolf, composer Andrea Clearfield (b.1960) says that although she began writing music in junior high school she did not think of herself as a composer. Her idea is to bring together a community with music. Built on the idea of a poem by Manfred Fischbeck with the same title, the music is sonically anchored in a chorus of recorded wolf calls. This for me was the most intellectually and emotionally realized composition. It was also fun, since Ms. Ford got to howl through her horn.
Elsa Barraine (1910-1999) Crépuscule (Twilight) is a pleasant, impressionistic work. Her cellist father was in the Philadelphia Orchestra and an inspiration for his daughter. The Foxtrot section from Maria Grenfell (b.1969) Prelude, Fugue and Foxtrot closed the program. Because the composer's young children had the flu she was late in getting the sheet music to our performers. The piece has a winning, jazzy tempo. A solo piano dance opens, later joined by a muted horn. Familiar tone colors are toe-tapping-good with a chuckle-producing ending.
Horn player Marlene Ford gave spoken introductions to each piece and explained that she and pianist Jeanette Winsor will present this program four times, selecting pieces from these ten in a sixty minute set without intermission. For readers who wish to know more about this concert contact Ms. Ford at marleneford@att.net for a list of sources. (books and CDs) or call 757-340-6406.

Marcolivia and Oksana Lutsyshyn Play the Best Game in Town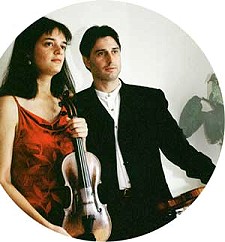 Forty-five listeners turned out for a recital at six o'clock on Super Bowl Sunday, February 6, 2011 at Prince of Peace Lutheran Church, proving that football was not the only game in town. The three star players, the Marcolivia String Duo with guest pianist Oksana Lutsyshyn, were all on their game. The kickoff was a premier of a piece by a valued senior Tidewater resident James Babcock (b.1934).
Halftime entertainment was music by Mozart in an arrangement by Marcolivia – a selection of arias from The Magic Flute played on violin and viola. The major play of the evening was Beethoven Trio for Violin, Viola and Piano Op. 1, No. 3. No fans that turned out were disappointed by having rooted for a losing team. The tailgate party that followed featured homemade desserts and coffee and punch made by the generous parishioners.
The Virginian-Pilot featured pictures and full details of James Babcock's life and musical compositions. This one he calls A Baroque Concerto for Two Violins Op. 6. A violinist himself, Mr. Babcock was concertmaster for the Princeton University Symphony Orchestra while an undergraduate. Then his career in banking led him away from music to which he has returned in his retirement years.
A concerto, by definition, is a piece for one or more soloists and orchestra. The pianist offers the necessary contrast to the strings in Mr. Babcock's concerto. The first of four movements, Allegro, was much influenced by Bach Brandenburg Concertos and offered some very un-Bachlike strident notes on one of the two violins mid-movement.
Andante, the second movement, offered brilliant playing by Olivia Hajioff and Marc Ramirez throughout. Sections of plucked strings enriched the emotionally provocative piano lines until they blended into a tuneful trio.
The opening of the third, Vivace, movement created some tricky coordination issues and the trio had to start a second time. Once begun together the music was a rapid flow of colorful, rollicking energy.
In the Allegro mederato last movement, the piece retrenched to Baroque style but romanticized, offering lots of lovely sound. The audience responded with a great ovation for the players. Mr. Babcock was not in attendance as the world premiere was to take place at the Feldman Chamber Music Society's concert at the Chrysler Museum the following evening. For readers who saw the Feldman performance, you heard the same music reviewed here but also a new piano work by Andrey Kasparov that we did not.
The second selection was music from Mozart's The Magic Flute by the string duo in their own arrangement with Mr. Ramirez on violin and Ms. Hajioff on viola. He also gave spoken introductions before each of the four arias: in the first Papageno puts his longing for a girlfriend into song The Birdcatcher am I. Monostatos expresses his lechery in You Fine Dove, Come Here. The theme of love in its many aspects continues in Love is the Greatest Wisdom and All Feel the Joys of Love capturing an orchestral flair with just two stringed instruments.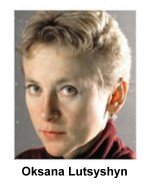 The trio (this time Mr. Ramirez played viola) gave a scintillating performance of Beethoven Trio for Violin, Viola and Piano in C minor, Op.1, No. 3 (1794-1795). Beethoven's music demonstrates the exuberance of a genius in his mid-twenties. He wrote "What is in my heart must come out and so I write it down." Unlike Mozart, Haydn and Bach, Beethoven had a new view of the role of a composer in society. He did not see himself as servant of nobility nor of the church but as an artistic creator and as such superior to kings, nobles and bishops. In his three piano trios of 1794-1795 he puts his confidence and passion into the music and our performers gave full expression to his gifts. There were sections of caressing loveliness, of singing strings as well as assertive, fragmented soundscapes with plucked strings and melodramatic piano runs.
The venue has an intimate acoustic ambiance and the experience was like having a chamber group in a large living room sitting with musical friends, who like us, will miss the more public Chrysler Museum Kaufman Theater performance for the Feldman Chamber Music Society tomorrow evening. We will be at Virginia Wesleyan College for pianist Lee Jordan-Anders and violinist Pavel Ilyashov at a one-time performance with many of the same friends.
If you missed Marcolivia or want to hear more, they will return to Tidewater from their home in northern Virginia for a concert on Sunday, November 13 at 4 pm at Reformation Lutheran Church, 13100 Warwick Blvd., Newport News.

Soprano Anna Sterrett, Tenor Orson Van Gay
and Oksana Lutsyshyn in Recital
At Prince of Peace Lutheran Church on May 15, 2011, two of Tidewater's finest rising vocalists gave a stunning performance with indefatigable, sensitive and inspired Oksana Lutsyshyn at the piano. In a program designed to dazzle the audience we were treated to some of opera and musical theater's most glorious arias and songs. Their voice teacher, Sondra Gelb, was MC and introduced the singers and the songs, giving the story of each selection with charm and often with humor.
Mr. Van Gay opened the program with a lyrically powerful song from Gilbert and Sullivan's The Mikado that set a lively tone for the program to follow. Ms. Sterrett was an equally persuasive lover with her rich, sweet sound and controlled high notes that were incredible. They alternated arias from Mozart operas with texts about the challenge of being in love from The Abduction from the Seraglio, The Magic Flute and The Marriage of Figaro.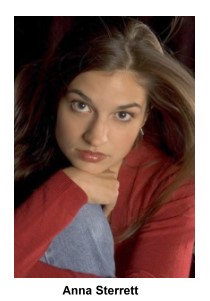 From Verdi La Traviata we heard the lead tenor's song of contented love with its gorgeous sound. Ms. Sterrett sang the mechanical doll song from Les Contes d'Hoffman. Hoffman is in love with a beautiful dancer who sings, matching the timbre of the flute played by Caroline Emmert, Ms. Gelb's talented teenaged daughter. Acting the scene with hands and arms in motion, the doll eventually winds down. Hoffman accepts reality as he goes to her and winds the key in her back so the singing and dancing can continue. The audience was totally charmed.
Ms. Sterrett sang Bernstein's Glitter and Be Gay from Candide. Another fallen woman, but this time a flesh and blood female who is world-weary, having survived many hardships. She comes smiling through the demanding vocal range and coloratura high notes. It brought tears to my eyes.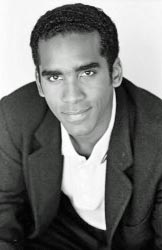 After intermission Mr. Van Gay had high notes of his own in a song from Flotow's Martha. He carried a rose and sang of love and despair, regaling us with the exciting ring (squillo) in the highest notes of his tenor voice. Ms. Sterrett wrapped a bright orange shawl around her shoulders and became the bride who is forced to marry the wrong man in Donizetti's Lucia di Lammermoor. She has killed her husband in her desperation and performs a tour-de-force celebration of her love for her beloved Edgardo. The tenor counterpart from Massenet's Manon is the young man's disillusioned lament when his more mature partner sends him away, only to return to her position as a kept woman in Parisian society.
Based on a true story, the American opera The Ballad of Baby Doe by Douglas Moore tells the story of a young woman enamored of a mature, married man. Anna Sterrett sings of silver, the color of dreams, all for the love of her silver-obsessed husband-to-be.
The program finale was two scenes from Puccini La Rondine, intended by Puccini to be Viennese style operetta. It has never become part of the standard repertory. The third act tenor aria is heartrendingly melancholy. The tenor sings to his lover, a former courtesan, "Don't you desire domestic bliss, just as I do?" Knowing herself well, she returns to Paris without him.
The quartet from the previous act was used as the grand finale. Here the beautiful, young singers were joined by another couple, also in love. Tenor Glenn Hersh, well known for his recitals at Prince of Peace and his singing in the Virginia Opera chorus was paired with Emily Leidy, a Norfolk Academy junior who is also a student of Ms. Gelb.
The encore was Maria/Tonight from Bernstein's West Side Story The beautiful voices, stage presence and charm of the young singers was most impressive. With more hard work and lots of luck we will hear them in full productions of the roles we heard today!

Back to Top
Review Index
Printer Friendly Format
More Prince of Peace
Home &nbspCalendar &nbspAnnouncements &nbspIssues &nbspReviews &nbspArticles Contact Us