The Pirates of Penzance at Thomas Nelson Community College
July 19, 2014 (also July 11, 12, 13, 18 & 20)
Mary T. Christian Auditorium, Templin Hall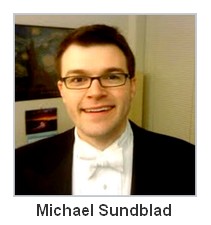 The Pirates of Penzance, or the Slave of Duty, with text by W.S. Gilbert and music by Arthur Sullivan (1842-1900) was billed as the 2nd Annual Summer Light Opera and was brought to the stage by Michael Sunblad, musical director and Torrie Sanders, stage director, choreographer, set and costume designer.
Several elements came together to make this production a great success. First, vocal coach Ellen Petko and Mr. Sundblad obviously emphasized diction. The choruses were mostly crisply articulated and the supertitles (new this year) were there if needed.
Second, the pivotal characters were excellent. As the Pirate King, Brian Wrestler obviously relished his role. Veteran actor and local music teacher Jeff Joyner, as Major General Stanley—in his 11th Gilbert and Sullivan opera role—brought off his tongue-tying patter aria "I am the very model of a modern Major General" with flair. The Young Lovers are Frederick, played by Tim Ayers-Kerr, who is currently pursuing a degree in vocal performance at the New England Conservatory of Music, and Mable, sung by Isabella Stansbury who graduated from Poquoson High School in June. Her high, clear voice negotiated all the coloratura arias but was underpowered at times; that worked since her character was a timid, young girl. Both young singing actors have studied with Mary Matthews-Garrett. Frederick's nanny and guardian, Ruth, was played by Kim Vernall, a regionally active thespian in her first "opera" role, who created a bold, comedic character with super-clear diction.
She, like the whole plot, was a bit off-kilter—she decided she should marry her charge now that he is turning 21. The supertitles made clear just how badly Gilbert abuses the English language, all for fun, stringing together series of words that have never been heard together before and inventing words that add to the nonsense.
Conductor Michael Sundblad—wearing a feather-trimmed tricorn hat for the overture—led an orchestra of nine violins, two violas, three cellos, two flutes and an oboe, clarinet, trumpet, trombone, piano and percussion. They offered fine instrumental playing and support for the vocalists.
Critic Harold C. Schonberg says Sullivan's musical workmanship is impeccable and that he was a better technician than either Johann Strauss or Offenbach. He could mock the bel canto style perfectly. Do not be fooled by the simple ease of listening to the music. There is a Mozartean effortless grace and purity in it and his ability to set the English language was easy in its sheer rightness and Gilbert made sure he had the right words to set.
For 135 years The Pirates of Penzance has been popular with audiences and theater companies who produce it, so why do some listeners find it tiresome, even boring? Perhaps the answer lies in one's ability to step out of the world of daily life and into a fantasy world of child-like play with mildly amusing satire and a parody of social norms, long obscured by time. Dropping reality and embracing silliness for a couple of hours appeals to many listeners and as long as that is true the show will go on.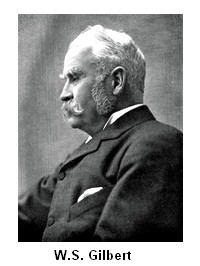 For readers who prefer a more intellectual approach, Carolyn Williams' book Gilbert and Sullivan: Gender, Genre, Parody outlines the back story that a Victorian audience would have understood. The pirates that most concerned G&S were the writers and theater producers who stole their new pieces and sold them as their own. In the late 1800s copyright protection was minimal and contradictory between the U.K. and the U.S.A. For that reason Pirates was given one performance, known as a copyright performance, in a small theater in Paignton, England on January 30, 1879. The next evening Pirates premiered in New York City and had a lengthy run there with simultaneous tours throughout the U.S. It was written as a follow-up to the American success of H.M.S. Pinafore the year before. Several months later Pirates opened at the Opera Comique in London.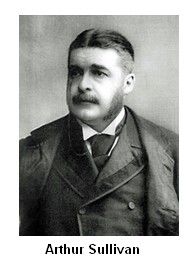 The Victorians believed that women thrilled at the dashing and dangerous sex appeal of pirates as long as they were presented at the safe distance of literature or theater. These roving rogues were seen as free from state control but alas, they had rules of their own. Much of the plot and humor grow out of the conflict of state rules vs pirate rules. Nautical melodrama makes sense for a seafaring nation; a critique of the navy is by extension a critique of the nation. Law-enforcing cowardly police and lawless pirates create the conflict.
On the sexual side of things, nursemaid Ruth, a mother substitute, has raised Frederick on a pirate ship. Now that he is turning 21 she intends to marry him before he meets females his own age— thus injecting a frisson of incest into the drama. The Major General's wards (how many are illegitimately conceived orphans?) catch Frederick's eye and Ruth is out of the running.
We see silly fun and games but in its day, deeper currents of social challenge were clearly parodied. For the casual listener, Ms. Williams' book offers another way of viewing Gilbert and Sullivan's enduring operettas.

TNCC's Third Annual Summer Light Opera:
Gilbert & Sullivan's Princess Ida or Castle Adamant
Mary T. Christian Theater, Thomas Nelson Community College
July 18, 2015
Review by John Campbell
Set to the finest musical score Sullivan ever wrote, Gilbert's text on women's education skewers what to the Victorian Englishman was the absurd notion of intellectual women running their own university to educate women and shutting men out of their lives—a laughable affair in Victorian England. But to our contemporary understanding of gender issues, the story line is provocative rather than absurd .
Their historic, laughable notion of academically gifted women ends with the idea that there would be no posterity to applaud the women's accomplishments and that leads the protagonists to traditional marriage, but we know better. Diversity of roles for both women and men have come into flower in the 131 years since Princess Ida came to a London stage though Gilbert's spoken and sung charming verbal nonsense still holds its own magic for many.
Set in Medieval times, the story is of a couple married as toddlers to unite two sparring kingdoms. Now the couple has come of age and Prince Hilarion (Billy Binion) is ready to consummate the union. When the father-in-law arrives at King Hildebrand's palace without his daughter, the plot begins to unfold. Princess Ida (Catherine Pelletier) heads a university dedicated to women's education and wants nothing to do with any man. The Prince sets off to try to win her with his charm, taking with him his two best friends, Cyril, played by Tim Ayers-Kerr, and Florian (Colton Mercado). After they dress as female students to get into the university they are interviewed by the university leaders, Lady Psyche (Charity Robinson) and Lady Blanche (Arna Majcher) who schemes with her daughter Melissa (Gabby Montrond) and with the new "girls" to take over Ida's position as head of university.
Back at King Hildebrand's kingdom, Hildebrand, played by seasoned actor Ron Milovac, arrests Ida's father, King Gamma (veteran actor Jeff Joyner) and her warrior brothers Arac (Ryan Young), Guron (Tra'waan "Trey" Coles) and Scythius (Brian Wrestler). They are led off to prison but not before they sing about their lack of intelligence. Obviously Ida got the brains in that family, or did she? Duped and manipulated by all concerned, after much singing and dancing, she agrees to go with her husband to save the life of her brothers. Once again the role a woman is defined as caretaker of the family. Diversity and choosing one's life role is a more recent innovation.
The cast of 41 was the largest ever in a Mary T. Christian Auditorium performance. They were directed and choreographed by the talented Torrie Sanders. The 23 musicians crowded into the orchestra pit were conducted by the young visionary Michael Sundblad. Lead roles were from the larger community but the diverse talent of Thomas Nelson Community College students made the show possible.
Some highlights were: The babies on stage as a vignette from Ida and Hilarion's early history, the dance of the three young men in female drag at the university and the superb characterization of Melissa by Gabby Montrond, who has it all—looks, acting, singing and comedic timing.
Gilbert and Sullivan were not interested in social reform as such, but they often poked fun at some cherished notions of Victorian morality. Sullivan's music owes a debt to Mendelssohn, Schumann and Donizetti but his workmanship was always impeccable. He was a better musical parodist than Offenbach: consider the Handelian sequence sung by the trio of Arac, Guron and Scythius as they remove their hot, heavy armor before going into the final, big battle. They lose and to save their lives Princess Ida decides to give up the university and return to her husband to help create the posterity that "At my exalted name posterity will bow in gratitude."
The integrated, continuous flow of action with dances interwoven as the chorus sang, thankfully left no one just standing around. In the program the alphabetical list of carpenters, painters, lighting and costumes honored the workers of this excellent production.
Only one quibble: the projected text needs to be protected from being faded out by the brightest stage lighting.
Printer Friendly
Back to Regional Opera
Home &nbspCalendar &nbspAnnouncements &nbspIssues &nbspReviews &nbspArticles Contact Us