Women, War and Worship
Music by Rich Moriarty
Christ and St. Luke's, November 22, 2015
Review by M.D. Ridge
There was a very full house November 22 at Christ & St. Luke's Church in Norfolk for the premiere of two major vocal works by Richard Moriarty. The composer, formerly chief of pathology at Sentara Healthcare and Department Chair at Eastern Virginia Medical School, retired ten years ago in order to study serious classical music.

His study has paid off—bigtime.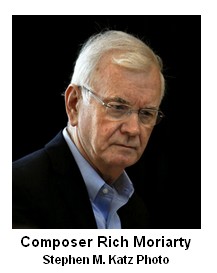 First on the program was We That Wait, Moriarty's setting of seven poems from the Civil War, written mostly by women, and sung by renowned mezzo soprano Robynne Redmon, with Stephen Coxe at the piano. Emily Dickinson's "We Went as Soldiers" began with slow, measured, insistent piano, with long, held lines for the soprano's attack. Walt Whitman's "Beat! Beat! Drums!" went from driving, dissonant chords to a more lyrical passage, then back to driving dissonance that underscored the text. Redmon's recitative on "We Have Parted," a poem by Portsmouth native Ella Wren, states bleakly that memory cannot restore a happy past. On the phrase "all is over, all is over," the piano tolled like a death knell. For another Dickinson poem, "They Dropped Like Flakes," the piano had its own melody, "walking through memory," while Redmon brought solemn poignancy to the lines, "They perished in the Seamless Grass . . . but God . . . Can summon every face."
The textual sentimentality of "Somebody's Darling," by Marie Ravenal de La Coste, could have been schmaltzy, but Moriarty attacked it and turned it on end, using strident dissonance to evoke the mortal horror of young men in war. There's a softer, gentler passage in the middle and at the end, while the piano echoed muted dissonance. It was an amazing piece, given fierce passion by Redmon and Coxe.
One of Dickinson's more familiar poems, "After Great Pain," had stark musical images; Coxe and Redmon handled the dramatic dynamics with ease. The final line— "Then the letting go" ended on a long, long, high note. "Prayer of Peace," by "An Anonymous Lady of New Orleans," evokes the weary sadness of long war. The final line, "the land we dearly love," rose to a high last note as if in a question.
Old Dominion University's Diehn Chorale, a 20-voice select choral group, under the direction of assistant director Jane Trahan, performed "E'en So, Lord Jesus, Quickly Come," an Advent motet composed by Paul Manz, with lyrics adapted from Revelation by Ruth Manz. The Chorale had a lovely blend, which also shone like crystal prisms reflecting light and color in Eric Whittaker's gorgeous Lux Aurumque, which was directed by ODU's Dr. Nancy Kirkland Klein.
Adsum! A Mass Celebrating Women in the Church was a tour de force, whose title comes from the Roman rite of ordination when candidates are called by name and answer "Adsum—Present!" It was sung with passion and beauty by the combined forces of the ODU Concert Choir, the Diehn Chorale and Schola Cantorum of Virginia, with soloists Robynne Redmon, baritone Christopher Mooney and James W. Kosnik, organist.
The nine movements built on the traditional Latin Mass. Directed by Klein, the Kyrie began with the organ's deep, muted tones that built and grew insistent; Redmon intoned the text which became a poignant prayer for "lost vocations" as the chorus swelled. The Gloria's brooding organ shifted to Redmon's lyrical "Laudamus;" Mooney sang "Glory to God for your first Risen Word, 'Maria'" and the chorus sang her response, "Rabboni." The combined chorus had excellent crisp initial consonants—not easy with such a large group.
Agnes Mobley-Wynne, director of the Schola Cantorum, conducted the Creed, in which Mooney declaimed, as God, "See! I am doing something new!" The fourth movement began with low, repeated organ notes, rising, measured to the repeated Adsum on a falling line, repeated again and again by the chorus. In the Magnificat, the organ shimmered underneath a dialog between men and women—"God calls us by name."
Klein returned to the podium for the stunning—and difficult— Sanctus, which featured striking, unusual rhythms for organ and chorus, and rising waves of Hosannas. "Do this in remembrance of me" was a lovely duet between Redmon and Mooney, ending with overlapping waves of choral sound. In the Agnus Dei, the composer incorporated the words of Juliana of Norwich—"All will be well, and all manner of thing will be well."
An organ blast heralded the dismissal rite, "Ite Missa Est," with full chorus going full tilt, repeating the falling line of "Adsum," and ending with a joyful, triumphant "Alleluia! Gloria!" The audience leapt to its feet with roars of appreciation.
Way to go, Dr. Moriarty. Way to go!
This review was originally broadcast on WHRO 90.3 FM's "From the other side of the Footlights."
Back to Top
Review Index
Home &nbspCalendar &nbspAnnouncements &nbspIssues &nbspReviews &nbspArticles Contact Us