Pianist Bryce Cuthriell Gives Recital in Smithfield
Sundays at Four, Christ Episcopal Church, Smithfield
January 17, 2016
Review by Mary Cole
Sunday, as the snow came falling, disappointed audience members canceled their coming. Seventeen year old pianist Bryce Cuthriell began his recital on time with a surprisingly good attendance with more than 60 in the audience at historic Christ Episcopal Church in Smithfield.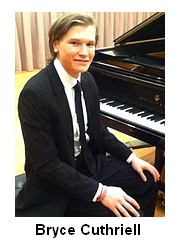 Bryce, a very focused young pianist, began his program with Tchaikovsky's Dumka, Op. 59, based on a Russian folk ballad. The music expresses sudden changes that range from melancholy to exuberance. His understanding of the piece was evident by his masterful control and contrast of dynamics and tempi.
The lovely Steinway recently obtained by the Isle of Wight Arts League is the perfect instrument for this acoustically fine church chamber. Ravel's "Ondine," with its fluid runs, glissandos, and other technical challenges descriptive of water, was played with outstanding sensitivity. Shimmering figurations become the background for transparent melodic strands played very softly with great expression. The fluid background pauses only once for a brief pianissimo that precedes the final quicksilver cadenza.
For contrast, Bryce selected the Debussy Etude No. 10, considered the emotional peak of the etudes and essential for an aspiring Debussy player, with it's contrasting registers, textures and modes of attack. This piece looks forward to a much later generation of composers.
The Romantic period was given the stage in Chopin's Ballade No. 4 in F Minor. A work familiar to many in the audience from television and movies, the piece opens with a gentle harmonic ambiguity. The theme is elaborated, becomes restless and more complex until the turbulent display at the ending of four feverish chords.
After intermission he played a single work, Beethoven's Piano Sonata in F Minor, Op. 57 known as the Appassionata. The opening offers a dark and enigmatic theme, only to abruptly explode with what has been called "shrieks of rage." The piece unfolds with volatile start and stop rhythms that create a sense of conflict and urgency. Then there is a brief lyrical section of great yearning. Bryce finished his recital demonstrating the extremes of technique and the fullness of sound required by the composer. Definitely not a timid player, he reached into his depths to bring out the composer's intentions. It was the final piece by Beethoven that brought the audience to its feet for the longest standing ovation this concert series has seen in its eight-year history.
This young artist has the potential to become a fine professional pianist. He is a young man of many talents, excelling in math and science, which often is found to be the case with outstanding musicians. Smithfield is fortunate to have such a young talent.
Printer Friendly
Back to Top
Review Index
Home &nbspCalendar &nbspAnnouncements &nbspIssues &nbspReviews &nbspArticles Contact Us