by John Campbell
&nbsp&nbsp&nbsp&nbsp&nbsp Cecilia Bartoli has said that "there is no inferior music by Mozart." It is easy for the listener to find delight in his songs. Most of Mozart's lied are not art song by the strict definition of the Romantic period: art song is poetry set to music that is through-composed. This definition was formalized in 1798, seven years after Mozart's death. The early songs of Mozart have texts of a simple wholesomeness. There are songs on friendship, joy, composure, tranquility and of course romance to poems that were fashionable at the time. Most of his forty songs are strophic and the only one set to poetry of a major poet is Das Veilchen (The Violet) by Goethe. And even here Mozart adds words that suggest that he is joking if not being a bit condescending about Goethe's text. He adds: "The poor violet! It was a dear little violet!"
&nbsp&nbsp&nbsp&nbsp&nbsp In his lifetime only seven songs were published and the most substantial ones came near the end of his life. After his operas became popular there was a market for his songs. Mozart "seized the opportunity to respond to the demands of publishers and public and thereby boost his often erratic income."
&nbsp&nbsp&nbsp&nbsp&nbsp This information comes with the booklet from a 2 CD set: Mozart Lieder - Notturni Phillips (422-524-2). Elly Ameling sings and Dalton Baldwin accompanies her on piano. It is wonderfully well-done and a great introduction to his songs. There is another 2 CD set of Mozart The Complete Masonic Music on VOX (VoxBox2 CDX 5055) that has four lied by male singers. It is a fun collection of music written for use at Masonic meetings, lots of chamber pieces and a cantata for tenor which contains five short songs.
&nbsp&nbsp&nbsp&nbsp&nbsp "To me Mozart songs are about seduction, before, after or during" so said Sarah Wells, soprano who sang Sensucht nach dem Früling (Yearning for spring) written in January, 1791, the year Mozart died, and Die Zufriednenheit (Contentment).
&nbsp&nbsp&nbsp&nbsp&nbsp At the September 22 meeting of the Virginia Art Song Society Dr. Julian Kwok gave a short introductory talk on Mozart lied and then with Karen Scott, soprano we had a perfect demonstration of Viennese style in the song Ridente la calma (a calm smile awakens in my soul). In her second selection Komm liebe zither (Come dearest zither, come) Ms. Scott proved to be a stylist of refinement accompanied by Chris Basford, an accomplished classical guitarist.
&nbsp&nbsp&nbsp&nbsp&nbsp The co-MC Debbie Harris sang Oiseaux, si tous les ans (Birds, avoid winter every year) in good French and with a lovely voice. Didi Granger sang An Chlöe (To Chlöe), a song from 1787, characteristic of Mozart lied in form and sentiment.
&nbsp&nbsp&nbsp&nbsp&nbsp Warnung (Warning) an admonition to fathers to lock away a maiden to protect her purity was bumptiously portrayed in her very likable voice by Charlotte Elia, soprano. Als Luise die Briefe (On Louise's letter) followed and was well chosen for the singer's dramatic and vocal gifts. Das Veilchen was sung by a youthful Rebecca Cross.
&nbsp&nbsp&nbsp&nbsp&nbsp Abendenfindung (Evening thoughts) is a through-composed song and aria-like in sound. Wie unglucklich bin ich nit (How unhappy am I) was written when Mozart was a teenager and sung by Pamela DeMeyere, soprano. Her second selection Wiegenlied (lullaby) is not on the Elly Ameling CD since this song once attributed to Mozart was actually written by Bernard Flies, according to the "Lied and Song Text Page" of recmusic.org.
&nbsp&nbsp&nbsp&nbsp&nbsp You will find the group's next meeting "Songs of Charles Ives" on the Calendar for November. Patrick O'Donnell is the speaker and pianist.
Printer Friendly Format
Back to Top
Virginia Art Song Society Sings Ives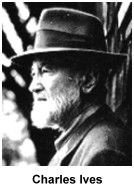 &nbsp&nbsp&nbsp&nbsp&nbsp "See, learning to sing Ives didn't kill anyone" was the opening comment by Patrick O'Donnell, pianist and lecturer for a program of Ives songs on November 3, 2002. Dr. O'Donell, who is vocal coach and Education Music Coordinator of Virginia Opera, is also a lover of the music of Charles Ives. "I find Ives to be very accessible." Like Ives, he did his undergraduate work at Yale where Ives papers reside. Now he wishes he had availed himself of the opportunity for research the papers presented. Some of the characteristics of this music that he emphasizes are that Ives does it all, he wants things to happen, and he wants to communicate. Chance occurrence stimulated the imagination of both father and son: two bands passing in a parade, each playing its own tune, nostalgic tunes from childhood are recreated, and direct experience of nature is translated into song. His songs represent every facet of his external and internal life.
&nbsp&nbsp&nbsp&nbsp&nbsp The program notes from the Albany CD The Complete Songs of Charles Ives Vol.1 state: "The song literature of Charles Ives is the richest and most important body of vocal music in the history of American music." Most of the music selected for this program is from Volume One, which contains his early songs, 1888-1896, roughly covering the years of high school through college. Canon (1893) is a study setting words in the musical form of a canon, but the text celebrates not only the eyes but the mind of his beloved. Could this be a wry comment on European texts? Karen Scott sang this quirky song, as well as one of Ives' most popular songs, Memories A. Very Pleasant, B Rather Sad. Ives wrote that the singing should follow naturally from American speech and Ms. Scott and most of the other singers in this program did just that.
&nbsp&nbsp&nbsp&nbsp&nbsp Didi Granger sang When Stars Are in the Quiet Skies (1891) and A Night Song (1895). Both songs are lyrical and her voice was lovely throughout. Pam DeMeyere gave us Nature's Way, which speaks of evening bells that we hear in the piano. Ms. DeMeyere sings well with a natural control of her instrument. Phyllis Hunter sang The Circus Band. The text by Ives is a nostalgic remembrance, a child's excitement that the parade is happening right now. Ms. Hunter sang with a cultivated voice and in an operatic style.
&nbsp&nbsp&nbsp&nbsp&nbsp Kelly Poole sang Christmas Carol. Ms.Poole has a relaxed way of presenting a song that beguiles the listener. In this song Ives uses silences to make a huge impact in communicating his meaning in a text that he also wrote. Two songs from Volume Two of the Complete Songs on CD were sung. Romanza di Central Park was given by Rebecca Cross and Rosamunda (from Four French Songs) by Debbie Harris. Both singers were effective communicators.
&nbsp&nbsp&nbsp&nbsp&nbsp Jay Taylor, accompanied by Elisa Dickon on harp, sing Mirage (1902) and The South Wind (1899), just as Ives would wish. He reprised these songs in a second program reviewed below.
&nbsp&nbsp&nbsp&nbsp&nbsp From Volume Three, Pamela DeMeyere chose Ilmenau, with text by Goethe. A lovely song "Over all the treetops is rest, ... So my heart, waiting, soon will rest." She sang it in German but Ives set it in both German and in English in a translation by his wife Harmony. Ives set texts by Whitman, Longfellow, Byron, Keats, and a host of other poets, but he also wrote the texts for at least fifty of his own songs, and his wife wrote several others. Autumn, sung by Pat Rublein and text by Harmony, is a lovely song with a rich accompaniment. There is a big melody in the right hand that threatens to take over the text. There is a sense of unbalance throughout and the ending leaves one unsettled. I only wish I had a recording by Pat so I could hear it again and again.
&nbsp&nbsp&nbsp&nbsp&nbsp The text of the church hymn "Shall we gather at the river" by Robert Lowery was set by Ives as At the River in 1916. Copeland later set the same text. Ives' setting is a challenge to the listener, deconstructing the familiar tune and offering us a new experience, while Copeland makes the hymn more bland, seeking a larger buying public. Kelly Poole, soprano, has a fine clear voice and an ability to put this very American song across.
&nbsp&nbsp&nbsp&nbsp&nbsp Didi Granger sang the only selection from Volume Four: Two Little Flowers which celebrates his little daughter Edie and her friend Suzanne. It is a charming song and Didi's singing was lovely.
In Summary
&nbsp&nbsp&nbsp&nbsp&nbsp The Virginia Art Song Society's program was a fine introduction to the music of Charles Ives. Patrick O'Donnell is to be congratulated for proposing the program, for coaching the singers and playing for them with such understanding, and for his great enthusiasm for Ives' music.
&nbsp&nbsp&nbsp&nbsp&nbsp Hopefully the group will plan a follow-up Ives meeting presenting some of Ives' music written during his adult years. There is so much fine material to pick from. How about General William Booth Enters Into Heaven, Charlie Rutlage, Serenity, The Housatonic at Stockbridge, etc. It would be helpful to have the text read before each song is sung or at least a copy of the text for each listener. We need to know this American Schubert.
Printer friendly format
Back to Top
&nbsp&nbsp&nbsp&nbsp&nbsp ODU's Chandler Recital Hall was the site of a program unique for Tidewater. With Peggy Kelley Reinburg at the piano and six women soloists, we were regaled with the art songs of eight women composers.
&nbsp&nbsp&nbsp&nbsp&nbsp Dr. Anita Fellman, Chair of the Women's Studies Department of Old Dominion University gave an insightful overview on issues unique to women composers: social roles and community norms that define the woman as wife and childbearer for husbands who do "creative" work, patronizing views of creative work done by women in the arts and the fact that the female artist who is hailed as a genius in her lifetime seems to be ignored by the time history is written. "I'm not claiming it's a conspiracy but ..." Birth control and changing norms are a help, but the question remains: Will historians writing on our time give women composers their rightful place?
&nbsp&nbsp&nbsp&nbsp&nbsp Leslie Stewart, a conductor and the Director of Orchestral Studies and an assistant Professor of Violin at ODU gave us a detailed presentation on the lives of the composers of the music performed. However one evaluates their compositions, it is apparent that we know of Fanny Mendelssohn Hensel, Clara Schumann and Alma Mahler because they were part of the families of well known male composers. On first hearing the songs were well-crafted and listenable. To hear more of their music, there is a BIS CD (BIS 738). Would their music alone secure them a place in music history if there was no bias against women composers? I will let you decide for yourself.
&nbsp&nbsp&nbsp&nbsp&nbsp Fanny Mendelssohn was Felix Mendelssohn's sister and an intelligent, well educated woman with musical talent. Pamela DeMeyere sang two lovely, lyrical songs on texts of a pantheistic melancholic nature by the composer. Fanny wrote several hundred compositions but only a few have been published to this day. Leslie Stewart illustrated the social norms that defined her role, reading from a letter to her from Papa Mendelssohn: "What you wrote to me about your musical occupations with reference to and in comparison with Felix was both rightly thought and expressed. Music will perhaps become his profession, whilst for you it can and must only be an ornament...and your very joy at the praise he earns proves that you might, in his place, have merited equal approval. Remain true to these sentiments and to this line of conduct; they are feminine, and only what is truly feminine is an ornament to your sex."
&nbsp&nbsp&nbsp&nbsp&nbsp At age 24 Fanny married Wiliam Hensel who, unlike her family, encouraged her. She published songs and some other compositions. She traveled, played a few public concerts, had a son and died at age 41.
&nbsp&nbsp&nbsp&nbsp&nbsp Clara Wieck (1819-1896) married Robert Schumann at age 21, against strong objections by her father, who wanted her to continue her career as concert pianist and composer! When she was nine years old she made her piano debut and toured Germany and Europe as a young teenager. After his death in 1856 she became the foremost interpreter of Robert's music. That year she visited England and often thereafter for thirty-two years. She championed Brahms in his youth and they became life-long friends. Her last public performance was at age 72. She was a dintinguished teacher. Her compositions for piano, chamber music and songs were part of musical life in Germany in her lifetime, but she composed music only as long as Robert lived. Why did she not continue to compose? She was only 37 when he died. There is a CD of complete songs of Clara Schumann on Hyperion (HYP 67249).
&nbsp&nbsp&nbsp&nbsp&nbsp Charlotte Elia, who sang three of these songs, wonderfully expressed the passionate emotion inherent in them. Here as in the rest of the program, Ms. Reinburg was very supportive, never overpowering the singer.
&nbsp&nbsp&nbsp&nbsp&nbsp In the autumn of 1901 Alma Marie Schindler (1879-1964) met Gustav Mahler (1860-1911). He was 41 and she only 22. A cultivated young woman whose father was a well known Austrian landscape painter, she was studying composition with Alexander von Zemlinsky. They married in March the following year and Mahler insisted that Alma give up composition and arrange their life together around his creative work. Since Mahler died within ten years of their marriage and she lived another 53 years, we might safely assume that composition for her was an ornament.
&nbsp&nbsp&nbsp&nbsp&nbsp Alma Mahler's songs have a more modern sound, having been written around the turn of the 20th century. The poetry sung by Kelley Poole is hallucinogenic in nature.
&nbsp&nbsp&nbsp&nbsp&nbsp Are there other German women composers that we should know of? Are these three the best that Germany has produced?
&nbsp&nbsp&nbsp&nbsp&nbsp Cécile Chaminade (1857-1944), a French composer and pianist, had a long, active musical life. She produced some 400 works and about 135 songs and concertized for many of her 87 years. She was a popular performer of her own music in both France and England. We did not hear the Chaminade songs on the program because the singer Diedre Granger was ill. Ms. Reinburg did play parts of the two scheduled songs to give us the flavor of this repertory. The Grove Dictionary of Music and Musicians 1995 edition says "Notwithstanding the real charm and clever writing of many of Chaminade's pieces they do not rise above drawing-room music." I would like to hear the music before I agree with this statement. She gave her life over to her muse.
&nbsp&nbsp&nbsp&nbsp&nbsp The good news is that DG records in 2002 released a CD Mots D'Amour - Songs of Cécile Chaminade (DGG 471 331) with the excellent mezzo-soprano Anne Sophie von Otter, who has performed a wide array of art songs by many composers in the last ten years for Deutsche Grammphon.
&nbsp&nbsp&nbsp&nbsp&nbsp The lovely Rita Addico Cohen sang songs by two composers, the American Amy Beach (who exclusively trained in the U.S.) and the Belgian Eva Dell'Acqua (1856-1930), whose song Villanelle is a high coloratura showpiece with a French text about swallows soaring in clear blue skies.
&nbsp&nbsp&nbsp&nbsp&nbsp This song, made famous by Lily Pons, seems to be the only reason Dell'Acqua is remembered, though she composed some fifteen operas and operettas and several later works were widely performed in Belgium, often with the composer in the title role. André Kostelantz was Lily Pons' second husband and in later life hired a young Beverly Sills for the New York Philharmonic Promenades concerts. When Lily died in 1976 Kostelanetz gave Ms. Sills sheet music and arrangements he had done for Lily. You can hear the orchestral version of Villanelle on a Sony CD (SMK 60576) Plaisir D'Amour with Sills singing and Kostelanetz conducting. The CD includes a dozen other art songs arranged for orchestra.
&nbsp&nbsp&nbsp&nbsp&nbsp If we are searching for a role model for women composers, Amy Beach (1867-1944) is a good candidate. She was a piano prodigy who appeared with the Boston Symphony Orchestra at age 18. By age 25 her Mass in E flat was premiered in Boston and her concert aria Eilende Wolken in New York. She married in 1885 at age 18 and for those 25 years of marriage she concentrated on composition. Her husband was supportive of her composing but asked that she limit her piano performances to a few charity concerts per year. She devoted her creative energy to composing and left us with 125 songs, several with violin and cello parts. After the death of her husband, Henry Beach, in 1910 she resumed an active concert career. In 1932 she composed an opera. She considered herself a universalist and not an Americanist since she drew on all of European music for inspiration. Her music is being rediscovered some 60 years after her death. Barbara Quintiliani champions her songs "because they are so much fun to sing" and includes them on many recital programs. I would like to suggest that Amy Beach should be regarded as much a part of the history of American song as Stephen Foster.
&nbsp&nbsp&nbsp&nbsp&nbsp There is a recent CD of Beach songs and chamber works Chanson D'Amour with Emma Kirkby and The Romantic Chamber Group of London (BIS CD-1245) which I reviewed in December 2002 (Issue #18: Short but Sweet Holiday Gift List). This CD contains the song that Rita Addico Cohen sang so well at the Virginia Art Song Society meeting: Take Oh Take Those Lips Away. Paul Sperry sings this and two other Beach songs on a CD Songs of an Innocent Age, Music from Turn of the Century America on Albany Records (TROYO34-2).


Lori Laitman and Libby Larsen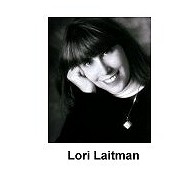 &nbsp&nbsp&nbsp&nbsp&nbsp In the last issue of Artsong Update announcing songs by Lori Laitman (b.1955) on this VASS program, we anticipated a discovery of exciting new songs. We were not disappointed! Deborah Harris is a reliable art song performer with a lovely voice. The songs on poems by Sara Teasdale: The Metropolitan Tower, a song of cherishing the moment and falling in love; The Strong House, where the text evokes a dark shadow that hovers over a strong relationship; and The Hour with a text that is an affirmation of how perfect this relationship is. Without a copy of the text I was not sure that I understood each song, but I confirmed that I had when I read them later. The composer and singer are excellent communicators. Now I look forward to hearing other poems by Sara Teasdale from Laitman's song cycle.
&nbsp&nbsp&nbsp&nbsp&nbsp Karen Scott selected two songs from a cycle by Libby Larsen (b.1950) who is a prolific major American composer who should be better known. (See Issue #4: Meet Libby Larsen on the website for more information). Ms. Larsen often selects texts of historical importance to set. The two songs So like your Father's and All I Have from Letters from Calamity Jane to her daughter Janey, 1880-1902 are powerful and evocative in text and tune. Ms. Scott's diction was incredibly clear and the drama and pathos with which the words were set is very moving. Calamity Jane reflects on her life of blunders. She only has pictures of her dramatic life and because she is now blind, not even those. She closes with "...forgive my faults and all the wrongs I did you. Good night little girl. May God keep you from harm." I feel that in Ms. Larsen we have a major composer.
Printer Friendly Format
Lori Laitman's Sleep Little Child
&nbsp&nbsp&nbsp&nbsp&nbsp Both of these composers are familiar to regular readers. Debbie Harris sang three settings by Laitman on poems by Sara Teasdale at VASS's Women Composers program at Chandler Hall in January. When the Lullabies program was being put together Mrs. Harris wrote to ask if Ms. Laitman had written any lullabies. Her response was to say that: "A long time ago I wrote a short lullaby for a competition...I'm not even sure where the music is - probably on an old computer. I'll look and get back to you."
&nbsp&nbsp&nbsp&nbsp&nbsp Debbie Harris continues: "Was I ever thrilled when Sleep Little Child arrived in the mail. What a sweet, sweet lullaby...I asked her about her inspiration for the words ...Lori Laitman worte: "I wanted something soothing and calm, which in turn affected my choice of melodic line and the repetition that's in the piece. When I added the piano, I changed the piece slightly, adding a few measures as an opening, interlude and ending."
&nbsp&nbsp&nbsp&nbsp&nbsp We heard Debbie sing it again at Billye Brown Youman's Student Recital on June 1st and it was even more lovely the second time.
John Dixon's All Through the Night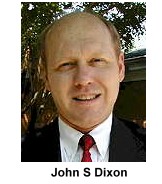 &nbsp&nbsp&nbsp&nbsp&nbsp The Virginia Art Song Society's first commission was for a lullaby by John Dixon. Mr. Dixon has written over 200 pieces of tonal choral and chamber music over several years, but writing art songs is a new interest. Attending the master class by Richard Hundley last spring inspired him and he decided to try setting poetry to music. Phyllis Hunter sang his setting of All Through the Night with great power as an aria. I have since heard it done quietly as a lullaby and it is a lovely setting of this traditional text. Tidewater listeners this season have heard Mr. Dixon's Requiem 9/11/2001 and settings for string quartet played by Ambrosia Quartet and A Christmas Overture played by the Virginia Symphony. The composer has recently completed a song cycle, It's All I Have, on six poems by Emily Dickinson to be premiered soon.
Printer friendly format


Karen Lykes and Kenneth Griffiths Terrific Recital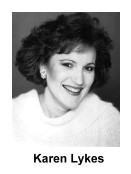 &nbsp&nbsp&nbsp&nbsp&nbsp A unique selection of art songs was presented at Virginia Wesleyan College's Hofheimer Theater on Sunday, February 1, 2004. The unifying theme was Orientalism. The texts of the songs were written by poets of the middle and far east, or on themes associated with the East by western poets. In conversation Ms. Lykes explained that she had noticed that two or three of her chosen songs had oriental themes and built the rest of the program accordingly.
&nbsp&nbsp&nbsp&nbsp&nbsp From the opening song Les roses d'Ispahan by Gabriel Fauré (1875-1937), it was clear that Ms. Lykes is a genuine and expressive art song interpreter with a very pretty voice. In Georges Bizet's (1838-1875) Adieux de l'hôtesse arabe (The Arab Hostess's Farwell), the vocal part, with a vocalese on the word "Remember," is wildly colorful, lovely and also one of loss. The pianist, Mr. Griffiths, can be dramatic and passionate as needed but also is supportive of the singer - an ideal partner for art song. Medjé (Arab Song) by Charles Gounod (1818-1893) closes this mid-eastern set by French composers.
&nbsp&nbsp&nbsp&nbsp&nbsp The second set was made up of songs on poems by Marianne von Willemer (1784-1860). Von Willemer was a friend to Goethe and these poems were sent to him. He published them as his own in West-östlicker Divan (Poetry Book of East and West) in 1819. It was not until 1850 that she "confessed" that she was the author. Robert Schumann's (1810-1856) Lied der Suleika, Franz Schubert's (1797-1828) Suleika I and Suleika II and Hugo Wolf's (1860-1903) Hochbeglûckt in deiner Liebe were all included. Our vocalist floated some lovely tones as she sang these deeply romantic songs of anticipated, frustrated and realized love. The pianist was excellent. From the stirring opening chords of Suleika I to the long intense opening of the Wolf song to an ending of great intensity, you were aware that a master accompanist was offering you his gifts.
&nbsp&nbsp&nbsp&nbsp&nbsp Songs by Albert Roussel (1869-1937) came after intermission. Instead of following his heart, Roussel joined the French Navy, spent time in Indo China and became an officer. Only at age 25 did he resign and return to France to study music with Vincent D'Indy at the Schola Cantorum. He stayed there to become a professor of counterpoint and later taught Erik Satie and Edgar Varèse. When he married in 1909 he spent his honeymoon in India and south-east Asia.
&nbsp&nbsp&nbsp&nbsp&nbsp The Oxford Dictionary of Music explains that once Roussel was free of D'Indy's influence, he developed a neo-classical style with Stravinsky-esque rhythms, daring harmonies and rich expressive melodies that were often exotically oriental.
&nbsp&nbsp&nbsp&nbsp&nbsp Our performers gave us À un jeune gentilhomme, a charming, subtle song that becomes more impassioned with each verse based on a Chinese ode and Amoureux séparés (Fu-Mi, poet), a song of beauty but with an ending of frustrated love. The last Rousel song, Response d'une épouse sage (Chang Chi, poet), is the tragic tale of love that blossoms too late after she is married into a house of "high lineage."
&nbsp&nbsp&nbsp&nbsp&nbsp Both composers and songs were new to the audience in the next set. Tre poesie persiane by Francesco Santoliquido (1875-1937), an Italian who lived in Tunisia. The picturesque songs we heard are imbued with local coloring with text by Islamic poets. The Grove Dictionary of Music describes his musical language as modified from Debussy by "wayward progressions of mild dissonances recalling Satie" but with real dramatic force. The weighty text of Quando le domandai (Negi de Kamare, poet) explores the question of distance between two lovers and she explains to her questioner that she is his soul, "Who is able to see the soul." The song Io mi levai dal centro della terra (poet Abu-Said) is the story of young lovers. When asked, the young woman explains to her questioner that she will tie her destiny to her own self because she is love, the lover and the loved one, "Because I am the Mirror, the Beauty and the Vision."
&nbsp&nbsp&nbsp&nbsp&nbsp These themes drawn from the Mediterranean coast of Africa are the best Santoliquido has to offer and they were lovely. He founded a concert society and a music school in the local village that later became a conservatory. The Grove Dictionary describes him as an "original talent influenced by Wagner and Debussy." Late in his life his claims in the Fascist press that "modern music was to be shunned as an invention of the Jews" remains a stain on his record.
&nbsp&nbsp&nbsp&nbsp&nbsp As a capstone to this Orientalist program, we were presented Asie by Maurice Ravel (1875-1937) from his famous and first significant song cycle Sheherazade. In 1903, the year it was written, Ravel also made a piano version which pares away some of the shimmer but leaves intact the elegance, the tailored lust and the exotic excitement of the orchestral version. The performance was wonderful throughout this piece and the entire program. The encore was L'Âne blanche by Georges Adolphe Hüe (1858-1948). The lover sends his white donkey decked out in silk and jeweled leather to fetch his beloved if she will come.
&nbsp&nbsp&nbsp&nbsp&nbsp Both performers are on the faculty of the College Conservatory of Music of the University of Cincinnati. Ms. Lykes is an Associate Professor of Voice and teaches repertory and interpretation to undergraduate students, while Mr. Griffiths teaches repertory and interpretation for graduate piano students. Both have had international experience as students and as professional performers.
&nbsp&nbsp&nbsp&nbsp&nbsp The recital was presented by Virginia Art Song Society. Dean Doss, president, introduced the performers and thanked the Norfolk Commission for the Arts for a grant used for this presentation.
Printable Format

Back to Top
Back to Review Index
Home &nbspCalendar &nbspAnnouncements &nbspIssues &nbspReviews &nbspArticles Contact Us