Duo Jota-A at Cape Charles' Palace Theatre
February 9, 2008. It was the Saturday before Valentine's Day and we were crossing the Chesapeake Bay Bridge Tunnel at sunset. There were clouds all day that turned the sun into a veiled red glow in the western sky as we traveled toward the Historic Palace Theatre at Cape Charles, Virginia.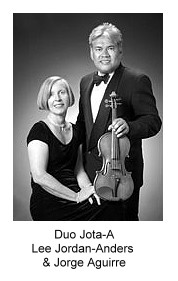 On Monday, February 4th we were at Virginia Wesleyan College for a concert by the Manhattan Piano Trio. Sitting near Lee Jordan-Anders we struck up a conversation about a calendar listing, a solo piano Prelude by Rachmaninoff that she was playing on a Valentine's Day program as part of a Duo Jota-A recital at the college on the14th. The program, Romanza III, was with her Duo Jota-A partner, violinist Jorge Aguirre and local poet Michael Blumenthal. She mentioned that they were performing the same program at Cape Charles and that she had encouraged the folks there to send us an announcement, but they hadn't.
A bit later she handed us a card with details of the program and a written message "Please be my guest, lj-a." I warmed to the idea and talked Steve into this lark of a Valentine's Day adventure. When I called to reserve on Wednesday I learned that the pre-concert "hors d'oeuvres with wine" was really a sit-down buffet meal, with dessert and champagne after the recital.
In March, 2007 the Palace Theatre celebrated its sixty-fifth anniversary. A beautifully restored Art Deco theatre, it was originally a performing arts center, as it is today, though for many years it was used only as a movie house. The first thing I noticed was the original, beautiful walnut paneling and floor-to-ceiling mirrors in the lobby.
At the door of this 400-seat vintage treasure you see recently restored, hand-painted fabric murals lining the right and left walls. Stylized egrets and swans in a seashore setting bespoke an earlier time. The red-brown terrazzo floors, red upholstered seats and walnut paneling give a rich look to the aged interior. There is a stage with a large movie screen in the back. A Steinway grand piano stood below the platform thrust stage at the left and the aisle in front of the stage is wide enough for tables set for two couples at each. The feeling was intimate but not crowded. The food was very fine, prepared by members of Arts Enter of Cape Charles, which was presenting this gala as part of some twenty art events this 2007-2008 season. Cultured citizens of the Eastern Shore, many of them retirees from more cosmopolitan areas, have provided for themselves and their new community a surprisingly diverse art scene.
As in the title, "Romanza III," this is the third year of the Valenine's Day Gala and each year the program opens with Antonin Dvorák's Romance in F Minor, Op. 11. Ms. Jordan-Anders' piano sound wraps itself around Aguirre's Hungarian Gypsy violin tones, painting scenes.
Michael Blumenthal took the stage and read from his book Against Romance. His poems have some of the wide-eyed wonder of being in love mixed with the hard lessons of the reality of making things work day-to-day.
Poème, Op. 25 by Ernest Chausson opens with a long piano introduction followed by a long solo violin passage. They then come together in a duet. Once again there was more poetry.
Ms. Jordan-Anders played Prelude in G, Op.32, No. 5 by Sergei Rachmaninoff with its flow of melodies, one following another, much like real life in a relationship. Though perhaps the piece leaves out the dark passages that life often brings. The violin joined the piano for two movements of a Johannes Brahms Sonata in G, Op. 75. Then it was on to champagne and rich chocolate desserts.
Afterward we were introduced to the friendly, vivacious Arts Enter Director Clelia Sheppard and her knowledgeable Co-Director Mary Ann Roehm, who work very hard to make this lively center such an important part of the Eastern Shore community. Personally, we are looking forward to a return visit to this quiet community with its lively arts program. There are several eateries nearby and, best of all, it is all less than an hour of leisurely driving once you get to the Bridge Tunnel. Try it. Look for Arts Enter events listed on the Artsong Update Calendar.

Valentine Gala with Duo Jota-A at Palace Theater in Cape Charles
The fourth annual Valentine's Day fundraiser for Arts Enter Cape Charles featured a concert by Duo Jota -A, pianist Lee Jordan-Anders and violinist Jorge Aguirre, on Saturday evening, February 7, 2009 with champagne, dinner, desserts and the concert titled Love Stories and was held at the restored, historic art deco Palace Theater (circa 1942).
After dinner Ms.Jordan-Anders introduced the first music on the program: Johannes Brahms (1833-1897) Violin Sonata No. 1 in G Major, Op. 78 (1878-9). The love story she told was the devotion between Brahms and Clara (Mrs. Robert Schumann). They met when he was 21 and she was 32 and married with seven children and an eighth on the way. When Robert died three years later, Brahms oversaw the care of the children while Clara concertized in Europe to support her family. Though they never married the flavor of their many letters is that of a married couple.
We heard only the first, vivace ma non troppo, movement but the duo presented the complete sonata at their concert at Virginia Wesleyan College on February 9th. Projected images on the movie screen gave us information about the couple, the music and art works on the theme of loving couples. Brahms used classical musical architecture and novel thematic development in this romantic music. Mr. Aguirre played the main theme capturing its pure lyrical line enhanced by the duet with piano. Dedicated to Clara Schumann, it is a setting of a tune for an art song he had earlier dedicated to her.
Maurice Ravel (1875-1937) wrote Valse noble et sentimental for solo piano in 1911. In 1912 he brought out an orchestral version which was used for the ballet Adélaïde, ou Le Langage des Fleurs. Flowers, a beautiful young woman and a passionate, handsome young man (Loredan) sound perfect but from the narrative presented on the screen we learn that Adélaïde already had a relationship with the Duke, an older man of substance and wealth. Paintings by Degas, Renoir and Chagall gave a feel for this period. Ms. Jordan-Anders, with her fine touch and firm commitment to the composer's intentions, brought us a strong and passionate performance. Our confused young lady accepts the Duke's jewels but youthful passion wins her heart, at least for the day. The waltzes are influenced by Strauss, the basic 3/4 pulse, though also very French. The harmonies are those of the 20th century where dissonance is an essential element of his musical language. Epilogue (movement 8) is an uneasy farewell to a vanished age and its music.
The program concluded with Claude Debussy (1862-1918) Sonata for Violin and Piano. The love story told by Ms. Jordan-Anders is summed up in her statement "he was a genius in music, a bastard in love." Apparently there were many women in his life and three stand out: Gaby, who unsuccessfully tried suicide; Lily Sexier, who married him in 1899 and was deserted by him for Emma Bardic in 1905; they had a daughter Chouchou. His love for Chouchou seems to have held the couple together.
One of Debussy's aims in music was to create a sonorous halo of sound. To bring it about he employed dry, hard chords. That hollowness within the sound is very much a part of this sonata. He was greatly influenced by Javanese gamelan which he heard at the Paris Exposition of 1899. We hear these influences also in the piano. His declamatory yet lyrical style has a strong sense of form and is heard in the violin with its overpowering yearning beautifully created by Mr. Aguirre. The piece closes with a satisfying lyrical ending. He died of cancer shortly after the sonata was finished.
Lee Jordan-Anders has a delightful way of speaking. Her girlish charm and enthusiasm and lightness of touch must make her VWC lectures standing room only! Though she lives in Norfolk and chairs the humanities department at VWC, it is fair to inquire where her heart is on Valentine's Day. The answer, unequivocally is Cape Charles. If you haven't made the trek over to see why, go visit the area and take in a concert at the Palace Theater where you will be welcomed by Executive Director Celia Shepard and co-director Mary Ann Roehm who were our hosts for the gala evening.
Printer-friendly format

Review Index

Back to Top

Home &nbspCalendar &nbspAnnouncements &nbspIssues &nbspReviews &nbspArticles &nbspContact Us