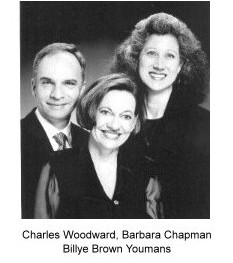 An Evening of Pure Pleasure
Sometimes when we look forward to a coming event our excitement overshoots the posibility and then we are disappointed. It is great when the reality lives up to, and in this case, offers more than we anticipated.
Billye Brown Youmans, soprano, Charles Woodward, piano, and Barbara Chapman, harp, presented a program of art song and instrumental pieces that were pure pleasure. On Monday, January 21, 2002 at Hofheimer Theatre on Virginia Wesleyan's campus, a program called Sacred Seasons was presented: Advent, Christmas, Epiphany, Lent, Easter and Ascension.
From the opening number Simple Song from Mass by Bernstein (1919-1990), I had a deep feeling of being in a safe space, bathed in the beauty of Billye's voice and my heart filled with the joy and comfort offered. This song of praise was followed by Nun wandre, Marie, by Hugo Wolf (1860-1903) and Slumber song of the Madonna by Samuel Barber (1910-1981). I was thrilled by the way Billye's voice caressed the oft-repeated phrase "I love thee." She closed the set with Hénri Büsser's (1872-1973) Le Sommeil de L'Enfant Jésus.
Next, Barbara Chapman played a lovely piece Six Noëls by Marcel Tournier (1879-1951). Steve was so entranced by the beautiful playing that he would like to get a recording. Unfortunately we haven't found one on CD yet.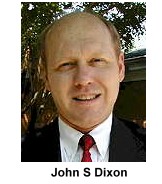 Following the harp solo pieces, John S. Dixon's* Songs of Syon for soprano and harp was given its premier performance. The text of the four songs is taken from a 19th century hymnal. Advent: While the Careless World is Sleeping. Christmas: When Jordan Hush'd His Waters Still. Good Friday: A Time to Watch, A Time to Pray, and Easter: When Two Friends on Easter Day. John Dixon set the texts for Billye to allow for full use of her vocal and dramatic resources. The harp sounds enfolded and enriched the voice.
After intermission, Billye Brown Youmans sang three songs on an Easter theme: Unto Thee O Lord from a song cycle Gates of Healing by Andrew Bleckner (b. 1964), The Crucifixion from Hermit Songs by Samuel Barber and Alleluia by Ned Rorem (b. 1923), with its very dramatic ending. The collaboration between voice and piano brought these intense songs alive with control and lovely tones.
Charles Woodward then played J.S. Bach's (1685-1750) Prelude and Fugue in G Major, Book 1. I only know this piece from recordings by Glenn Gould from the 1960's and hearing it live did not disappoint. I especially liked the fact that the other performers came to listen as Chuck and Barbara did their solo pieces.
The closing piece This Son So Young by Louis White celebrates Ascension in a six part piece of music: antiphon, recitative, air (This Son So Young), recitative, air (Rise My Son), and antiphon closing with the word alleluia. To my ear, the musical language of this Louis White piece is akin to Barber's Hermit Songs. The harp and piano work together each extending the sound of the other, enriching the aural field.
For an encore, Billye and Chuck did Simple Gifts. Though I wanted the music to continue all night, I am satisfied to know that the program will be repeated at Great Bridge Presbyterian Church on February 24th at 4:00 p.m. We hope to see you there.
For more on John Dixon and his music, visit his website at http://www.johnsdixon.com/
Printer Friendly Format
Back to Top

Hats off to Handel and Virginia Wesleyan
The Virginia Wesleyan College music department assembles very interesting concerts built around the works of a composer or on a theme. The most recent one was April 8, 2002, and the composer was G.F. Handel. The program was built around the VWC Choir, led by the able conductor David Clayton and included various musicians and soloists.
&nbsp&nbsp&nbsp&nbsp&nbsp The program opened with Chandos Anthem No.4, O Sing Unto the Lord. Billye Brown Youmans, soprano opened the piece and was then joined by the chorus. She created a clear and clean line with little vibrato. The chorus, Declare his honor unto the heathen followed. Michael Dailey's tenor solo, The waves of the sea rage horribly was well done.
&nbsp&nbsp&nbsp&nbsp&nbsp The duet O worship the Lord in the beauty of his holiness followed. The soprano and tenor together created a lovely musical line. They were joined by the violin which spun out the line further.
&nbsp&nbsp&nbsp&nbsp&nbsp The choral voices in Let the whole earth stand in awe of him played against each other in sweet youthful tones accompanied by violin and oboe. The chorus completed the piece with the verve of a Handelian celebration: Let the heav'ns rejoice...
&nbsp&nbsp&nbsp&nbsp&nbsp Once again Bilye Brown Youmans was soloist in Nel dolce dell' oblio (in sleep's sweet oblivion), a recitative and duet with oboe played by George Corbett. As this mini opera unfolds we hear an aria in which the singer dreams of rescueing her lover. As the soloists finished the oboe and harpisichord, played by Lee Jordan Anders, dance together and then the soprano's voice returns and creates a wonderful excitement as the dance goes on.
&nbsp&nbsp&nbsp&nbsp&nbsp The third and last vocal solo was by Kerri Holinger, soprano: recitative and aria from Acis and Galatea, Oh! didst thou know the pains of absent love...as when the dove laments her love. This was Miss Hollinger's first performance with instrumentalists. There was a bit of stiffness in the singing in the first line, but with a growing confidence and a beautiful voice she delivered the rest of the piece in fine form. We look forward to hearing her again soon. Her teacher is Billye Brown Youmans.
&nbsp&nbsp&nbsp&nbsp&nbsp The rest of this diverse program included the air with variations "The Harmonious Blacksmith" with Lee Jordan-Anders at the harpsichord, the Pastoral Symphony from Messiah , and the Concerto Grosso, Opus.3, No.2 in B flat Major,done by players from the Virginia Symphony. All was well played and sung and we look forward to a new musical treat from VWC next season.
&nbsp&nbsp&nbsp&nbsp&nbsp I must acknowledge in print a rare treat from the 2000-2001 season in the same series, titled A Classical Celebration, in which music by Haydn, Mozart and Beethoven was featured. On that program were five songs from Franz Joseph Haydn's cycle Twelve Scotch Songs for voice and paino trio. Billye Brown Youmans was the featured soloist with Lee Jordan-Anders, piano; Kristy Barnett, violin; and Michael Daniels, cello. The songs were sung in a Scotch dialect especially learned for this program. The songs were: The Birks of Aberbeldie, I Love My Love, On a Bank of Flowers, The Glancing of Her Apron, and The Soger Laddie. The arrangements are interesting and refreshing and the experience is a most pleasant memory.
Printer Friendly Format

Lisa Relaford Coston and Robert Shoup
Familiar Faces at VWC
&nbsp&nbsp&nbsp&nbsp&nbsp Reading the scripture in unison in a chant-like even sound, Lisa Relaford Coston, alto and tenor Robert Shoup opened the recital with Abraham and Isaac Canticle II by Benjamin Britten (1913-1976) from The Five Canticles, first performed in 1952. The text is from an ancient English Miracle Play from Chester, England and is for alto, tenor and piano. This gruesome story form the Old Testament is of Abraham, in obedience to his God, taking his son Isaac to a remote place to sacrifice him. When Isaac realizes what is about to happen, he negotiates with his Father "If I have trespassed in any degree / with a yard you may beat me." Lisa Relaford Coston in a black pants suit and with no make-up creates a youngster pleading for his life.
&nbsp&nbsp&nbsp&nbsp&nbsp Robert Shoup as Abraham very dramatically burst forth on how much he loves his son but must do the will of God. When he draws out his long knife, both he and his audience see the horror of what he is about to do. The child is terrified of his father. The a cappella phrases by the duo are echoed on the piano by Bobbie Kesler Corletto while the vocal line continues. The drama is resolved when an angel stays his hand. God now knows that Abraham is obedient. As with many pieces that are new to this writer, I'd like to hear it repeated.
&nbsp&nbsp&nbsp&nbsp&nbsp Ralph Vaughan Williams' Four Hymns followed, performed by Robert Shoup and accompanied by Rebecca Gilmore Shoup on cello and Bobbie Kesler Corletto on piano. These are chamber-like pieces with the voice as another instrument. Mr. Shoup has a large, robust tenor voice with easy top notes. The three performers presented an exciting and lovely set well played and sung.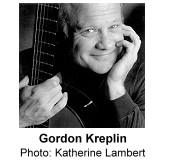 &nbsp&nbsp&nbsp&nbsp&nbsp After the intermission we heard Mass for Pentecost by Gordon Kreplin (b.1952) sung by Ms. Coston and accompanied on the guitar by the composer. Ms. Coston was elegant in a black gown with embroidered bright flowers on the bodice. Of the five movements of the mass, Sanctus was tender and a perfect fusion of voice and guitar. To quote the composer: "The Sanctus was intended as a love song." The melody came to him on a bicycle ride: "It was a morning so beautiful, my only desire was to give thanks as one would to a lover or friend for their presence." While the Agnus Dei was exceptionally lyrical the singer caressed the closing notes with a lovely tone. Mr. Kreplin has an international career as a guitarist and is an exceptionally fine performer. For more information on Mr. Kreplin and CDs of his playing, see his website: http://www.ascencionrecordings.com
&nbsp&nbsp&nbsp&nbsp&nbsp In Mass a Spanish influence can be heard but also a Latin American flavor with some jazz-like riffs. In his early twenties Gordon Kreplin studied guitar in Spain with José Tomas and later lived in Portugal where he began to arrange American favorites of Gershwin, Porter, etc. for voice and guitar. He found "the Portuguese are definitely enthusiastic about American jazz." All of this combined with his deep interest in sacred music to bring to his audience this lovely piece.
&nbsp&nbsp&nbsp&nbsp&nbsp The final set was five of Aaron Copeland's (1900-1990) Old American Songs. Robert Shoup sang Long Time Ago. Simple Gifts was done as a duet and Lisa did At the River "to soothe a weary heart." The duo also sang Chingaring Chaw and Bought Me a Cat - repeated as the encore piece with the audience joining in on the animal sounds of the chorus. It was a great deal of fun and having the songs done as duets made them fresh. Robert explained to me that they used parts from the choral arrangements by Copland to come up with duets.
Printer Friendly Format

A Wonderful Modern Music Recital
&nbsp&nbsp&nbsp&nbsp&nbsp St. Cecilia is the patron Saint of music and it is said that on her feast day, November 22, angels come to earth to listen to her play. The angels were well entertained when soprano Nicole Aldrich Clouser sang art songs by Richard Strauss, Henry Cowell, Arthur Honegger and John Harbison at a Familiar Faces program at Virginia Wesleyan College on Friday, November 22, 2002 in the intimate space of Hofheimer Theatre.
&nbsp&nbsp&nbsp&nbsp&nbsp From the program notes written by Ms. Clouser we read "Contemporary music has always been a love of mine, both as a pianist and singer. For many the term conjures up images of bone-jarring dissonance, strange extended techniques, and music that is just plain difficult to listen to ...In my explorations ... I have found a great wealth of beautiful, sensitive, creative music."
&nbsp&nbsp&nbsp&nbsp&nbsp The most recently written piece Mirabai Songs by John Harbison (b.1938) was first performed in Boston in September, 1983. The text is by Mirabai, a Hindu Saint who wrote this ecstatic religious poetry in 16th century India. Harbison, using a Robert Bly translation, was captivated by the story of the evolution of her consciousness. Left a widow at age 20, she decided to live and devote her life to the God Krishna, rather than join her husband on the funeral pyre as was the custom. She wrote poems to Krishna and sang and danced them in the streets. For this she was criticised. She answers her critics in some of these poems. Harbison wrote in program notes for a recording: "Her deeper answers involve the ecstatic, the erotic, the devotional and the artistic, but her independence and resolve, and her dancer's vitality lead my setting toward narrative and characterization, unused territory for a song cycle." (From the Nonesuch CD D173954. Dawn Upshaw, soprano and the Orchestra of St. Luke's. Highly recommended).
&nbsp&nbsp&nbsp&nbsp&nbsp We attended this recital with Lorna St.George, a friend who is open to new musical experience. She writes: "Contemporary music composition often challenges a novice listener with its aural complexity. Ms. Clouser approached her program with such color, clarity of melodic tone and joyous expression that she captured even this naive listener."
&nbsp&nbsp&nbsp&nbsp&nbsp Lorna continues "Of particular interest was Henry Cowell's Vocalise for voice, flute and piano. Joined by the polished performances of Valerie Gould and Lee Jordan-Anders, Ms. Clouser mesmerized." Henry Cowell (1897-1965) was co-author of a biography of Charles Ives and a proponent of his music. Ives furnished the financing for Cowell's magazine New Music and was the "grand old man" of American music in the 1930s as the European composers arrived in America to escape the Nazis. Vocalise was written circa 1940 by Cowell while he was in prison on a morals charge. It is a demanding song for the pianist. Ms. Jordan-Anders had to damp the strings of the piano with one hand while playing the repetitive and percussive accompaniment. This combined nicely with the singer's directions "stress the accents heavily by sudden thrusts of the diaphragm." Add to this the flute of Ms. Gould and you have a full musical experience with the flavor of minimalism and the exuberant percussiveness of Renaissance dance music.
&nbsp&nbsp&nbsp&nbsp&nbsp The Richard Strauss (1864-1949) selection was three songs with text by Clemens Brentano: An die Nacht (To Night), Ich wollt' ein Sträußlein binden (I wanted to tie a nosegay), and Säusle, liebe Myrthe! (Rustle, Dear Myrtle). To quote our friend Lorna once again: "Nicole Clouser possesses an approachable, accessible manner that delights her audience." The singer's face before the song begins has a look of calm repose and from this calm comes a lovely rich voice that brings the song to life. Strauss with his long lyrical phrases makes a great demand on the singer and Ms. Clouser met every challenge.
&nbsp&nbsp&nbsp&nbsp&nbsp The song cycle, Six poemes de Guillaume Apollinaire - set by Arthur Honnegger (1892-1955), was beautifully sung. The first three songs with moody texts of a funeral procession, love and shadows in a garden and fog give way to a happier mood in Saltimbanques (Acrobats). L'Adieu is a song of lovers parting, while Les Cloches (The Bells) is whimsical and all about an afternoon tryst with a gypsy that will be the town's gossip tomorow. Ms. Clouser's powers of emotional expression were well displayed in this music. Her voice is well suited to art song.
&nbsp&nbsp&nbsp&nbsp&nbsp Nicole Aldrich graduated summa cum laude from Virginia Wesleyan College in 1996. While here she concentrated on piano studies but went on to earn a masters degree in conducting from Northwestern University. Currently Ms. Clouser divides her musical time among singing, teaching, conducting and playing. Ms. Clouser taught applied voice at the University of Delaware for two years and continues there as director of the University Singers and University Women's Chorus. She often appears as soloist, pianist and accompanist in the Delaware/New Jersey area. We look forward to hearing further art song recitals by this beautiful and talented young woman.
&nbsp&nbsp&nbsp&nbsp&nbsp Valerie Gould, flutist, is a senior Music Education major at the University of Delaware and often performs. She is both talented and strikingly beautiful. Pianist Lee Jordan-Anders is artist-in-residence, Professor of Music and Chair of the Humanities Division at VWC. She began the Familiar Faces concert series in 1986 and served as Director through 1997. A well known recitalist and accompanist in our area, we often hear Ms. Jordan-Anders and know that hers will always be an excellent, accurate and spirited performance.
Printer-friendly format
More Virginia Wesleyan
Back to Review Index

Back to Top
Home &nbspCalendar &nbspAnnouncements &nbspIssues &nbspReviews &nbspArticles &nbspContact Us