Violinist Pavel Ilyashov at VWC Concert Series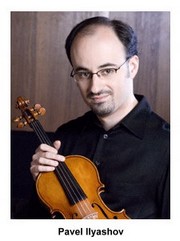 "You guys really came!" was Pavel Ilyashov's comment to the audience at his February 7, 2011 violin recital at Virginia Wesleyan's Hofheimer Theater. Pianist Lee-Jordan Anders was his collaborator in an evening of super-charged chamber music. All of the regular seats were filled and additional chairs had to be added and this on a Monday evening with Marcolivia string duo at the Feldman concert in Norfolk. Many fellow Virginia Symphony players came to hear Pavel, including violist Jocelyn Smith and cellist Peter Greydanus.
The program began with Ludwig van Beethoven Sonata No. 8 in G Major, Opus 30 No. 3. The opening measures glowed with excitement in this classically elegant music. The second movement with a moderate minuet tempo was filled with sustained singing violin phrases echoed gracefully by the piano. The bright, lively third movement was a spirited unison of sensual enfolding energy.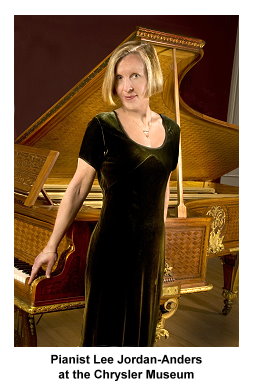 The high point of the evening was a rarity - Richard Strauss (1864-1949) chamber music. His Sonata in E flat Major Op. 18 was new to us. In the composition's first movement the muscular piano was well-matched to the insistent violin. The end of the movement was a huge orchestra-like sound full of passion. Mr. Ilyashov is emotionally so available when he performs that when he missed a pitch he scrunched his face in pain but it was the only time in the evening that he had to do that. The second movement, Improvisation, andante cantabile, with its singing lyrical opening was a tender interweaving of piano and violin textures. Written by Strauss in the same period as his songs Ständchen and his Lotusblättern, it has the violin playing as if it were the voice of a singer in one of his beautiful, long-lined songs. In the piano Strauss tries for orchestral intensities letting the violin reach and sustain high notes impossible for a human voice. The third movement has the piano opening with powerful chords leading to a busy violin tune that surges forth dramatically. It is a wild, passionate ride to the end and the unrelenting technical demands were easily met by our performers. In many ways the piece is a double concerto rather than a sonata, written by a young man with things to prove, to quote Ms. Jordan-Anders program notes.
Mr. Ilyashov spoke to us after the applause died down telling us that this Strauss Sonata topped his list of things "to play before I die" and explained that he had heard Elmar Oliveira play the work at Carnegie Hall and talked with him after the concert about what it was like to perform a work that is so beautiful. "He told me that if I ever find a pianist who is good enough and crazy enough to play it, it will be the most fun you'll ever have." Pavel told us that he meant this as a compliment to Ms. Anders. No one doubted him.
Returning with less heady fare, the program closed with two, pretty, exceptionally well-played pieces of European music. Joseph Joachim Raff (1822-1882) was a prolific composer encouraged by Mendelssohn and Liszt and is mostly forgotten except for his Cavatina Opus 85, No.3 for violin and piano, which they played. Polish composer Henryk Wieniawski (1835-1880) was a violinist who toured the USA with pianist Anton Rubinstein in 1872. Historically, he is regarded by many as the world's second greatest violinist after Paganini. They played Polonaise No.1 in D Major which is a Viennese dance for piano and violin – challenging for performers but easy for listeners.

Jeffrey Phelps and Lee Jordan-Anders
October 17, 2011
Virginia Wesleyan College

by John Campbell
Some performers are so committed to the music they play that they bring an intensity of passion that communicates to the audience in a special way. Pianist Lee Jordan-Anders and cellist Jeffrey Phelps did just that in a recital at Virginia Wesleyan College on October 17, 2011 at Hofheimer Theater. The program notes were projected to the right of the players with a picture of the composer. I was so intensely engaged in the performance that I failed to read the notes.
They opened with Ludwig von Beethoven (1770-1827) Sonata in G minor, Op. 5 No. 2 and captured the joy of the music. In Ms. Jordan-Anders' hands, Beethoven's dramatic statements provided a clear framework for the quiet, lyrical passages by Mr. Phelps. By age 25 when his Opus 1 piano trios were published Beethoven had experience as a violist in an orchestra and had attempted to study with Haydn. He had immediate success and so the next year this uncouth, clumsy genius composed his two Opus 5 cello and piano sonatas.
They followed this by music never before heard in Tidewater: Drei Kleine Stüke Op. 11 (1914) by Anton Webern (1883-1945). The contrast with the Beethoven was stunning. Webern's condensed expression plunged us into a quieter, more somber and emphatic soundscape. I was fascinated to watch how the bow is placed against the strings to create various sounds – every gesture is significant. Although the Three Little Pieces for Cello and Piano lasted less than two and a half minutes, it looms large in our memory. In the first piece each wispy phrase of the shared melodic line evaporates into silence – only once does it move forward into a short-lived climax in both instruments. Every note in the piano has a different dynamic and every phrase on the cello was produced by a different method. Scintillating tones created a mood of agitation which comes to the surface in the bold, even violent Allegro of the second piece (it lasted less than fifteen seconds) and subsides again in the serenity of the third piece, retreating to the threshold of audibility in the almost motionless Adagio.
This description borrows heavily on notes from the CD booklet by Susan Bradshaw found in the Sony Complete Works by Webern (Sony 3K45845) conducted by Pierre Boulez. I recommend this set with its polished, accomplished playing. I first became acquainted with Webern's music circa 1968 on LP's conducted by Robert Craft on Columbia which now seem raw and unpolished by comparison. After hearing it live even the Boulez seems flat.
Jeff Phelps seemed enormously comfortable with the cello in Claude Debussy (1862-1918) Sonata (1915). The variety of ways to use a bow is different in this piece, sometimes creating scintillating tones or bold ones. Ms. Jordan-Anders' piano adds to the French feeling of hesitancy and restrained passion. The clear textures, eloquence and unequaled harmonies were all part of Debussy's musical language. The pizzicato double-stopping in the cello gives an imitation of a Spanish guitar that unites the three movements. The dry, hard, opening piano chords are reversed and used at the close of the piece.
After intermission there was a single work: Sonata in F Major, Op. 99 (1886) by Johannes Brahms (1833-1897). The opening Allegro vivace had a rocking rhythm. The second, Adagio affettuso, movement had a warm, tender sound but a certain tension developed. The third, Allegro passionato, movement opens with great intensity that gives way to a quieter lyricism. The ending is fast and loose, as if Brahms has let go of his usual structure. This wildly loose new sound continues throughout the final, Allegro molto movement. The pacing reminds me of the soundtrack of a detective film. Brahms seems to be searching for an ultimate expression, demanding that the instrumentalists go beyond the limits of their instrument. The duo was up to the composer's demands with great playing and a passion for the challenge.
Printer-friendly format

Back to Review Index

Back to Top

Home &nbspCalendar &nbspAnnouncements &nbspIssues &nbspReviews &nbspArticles &nbspContact Us