Three Tidewater Tenors' Most Entertaining Recital
Virginia Wesleyan College, October 4, 2004
&nbsp&nbsp&nbsp&nbsp&nbsp To put the program we were about to hear in context, Charles Woodward, MC and pianist, introduced the program by reminiscing about the Three Tenors phenomenon. Unlike the original three tenors, our singers Jeffrey Easter and Timothy Oliver are busy building the early stages of a career and Robert Shoup is a mid-career conductor and director of the Virginia Chorale, who occasionally sings.
&nbsp&nbsp&nbsp&nbsp&nbsp A lively performance of Tonight (West Side Story) by Leonard Bernstein opened the show and convinced us that we were in for a fine evening of music. Following this Mr. Shoup sang A Bit of Earth with a whispered excitement in his delivery that was most effective. The song is reminiscent of Sondheim but is by Lucy Simon and Marsha Norman from The Secret Garden which was premiered by Virginia Stage Company in preparation for Broadway some years ago.
&nbsp&nbsp&nbsp&nbsp&nbsp The most pleasant surprise of the evening was the magnificent vocal instrument of Jeffrey Easter. We met Mr. Easter at the reception after his teacher Sondra Gelb's recital last season but had not heard him sing. You may recall when Pavarotti had trouble with the seven high-Cs in Donizetti's opera La Fille du Régiment at the Met not so long ago. Mr. Easter sailed through Ah! Mes amis…Pour mon âme and thrilled his audience with all seven Cs in place.
&nbsp&nbsp&nbsp&nbsp&nbsp Timothy Oliver, a Norfolk native and Norfolk Academy graduate, sang La donna è mobile from Verdi's Rigoletto and demonstrated why he is successfully building a career on stage. Once again our three tenors joined voices in the popular O sole mio by Eduardo di Capua, with vocal antics reminiscent of the original three tenors video.
&nbsp&nbsp&nbsp&nbsp&nbsp The only art song on the program was Wohin? from Schubert's Die schöne Müllerin. The fluid piano accompaniment by Charles Woodward communicated a sense of flowing water in a song about a young man following a stream wherever it may lead him. Robert Shoup's singing was fine with a natural, open sound. This was also true of his later solo selection Corner of the Sky from Pippin by Stephen Schwartz.
&nbsp&nbsp&nbsp&nbsp&nbsp Mr. Oliver, a graduate of Cincinnati College Conservatory, sang Una furtiva lagrima from Donnizetti's opera L'Elisir d'Amore (which tells the story of young love frustrated, then fulfilled) with a sound that reminds this listener of Mario Lanza. Later he gave us Younger than Springtime from Rodgers and Hammerstein's South Pacific bringing a fine characterization of a young American who sings to an island beauty.
&nbsp&nbsp&nbsp&nbsp&nbsp Jeffrey Easter with his dark-hued tenor voice gave us a passionate Nessun dorma from Puccini's Turandot, creating volumes of lovely sound. A graduate of Southern Methodist University, he later sang Rodgers and Hammerstein's If I Loved You from Carousel.
&nbsp&nbsp&nbsp&nbsp&nbsp After intermission the singers joined forces in Fugue for Tinhorns (Guys and Dolls) by Frank Loesser and as the lyrics say, these guys "can do, can do!" To bring the program to a rousing conclusion, the Tidewater Tenors drew on music by Irving Berlin, Woody Guthrie, George M. Cohan and many others in Patriotic Medley. The expected tunes were all there and there were some inclusive selections like J. Rosamund Johnson and James Weldon Johnson's Lift Every Voice and Sing and An American Anthem arranged by Allen Naplan.
&nbsp&nbsp&nbsp&nbsp&nbsp Building on the energy and enthusiasm of the patriotic songs, their encore was a reprise of O Sole Mio with the vocal competitiveness we have come to expect from three tenors - great fun! Never pass up a chance to hear these three Tidewater Tenors, especially if Charles Woodward is at the piano.

Billye Brown Youmans and Lisa Relaford Coston Sing
&nbsp&nbsp&nbsp&nbsp&nbsp On March 14, 2005 at Hofheimer Theater on the campus of Virginia Wesleyan College, pianist Charles Woodward played George Friedrich Händel's No, di voi non vo' fidarmi, HWV 189 to accompany soprano Billye Brown Youmans and mezzo-soprano Lisa Relaford Coston. It was magical as the voices wove the lines of the song together, then apart, blending beautifully at the end.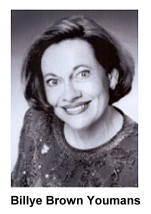 &nbsp&nbsp&nbsp&nbsp&nbsp British songs are popular this season and Ms. Youmans graced us with four. The first, Tell me the truth about love, is by two young gay blades, with music by Benjamin Britten and text by W.H. Auden from the cycle of four Cabaret Songs. The song is all about amour in many languages. From Three Songs by William Walton, she sang Daphne, which tells of a lovely lady being pursued who is turned into a tree. An arrangement of Drink to me only with thine eyes and Love's Philosophy, were by Roger Quilter, with text by Percy B. Shelly. Ms. Youmans brings an intense energy to every song, demonstrating a strong desire to communicate fully to her audience.
&nbsp&nbsp&nbsp&nbsp&nbsp From Madama Butterfly they performed Tutti i fior (all the flowers), capturing the joy and pathos of scattering flowers for the return of Butterfly's beloved, her maid Suzuki all the while trying to protect her mistress from the disappointment and death that would follow.
&nbsp&nbsp&nbsp&nbsp&nbsp The second half began with duet arrangements of four art songs from the height of the Romantic era. It gave us a chance to set aside practical reality and enter into a world of romantic fantasy. Felix Mendelssohn's (1809 -1847) Herbstlied (Autumn song) on how soon the cycle of seasons ends, "Oh, how soon all happiness turns to sad silence." The song Gruss (Greeting) is all about being in love with love. Locked into a fantasy of how it might be to consummate the dreamed romance but without courage to do so, our hero ruminates.
&nbsp&nbsp&nbsp&nbsp&nbsp In Robert Schumann's (1810 -1856 ) Botschaft (Message) we are bathed in the scent of carnations and jasmine. The flaming redness reminds one of passion and the white reminds us of the paleness of longing . By this time we are well on our way to parlor song lyrics, though the music is passionate and inventive. Schön Blümelein (Pretty Flowers) is the song of a child or an elderly person recalling first love. As duets, these songs gained an added dimension of loveliness.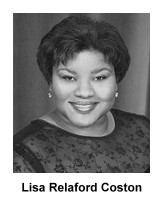 &nbsp&nbsp&nbsp&nbsp&nbsp In her solo set, Ms. Coston regaled us with When I bring to you colour'd toys by John Alden Carpenter (1876-1951), which brought a tear to my eye. When she sang Waterbird by Richard Hundley it was with a professional polish like no other performance I have heard. In the second repeat of the word "waterbird" her tone floated out exquisitely. Her last solo was George from William Bolcom's Cabaret Songs with text by Arnold Weinstein. George is a humorous gem, as is that entire cycle. There is a blend of pathos with the humor. George is a stereotypical "queen" of a guy who sang "the best soprano in town", was known for his beads, brocade and pins and is killed by "one of the Navy's finest." From the last verse: "The funeral was at the cocktail hour. We knew George would like it like that. Tears fell on beads, brocades and pins in the coffin, which was white because George was a virgin." Delivered with just the right blend of pathos and humor it elicited a knowing chuckle from an alert audience.
&nbsp&nbsp&nbsp&nbsp&nbsp They closed the program with two duets from Serate Musicale by Gioacchino Rossini (1792 -1868) La pesca, a light-hearted love song and La regata veneziana with a naughty text all about rowing and a girl on tenterhooks hoping that her friend's oar won't tire too soon. The encore was a grand rendition of Bacarole" Belle Nuit from Tales of Hoffman by Jacques Offenbach, and Mr. Woodward was with them every step of the way, doing great things at the piano.
Printer-friendly format
More Virginia Wesleyan
Back to Review Index

Back to Top

Home &nbspCalendar &nbspAnnouncements &nbspIssues &nbspReviews &nbspArticles &nbspContact Us