Reviews
A Major Masterpiece of Western Art Is Staged In Tidewater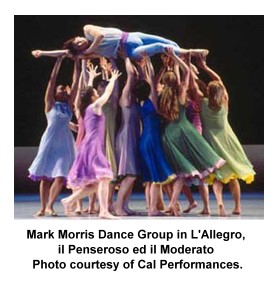 Mark Morris, the choreographer, in his dance expresses the music rather than responds to it. His company, Mark Morris Dance Group, presented George F. Handel's oratorio L'allegro, il Penseroso ed il Moderato as part of the Virginia Arts Festival, May 10 & 11, 2003. Mr. Morris answered questions from the audience after the performance Saturday night and told us "the poems by John Milton moved Handel , his music moved me."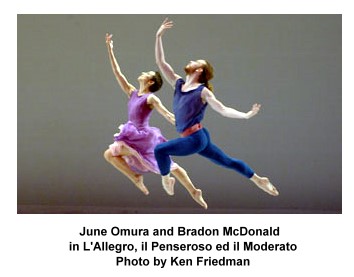 Morris insists on having live music because one version limits the dancers' response and his. Live music for a large piece like this limits how often it is done because of the great expense. Jane Glover was brought in to conduct the Virginia Symphony. The four vocalists Ellen Hargis and Adrianne Lobel, sopranos, Ryan Turner, tenor, and James Maddelena, baritone are all well known and recorded on major labels. Our own Virginia Chorale sang and some twenty of the world's best dancers performed in costume on a stage bordered by innovative use of scrims and lighting to frame the action and set the right tone. We were told by Mr. Morris that the piece will probably not be brought to video because it is just too expensive. Norfolk joined select ranks of Brussels, Paris, London, New York and Berkeley, California in staging this work. What an incredible performance it was. The music was wonderfully well sung and I left the theatre giddy from this magical evening of beauty and high energy. One of the most complete experiences I have had in any theatre.

Virginia Arts Festival presents
Mark Morris Dance Group's Romeo and Juliet
The Virginia Arts Festival has a long-standing relationship with Mark Morris and his dance company. For five years Mark Morris Dance Group was in residence for the festival, culminating in a stunning performance of his great masterpiece L'Allegro, il Moderato ed il Penseroso, with text by William Blake set to music by G.F. Handel. On July 4, 2008 at Bard College in New York Morris presented his Romeo and Juliet on Motifs of Shakespeare. Virginia Arts Festival is one of seven co-commissioners for the $1.3 million project to bring Prokofiev's original music to the stage.
Mark Morris has commented "I could have done R&J at any time, but I didn't like it. I find the ballet as it stands to be really choppy and weird." When Prokofiev came home to the Soviet Union in 1927 after being part of the avant-garde Paris scene, his first official Soviet work was the dance epic Romeo and Juliet which showed him at his optimistic peak says Alex Ross in this 2007 book The Rest is Noise. Prokofiev had found equilibrium in the five main influences in his writing: the classical, the modern, the motoric (motion), the lyrical and the grotesque. Written at high speed in 1935, it had the makings of an instant classic. With its happy ending, wonderful tempi and rhythms it is less bombastic and more complex musically than the later Stalin - approved version. The censors found his score too complex, too dense. They dummied it down by adding more strings and more brass. The music became more traditionally romantic, tuneful and accessible. Prokofiev could hardly recognize the piece as his own by the time it reached the stage in late 1940. Alex Ross writes "What Prokofiev could never understand was that the difficulties had noting to do with the notes he put on paper; they were the ritual of humiliation that every Soviet composer had to undergo."
On May 24, 2009 PBS "Live from Lincoln Center" presented New York City Ballet's Prokofiev Romeo and Juliet. My excitement at seeing Stalin's approved version soon faded. It is stodgy, old Russian ballet and the music lacked the charm and vitality of the Mark Morris choreographed original score wonderfully well played by the Virginia Symphony Orchestra conducted by Stefan Asbury on April 8, 9 and 10. In 2003 Princeton University musicologist Simon Morrison, who was in Russia researching his book on Prokofiev, discovered the original 1935 score sealed away in the Russian State Archives of Literature and Arts in Moscow.
At Chrysler Hall, the lights come up illuminating a stage surrounded by walls of warm, Italianate paneling. The irony is that after 70 years as a ballet we were about to see Romeo and Juliet as a modern dance by a community of twenty-five superbly trained individuals bringing to life Prokofiev's original vision. Two rival families are bound together by competition and even hatred and their fate is determined by being part of the same community. With swords drawn and many crude gestures, the scene opens with the two families in the square quarreling. The Prince comes and sorts things out, warning that he will hand out a death sentence for anyone caught fighting. He is accompanied by his kinsman Mercutio and Paris who wants to marry Juliet. The choreography communicates that such violence is an ordinary part of life in Verona.
Juliet's family, the Capulets, prepare for a ball at their house. Lady Capulet's nephew Tybalt (July Worden) recognizes Romeo and Mercutio (Elisa Clark) who are masked and have sneaked into the party. Romeo and Juliet catch each other's eye in the fray that follows. Tybalt is expelled from the party by his relatives and swears revenge on Romeo. After the ball Romeo (David Leventhal) slips back into the house where he and Juliet (Rita Donahue) pledge their love and promise to wed.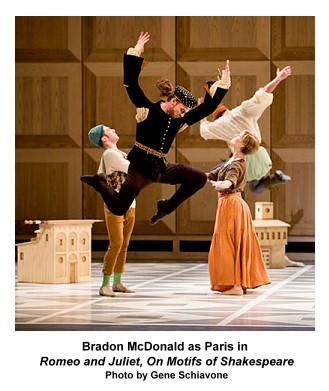 The second act begins in the city square with the houses represented by Italianate miniature models. The costumes are inspired by 14th century Renaissance style but the floor-length skirts are simplified to enhance, not hide the dancers' bodies. Morris' dance vocabulary uses simple walks, clasps and folk-like dancing and Italian street gestures. The Capulet Nurse (Lauren Grant) and her serving man, Peter (Samuel Black), dance together, grounding the narrative, in contrast to the airy, giddy young couple. The next scene is in Friar Laurence's (John Heginbotham) abode where they are married. Though the Friar hopes their union will end the old vendetta, back in the square at the festival violence looms. Tybalt provokes Mercutio and accosts Romeo when he returns. Romeo refuses to fight. The female dancers as the young men dance a beautifully choreographed sequence in which Mercutio is killed by Tybalt, who flees. There is clarity, dash and confidence in music of enormous athleticism. Romeo hunts Tybalt down and kills him and is soon banished by the Prince. Both families grieve their lost kinsmen as Prokofiev's music piles up dissonance through tonal music of powerful personality.
The third act is set in Juliet's bedroom. The newlyweds, apparently nude under a red silk sheet, make love. The nurse alerts Juliet that her parents are coming to see her; they have arranged her marriage to Paris. Friar Lawrence suggests a potion that will mimic death. Back in her bedroom Juliet acquiesces to her parents' will. They are overjoyed but when they leave she drinks the potion and enters a deep sleep. There is a traditional ballet sequence in Prokofiev's music to allow Paris to present his wedding gifts. Unfortunately it brings the narrative sequence to a halt but offers variety to the dance vocabulary. As this ends Nurse and Juliet's mother discover a comatose Juliet and assume she is dead. Grief follows.
Act four sees Romeo returned to the bedroom to find an unresponsive Juliet. Friar Lawrence stops Romeo's suicide attempt and gradually she revives. The Friar calls the community together while the lovers slip away and the warring families reconcile.
Elsewhere the lovers dance on. The starry backdrop, gorgeous, ethereal music and sweeping steps of the final pas de deux are not joyous but rather somber. What will life be like for young lovers cut free from the community, and outside their family ties? Young love always dies away. In time great passion gives way to the realities of day-to-day living and working together to be replaced by maturity at best or perhaps divorce. All of these questions are captured in feeling tone of the final scene by Mr. Morris' dancers.
Printer Friendly Format
Review Index

Home &nbspCalendar &nbspAnnouncements &nbspIssues &nbspReviews &nbspArticles Contact Us