Troy Cook and Kathleen Kelly in Recital, May 24, 2003
&nbsp&nbsp&nbsp&nbsp&nbsp On entering the Williamsburg Regional Library's intimate theater we immediately noticed that the lid of the piano was fully open. It was Memorial Day weekend and the audience was unusually sparse for Williamsburg. The baritone Troy Cook would sing soon and an open piano promised a powerful voice. The program was presented by the Marilyn Horne Foundation and the Virginia Arts Festival on the festival's final weekend.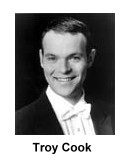 &nbsp&nbsp&nbsp&nbsp&nbsp Mr. Cook was a Virginia Opera Spectrum artist during the 1997-1998 season and appeared in a production of Madam Butterfly in Norfolk. More recently he performed in a PBS opera program aired January 19, 2000 on WHRO TV. Mr. Cook was in two of three one-act operas of "Glimmerglass Opera in Central Park." In The Food of Love he played the Policeman with Lauren Flanigan in the lead role, and in Strawberry Fields he created the role of the panhandler. Both his voice and acting ability were impressive; His resonant baritone with the ability to reach into the tenor range with power and beauty of tone gave us much to look forward to.
"Everyone suddenly burst out singing; And I was filled with such delight..."
&nbsp&nbsp&nbsp&nbsp&nbsp Troy Cook appeared on stage with pianist Kathleen Kelly and the recital opened with a most beautiful song by P. Moravec, Everyone Sang, with text by Sigfied Sasoon, which they had premiered earlier in the month at Merkin Hall in New York City. Delight was indeed ours because singer and pianist are excellent.
&nbsp&nbsp&nbsp&nbsp&nbsp This was followed by the six settings of poetry by Heinrich Heine set by Schubert as part of his last song cycle Schwannengesang (Swan Song). The title was not Schubert's but that of his publisher. Mr. Cook's acting was subtle but effective and his voice was rich, powerful and clear. With face and posture he evoked depths of despair and pain. In Das Fischermädchen the singer became the cocky young man on a mission to win the girl's heart. In Der Atlas the singer is still as enthusiastic as before but by the end he has crumpled into abject misery. In Der Dopplegänger the singer stood in such a way as to give the imperssion of a man staring into space to prepare the audience to understand this text.
&nbsp&nbsp&nbsp&nbsp&nbsp In contrast the next set by Henri Duparc (1848-1933) offered the listener healing, warmth and hope: Chanson, Trist, Extase and Phidylé are songs of great passion and the piano voice creates lovely and at times peaceful moods.
&nbsp&nbsp&nbsp&nbsp&nbsp After intermission we were offered Elliott Carter's (b. 1908) Three Poems of Robert Frost: Dust of Snow, The Rose Family and The Line-Gang. Carter has a reputation for music that is challenging for the listener but here he sets American poetry in a natural and pleasing way. It was wonderfully sung and played. The Line Gang is a crew that ..."plants dead trees for living [ones]" and strings lines between them to carry telephone and telegraph messages. There is an inherent excitement captured in this mundane event. The pianist displayed great energy!
&nbsp&nbsp&nbsp&nbsp&nbsp Francis Poulenc's (1899-1963) Calligrammes, based on the poems of the same name by Guillaume Apollinaire (1880-1918) followed. Of Apollinaire, Poulenc once said "I always have in my ears the sound of his voice, so special, half-ironic half-melancholy." They met shortly before Apollinaire's death and Poulenc heard him recite some of his near-Dada verse, and apparently read Calligrammes but it was 30 years later when he did the musical settings. The cycle has seven songs. The shortest is 40 seconds , the longest is three minutes. In this twelve-minute cycle the performers led us through many emotional and intellectual experiences. Before this recital I only knew these songs from an old LP recording by Gérard Souzay, baritone and Dalton Baldwin, piano. These pieces are now available only on a four CD set of Complete Songs of Francis Poulenc, EMI #64087. This set also has pieces performed by Ameling, Gedda, Sénéchal and William Parker with Dalton Baldwin on piano.
&nbsp&nbsp&nbsp&nbsp&nbsp The last set began with a spoken introduction by Troy Cook for Memorial Day on Kurt Weill's cycle Four Walt Whitman Songs. Whitman's poetry grew out of his experience as a nurse during America's Civil War. They are powerful anti-war statements. Beat! Beat! Drums!, with the drums expressed in the piano, chronicles how war fever sweeps aside the reason of ordinary life and leads the nation into a fevered intensity for doing battle.
&nbsp&nbsp&nbsp&nbsp&nbsp O Captain! My Captain! is the expression of the pain of having President Abraham Lincoln, who led the ship of state to safe harbor, now to be mourned. Come Up form the Fields, Father tells of a letter arriving with news of a son's soon-to-be mortal wound and the mother's desire to rejoin the son in death to be done with all her pain. The last and most popular, if recordings' availability indicates popularity, is Dirge for two Veterans, the poem of moonlight on a "new-made double grave" where lie father and son "dropt together."
"The moon gives you light,
And the bugles and drums give you music;
And my heart, O my soldiers, my veterans.
My heart gives you love."
&nbsp&nbsp&nbsp&nbsp&nbsp The awesome frenzy of war-fever, the pain of loss and the love and compassion engendered in the poet's heart were well expressed by our performers.
&nbsp&nbsp&nbsp&nbsp&nbsp Troy Cooke is at Santa Fe Opera this summer singing Guglielmo in Così fan tutte. We wish him a long and productive career and hope he will come our way again in recital.
&nbsp&nbsp&nbsp&nbsp&nbsp I must not end this piece without praising the work of the Marilyn Horne Foundation and thanking Barbara Hocher, Executive Director, for her cooperation with Artsong Update. Their commitment to bringing annual art song recitals to Tidewater is much appreciated. Marilyn Horne is quoted in the program: "Vocal recitals were essential to my development as a singer. I want young singers in this new millennium to have the same opportunities I've had in bringing the art of song to audiences everywhere."
Printer Friendly Format
Back to Top
Back to Review Index
Home &nbspCalendar &nbspAnnouncements &nbspIssues &nbspReviews &nbspArticles Contact Us