Looking for Richard Hundley Once Again, August, 2012
John Campbell & Steve Brockman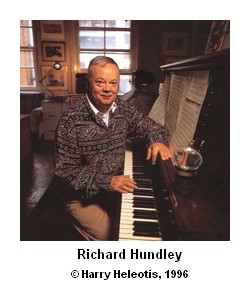 This is not how we had planned to spend our writing and research time this summer. But an email from Bridget, Member of the Association of Teachers of Singing (UK) who teaches voice in Belgium, seeking the sheet music for Softly the Summer, an early Richard Hundley song, led to our comprehensive search and this article. Out of this we have created a tool for finding his recorded songs and published sheet music. Bridget wrote:
I came across your website whilst searching fruitlessly for a copy of Richard Hundley's 'Softly the Summer'. I have enjoyed singing 'Come Ready and See Me' for many years and have recently taken a greater interest in Mr Hundley's songs. I have managed to find some of my favourites and I am working on them now, but I cannot find a copy of 'Softly the Summer' which is out of print. You mention the fact that it may be possible to obtain a copy of the song from Mr Hundley himself, however I have no way of contacting him. Do you know of any way I may do so please? Boosey and Hawkes have been most unhelpful. If it is not possible to contact him directly perhaps you could guide me to someone who has the music or who might contact him on my behalf?
On answering Bridget initially we directed her to the two recordings of Softly the Summer that we have.
Janeanne Houston has recorded it on her CD So Much Beauty. This was the premiere recording of Softly the Summer. In the CD notes she says: "Softly the Summer is from earlier in his career and was originally composed for the incomparable Anna Moffo. It is presently out of print but was originally published by General Music, and may be available in university music libraries." Her website is www.elmgroveproductions.com. Her email is houstojc@plu.edu or jeanannesoprano@comcast.net
The second recording we have, Under the Bluest Sky ... Songs of Richard Hundley is by tenor David Parks. The recording is funded in part by Ithaca College's Center for Faculty Research and Development. His email address is parks@ithaca.edu.
We also gave her Hundley's current address.
We called Shirley Thompson, hoping she might have the sheet music for Softly the Summer. Shirley had made us aware of Hundley's wonderful American songs and coordinated his 2002 visit to Norfolk Art Song Society for a master class where we met him and were charmed by his music. (To read John's 2002 article, Looking for Richard Hundley and his article on the master class, click HERE). Remembering that Shirley was away, we called Karen Hoy, one of the three founders of Norfolk Art Song Society (disbanded 2005) and a friend of Shirley's, to see when she would return.
Karen did not know but she did direct us to Glendower Jones at Classical Vocal Reprints (www.classicalvocalrep.com,publications and https://www.facebook.com/classicalvocalreprints) who supplied Bridget with the sheet music and she will sing Softly the Summer in recital soon.
There have been two results from the search. As a thank-you gift Bridget sent us a newly issued CD of Adolphus Hailstork's An American Port of Call (2012) that includes his ecstatic choral and orchestral Whitman's Journey: 1. Launch Out on Endless Seas. The second was realizing how important it is to share the information we had gathered.
There are four books of Hundley's songs published by Boosey and Hawkes that include twenty-seven of the thirty-eight titles we know. I inquired about the eleven other titles from Glendower Jones. In follow-up email with him we got a clarification on the status of Hundley's early songs. As we finish this list we now know of sixty-two songs.

Richard Hundley Song Books (available from http://www.classicalvocalrep.com/)
Eight Songs (Voice and Piano, Boosey & Hawkes, 1981, corrected edition 1989)
The Astronomers (an epitaph)
Isaac Greentree (an epitaph)
My Master Hath A Garden (Anonymous/ Elizabethan)
Birds, U.S.A.(James Purdy)
Come Ready and See Me (Purdy)
Sweet Suffolk Owl (Anonymous Verses 1619)
I Do (Purdy)
Bartholomew Green (Purdy)
Four Songs (Voice and Piano, Boosey & Hawkes, 1989)
Evening Hours (Purdy)
When Orpheus Played (William Shakespeare)
Epitaph On A Wife (Anonymous)
Come Ready and See Me (Purdy)
Octaves and Sweet Sounds (for Voice and Piano, high, medium, Boosey & Hawkes, c.1990)
Strings in the Earth and Air (James Joyce)
Seashore Girls (e.e. cummings)
Moonlight's Watermelon (Jose Garcia Villa)
Straightway Beauty On Me Waits (Purdy)
Well Welcome (Gertrude Stein)
Ten Songs (for High Voice and Piano, Boosey & Hawkes)
A Package of Cookies (Virgil Thomson)
Awake the Sleeping Sun (Richard Crashaw) (1965)
Epitaph of a Young Girl (an epitaph)
Lions (Purdy)
O My Darling Troubles Heaven with Her Loveliness (Kenneth Patchen)
Screw Spring (William Hoffman)
Sweet River (Fletcher)
Waterbird (Purdy)
When Children Are Playing Alone on the Green (Robert Louis Stevenson)
Will There Really Be a Spring? (Emily Dickinson)
Two Settings of Emily Dickinson Published by Classical Vocal Reprints
A Letter from Emily
Heart We Will Forget
Other Published Songs 1962 - 1964 by General Music Publishing, now out of print.

Ballad on Queen Anne's Death
For Your Delight
Maiden Snow
Postcard From Spain
Softly the Summer
Spring
Wild Plum
Historical note: In 1962 at a recital in Town Hall, Softly the Summer and Spring were sung. In the audience, Paul Knapp, director of General Music Publishing Company, was most impressed and phoned Hundley and asked to meet with him. Subsequently Knapp published these seven titles.In a recent email Glendower Jones said:
General Music Publishing was sold to Boston Music that was then sold to Music Sales Corporation. About 7 to 8 years ago, I got Richard Hundley these songs from my archive and he started to revise them. I know he has them ready to publish but he hasn't let them out again. I'll talk with him some more about this.
Mr. Jones continues "Three songs have never been published but he does give out copies to people that he wants to. The songs are: Some Sheep Are Loving (two recordings available), Weep No More, Arise My Love and two songs published by Glendower Jones in 2010, Heart We Will Forget and Letter from Emily."
We learned of Weep no More from Esther Jane Hardenbergh's Columbia University dissertation "The solo vocal repertoire of Richard Hundley: A pedagogical and performance guide to the published works." Well into our current research John found a list of Hundley's songs that he had compiled in 2002 from her dissertation (http://www.tc.columbia.edu/taylor/hundley/paper/default.stm). It is still the best comprehensive source of information about Hundley's songs that we know of. There we found notes on this song cycle from 1964-66.
Six Songs on Poems by Elizabethan Poet John Fletcher (1579-1665)
Weep no More
Tell Me Dearest, What is Love?
Sweet River
God of the Sheep
Green Woods are Dumb
Care-Charming Sleep
To conclude: Ms. Hardenbergh's dissertation covers the songs through 1996 but information since then is incomplete. This is not a definitive list of Mr. Hundley's songs, though that is what we have attempted to do. As a living composer, Mr. Hundley is still writing songs and revising older ones. We ask our readers to send us corrected or new information as it emerges. We will continue to update the website. Wikipedia's lists 43 titles and REC Music (http://www.recmusic.org/lieder/h/hundley.html) lists only 24 songs.
Printer-friendly format
Richard Hundley Song List
Back to Articles
Back to Top
Home &nbspCalendar &nbspAnnouncements &nbspIssues &nbspReviews &nbspArticles Contact Us