Arlene Shrut and The New Triad
&nbsp&nbsp&nbsp&nbsp&nbsp In early April when Karen Scott Hoy returned from the Mid-Altantic NATS Conference at USC, Columbia, raving about a new approach to art song recitals, about macro, micro and grid, I figured it was time to learn what this was all about. First hand experience is desirable in a writer but this is important enough to share what I know from conversations and by email with Dr. Shrut.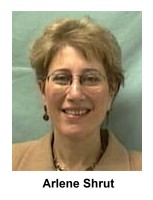 &nbsp&nbsp&nbsp&nbsp&nbsp Dr. Arlene Shrut, who is on the faculty of both the Juilliard School and Manhattan School of Music and is a well-known accompanist, has founded The New Triad for Collaborative Arts. The goal of the organization is to revitalize the art song recital by teaching performers to combine music, drama and poetry in an interactive way and to build audience by innovative presentations. To bring great power and clarity to each performance, New Triad's training techniques put singers and pianists in the role of storytellers who explore common human experience using the full potential of each song. By combining the songs into themes united in an overall story or exploration of a theme, one song builds on another to leave the audience with a memorable experience.
&nbsp&nbsp&nbsp&nbsp&nbsp This departs from the usual recital in that songs are grouped by theme or meaning of text rather than by composer or language. An example will illustrate this point best. At the NATS Conference soprano Jennifer Beattie and pianist Mea-Kyung Chang gave a recital called "The Measure of our Years" with the theme that four seasons fill the measure of a lifetime: "Spring's Awakening," "Tasting the Summer," "Harvesting Autumn" and "Surviving Winter." The first two seasons were before intermission and autumn followed, offering William Bolcom's At the Last Lousy Moments of Love, Adieu by Gabriel Fauré, Hôtel by Francis Poulenc, La Chevelure by Claude Debussy, closing with Franz Schubert's Auf dem Wasser zu Singen. In this way there is a freedom to choose music that when put together makes a statement not possible in the text of one song. I find the idea fascinating, but to be fully convinced I would need to experience a live performance, though Mrs. Hoy has since told to me that in performance the singers explain how each song fits into the theme.
&nbsp&nbsp&nbsp&nbsp&nbsp New Triad has a core curriculum of courses. The artists in this recital were trained in the Song Salon Seminar of Fall 2003 in synthesizing music, poetry and drama. The creative team included a director, musical director, acting coach and movement coach. Dr. Shrut was the musical director, helping the singer and pianist discover unity of song through macro, micro and grid. Macro: Overall architecture of the song including text, music and their interaction. Micro: special moments within the song. Grid: Unifying movement and rhythmic energy. I think of this like the warp and weft of a carpet which gives structure but is not visible - what we see is the overall pattern and color.
&nbsp&nbsp&nbsp&nbsp&nbsp There is a faculty of highly trained professionals who present New Triad courses. Jonathan Pape, who teaches "dramatic presentation" is a director with experience in theater, musical theater and opera. Meagan Miller, who gave a recital here for the Marilyn Horne Foundation / Virginia Arts Festival in 2001, teaches "individuality in recital preparation." Other courses teach body awareness, dramatic analysis and interpretation, dynamics and psychology of music partnership and text analysis. Seminars, workshops and masterclasses are built out of the core courses.
&nbsp&nbsp&nbsp&nbsp&nbsp For additional information readers who subscribe to Opera News can find a review by writer Marylis Sevilla-Gonzaga, who is also on the music advisory board for New Triad, in the (online only) June 2005 supplement to the printed magazine. "A fresh breeze blew into the recital world when four singers and their accompanists were presented in a program titled "Coming Home." A few other board members our readers may recognize are Steven Blier, William Bolcom, Margo Garrett, Dimitri Hvorostovsky, Joan Morris and Paul Sperry.
&nbsp&nbsp&nbsp&nbsp&nbsp A really fine, detailed article in the July 2004 Classical Singer Magazine www.classicalsinger.com "Collaborating with Your Pianist" by Larua Schiller describes the New Triad in action and how Dr. Shrut came up with her great idea. New Triad's email is info@newtriad.org. Visit their website at www.newtriad.org

Macro/Micro/Grid in Expressive Rehearsals,
Mid-Atlantic Regional NATS Convention,
April 2005 by Barbara Ann Peters
&nbsp&nbsp&nbsp&nbsp&nbsp During a windy spring weekend at University of South Carolina at Columbia, six singers and their pianists worked closely with New Triad's Founder and Artistic Director Dr. Arlene Shrut. The afternoon Macro/Micro/Grid class presented four duos: sopranos Sarah Piscitelli, Tidewater's own Ann Scott, Sequina DuBose and tenor, Allan Chan, together with their pianists Jessica Porterfield, David Lang, Patricia Parker, and David Lang, respectively, in American, German, and French song repertoire. The focus centered on bringing the text alive for the singer and pianist, thereby for their listeners. How is this accomplished? As we all discovered, singers and listeners alike, there are many tools that are necessary and thankfully easy to implement. Singers can fill in the rests with 'missing' text, create a running dialogue with the imaginary person with whom he/she is speaking, be the movie with the camera always rolling, take expressive breaths that contribute to the drama of a phrase.
&nbsp&nbsp&nbsp&nbsp&nbsp Pianists can bring joy and ecstasy to the music by simply delaying a downbeat. We witnessed singers make their entrances as if they were already in conversation - a conversation established by the pianist's gestural introductions and interludes. Deeper emotional resources were tapped when a singer sang her song with a less formal presentation, in a much more simplified, accessible manner, bringing tears to her own eyes in the process! Finding a willing listener to be a partner to whom to 'talk/sing', one singer absolutely proved how powerful communication can be. Stressing that songs are duets between pianist and singer, Dr. Shrut demonstrated that vulnerability requires complete comfort with the material, urging singer and pianist to "touch and hug with your sound."
&nbsp&nbsp&nbsp&nbsp&nbsp The Expressive Rehearsals class explored the many means available to pianist and singer as they work together to synthesize the music. Three duos participated: sopranos Lisa Odom, Katherine Meckel, and Elizabeth Beal together with their pianists Fabio Parrini, George Cullinan, and Jeremy Peterman, respectively, in German and French repertoire. As each duo was encouraged to dig a little more deeply into the music, each was asked to describe their version of the story of the song. The accompaniment was played alone allowing the singer to visualize the text as well as absorb the music emotionally and dramatically. Tempi were varied in order to find THE tempo. Dynamics were varied radically to peel away any pretension and the architecture of the songs was explored. Punctuation, both in the vocal lines/text and in the accompaniment was employed to propel the dramatic energy forward.
&nbsp&nbsp&nbsp&nbsp&nbsp Some actual mechanical work was helpful for the pianists, as was the suggestion of considering the style of playing that each piece demands. Even simplified chord support was offered in place of the actual accompaniment which allowed a larger shape to emerge, while bringing more transparency and clarity to the vocal line. For the singers, productive comments ranged from "spoken yet lyrical" with regard to singing the text, achieving a tone that sounded like "magnets coming apart," using 'non-evident breaths' in places where the music needed to surge forward, to language inflection guidelines: "too much fabric on the mutes" (lighten the quality of the schwas in unstressed syllables).
&nbsp&nbsp&nbsp&nbsp&nbsp Everyone on site was clearly inspired by Dr. Shrut's complete involvement and commitment to her work with these potential recitalists, all of whom glowed under her guidance. Many thanks, Arlene, for sharing your expertise with our Mid-Atlantic Regional singers.

Barbara Ann Peters, Vice President, North Carolina NATS, 2005-2006
Voice Faculty, University of North Carolina at Chapel Hill

New Triad Recital
The Measure of Our Years
Virginia NATS Conference
Shenandoah University
March 3, 2006
by Karen Scott Hoy
&nbsp&nbsp&nbsp&nbsp&nbsp It was Saturday, March 4, 2006 and I was at a recital at Shenandoah Conservatory of Music and tears were running down my face. I was at first embarrassed…I love vocal music but why these tears! Then I peeked around and saw that I was not the only teary one. Although a vocal recital is always a treat for me rarely do I respond with tears.
&nbsp&nbsp&nbsp&nbsp&nbsp At first glance the program had the look of a hodge-podge of songs representing different time frames and countries. The three songs from Debussy's Les Chansons de Bilitis were presented but each was in a different section. However there was no confusion here. Every song had its place in the sequence of the story, affirming the song before and preparing us for the next .
&nbsp&nbsp&nbsp&nbsp&nbsp This New Triad recital, The Measure of our Years, was exquisitely presented by Jennifer Beattie, soprano, and her very responsive collaborative artist, Adam Marks. They were not our "performers" but rather friends sharing their life experiences with the audience. I had heard this same recital about a year ago and Jennifer's voice and confidence have grown considerably in that time. A lyric soprano, Jennifer's voice is colorful and expressive and her natural sense of style is enhanced by Mark Adam's supportive and equally expressive playing.
&nbsp&nbsp&nbsp&nbsp&nbsp The first set entitled Spring's Awakening was about childhood and its joys. As our performers bounded on stage looking like 10 year olds they opened with Wolf's exuberant Er ist's and moved on to other childish adventures by Poulenc (Quelle Adventure) and Smit (I was the smallest in the House) and ended with Bernstein's I'm a person too! and The Circus band by Ives. Each song represented an experience or feeling common to every child. Ms. Beattie, used a large portion of the stage projecting the personality, posture and expression of a child in spite of her gown.
&nbsp&nbsp&nbsp&nbsp&nbsp The next set Tasting the Summer expressed the growing hormonal intensity of puberty and all the longings of young love. Passion's innocent first awakening was expressed in the sensually understated La Flute de Pan by Debussy. Schönberg's Arie aus dem Spiegel von Arcadien contrasted with a more aggressive and lighter sensuality and Au bord de l'eau balanced both with his typically reserved style. The singer engaged her pianist who responded as an integral part of the drama. At times she sang directly to him as if he were the lover in the song, draping her wrap over his shoulder or sitting on the bench while he played, thinking "Could he be the one…perhaps not." Libby Larsen's Greenwich Village brought us to the more familiar and earthy American territory of a young woman's initial, surprising realization that young men actually find her attractive. "I was at once the battle ground for excitement, shock and confusion." Her sister's comment to their mother "she'll grow out of this stage" brought us down to earth with a touch of humorous, sibling rivalry.
&nbsp&nbsp&nbsp&nbsp&nbsp Harvesting Autumn was the first set after intermission and the reality that comes with maturity began to emerge. The Last Lousy Moments of Love by William Bolcom expressed with humor that horrible experience that there is "the other woman." Adieu and Hôtel by Fauré and Poulenc respectively expressed the aloof and protective attitude after a failed relationship and the desire for escape into nothingness and ennui. In Schubert's Auf dem wasser zu Singen the singer realized how fleeting life is; a realization which often begins in middle age.
&nbsp&nbsp&nbsp&nbsp&nbsp Aging and the process of dying are not for the faint hearted. The final set Surviving the Winter began with Wolf's Nachtzauber. Copland's setting of Going to Heaven by Emily Dickinson followed. The Debussy cycle represented in former sets was completed with Le Tombeau des Naïades. But the final song Goodbye World by Lee Hoiby brought the program to the perfect conclusion with its challenge of living life to the fullest while we can.
&nbsp&nbsp&nbsp&nbsp&nbsp Afterward Jennifer and Adam explained their process in planning the program. Many long hours were spent in the library with a commitment to fearlessly discard any song that did not fit the total picture. This resulted in a beautiful musical story about life.
&nbsp&nbsp&nbsp&nbsp&nbsp The vocal performance principals demonstrated by this New Triad recital with master class have the potential to revive the art song recital. No longer is the singer the main event or even the composer or poet but rather the human experience expressed in song is understandable by all. No longer is the audience an outside entity struggling with many foreign languages to grasp what's going on. Through poetry, music and singing the audience participates emotionally in life's experiences…its ups and downs, its intensity and even its boredom.
Back to Top
Back to Articles
Printer-friendly format
Home &nbspCalendar &nbspAnnouncements &nbspIssues &nbspReviews &nbspArticles Contact Us