Baritone David Krohn and Pianist Charles Woodward in Recital
&nbsp&nbsp&nbsp&nbsp&nbsp Some one-hundred-fifty people gathered at Gomley Chesed Congregation on Sterling Point Drive in Portsmouth, Virginia on May 20, 2007 to hear one of their own sing. David Krohn told his audience "I will share with you songs that have become important to me in the last four years." A recent graduate of Peabody Conservatory of Music, he brought a high energy and charisma to his diverse musical selections and was well partnered by Charles Woodward at the piano.
&nbsp&nbsp&nbsp&nbsp&nbsp The first quarter of the program was devoted to art song. In conversation David told us that he loves to sing art songs but there are few opportunities to do so. An exceptional depth of expression was apparent in his Schubert selections: Ständchen (Serenade) and In der Ferne (In the Distance) a song of fleeing from a lost love from Schwanengesang (Swan Song), a cycle assembled by others from Schubert's last songs after his death. Since he performed them at his senior recital, David joked that these were his Swan songs at Peabody. He finished the set with a tender and moving An die Musik, a celebration of his love of music. His diction in the several languages we heard was clear and his pronunciation was accurate.
&nbsp&nbsp&nbsp&nbsp&nbsp In contrast to the seriousness and passion of Schubert, Mr. Krohn opened the program with a set of jolly Italian songs. In Gioachino Rossini's La Danza he burst forth with confident vocal pyrotechnics. The sentimental Rossini song L'ultimo Ricordo (The last memento) is one the composer wrote for his wife Olympia and is the story of a dying man giving his beloved a faded flower, the one he has cherished since the day they met. In Mattinata by Ruggiero Leoncavallo the passionate lover greets the dawn while his beloved still sleeps. He implores the sleeping one to wake and make their dream of love a reality.
&nbsp&nbsp&nbsp&nbsp&nbsp The opera selections, from Bizet's Carmen (Toreador Song) and Rossini's Barber of Seville (Largo al Factotum), were sung with gleeful enthusiasm. From Erich Korngold's Die Tote Stadt he sang Mein Sehnen, mein Wähnen. "My mother was playing a Thomas Hampson CD and I was so struck with this song that I knew that I had to sing it. Over several years I have been working it into my voice." Pierrot, one of a traveling troop of entertainers, sings to his fellow players of having abandoned a lover to pursue his love for the theater. The song has a quiet ending very much in contrast to the cocky characters in the other arias. David Krohn created a convincing character in each case.
&nbsp&nbsp&nbsp&nbsp&nbsp His energetic and nuanced performance was also very exciting to hear in the five popular selections. Old Mother Hubbard in Handel's Baroque Italian opera style set by W.W. Gilchrist was followed by Irving Berlin's They Say It's Wonderful. Barbara Cooke had coached him on the fine points of cabaret styling at Carnegie Hall as part of a Marilyn Horne Foundation master class. His performance of Soliloquy (Carousel) by Richard Rodgers was a showcase of emotionally nuanced expression.
&nbsp&nbsp&nbsp&nbsp&nbsp The "Jewish Selections - Hebrew & Yiddish" included seven songs, several featuring minor keys, opening with Naomi Shemer's Yerushalayim Shel Zahav (Jerusalem of Gold) in English and Hebrew. I suspect that being trained as a Cantor is an advantage for a singer since Hebrew uses an expanded set of sounds from our human innate phonetic alphabet. Mr. Krohn, the son of Rabbi/Cantor Philip Krohn (who is himself the son and grandson of Rabbis/ Cantors), returns every year to serve as Cantor for the High Holy Day services at Gomley Chesed. He sang V'ulai (if) by Y. Sharet, a love song for the land of Israel with a lovely, floated end note. For me the emotional feeling of these songs came through without knowledge of the languages. The Yiddish musical style in Dem Milner's Trern (The Miller's Tears) by Warshavsky and in selections by Samuel Bugatch and Lazar Weiner is familiar though our singer brings a renewed passion to his interpretation. My personal favorite was Sidor Belarsky's Zol Shoyn Kumen di Geule. The music expresses a deep longing that the Messiah come quickly. A raw cry ends the song.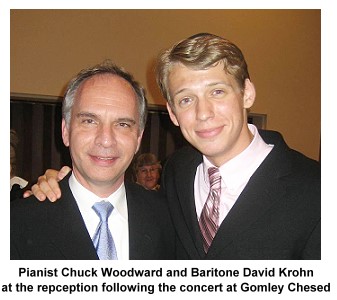 &nbsp&nbsp&nbsp&nbsp&nbsp The last song listed in the program,To Life from Fiddler on the Roof by Jerry Bock, followed. Continuing this exploration was an encore, If I Were an Rich Man. L'Chaim rounded out this celebration of life, love, endings and a beginning. This summer David Krohn will be part of the Chautauqua Voice Institute studying with Marlena Malas who will also be his voice teacher at Julliard as he begins his Masters degree work in the fall. With a daring use of his voice he pushes himself to an emotional honesty that is rare on any stage. We will not be surprised to see his name in lights a few years from now.

Recital as Autobiography
Baritone David Krohn and Pianist Charles Woodward
present their Second Annual Concert
September 7, 2008: It is a rare musical experience when head and heart are united, expressed through piano accompanied voice, leaving the listener with a deep, spiritual satisfaction. How do I describe the elusive quality the singer and pianist brought us? In a program of twenty songs we shared their open heart which leaves me an afterglow even now as I write this days later.
David Krohn's spoken introduction gave us a glimpse into his autobiography. As a youngster, interested in music, his Dad shared his favorite recordings with David. Baritone David Krohn grew up in the Gomley Chesed Congregation in Portsmouth, Virginia where his father is rabbi and cantor. Now at age twenty-four David lives in New York City and is working for his Masters degree at the Julliard School in vocal performance. He performs regularly at Park East Synagogue in New York but comes home each fall to lead the High Holy Days services with his father, Rabbi Philip Krohn.
Pianist Charles Woodward, a graduate of Northwestern University, brings a great sensitivity and deep understanding of each song he performs. He has taught in several universities and regularly performs with the Virginia Symphony, chamber groups and accompanies vocalists. He is music director at Ohef Shalom Temple and Saint Paul's Episcopal Church.
Mr. Krohn opened his program with three Italian songs. His rich, enfolding voice, with well-shaped phrases and clear diction sang Francesco Tosti's A vuchella (Like a flower you have a sweet mouth), Salvatore Cardillo's Core, 'ngrato (Ungrateful heart, you have stolen my life!) and Giovani Capurro's O Sole mio tugging our heartstrings. The last two songs were brought to a wider audience by the now famous Three Tenors Concert.
As an undergraduate at Peabody Conservatory in Baltimore, he studied with Thomas Grubb who studied with French baritone Pierre Bernac. Bernac was a homosexual and closely associated with composer Francis Poulenc's songwriting from 1935 on. Together they gave many recitals and made several tours to the United States. David sang two songs from a group titled Banalities. In Hôtel the sound of the piano is stacked as a cushion for the languor expressed by the singer who revels in the feeling of basking in the sun enjoying the quiet hotel room, lazily smoking. Sanglot (Sobs) is a setting of a poem by Appolinaire. Urgency is the one powerful feeling in the declarative section where the singing has the natural rhythm of speech. Our singer is alive in every phrase!
From here he turns to his favorite composer, Franz Schubert for Der Lindenbaum from the song cycle Winterreise. The cold wind is in the piano blowing through the trees where once the leaves shaded him and his love but now are barren. While at Norfolk Collegiate he got a grant that allowed him to visit Schubert's hometown of Vienna. While in Leipzig he saw the original manuscript with its English text of his next selection Lord, God of Abraham from Elijah by Felix Mendelssohn.
He closed the first half of the program with Charles Gounod's Avant de quitter ces lieux from Faust. It was introduced with the story of how a famous baritone lead in a London production asked where his aria was. Gounod wrote one of the greatest arias of all time to fulfill that request.
After intermission David told the story of how Virginia Opera's Joe Walsh had worked hard to influence his decision not to study computer science in college but rather to follow his love and talent in music. Then he regaled his audience with There is Nothing Like a Dame from South Pacific and If I Loved You from Carousel. The novelty song The Green-Eyed Dragon by Wolseley Charles with words by Greatrex Newman and two selections by Sigmund Romberg: Softly, as in a morning sunrise, a tenor aria from New Moon and One Alone from The Student Prince complete the Broadway set.
It was the composer Dmitri Shostakovich (1906-1975) who said that Jewish folk music made a powerful impression on him, "I never tire of delighting in it, it's multifaceted, it can appear happy while it's tragic. It's almost always laughter through tears." This spirit infused the Hebrew and Yiddish selections that we heard arranged or written by composers for solo voice and piano. The sense of longing, the overt sadness and even self-pity were carefully articulated by our performers. The singer learned his selections form his dad's cantorial concerts as he grew up. They speak to emotions that come to us all, pain and joy and a need for peace in the world.
As they came to the last song, David thanked us for coming and pointed out that "Song is so powerful. There are thousands and thousands of songs but fewer and fewer chances to sing them." When he sang Vincent Youman's Without a Song we could feel the deep appreciation he was striving to express. Add to this passion, a handsome, slim body, a winning personality, a beautiful voice and acting ability and you can see why we are enthusiastic for his maturing into a very successful career.
More David Krohn
Back to Top
Back to Review Index
Printer Friendly Format
Home &nbspCalendar &nbspAnnouncements &nbspIssues &nbspReviews &nbspArticles Contact Us