Charles Woodward is Anchor for Summer Music Series in Portsmouth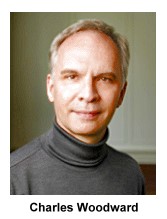 Wonderful Wednesdays is a summer music series of four programs performed at the Jewish Museum and Cultural Center. Housed in the renovated Chevra T'helim Synagogue (1918-1986) building, Charles Woodward is artistic director and pianist for this two-year-old series featuring some of Tidewater's finest singers. Opening in mid-July, soprano Amy Cofield Williamson, tenor Scott Williamson and bass Steve Kelley with Mr. Woodward at the piano presented Tin Pan Alley to Broadway, a review of hits from musicals hosted by actor and local PBS personality Tim Morton.
Next came the Adagio Trio, founded in Cincinnati, Ohio in 1985 by Kathryn Daniels (flute), Linda Grieser (harp) and Michael Daniels (cello). Ms. Grieser played both a pedal harp and a Celtic harp in an eclectic program ranging form Fauré and Debussy to settings of Psalms and other Jewish music to Irish and American folk tunes. Our friend Margaret Gupta who attended gave a very enthusiastic report of her experience.
We attended the last two programs, song recitals with the sensitive, versatile Mr. Woodward at the piano. This series simply would not exist without his talent and connections in our local music community.

Redmon, Baker and Woodward in Songs of Soul and Spirit
Mezzo-soprano Robynne Redmon, Beverly Kane Baker, viola and Charles Woodward, piano gave a stunningly beautiful recital on August 11, 2010 at the Jewish Museum and Cultural Center. Ms. Baker came to Tidewater in 1983 as a violist with the Virginia Symphony and has been principal violist since 1994. Looking elegant with her hair piled-up she played three solo movements from J.S. Bach Suite No.1 in G Major BWV 1007 with an angelic tone and lively tempos. After the prelude came two dance tunes, Allemande and Courante. There is a sense that the music is about to end but after a brief pause it begins again and repeats the phrase.
The first selection on the program, Adon Olam, is a song of praise to the power and sovereignty of God. It was set by contemporary Canadian composer Ben Steinberg (b.1930) who believes that a younger generation should set ancient texts for today. We heard powerful singing with a lilting, sweet tone that captured the majesty of the text, deepened by the viola, making it all the richer.
The two songs that followed were settings by Brahms for voice, viola and piano: Gestillte Sehnsucht was written by Brahms for friends, a couple with a troubled marriage. It is a poem about the golden light of sunset in the forest, birds cooing gently, leading to dreams. "...no longer on distant stars my eyes are fixed with a longing gaze." It did not work; the couple split anyway. The second song, Geistiches Wiegenlied, also set by Hugo Wolf, is known in English as "Joseph, dearest Joseph mine, help me cradle the child Divine." The richness of voice and viola was so very lovely.
Three Jewish selections from High Holy Days liturgy came next. Ms. Redmon grew up and attended high school in the Deep Creek section of Portsmouth. Afterward she went to study voice with Elena Nikolaidi at the University of Houston and while there was hired to sing for services at a local synagogue. Ms. Redmon told us how appealing she found the Jewish religion. Maurice Ravel set Kaddish and it opens with voice alone praising God's hallowed name. Later the piano punctuates this vocalise-like flow of words with phrases of bell-like brevity. Sh'ma Koleinu is a song making a plea for compassion. "Do not cast us out in our old age, when our strength gives out do not forsake us." The set came to a stunning end when Ms. Baker played Kol Nidre, a Jewish tune in a lovely setting by Max Bruch (1838-1920), though he was not Jewish. There was a feeling of relaxed familiarity in her fine, smooth playing.
A group of American hymns and spirituals followed. Hale Smith This Little Light of Mine is such a fine example of understatement in a program of such high drama. How Firm a Foundation and later Come Thou Fount of Every Blessing by instrumentalists Woodward and Baker were arranged by Richard Walters. When Ms. Redmon sang He's Got the Whole World in His Hands in the very familiar arrangement by Margaret Bonds it focused my attention on the community's loss of Lisa Relaford Coston who used to sing this song. In both spirituals Ms. Redmon sang with great power, evoking deep feeling in the audience.
The final programmed song for voice and piano was Dansons la gigue! (On with the dancing) with text by Paul Verlaine set by Charles Martin Loeffler (1861-1935), a passionate love song where the death mentioned was surely metaphorical. The encore was from Samson and Delilah by Saint-Saëns, with the viola standing in for Samson's voice in the love duet.
For a review of Ms. Redmon and Mr. Woodward's summer 2009 Wonderful Wednesdays concert click HERE

Recital by David Krohn and Charles Woodward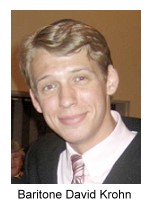 The last of four "Wonderful Wednesdays" at the Jewish Museum and Cultural Center in Portsmouth, was a recital on August 25, 2010 by baritone David Krohn, with pianist Charles Woodward. In a program of Jewish-themed pieces and arranged Jewish folk songs Mr. Krohn shared with his audience the depth of his feeling – his joy in music learned from his father during his childhood in Portsmouth and the overwhelming pain of the loss of his father since we last heard him sing. In his spoken introduction he told us of returning each year for Yom Kuppur (Jewish New Year) where in succeeding years he took over more of the service for his aging father. Rabbi/Cantor Philip Krohn, retired one month after Yom Kuppur, 2009 and died shortly thereafter. In the three years we have been attending David's recitals his art has deepened. By ripping apart the text searching for meaning he was able, through his highly developed skill as an interpreter of song, to bring his audience into the emotional heart of this music. He opened with I Feel the Deity Within...Arm Arm Ye Brave from Judas Maccabeus by G.F. Handel and two selections from another oratorio, Elijah by Felix Mendelssohn: Lord God of Abraham and It is Enough.
The Grove Dictionary points out that Jewish folksong is one of the least explored realms of Jewish music and says "The oldest stock of Jewish folksong belongs to the type of semi-religious, ethical, mystic or messianic folk poetry which had its origin in... the Middle Ages." We heard four songs arranged by Sidney Belarsky. We heard: Yerushalaim (Jerusalem) is the capital of the Holy Land in the hearts of all Jews; Zol Zain is about dreaming of a bluer sky and of a better, sweeter life; Der Milner's Trern is about an old man who has been driven from place to place by pogroms, wondering how his tradition will be carried on; Zol Shoin Kumen Di Geule warns, be careful how you act, your action alone will determine whether the Messiah will come.
David Krohn, while working on his masters degree at Juilliard School, included some of these songs in a recital. His teacher responded "This is fantastic, you must do more." This gave our singer a renewed appreciation for his musical heritage. A song I especially liked was Rozhinkes Mit Mandlen (Raisins with Almonds), a lullaby by Abraham Goldfaden (1840-1908), known as the father of Yiddish theater. The mother rocks her baby while underneath the cradle is a white kid goat bought at the market. The mother sings "Sleep, sleep, your life will be selling raisins and almonds." Often there were tears in his voice as he sang of the pitiful plight of humankind, but with humor.
Another song that was typical of the energy and attitude represented was A Nigun (A Little Tune) which tells the story of a poor man who argues with God (there is a real intimacy in the attitude toward the Divine) and a miracle occurs when he sings a tune "Tshribim bam bam!" Wine springs forth, bowls of soup also, when the Jew sings he pours out his soul and joy overtakes him. The joy and pain of being human were all honestly presented and we all partook of the same cup. The poetry is by L. Magister and music by Lazar Weiner.
The capstone was the encore If I were a rich man by Bock and Harnick from Fiddler on the Roof. It should be no surprise to anyone that this handsome, well-spoken young man from Portsmouth is making a fine career in opera houses and on symphonic stages around the country. Locally in 2010 he has been seen in Don Giovanni with Virginia Opera and in Bernstein's Mass, the high point of this past spring's Virginia Arts Festival.
More David Krohn
Back to Top
Back to Review Index
Printer Friendly Format
Home &nbspCalendar &nbspAnnouncements &nbspIssues &nbspReviews &nbspArticles Contact Us