Patricia Saunders Nixon
&nbsp&nbsp&nbsp&nbsp&nbsp Finally getting to hear a recital by Patricia Saunders Nixon was a long-time goal which came to fruition February 24, 2004 at Covenant Presbyterian Church, two blocks from the Norfolk State University where Mrs. Nixon teaches. She sang a full program of art songs, arias, spirituals and selections from oratorio and Bach cantatas.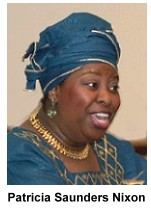 &nbsp&nbsp&nbsp&nbsp&nbsp Hers is a true Verdi soprano voice with power, beauty and stamina. Her opening set included Johann S. Bach's Bist du bei Mir which she sang with lovely vocal line and fine ornamentation. This was followed by My heart ever faithful, sing praises with the vocal fireworks at the end. A lengthy section from Messiah by G.F.Handel, I know that my redeemer liveth, was sung with clear diction and elegantly shaped trills.
&nbsp&nbsp&nbsp&nbsp&nbsp The excellent piano work is by Geraldine T. Boone, also a professor at NSU and a well-known musician in Tidewater. She has been a vocal coach and theory teacher at the Governor's School for the Arts and sang in the chorus of Virginia Opera for fourteen years and was on the three-country tour to South America in Porgy and Bess in 1992. Her choral directing experience is extensive.
&nbsp&nbsp&nbsp&nbsp&nbsp Robert Schumann's songs, Die Lotusblume, Du bist vie eine Blume and Widmung made up her second set. These romantic songs were delivered with fine German song style. In Widmung the delivery was intimate and quiet but with a smoldering passion that builds. W.A. Mozart's concert aria K. 490, Non temer amato bene, was sung with power and precision and a light vocal tone which was delightful to hear. With a voice this big one might expect a heavy tone in lower notes but Ms. Nixon's voice is light and sweet throughout her range.
&nbsp&nbsp&nbsp&nbsp&nbsp "Wonderful!" was my only written comment on Giuseppe Verdi's D'amor, sull'ali rosee from Il Trovatore. This music was created for this type of soprano voice. Ms. Nixon sang the role of Clara in Gershwin's Porgy and Bess and toured with Virginia Opera and sang in major opera houses in three Latin American countries in 1992. She was last seen in Thea Musgrave's Simon Bolivar. I dream of hearing Ms. Nixon do a major Verdi role at the Harrison Opera House.
&nbsp&nbsp&nbsp&nbsp&nbsp A set of songs by African-American composer John Work followed. Dancing in the Sun is a vocally demanding and joyous song. Though it is familiar to me I've never heard it done by a voice with this much control and with power in reserve. In This Little Light of Mine the singer slowly opened her hands like a rose opens as her voice opened. And there was the quiet pianissimo too. Soliloquy, also a personal favorite, was fine.
&nbsp&nbsp&nbsp&nbsp&nbsp As part of the display of Ms. Nixon's talent we heard the Norfolk State University Vocal Jazz Ensemble, which she directs, in two a cappella songs, excellently presented.
&nbsp&nbsp&nbsp&nbsp&nbsp The recital ended with four songs by Hall Johnson. In Honor, Honor the upper soprano range predominates; City Called Heaven is an up-tempo celebration; Po Moaner got a Home at Last and the stirring Ride On King Jesus cover the range from loud and intense to soft and gentle, once again highlighting this vocalist's accomplished singing and beautiful, exciting voice. Ms. Nixon is currently working on her doctorate at Shenandoah University Conservatory. Any day of the week I will walk an extra mile to hear her sing.
Soprano Patricia Saunders Nixon and Geraldine T. Boone, piano
&nbsp&nbsp&nbsp&nbsp&nbsp On February 5, 2005 at Ebenezer Baptist Church in Portsmouth, Virginia, Patricia Saunders Nixon presented a program of African-American music - art songs, spirituals and gospel songs with Geraldine Boone at the piano.
&nbsp&nbsp&nbsp&nbsp&nbsp The first half of the program was exciting with Dr. Adolphus Hailstork, a local composer in the audience to hear his Create in Me beautifully performed. Ms. Nixon's voice, a natural instrument with power that expands in the top notes, allows her to add a flourish to songs that is breathtaking. She opened with Let Us Break Bread Together by Francis Ryder, Stan Still Jordan by Harry T. Burleigh and Cert'ny Lord and Witness by Hall Johnson, demonstrating superb control and a natural ease in communicating.
&nbsp&nbsp&nbsp&nbsp&nbsp In the second set she sang Nathaniel Dett's Ride on Jesus and two songs by Margaret Bonds, the lullaby-like Lord I Just Can't Keep from Cryin' with delicious sustained notes and You Can Tell the World with joy that brimmed over.
&nbsp&nbsp&nbsp&nbsp&nbsp This was the second year of her annual recital organized as a fund raiser for music scholarships at NSU. Ebenezer is Ms. Nixon's home church where she has been a member since childhood and the congregation was enthusiastic and appreciative.
&nbsp&nbsp&nbsp&nbsp&nbsp The second half of the program opened with three pieces by the Norfolk State Vocal Jazz Ensemble. Jester Hairston's You Better Mind was sung a cappella with an unhurried blues feeling, like waves slowly breaking on the shore. Ms. Nixon, director of the ensemble, was at the piano for All About the Blues by Carl Strommen. This jazzy piece showcased the vocal precision of these eight well-trained voices who sang without music. For All We Know, arranged by Brent Pierce, closed the set.
&nbsp&nbsp&nbsp&nbsp&nbsp Earlier in this program, Ms. Nixon sang Roland Carter's Is There Anybody Here (Who Loves My Lord?) and the congregation responded. We even heard a "hallelujah!" In the last set she took up a microphone and began Beams of Heaven, accompanied by Keith Q. Bailey (director of Ebenezer Baptist's combined choirs) at the organ. Swaying in unison, the choir intoned "turn my midnight into day" and thus began a call and response pattern, led sometimes by the choir and answered by the solo voice of Ms. Nixon. At other times she calls and they respond to build an incredible energy. Would that all gospel services had a lead vocalist with the power, passion, high and low notes and smooth legato to maintain beauty of sound even in the outbursts of excitement. Sister Nixon can belt with the best of gospel singers but remain musical while the shrill intensity of her voice carries the congregation heavenward.
&nbsp&nbsp&nbsp&nbsp&nbsp Ms. Nixon is a professor at Norfolk State University and a student at Shenandoah University Conservatory where she is pursuing a Doctorate of Musical Arts in vocal performance.
&nbsp&nbsp&nbsp&nbsp&nbsp A CD of her first annual recital (entitled Ride on, King Jesus, with Karen Keating at the piano) in 2004 is available for $10. My review is on the Artsong Update website, Issue #31. She sings two songs by Bach, three by Robert Schumann, Verdi's D'amor, sull'ali rosee from Il Trovatore (not to be missed) one by John Work, and four by Hall Johnson .

Patricia Saunders Nixon Sings for Desmond Tutu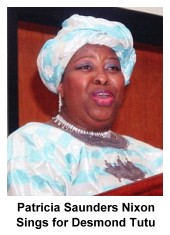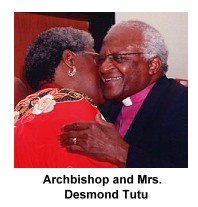 &nbsp&nbsp&nbsp&nbsp&nbsp One of our favorite classical singers entertained His Grace Archbishop Desmond Tutu who was guest speaker and received an Honorary Doctorate Degree at the 118th commencement ceremony at the University of Maryland, Eastern Shore Campus in Princess Anne, Maryland on Sunday, May 15, 2005. At the banquet that followed to honor Archbishop Tutu and his wife Leah Nomalizo Tutu, Dr. Ernest Brown played piano selections and accompanied Ms. Nixon who sang Noah Ryder's Let Us Break Bread Together and You Can Tell the World by Margaret Bonds. It was a grand affair.
&nbsp&nbsp&nbsp&nbsp&nbsp Ms. Nixon, who teaches at Norfolk State University, is currently working on her doctorate at Shenandoah University where on June 27th she received the NAACP Esso Award for classical voice.

Patricia Saunders Nixon Stars in
Let My People Go
&nbsp&nbsp&nbsp&nbsp&nbsp Our regular readers already know that I adore hearing Patricia Nixon sing. Her voice is one of power, beauty and versatility. In December when we published the complete list of Dr. Adolphus Hailstork's songs we got a note from Ms. Nixon reminding me that she too sang his songs. Steve immediately added her name to the list of singers on the website. "We won't forget you. Do let us know when you are singing." On February 5, 2006 she sang works by Schubert, Charles and spirituals by Hall Johnson, Roland Carter and Harry T. Burleigh as part of the Chesapeake Civic Chorus's Annual Winter Concert. Unfortunately we had a previous commitment.
&nbsp&nbsp&nbsp&nbsp&nbsp Ten days later, it was with growing anticipation that we read Patricia's email: "If you are not planning anything on Saturday, February 18, I will be playing the role of Lula Bell in the musical drama Let My People Go written by Mrs. Christine Davis. It is filled with Negro Spirituals, old hymns and portrays slavery time before and during the Civil War and facts about the Emancipation Proclamation. PSN."
&nbsp&nbsp&nbsp&nbsp&nbsp The play is set in a time in American history when slaves on plantations were getting their first taste of freedom. The Emancipation Proclamation had just been signed. The story is an allegory in a style reminiscent of the movie Green Pastures (1936). The lives of the local plantation slaves and their activities form the core of the story but visits from Harriet Tubman, who led hundreds of slaves to freedom, Frederick Douglass, who helped shape the push for emancipation and Sojourner Truth come to life to tell their part of the story.
&nbsp&nbsp&nbsp&nbsp&nbsp Mrs. Christine M. Davis wrote the play and the arrangements of spirituals used to tell the story. Written in 1993 and performed by the Virginia Opera Guild, a group she founded in 1986, this play has been performed dozens of times, both locally and as far away as New York. Mrs. Nixon is the third Lula Bell in the repertory cast of ten singing actors. In conversation we learned that several of the cast members are part of the composer's family.
&nbsp&nbsp&nbsp&nbsp&nbsp With Mrs. Davis at the keyboard, Lula Bell sings Sometimes I Feel Like a Motherless Child in response to Black Moses (Harriet Tubman) who calls for the freeing of her people. In the second verse she is joined by the character Joe, played by Gordon Jones, a seasoned actor with a powerful voice. Out of fear the other characters warn Black Moses to be quiet. Joe takes up the idea in Let My People Go, which becomes a duet with Lula Bell and ends with a poignant vocalise by her. Afraid of the auction block, Lula Bell is comforted by Joe. There is the humor of ridicule based on oppression woven into the story.
&nbsp&nbsp&nbsp&nbsp&nbsp Frederick Douglass invites them to join him and others in the war as soldiers. Harriet Tubman sings Don't Nobody Call My Name. She is hiding because there is a $40,000 reward for her capture. And on the story goes with songs of freedom woven in to illustrate the emotions of this terrible time. When Frederick Douglass returns to the stage he tells them that freedom has come. There must have been joy at being free and fear of the unknown. This was a freedom for which their life experiences have not prepared them. The songs Good News, Meeting Tonight and Oh Freedom led into a testifying time, a time of sharing each individual character's story with the congregation. Sit Down, Sister and the response "My soul is so happy I can't sit down" was memorable. Joe sings Keep your hands on the plow, hold on and then came Mrs. Nixon's stunning and deeply moving sweet soprano a cappella I want Jesus to Walk with Me.
&nbsp&nbsp&nbsp&nbsp&nbsp After Let Freedom Ring we were challenged "Aren't you glad you're free? It's not over now - keep the dream alive," suggesting that the prejudices of mankind can only be kept in check by ongoing vigilance. As part of the Black History Month celebration at First Baptist Church South Hill, the drama was followed by a sit down supper which offered a nearly endless smorgasbord of soul food. Our minds were filled with understanding, our hearts with the joy of the music and fellowship and our tummies with quantities of delicious food. The church is new, modern and has an excellent sound system and a welcoming congregation that showed us the best that Christianity has to offer.

Printable Format
Patricia Saunders Nixon 2
Back to Review Index
Home &nbspCalendar &nbspAnnouncements &nbspIssues &nbspReviews &nbspArticles Contact Us