Under the Bluest Sky…Songs of Richard Hundley
Tenor David Parks, pianist Read Gainsford
CD Review by John Campbell, August 2012
Those of us who are lovers of American art song owe tenor David Parks and pianist Read Gainsford a great thank you for their 2007 CD of twenty-six songs by Richard Hundley. This is the first, and so far the only, CD completely devoted to this romantic composer's music. Mr. Hundley, who will be 81 years old on September 1, 2012, swam against the tide of atonal, astringent music of late mid-twentieth America and has lived long enough to see his steadfast tenacity to beautiful music appreciated.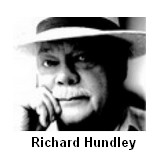 Mr. Hundley's greatest hits are Come Ready and See Me, The Astronomers, Isaac Greentree, Sweet Suffolk Owl, I Do, Waterbird and Straightway Beauty on Me Waits. There are also nineteen other recorded songs. Seven titles are premiere recordings: O My Darling Troubles Heaven, Evening Hours, When Orpheus Played, When Children are Playing Alone on the Green, Sweet River, Seashore Girls and Epitaph of a Young Girl.
This recording has an open, forward sound and Mr. Parks' clear diction lets you hear the text. He sings with enthusiasm and polish and his pronunciation is that of natural American speech. No recording company is listed and song texts are not included. This was a labor of love and the recording was funded in part by Ithaca College where he has been a professor of voice since 1987. If you want the texts you can find 15 of the 26 songs at Trinity Wall Street's Contemporary American Art Song Series in collaboration with JOY IN SINGING February 16, 2012 Songs of Richard Hundley concert at http://www.trinitywallstreet.org/webcasts/videos/music-arts/concerts-at-one/music-of-richard-hundley There is a video of the concert at the same address.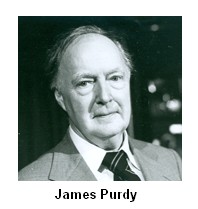 Many of Hundley's finest songs have texts by his poet friend James Purdy (1914-2009). Both composer and poet grew up with an American Midwestern sensibility. Purdy is not a household name. He was openly homosexual and wrote novels with gay characters in vernacular language that was censored in his day. But eventually American culture has caught up with his early vision.
Purdy distills language in his poetry to a brevity and richness of experience. Hundley's sweet, tonal music designed for a natural use of the voice builds the songs around Purdy's magnificent simplicity of words.
Mr. Parks' interpretation shows a refined, somewhat restrained approach that has a subtle warmth and a deep emotional validity. By contrast, Paul Sperry sings eleven of these titles with a more dramatic emotionality on the Albany Records disc TROY 043 titled Romantic American Songs. For a collector of American art song both discs are essential. See the discography that follows the Richard Hundley Song List for details for all recorded songs.

CD: World Premier Recording of Music by Allan Blank,
Song Cycles with Double Bass and Piano (Albany Records (TROY 1364)
Review by John Campbell
Allan Blank (b.1925) is Professor Emeritus at Virginia Commonwealth University in Richmond, Virginia and an award-winning composer of note. Many of his more than 300 compositions have been published and/or recorded. On this 2012 issued CD you will find two song cycles. The first is with mezzo-soprano Catherine Thieme, double-bassist Andrew Kohn and pianist Robert Thieme. All three performers are active musicians and teachers at West Virginia University.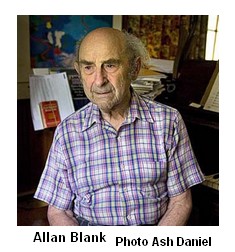 The double bass is the largest and lowest-pitched string instrument (an octave lower than the cello) and has great power and weight. Though rarely used as a solo instrument, it has been used most effectively by Mr. Blank in settings of Poems from the Holocaust. The cycle of seven songs begins with an instrumental solo for double bass, even though a text is given in the CD booklet. The song is De Profundis: A Song of Ascents. The double-bass is the voice for "out of the depths I call you, O Lord."
In At Terezin Ms. Thieme gives voice to a child's horror (Teddy, 1943 Building L410) at sleeping on the ground, living with flies and bedbugs and eating black potatoes. She captures the tense, scolding, bewildered tone of the child.
The first of two songs sung in Yiddish, Shpieltzeig (Daughter) uses the mournful, double-bass sound as support for the vocalise as a mother tells her daughter to care for her dolls with love as she recalls dolls lying abandoned on the streets of the ghetto with not one child in sight. Man Proposes, God Disposes, with pizzicato string accompaniment underscored by piano, energetically convey the message that the rich, pampered inmates of Terezin are at a disadvantage compared to those who were toughened by life's earlier challenges. Also sung in Yiddish, Makh Tsu Di Eygelekh (Close your precious eyes) gives the piano a leading role as the voice tells the story of an infant taken from its crib as the house is torched sending the family into a night of uncertainty. We are carried gently into a visceral experience of the pain and sorrow of the "fathomless void." Titled The Butterfly, the last sung text was of the last, dazzling yellow butterfly seen in the ghetto.
An instrumental interpretation of Kaddish, the Jewish prayer for the dead, is a somber duet for piano and double bass. As the piece progresses the mood lightens; the end of sorrow has come and the peace of the grave is inviting. Those who are lost continue in the hearts of those who remember. The texts for the poems are carefully described in the booklet but are too complicated for this review.
I recommend that you pause the recording, choose another activity and come back later to listen to the second song cycle which has a rather complex title: Introduction, Five Poems, Interludes & Conclusion. The text is poems by Jane Kenyon (1947-1995) who died of leukemia at age 48. Her poems are simple, spare and emotionally resonant. The cycle begins with an instrumental only Introduction. The mood is lighter and the figured bass is soulful rather than mournful. Though the first song with sung text, Let Evening Come, has a lovely detailed text appreciating the changes progressive darkness brings to a farm scene, the musical setting is somber. The singer is soprano Jennifer Miller, a vocalist in the greater Pittsburg area. The pianist is Robert Frankenberry who has a multi-faceted career as an operatic tenor, pianist and conductor. Mr. Kohn is double bassist for both cycles.
Interlude, has a sweet, light-hearted feeling, almost a dance tune. It is followed by Peonies at Dusk. Look for the bold use of double bass timbres in Interlude II. There is a deep bass introduction before the piano enters into the jazz-like rhythm of this brief piece followed by Finding a Long Gray Hair. Scrubbing the floor, the poet speaks of finding a long, gray hair in the pail, relating it to the pattern of life of women who have lived in the house before her. This sense of continuation of life shows up again in the next song: The Thimble, about finding a thimble in a crack in the woodshed floor with a design like the one in the tin ceiling. Ms. Miller sang with a nostalgic tenderness.
The last text, Otherwise, is a celebration of the sweet routines of life; rising from bed each morning on two good legs, eating ripe peaches, taking the dog uphill and working in the birch woods there, only to end with the idea that one day I know it will end otherwise.
The last piece, Conclusion, is a duet for piano and double bass with pizzicato accents and other colors that are exclusive to this instrument. The sustained closing fades away very slowly.
Technically the recording is excellent. Musically the cycles are well crafted and listenable. Now is a good time to celebrate the life and works of a living, eighty-seven year old, American composer. If you want to hear more of his works, look for his CD: Since 2006: The Saxophone Music of Allan Blank on Albany Records (TROY 1261). For local performers, Mr. Blank gifted the Diehn Composers Room at Old Dominion University with a collection of his music in 1999-2000. Scores can be found there, waiting to be brought to life in a concert.

Printer Friendly Format
Back to Top
Back to Review Index
Home &nbspCalendar &nbspAnnouncements &nbspIssues &nbspReviews &nbspArticles Contact Us