Baroque Ensemble Rebel with Countertenor Derek Lee Ragin
There is a network of world-class Baroque performers that travel the world playing this marvelous music. Several of these experts were at The American Theatre in Hampton on April 23, 2005 and presented a rich selection of music written before 1735.
Derek Lee Ragin is one of the foremost countertenors of our day and a master of Baroque style. This much-recorded singer is in great demand around the world and often appears in European performances of Handel operas. He is also an inspired interpreter of contemporary music and this year will sing in the world premiere of Peter Eötvös' opera Angels in America in Paris and Jonathan Dawe's Prometheus at the Guggenheim in New York.
Rebel (pronounced Reh-BEL) is named for the French baroque composer Jean Féry Rebel (1666-1747). The ensemble is based in upstate New York and has earned an impressive international reputation for its unique style and highly expressive approach to baroque and classical repertoire. The group has recorded several CDs on various labels and has been heard on NPR. Visit their website at www.rebelbaroque.com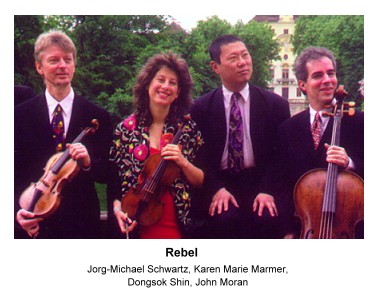 The performance was as near perfection as live performance can be. This was the last performance of a month-long series of eight concerts presented across the United States. The camaraderie and flow of communication on the stage that facilitated such polished music making was a wonderful experience. In conversation we learned that Mr. Ragin and Rebel had four full days to prepare together before the first concert. In an age when the performers fly in, play a concert and fly out, this type of concentrated time devoted to rehearse and polish a performance is to be treasured.
An Angel's Voice: The Legend of Farinelli
The program was structured around music composed when Farinelli (born Carlo Broschi, 1705-1783), an Italian castrato with a 3½ octave range, was in was in his heyday as a singer (1720-1737). In the film Farinelli released in 1994, Mr. Ragin's voice was electronically blended with soprano Ewa Mallas Godlewska to achieve a sound similiar to the original voice. For readers unfamiliar with the concept of the castrato, briefly, the Catholic church prohibited women from singing in public, so boys with promising voices were castrated before puberty to preserve their pure soprano voices. Farinelli was highly intelligent and an accomplished musician who made a great deal of money while in London as a star of the Opera of the Nobility, a rival company to Handel's company and "contributed to Handel's withdrawal from the operatic scene," as the Grove Dictionary phrases it. He moved to Spain after several cancellations in London because of "indisposition." In Spain he sang to soothe the mentally unbalanced King Philip V and stayed on when Ferdinand VI (1746-59) came to the throne. While there he directed music at the royal chapel and redesigned the opera house where he presented a long series of sumptuously staged Italian operas. For his service to the crown he was knighted.
During the nineteenth century there was much gossip about intrigues involving Farinelli but these, like the relationship with his brother depicted in the film and the notion that he had a psychologically troubled life, are unsubstantiated.
We do know that money he earned as an opera star paid for his villa in Bologna. He retired there in 1759 with a pension from Spain when Charles III came to the throne. There he wrote music and poetry surrounded by a rich collection of paintings, keyboard instruments and manuscripts, some of which he inherited from the composer Domenico Scarlatti. His visitors included Gluck, Mozart, Casanova and royalty.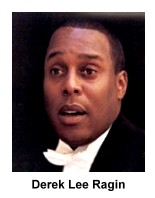 Mr. Ragin sang Ombra fedele anch'io, an aria from the opera Idaspe, written by Farinelli's older brother Riccardo Broschi (1698-1756). First performed at Carnavale in Venice in 1730, the aria has frequent clef changes for the voice, using alto, baritone and mezzo-soprano clefs, each part with its own special color and effect. This florid writing was well served by Mr. Ragin with his precise diction and accurate intonation and the wonderful playing by the members of Rebel. Most of Broschi's operas have been lost but the laser disc of the film contains a second aria from Idaspe and his bravura concert aria Son qual nave, one of Farinelli's most famous showpieces which requires the blended voice created for the movie.
Handel tried to entice Farinelli to London to sing for his company but instead he sang there for Nicola Porpora (1686-1768) who was his teacher at age fifteen in Italy, and his director in London fifteen years later. Mr. Ragin sang Alto giove from Porpora's opera Polifemo.
Three pieces by Handel were included in the program and in the film because the music is contemporary and of such high quality. Two instrumental pieces, Ouverture & Suite in B-flat major from Alcina (1735), Passacaille from Sonata op. 5, no. 4 in G major HWV 399 and an aria from Rinaldo, Cara Sposa . . . The sweet sound of the instruments swirl around the hauntingly beautiful voice in this song
The music of Johann Adolf Hasse (1699-1783) was our most exciting discovery on this program. Since we have had a laser disc of the Farinelli film for years and had listened to it several times, we had heard Generso risuegliati o core from his opera Cleofide (1731), but only as part of the soundtrack. Hearing it live heightened our awareness. Hasse's instrumental Fuga & Grave in G minor played by Rebel has a tempo that accelerates near the end that adds an intensity not usually found in Baroque music. In conversation with Jörg-Michael Schwarz, co-director with Marie Marmer (both violinists) we learned that Hasse's music looks forward to the classical period.
Peter Bucknell was violist, John Moran the cellist, Donsok Shin was on harpsichord and Anne Trout played the double bass to round out this group of six. Mr. Moran is pictured with his cello in the May issue of Opera News on page 6 with Renée Fleming, though he is not named. Mr. Moran and his wife, violinist Risa Browder will be familiar to local audiences, having played with the baroque ensemble Capriole and other groups.
Their playing of Giuseppe Torelli's (1658-1709) Concerto per archi op. 6, no. 9 in A-minor and Tomaso Albinoni's (1671-1751) Sinfonia in G minor displayed how tame and sweet this music can be. In their hands Antonio Vivaldi's Concerto alla Rustica in G major, RV151 was fiery and virtuosic in this extroverted music with its wild sonorities. Early in the program Mr. Ragin sang Vivaldi's Cantata Cessate, omai cessate in E flat major with refinement and intensity. I especially love the section where plucked strings accompany the soloist.
Such a fine program of Baroque music whets the appetite for more. Gayle Johnson, a local expert in Baroque music, pointed out in conversation that this is the first time she has been in the audience to hear Derek Lee Ragin sing. Always before she has been conducting Capriole when he appeared twice as guest soloist. Even in college they were always performing together. We hope the experience will encourage Ms. Johnson to reactivate Capriole and go for Baroque.

CD Review: Antonio Vivaldi - Venetian Dreams (Bridge 9377)
Rebel led by violinist Jörg-Michael Schwartz
With Matthias Maute, recorder and traverso
Review by John Campbell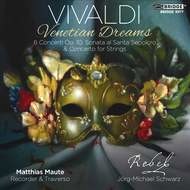 In 2012 Bridge Records issued Rebel's latest CD, Venetian Dreams, featuring music by Antonio Vivaldi. We learned of the album at a William and Mary Department of Music concert on October 30, 2012 at Williamsburg Presbyterian Church where Rebel, an ensemble of baroque music, presented a breathtakingly beautiful experience full of passion and precision.
In conversation after the superb performance the idea that was obvious was how totally devoted violinists and Directors Jörg-Michael Schwartz and Karen Marie Marmer are to the music they bring to life. Cellist John Moran and harpsichordist Dongsok Shin rounded out the perfect collaboration of ensemble playing in a program of Telemann, Corelli, B. Marini, Rossi, Gabrielli, Geminiani, Boyce and Gallo.
We had our first experience of their music at a concert at the American Theater in Hampton on April 23, 2005. My review of that event can be found above. We have since collected their CDs. Their coming to the area is always a compelling event for us. Rebel will appear at Trinity Episcopal Church in Portsmouth on April 22, 2013 as part of the Virginia Arts Festival.
Getting back to the album, the CD features the core Rebel players we heard in Williamsburg adding Risa Browder, viola; Matomi Igarashi, double bass and violone (in Italy an early type of violoncello) and Daniel Swenberg, theorbo, archlute and baroque guitar.
The headliner for this album is Matthias Maute on recorder and traverso. For Vivaldi and other Italian composers "flauto" referred equally to cross-blown flute as well as recorder. In the early eighteenth-century the recorder was the more widely known flute in Italy. This album contains six concertos for flute and recorder, one for strings and basso-continuo Concerto in g minor, RV 157and a Suonata (sonata) in E-flat Major, RV 130.
Vivaldi was at the forefront of developing the concerto form; the term "concerto" was less precise than it later became: no fixed number of soloists, sometimes no soloist at all with modest accompanying forces, normally one player to a part.
The CD booklet delves into the history of these traverse pieces and how they are assembled to make the greatest possible impact on the publication market in Amsterdam. See the review of Norfolk Chamber Consort's Vivaldi program here. The Vivaldi pieces arranged by Bach were purchased in Amsterdam.
Rebel's playing is wonderfully energetic and nuanced, breathtakingly fast at times, at others slow paced and always emotionally engaging. The recorded sound is vivid. There are stately movements and movements of sparkling fun. One such is Il Gardellino, Op. 10, No. 3, RV428 with stunning birdsongs on sixth flute with strings.
Don't take my word. Come to the concert at Trinity Episcopal, Portsmouth and take home this CD and others that will be available for purchase, for instance "Rossi and His Circle, Steve's current favorite.

Rebel
Virginia Arts Festival
Trinity Episcopal Church
April 22, 2013
Review by M.D. Ridge
The baroque ensemble Rebel—the accent is on the second syllable— is named after French Baroque composer Jean-Féry Rebel, and has no connection with the Confederacy. Originally formed in the Netherlands 22 years ago, Rebel has awed listeners around the world with their intelligent virtuosity and joyful approach to music making.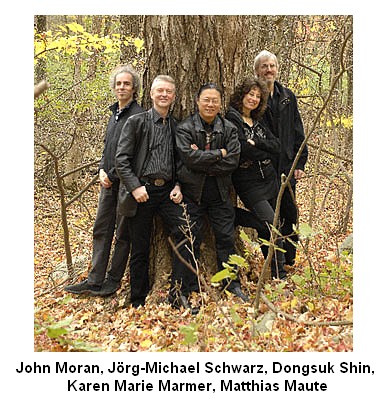 Though the evening of April 22 was cold enough to require winter coats, Rebel's five core members struck fire in an appreciative audience in the friendly acoustic of Trinity Episcopal Church in Portsmouth.
Co-directors Jörg-Michael Schwarz and Karen Marie Marmer on baroque violin, John Moran on baroque cello, Dongsuk Shin on harpsichord and Matthias Maute on recorder and traverso presented a program of 17th- and 18th-century musical treasures by composers from Germany, Italy, Austria and England.
They began with the Concerto di camera in G minor by Georg Philpp Telemann (1681-1767). In the Allegro movement, the recorder fluttered over buzzy harpsichord and cello continuo. In the Siciliano's triple rhythms and the lovely Bourrée, one could see court dancers in the mind's eye. The Menuet featured brilliantly ornamented recorder.
Four short sonatas seamed together told the story of an unwilling young girl destined for the convent, in Sonata sopra la Monica by Biagio Marini (1594-1663). The two violins and continuo had a beautiful blend, with the low notes clear but not overpowering. Giovanni Antonio Pandolfi Mealli's (fl.1660-1669) Sonata Sesta La Vinciolina was a lament—chirpy to begin with, then long, pensive lines of recorder and continuo, with amazing dynamics. Sonata la Foscarina con il tremolo conveyed a sense of fear, with unusual tremolo techniques in the strings—perhaps the baroque equivalent of a modern DJ "scratching." Sonata Quarta, from Sonatae unarum fidium, by Johann Heinrich Schmelzer (1620-1680), began with a four-note descending harpsichord scale, repeated and ornamented. Maute's recorder runs and arpeggios garlanded the basic chordal structure before the tempo doubled, flying like a demented bird. The pyrotechnics were dazzling.
The players also described the differences between baroque instruments and modern ones, and that the tuning was half a step lower than modern tuning. Arcangelo Corelli's (1653-1713) Sonata Op. 3 in A Minor was short, lively and charming. It was followed by Telemann's Quartet in G Major, from his first Musique de Table, in which the instruments were equal partners. The work utilized the transverso, ancestor of the modern transverse flute. Everything was in motion all the time, building to an ending that felt like birds wheeling in the sky to some unknown instrument.
The movements of Francesco Mancini's (1672-1737) Sonata Sesta in D Minor were full of exuberance and verve, and the final Allegro had a call-and-response back and forth—like conversation of a very high order indeed.
Sonata IV in G Minor, by England's William Boyce (1711-1779), had a sound and approach quite different from that of the European composers. The cello gave voice with power and emotion in the Gratioso movement. The March: Grave movement was quiet, thoughtful, pianissimo—but still a march. Schwarz was bouncing on his toes in the final Tempo di Gavotta, which ended very simply.
The final work was the Concerto da camera in G Major, by Antonio Vivaldi (1678-1741); the violins took the original oboe and bassoon parts in this presentation. The Allegro had different groupings—recorder and cello, recorder and violins, then tutti and so forth. The Largo featured a busy cello under the cantabile recorder; it was challenging for all, especially the awesomely fast triplets in the recorder, before the movement slowed, with an almost cuckoo-like melody in the recorder. The final Allegro was very fast, very Vivaldi!
It was a thoroughly engaging performance by six master players—and it was recorded for future airing on NPR's Performance Today. Keep an ear out for it.
This review was originally broadcast on WHRO 90.3 FM's "From the other side of the Footlights."
Printer Friendly Format
Back to Top
Back to Review Index
Home &nbspCalendar &nbspAnnouncements &nbspIssues &nbspReviews &nbspArticles Contact Us