A Farewell Concert to Honor Allen Shaffer
Christ and St. Luke's Church
June 25, 2012
Review by John Campbell
As is usual for the enterprising Dr. Allen Shaffer, he organized a high quality musical evening and the community turned out to fill the sanctuary. His timing was impeccable. A Monday evening at the end of the busy spring arts season allowed his many friends in the music community the opportunity to come to celebrate the accomplishments of one of their own. The congregation that has enjoyed twenty-three years of Shaffer's music-making as organist, director of music, conductor and impresario for musical plays, operas, recitals and choral concerts also came to celebrate in the beautiful sanctuary.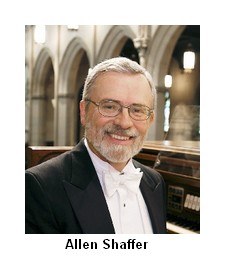 The opening J.S. Bach solo organ Praeludium pro Organo pleno, BWV552a rang out gloriously as the first of four Bach organ selections that bookended the two sections of the program. On June 30, 2012 Dr. Shaffer became Music Director Emeritus. He began his tenure on April 1, 1989 and the many selections highlighted milestones over the years.
He was at the piano to accompany his, as he said, "dear musical friend" soprano Billye Brown Youmans as she sang the Schubert An die Musik, D. 547 with text that praises music. The gentle, precisely articulated singing, enhanced by the knowing playing of Shaffer, caressed our hearts, drawing us deeply into the loveliness.
The musical palette expanded in the next selection, Music: An Ode, written especially for Dr. Shaffer's retirement by local composer, organist and Academy of Music Executive Director John S. Dixon (b.1957). The piece opened with a dramatic piano section that became gentle tinkling sound framing a vocalise by Ms. Youmans leading into the text by English poet Algernon Charles Swinburne (1837-1909) that continues the theme of praise to music. The Choir of Christ and St. Luke's joined in the music-making, underpinning the solo voice and letting Ms. Youmans emphasize the strength of her gorgeous high range. It was wonderful to see her look heavenward, relax and let her voice flow out. At the end the great explosion of enthusiasm brought Mr. Dixon to the front, sharing hugs with pianist Shaffer and singer. Christ and St. Luke's Assistant Organist Marjorie Setnicky conducted.
Honoring his church family and choir, next came A New Heaven (2009) by Gerre Hancock (1934-2012), a New York composer, who wrote it for the 100th anniversary of the laying of the church's cornerstone; the choir was accompanied by trumpeter Timothy Shaffer (Allen's son) and Ms. Setnicky at the organ. Dr. Shaffer conducted the singing of the biblical text from Revelation, adapted from a New Zealand Prayer Book that captures the glory and excitement of a promised glorious future.
Of the closing organ piece by Bach, Shaffer said "I've never performed this great piece, Prelude and Fugue in C Minor, BWV 546 before. My first and probably last time!"
The second half opened with Bach's mighty Toccata in D Minor (Dorian), BWV 538, followed by Let the bright seraphim from Handel's oratorio Samson. The music's fresh, energetic quality was superbly recreated when Ms. Youmans joined the Shaffers: Allen at the organ gave a firm bass foundation in a tune that burbled along happily; son Timothy's trumpet phrase was repeated by the singer. With repeats of text Ms. Youmans added ever more ornamented embellishments of the music, echoed by the trumpet, building in richness and complexity to an amazing climax. The singer's emotional ardor was matched by her vocal strength, and the trio's collaboration was flawless.
Dr. Shaffer then played a second Hancock commission: Organ Prelude: Evocation of Urbs beata Jerusalem (2009). Commissioned by the choir to honor Dr. Shaffer's 20th anniversary as director, the piece updates Sunday church music in a modern language: a moody and popular sound, choosing little-used instrumental stops and building to a grand crescendo before retreating to quieter passages to end.
For the same 20th Anniversary Celebration in 2009, composer David Hurd (b.1950) had written The Norfolk Canticles (2008), sung here by the choir led by Dr. Shaffer with Ms. Setnicky on organ; we heard both sections: Magnificat and Nunc dimittis with text from the Gospel of St. Luke.
The layered vocal sections gave the choir a chance to display their finest singing, recognized by a standing ovation. Dr. Shaffer articulated thanks for help offered by others and then closed with part B of BWV 552 the Fugue that follows the Bach organ prelude he played to begin the program.
Of his future plans Dr. Shaffer says that he and his wife have travel plans: a three-week tour of the Silk Road in China and Central Asia and in the fall, Christmas fairs in Germany and Christmas week in London. There is no plan for them to move from the area and he is listed as a harpsichordist for the next season of the Norfolk Chamber Consort.

Countertop Ensemble Sings Bach Family Music
Christ and St. Luke's Church
Sunday, February 24, 2013
Review by John Campbell
The new Director of Music, Kevin Kwan, was at the organ at Christ and St. Luke's for the It's All in the Name program that featured music by the Bach family. We all know music by Johann Sebastian Bach (1685-1750) as the Bach but in this program we had the pleasure of hearing music by his forbears and same age cousins.
In his lifetime J.S. Bach compiled a genealogy of his family. He had a lot of material to work with; over a span of 300 years there are records of fifty-three Bachs that held posts as organists, cantors or town musicians. This intriguing program drew on this heritage to bring us music by five Bachs.
Since all five first names are Johann and four last names are Bach, I will use middle names in this review once I have introduced the composer.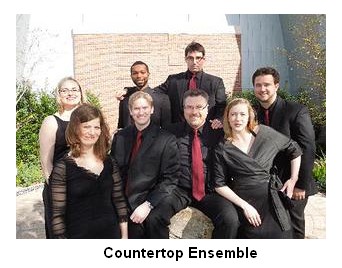 The opening piece, Das ist meine Freude (This is my joy) filled the soundspace perfectly with the warm blend of the eight voices of the Countertop Ensemble. It was thrilling! The composer Johann Ludwig Bach's work came down to us preserved because his second cousin, Johann Sebastian, presented a number of his works in Leipzig. Ludwig was eight years older than Sebastian and brother to Bach's wife Maria Barbara. Later in the program we heard another piece by Ludwig, Unsere Trübsal (Our afflictions) are "momentary and weightless and win for us eternal splendor." Choral variations on repeats of this short text provided musical splendor. Countertenor Chris Dudley is Artistic Director of Countertop Ensemble and he was joined by sopranos Alison Mondell and Emily Noel, mezzo-soprano Kristen Dubenion-Smith, tenors Jerry Kavinski and Joe Regan and basses Karl Hempel and Doug Yocum. Leslie Frittelli played cello with Dr. Kwan at the organ with Allen Shaffer conducting.
Looking back to an earlier generation, we heard music by Johann Christoph Bach who was forty-three years old when Sebastian was born and was most likely musically the most important member of the family before J.S. Bach. He was organist and harpsichordist at the court of the Duke of Eisenach and organist at St. George's and a highly respected composer within the family. To the extent that current tastes allowed he composed in a gallant and cantabile style with uncommonly full textures. In 1707 Christoph became his father-in-law when Sebastian married his cousin Maria Barbara Bach. We heard his Unsers Herzens Freude (Joy that dwelt). The text, from Lamentations, is about Protestant guilt replacing dancing. Later in the program we heard his Sei getreu bis in den Tod (Be true until death) and Jesus will give you the crown of life.
Johann Michael Bach, brother to Christoph, was thirty-seven years older than Sebastian. Two pieces by him were included in the program. He was especially known for his choral motets with notably impressive spoken declamation. His Ich weiss, dass mein Erlöser lebt (I know that my redeemer lives) (text from Job) was sung one time through with no repeats. His New Year's Music, Sei lieber Tag willkommen offered musical reassurance that Christians can enjoy contentment because Jesus has brought from God's throne the gift of a new year. Michael was also a notable harpsichord maker.
We heard three organ solos by Johann Gottfried Walther (1684-1748), Sebastian's first cousin and exact contemporary (born seven months apart). He was an organist, music theorist, composer and lexicographer and compiled a dictionary of German musical terms with biographies of composers and performers of his time. His transcriptions of Italian and German works for organ were a model for Sebastian. (Click HERE for a discussion of Bach's transcription of Vivaldi.) We heard Two Choral Preludes for Organ: Partita on Liebster Jesu (chorale with four most elegant variations) and Lobet den Herrn with its bright, full sound.
After intermission we heard two pieces that eclipsed the compositions of the earlier generations of Bachs. J. Gottfried Walther's Concerto del Signor Meck. Joseph Meck was a composer who helped disseminate Vivaldi's style in Germany (1690-1758). This is a three-movement piece of significant length of splendid passages in the trained hands (and feet) of Dr. Kwan. There was an introverted, quiet beauty in the second movement in great contrast to the overwhelming power of the third, allegro.
The richness and complexity of the vocal writing in J.S. Bach's Singet dem Herrn ein neues Lied BWV 225 (Sing to the Lord a new song) helped us to understand why this Bach's music is so much heard today. His setting of words is very emotionally evocative from jubilant to disturbing in the superb singing of the Countertop Ensemble's eight voices.
This was the first Allen Shaffer Concert in an ongoing series, since Dr. Shaffer's retirement as music director at Christ and St. Luke's in February, 2012. His conducting is still spot on.
More Reviews

Back to Top
Review Index
Home &nbspCalendar &nbspAnnouncements &nbspIssues &nbspReviews &nbspArticles Contact Us